Houston Economic Indicators

April 29, 2021
Houston's recovery accelerated sharply in March as payroll jobs recovered from the February freeze, and the state reopened fully. Manufacturing activity saw the strongest growth in over two years, and the health care jobs recovery was nearly complete, in aggregate. However, payrolls in some health-care-related and social assistance industries have logged only modest improvement. Overall, the data paint a positive picture for Houston, but the pandemic remains a concern. The pace of improvement in coronavirus statistics slowed in the most recent data, adding some risk of downward revisions to an otherwise robust state job growth forecast.
Employment
Houston metro area payrolls surged in March by 31,500, due in part to recovery from Winter Storm Uri in February and the lifting of pandemic restrictions on businesses March 10. February data were also revised from a slight decline to growth of nearly 5,700 jobs. That brought payroll job gains since April 2020 to 160,100—a recovery of over 45 percent of the jobs lost in the initial months of the pandemic (Chart 1).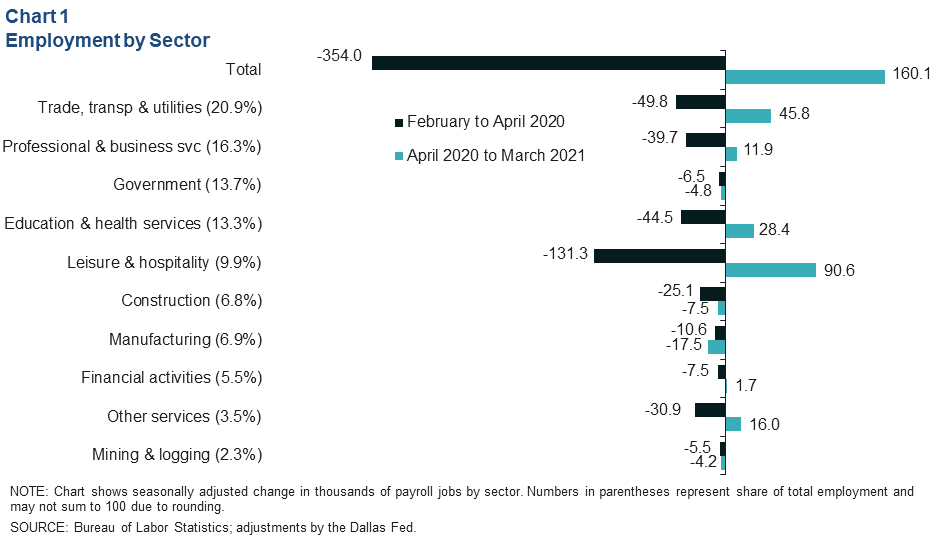 Surging payrolls were led by the services sector which, at 60 percent of pre-COVID levels, is still down 124,800 jobs. In particular, retail and food services and drinking places (restaurants, bars and caterers) saw strong growth. Retail is now 88 percent recovered, with a net loss of 4,590 positions since the peak in February 2020. Food services was 75 percent recovered in March, with a net loss of 26,110 jobs. Indeed, restaurant demand surged throughout the month of March, contributing to April reports of labor shortages and comments regarding staffing challenges in the Dallas Fed Texas Service Sector Outlook Survey.
Purchasing Managers Index (PMI)
The Houston PMI rose to 57.8 in March 2021, its highest value since April 2019 (Chart 2). The index is closely associated with changes in manufacturing activity in the Houston area and is highly correlated with current and near-term job growth. The increase suggests that Houston will continue to see robust jobs gains over the next three months.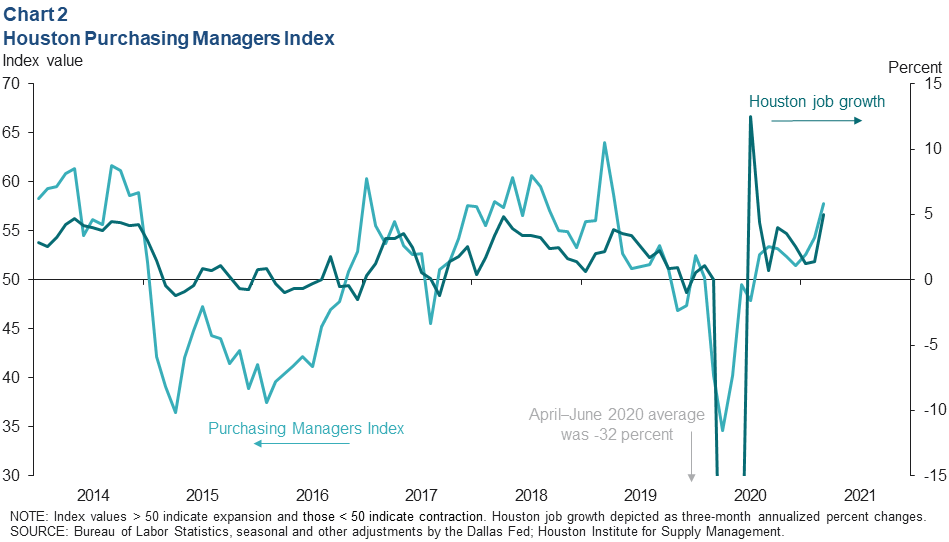 Health
Private Health Care and Social Assistance Payrolls See Uneven Recovery
Employment in ambulatory health services—such as primary care physicians' offices, optometrists, and medical and diagnostics laboratories—had returned to 100 percent of pre-COVID employment in March 2021 (Chart 3). Hospitals had recovered to 98 percent of prepandemic levels, logging a net loss of 1,860 jobs since February 2020. However, payrolls in other health and social assistance industries—such as child daycare centers, family services, nursing and residential care facilities—have seen little to no improvement since Houston's first wave of coronavirus hit in summer 2020; these industries remain at 87 percent of prepandemic job levels, a net loss of 11,510 jobs.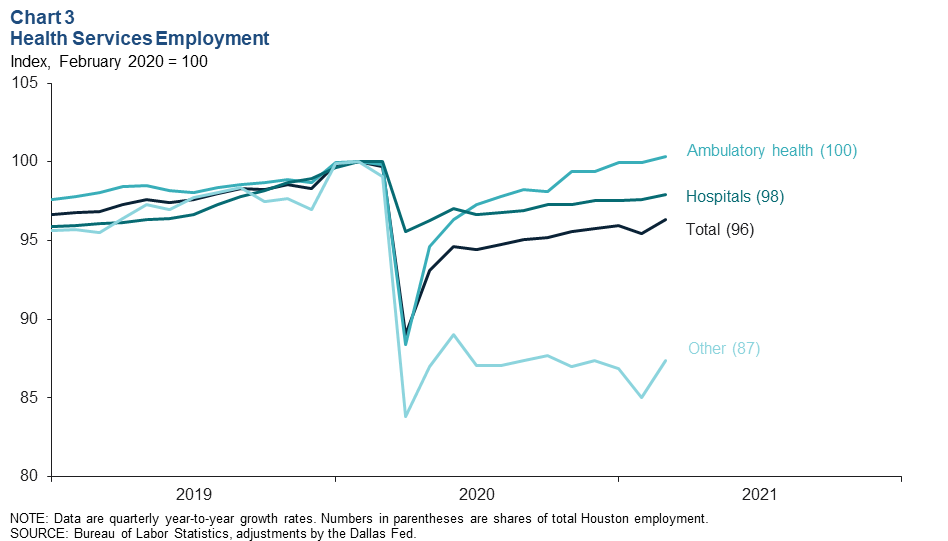 Improvement Slowing in Pandemic Statistics
The number of COVID patients admitted to Houston and Galveston Trauma Service Area hospitals nearly flattened in April after trending steeply down for nearly 11 consecutive weeks (Chart 4). The number of COVID patients in area hospitals averaged 1,068 over the seven days ending April 24—still 72 percent above early October 2020 lows. Fluctuations in daily deaths tend to lag changes in hospitalizations, and deaths in early April showed only a slight indication of slowing. The decelerating pace of improvement in the data likely reflects both the seasonal effects of spring break and Easter.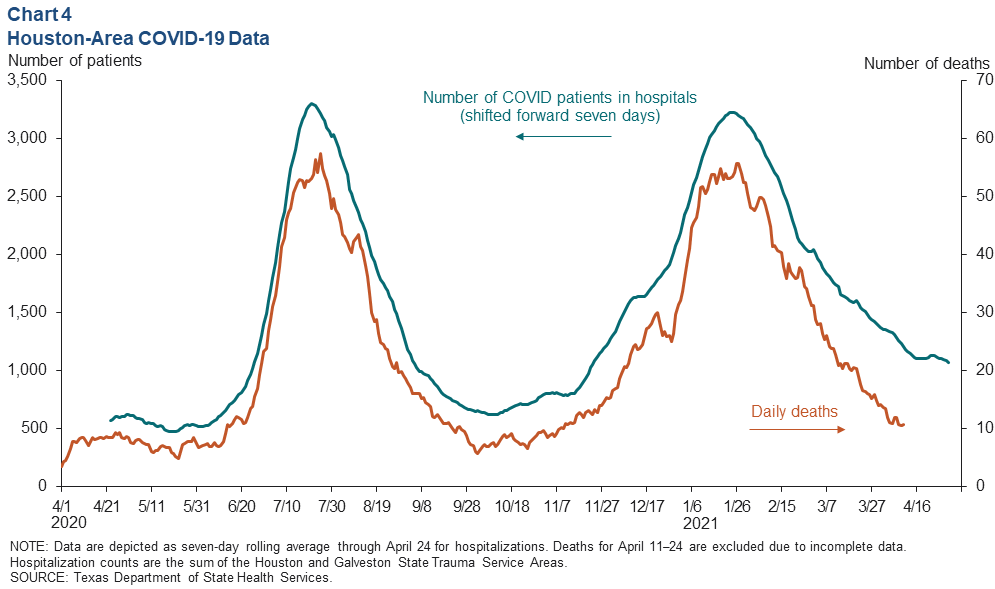 However, another contributing factor may be the rapid spread of "variants of concern" in the broader region, such as the so-called "United Kingdom" and "California" variants (B1.1.7, B.1.429 and B1.427). Those three coronavirus lineages were estimated to account for over half of Texas cases over the two weeks ending March 27. The Centers for Disease Control states that while many of these variants are likely more transmissible than the original strain, they remain susceptible to vaccine-derived immunity.
As of April 25, 49 percent of the Houston metropolitan area's population age 16 and older had received at least one dose of coronavirus vaccine. That put Houston just ahead of the state's 48 percent one-dose inoculation rate but behind the nation's roughly 54 percent.
NOTE: Data may not match previously published numbers due to revisions.
About Houston Economic Indicators
Questions can be addressed to Jesse Thompson at jesse.thompson@dal.frb.org. Houston Economic Indicators is posted monthly after Houston-area employment data are released.