Houston Economic Indicators

April 7, 2022
Data for the Houston region continue to imply strong economic momentum in 2022. Leading indicators, broad measures of output and area payrolls continue to register growth well above historical averages. Unemployment reflected recent improvements as the labor force grew. The value and tonnage of exports from the region hit an all-time high, and manufacturing activity at Houston's largest export partners is showing steady growth. Altogether, the outlook for Houston is positive.
Coincident and leading indicators
The Houston Business-Cycle Index, a timely measure of broad changes in the Houston economy, expanded at an annualized 7.3 percent pace over the three months ending in February 2022 (Chart 1). While still subject to revision, particularly the past six months, that pace is well above its average annual rate of 2.9 percent from 2000 to 2020. With the jobs' recovery expected to slow in 2022 and the headwinds from rising prices, the pace of growth in the broader Houston economy is likely to settle to more moderate levels the rest of the year.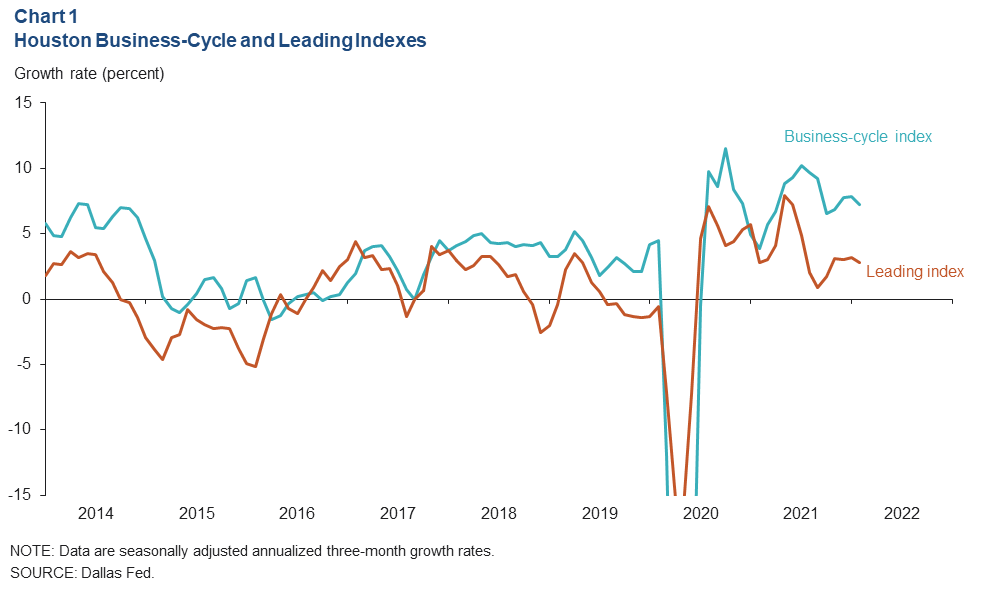 That said, the pace of growth in the Houston Leading Index slowed modestly to an annualized 2.8 percent over the three months ending in February. This implies that over the next three to six months, payroll job growth will slow but retain much of its current momentum.
Growth across the 10 components of the index was broad based. However, chemical railcar loadings, new orders in the Purchasing Managers Index (produced by the Houston Institute for Supply Management) and the Texas Leading Index saw outsized improvements.
Employment
Leisure and hospitality leads payroll job growth
Houston employment grew at a pace of 1.3 percent over the three months ending in February 2022—a 5.4 percent annualized rate (Chart 2). Nearly all sectors saw growth over that time frame. Leisure and hospitality led job growth (added 13,355 jobs) and grew at the fastest pace. Trade, transportation and utilities added the second-largest number of jobs (10,917). Mining and logging grew 3.2 percent (1,989).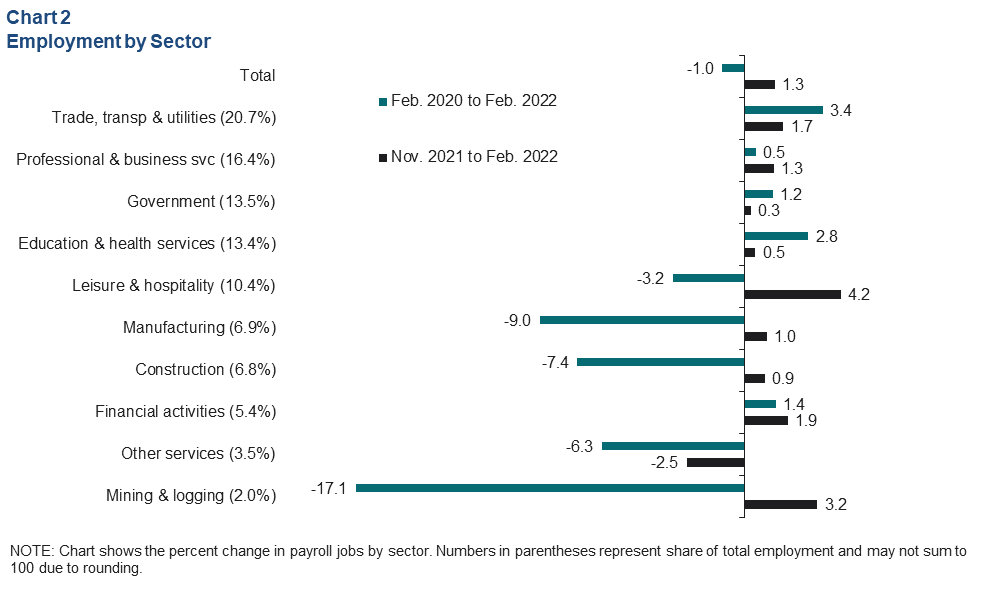 Houston payrolls were still down 1.0 percent from prepandemic levels. Much of the remaining shortfall was split between construction (-21,335 jobs; mostly in heavy and civil construction), manufacturing (-17,513; mostly durable goods), and mining and logging (-13,263, mostly oilfield services). The job shortfalls in these sectors were mainly associated with the oil and gas sector.
Houston unemployment rate steady near 5.4 percent
The unemployment rate in Houston was stable near 5.4 percent in February, as the size of the labor force grew (Chart 3). By comparison, the Texas unemployment rate eased to 5.0 percent. Nationally, the rate fell to 3.6 percent in March. The higher Texas unemployment rates were in part due to the more rapid recovery in the region's total labor force when compared with the nation.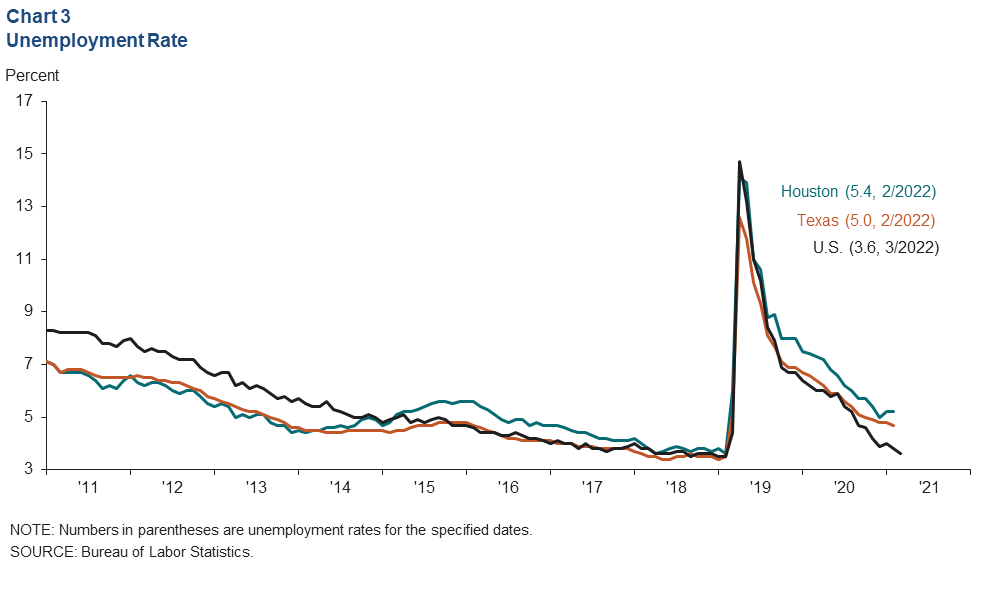 International purchasing managers indexes
Manufacturing PMIs are timely measures of how broad based the growth or contraction in output is around the world. Emerging market PMIs—where countries like China and Brazil are given a lot of weight—were showing modest month-to-month growth in February with a reading of 50.9 (Chart 4). In contrast, developed economies like the U.S. and Germany were collectively registering very broad-based growth in manufacturing output with an index value of 56.6.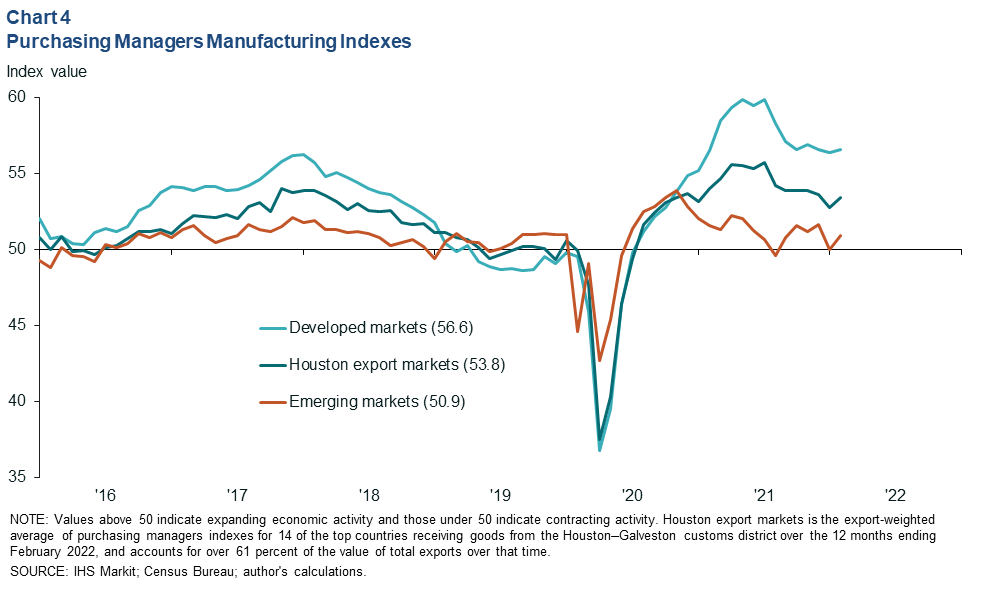 To bring that data home to Houston, an export-weighted average of international PMIs for the Houston–Galveston customs district's top export destinations is showing steady growth in output. The survey index has registered between 52.8 and 55.7 since late 2020.
Tracking international manufacturing activity is relevant for Houston because the Houston–Galveston customs district exports mostly comprise higher value-added intermediate goods that feed into global supply chains. Crude oil, chemicals and fuels like diesel and propane make up nearly three-quarters of the value of its exports, and most of the balance is durable manufactured goods.
Exports
The nominal value of Houston exports has risen over the course of the pandemic, lifted first by a recovery in volumes in 2020 and then by rising energy and other commodity prices since Winter Storm Uri (Chart 5). Both the value and the volume (tonnage) dipped sharply a year ago when the winter storm led to damages for much of the region's heavy industry. The robust recovery that followed set the district on pace for the highest volume of exports on record in 2021 at nearly 273.7 million metric tons.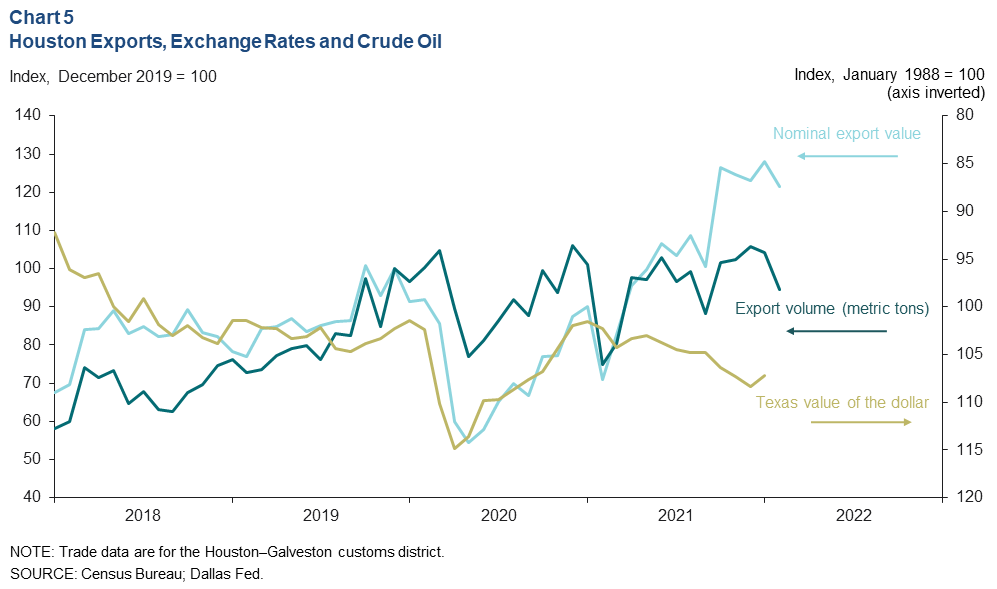 The Texas trade-weighted value of the dollar (TWVD) fell slightly from January to February 2022 (inverted in the chart). The TWVD has an inverse relationship with Texas exports. As the value falls, it tends to promote exports and export-related output and vice versa. The currency index rose 6.7 percent from its low point in January 2021 to February 2022, but the impact was small relative to other factors generating strong demand for exports.
NOTE: Data may not match previously published numbers due to revisions.
About Houston Economic Indicators
Questions can be addressed to Jesse Thompson at jesse.thompson@dal.frb.org. Houston Economic Indicators is posted on the second Monday after monthly Houston-area employment data are released.