Houston Economic Indicators

May 5, 2022
Houston payroll growth slowed in first three months of 2022 amid a sharp drop in unemployment. Both housing and commercial real estate data showed the Houston market continuing to tighten with high demand, limited supply and falling vacancies. Altogether, indicators continue to point to an above-trend year for the Houston economy despite the recent moderation in job growth.
Employment
The pace of recovery from pandemic job losses was robust in 2021, growing 5 percent (Chart 1). Job growth then slowed to an annualized 2.1 percent from December 2021 to March 2022. That is on par with the metro's average growth rate since 2000. If this more measured pace holds, Houston's payrolls would recover to prepandemic levels by November 2022.
Service sector jobs have led the recovery. The only industries surpassing prepandemic levels in total jobs have been trade, transportation and utilities; education and health services; and financial activities (outlined in yellow in the chart). Goods-producing sectors in Houston have lagged behind services throughout the pandemic, but the momentum has shifted in the first three months of 2022. High energy prices and an improved outlook have resulted in marked acceleration in oil and gas job growth, from 4.5 percent in 2021 to an annualized 13.7 percent over the three months ending in March 2022.
Declines in professional and business services and construction were concentrated in administrative and support services (such as temporary and janitorial workers) and construction of buildings (such as framers and roofers). However, employment in these sectors is often subject to substantial revision.
The unemployment rate in Houston fell to 4.6 percent in March from 5.3 percent in February, the largest one-month change since October 2020. To put that in context, the unemployment rate for Texas fell to 4.4 percent from 4.7 percent, while the national unemployment rate fell from 3.8 percent to 3.6.
Real estate
Home price growth stabilizes in late 2021, likely accelerates in early 2022
Data on mortgage purchase applications for the Houston metropolitan area indicate that the year-over-year nominal growth rate of home prices in Houston was 12.6 percent in fourth quarter 2021—on par with the prior quarter (Chart 2). Texas home purchase prices accelerated further to 19.3 percent year over year, while the national average slowed slightly to 17.5 percent.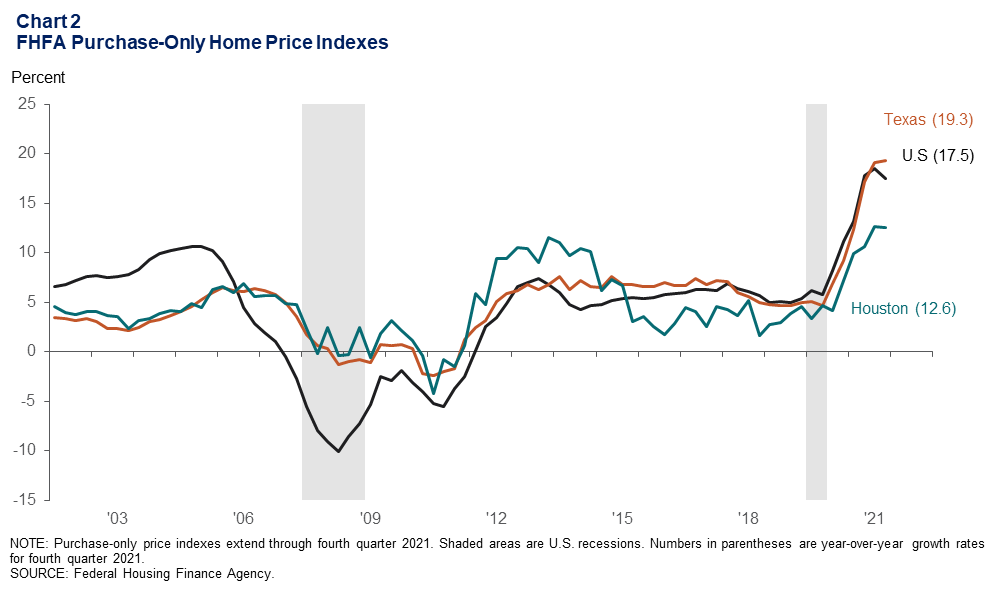 While Federal Housing Finance Agency data for late 2021 showed signs that home price growth might be stabilizing, more recent data from the National Association of Realtors and CoreLogic indicate that nominal home prices in Houston, Texas and the nation accelerated further over the first quarter of 2022.
First-quarter home sales accelerate amid rising mortgage rates
The number of existing homes sold in Houston increased sharply from 27,785 in fourth quarter 2021 to 30,983 in first quarter 2022, seasonally adjusted (Chart 3). The surge in closings and a decline in listings drove the inventory of homes down to 1.3 months—its lowest level on record.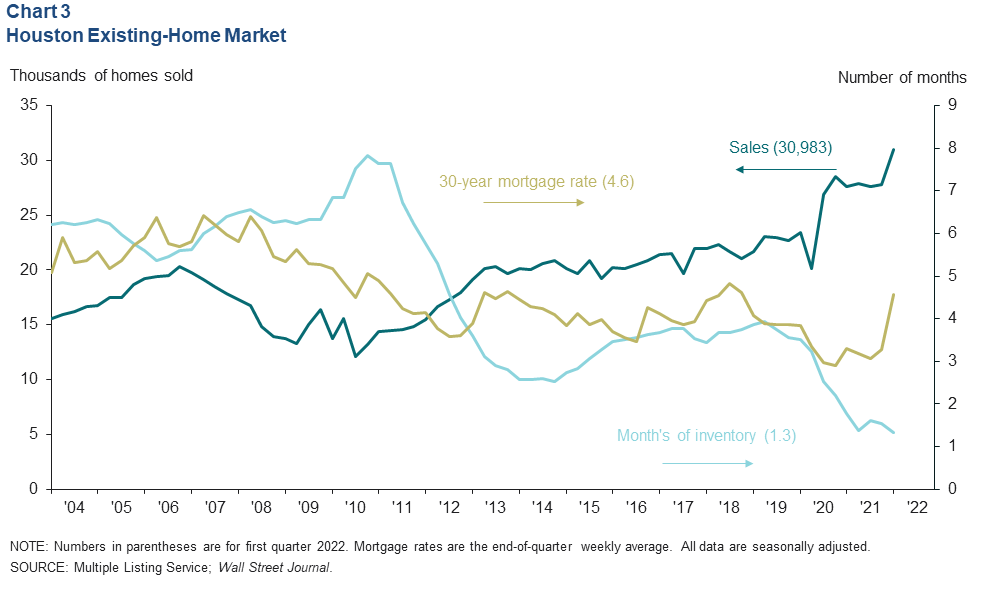 However, rising mortgage rates may dampen the housing market going forward. The average interest rate on a 30-year fixed mortgage rose from 3.3 percent to 4.6 percent between the end of December 2021 and the end of March 2022. By the week of April 29, it had reached 5.5 percent—its highest level since 2009.
Residential construction pipeline picking up the pace
The number of single-family permits issued for the construction of new housing increased in March to 4,970 units (Chart 4). Multifamily construction permits recovered to their highest level since 2019. Limited inventories of homes, low interest rates, strong demand over the pandemic, shifting consumer preferences and in-migration to the region have created a swell of demand for new construction.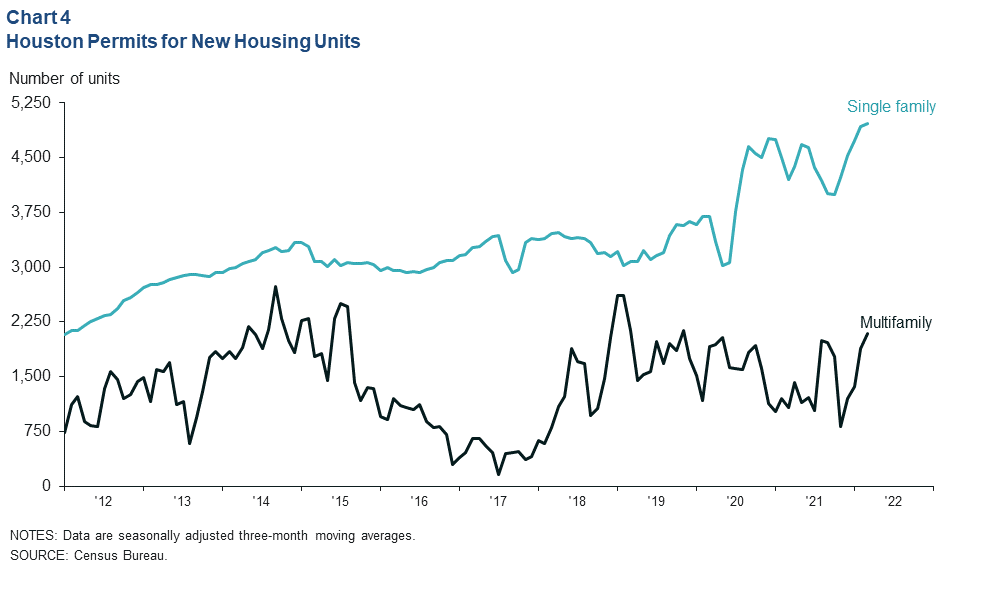 Meanwhile, supply-chain and labor force constraints have slowed the pace of construction as materials and labor remain challenging to secure. This has further tightened the housing market.
Apartment market exceptionally tight as office market stabilizes
Surging home prices and in-migration have helped drive apartment vacancy rates down to 4 percent (Chart 5). Normally, apartment vacancy rates this low drive rental rates up until tenants begin leaving in favor of purchasing a home. For many, rapid home price appreciation and rising interest rates have barred their exit to the single-family market despite increasing rents.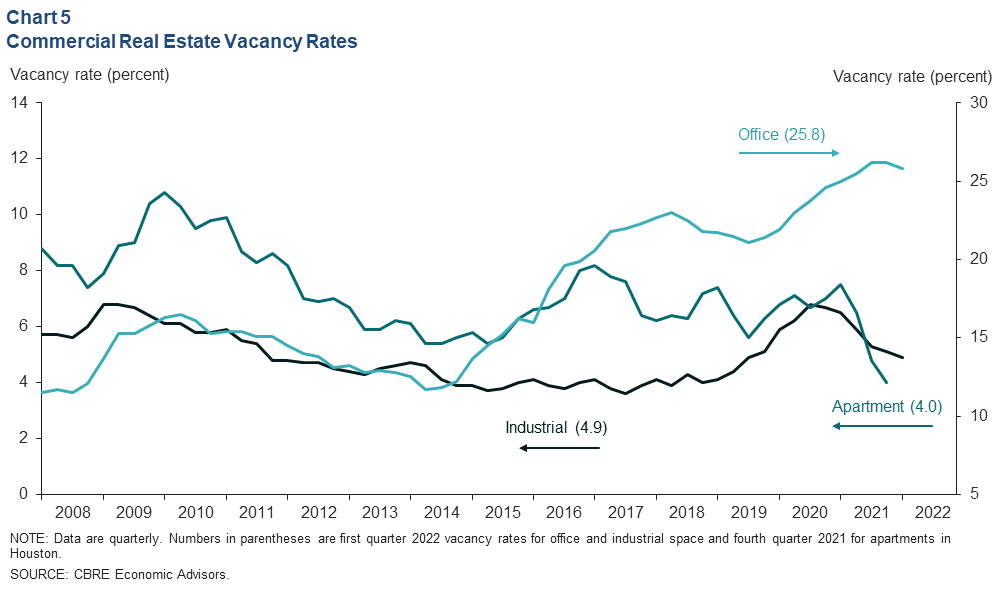 Houston's industrial vacancy rate surged during the pandemic, owing to large deliveries of new space, mostly in warehousing. Strong, steady absorption of new space since then has drawn the industrial vacancy rate down to 4.9 percent from a pandemic high of 6.8 percent in mid-2020.
Office vacancy rates in Houston remain near 30-year highs, but they did slip from 26.2 percent to 25.8 percent in first quarter 2022—the first decline since third quarter 2019.
NOTE: Data may not match previously published numbers due to revisions.
About Houston Economic Indicators
Questions can be addressed to Jesse Thompson at jesse.thompson@dal.frb.org. Houston Economic Indicators is posted on the second Monday after monthly Houston-area employment data are released.