Houston Economic Indicators

June 6, 2022
Revisions to 2021 employment data were positive for Houston. Combined with strong job growth so far in 2022, area payrolls have recovered to prepandemic levels. Unemployment held at a pandemic low in April amid healthy local labor force participation. Robust expansion in both the area business-cycle index and index of leading indicators suggests that Houston's above-trend pace of growth will persist through most of 2022.
Employment
Jobs grew in 2021 more strongly than estimated
Updates and revisions to jobs data for the second half of 2021 revealed a more robust recovery than previously estimated for Houston. Payroll jobs grew 0.8 percentage points faster than the 5.0 percent initially estimated (Chart 1).
The biggest revisions by sector were in construction and leisure and hospitality (mostly restaurants and bars), which accelerated 3.2 and 3.0 percentage points, respectively. Financial activities and professional and business services also improved. Downward revisions to job growth were most prominent in the oil and gas industry, affecting the mining and manufacturing sectors.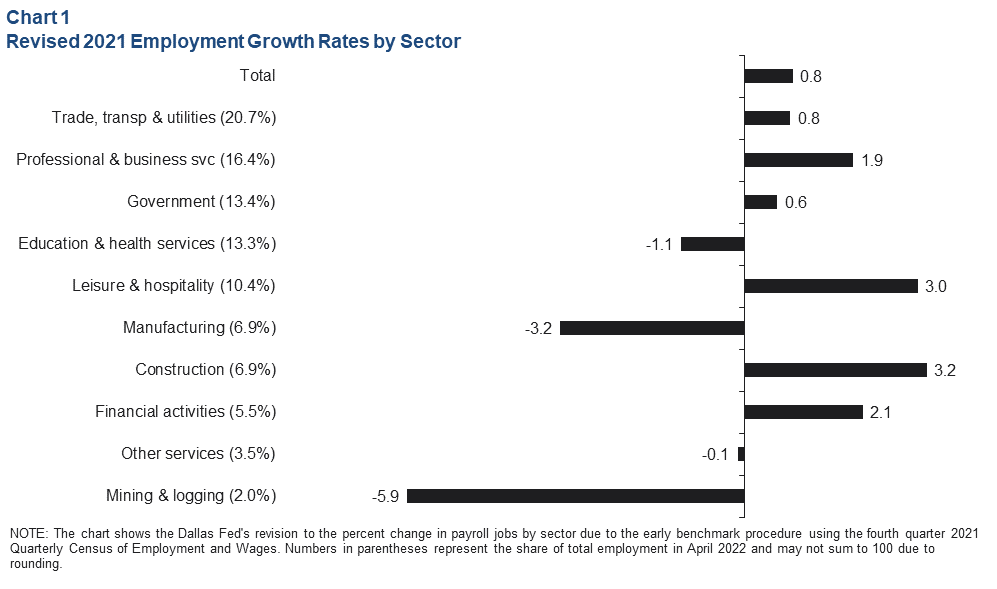 Revisions lift Houston's jobs recovery
The upward revisions to 2021 job growth, coupled with strong initial estimates for year-to-date growth in April 2022, put Houston payrolls at 100.2 percent of prepandemic levels (Chart 2). Revisions were also broadly positive for the rest of Texas (excluding Houston), which recovered to prepandemic employment totals in October 2021—one month earlier than the prior estimate indicated.
Outside of Texas, payrolls have risen steadily since September 2020 at annual rate of 4.1 percent and are 1.1 percent below prepandemic job levels.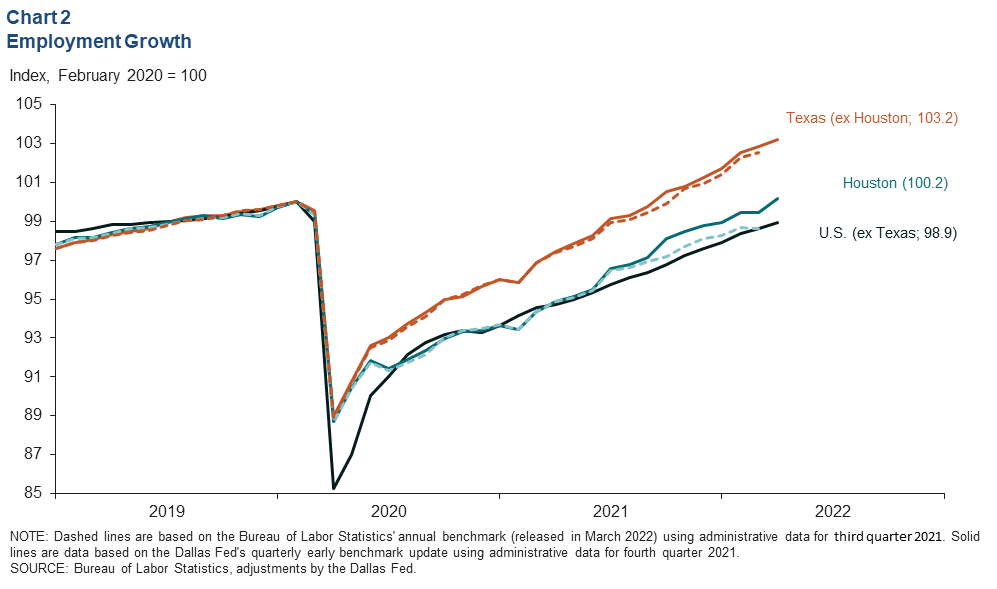 Services continue to lead recovery; mining job growth soars
The recovery continues to be dominated by service sector employment. Trade, transportation and utilities; professional and business services; government; education and health services; and financial activities have all surpassed prepandemic levels of employment. Transportation (18,000), employment services (13,200) and retail trade (11,600) have added the most jobs since February 2020 (Chart 3).
Among service-providing industries, leisure and hospitality (-7,300 jobs, mostly in accommodations) and other services (-7,400, including businesses such as auto repair and laundromats) are still well below prepandemic levels.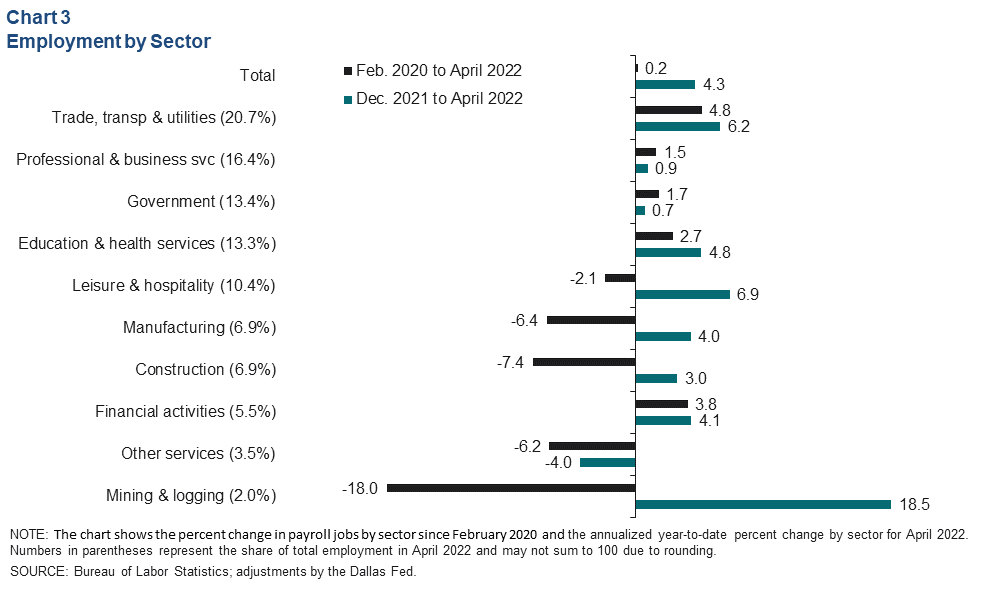 The recovery in goods-producing jobs continues to lag behind the recovery in services. This is due mostly to the oil and gas industry (mining and related industries), which returned to growth much later than other Houston industries. Mining jobs have accelerated markedly in 2022. The industry grew at an annualized year-to-date pace of 18.5 percent (or 3,500 jobs) in April—its fastest four-month pace since December 1981.
So far in 2022, retail trade (6,600 jobs), wholesale trade in durable goods (6,300) and leisure and hospitality (7,300) have contributed the most to local job growth.
April unemployment holds at 4.6 percent
Houston's total labor force has grown well beyond prepandemic levels. Despite the growth—which tends to push up the unemployment rate—4.6 percent of the area labor force was unemployed in March and April 2022, a pandemic low (Chart 4). To put that in context, the statewide unemployment rate declined to 4.3 percent in April, and the national unemployment rate was 3.6 percent. The lower national unemployment rate is due in part to a slower recovery in labor force participation outside of Texas.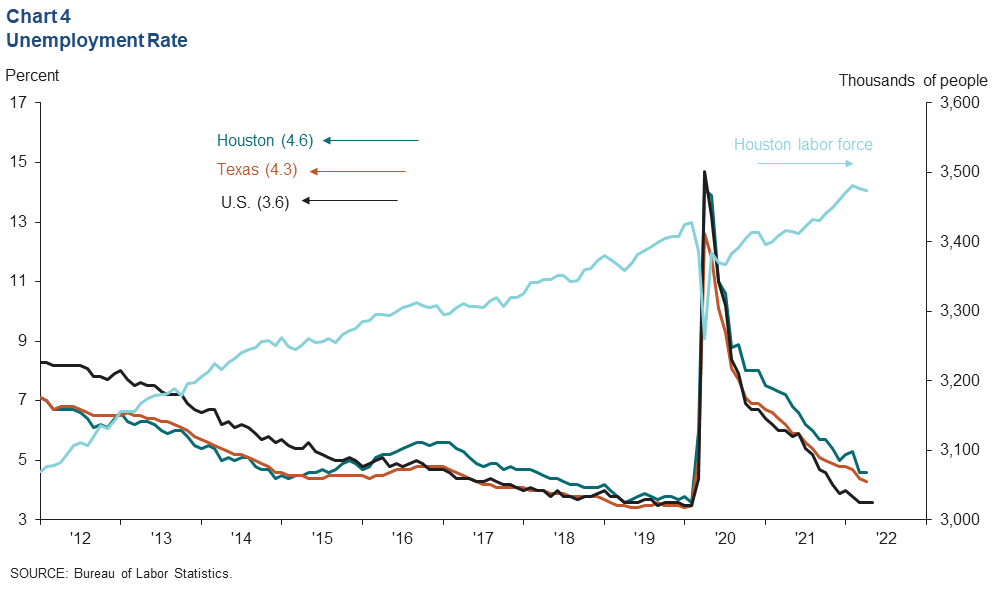 Coincident and leading index
The Houston Business-Cycle Index, a monthly proxy for the growth trajectory of the metro-area economy, grew 7.5 percent over the three months ending in April 2022—much faster than the average pace of 3.0 percent since 2010 (Chart 5). The Houston Leading Index, a combination of 10 leading indicators for the area economy, has picked up from late 2021. It grew at an annual rate of 3.3 percent over the three months ending in April 2022. Taken together, the two indexes suggest not only strong economic growth in the first half of the year, but also a good deal of momentum heading into the second half of 2022.
NOTE: Data may not match previously published numbers due to revisions.
About Houston Economic Indicators
Questions can be addressed to Jesse Thompson at jesse.thompson@dal.frb.org. Houston Economic Indicators is posted on the second Monday after monthly Houston-area employment data are released.