Houston Economic Indicators
January 9, 2023
Houston Economy Dashboard (November 2022)
Job growth (annualized)
August–November
Unemployment rate

Avg. hourly wages

Avg. hourly wage growth y/y

4.2%

4.4%
$31.78
6.07%
Houston employment hit a record high in November, with leisure and hospitality posting especially strong gains in the three months ending in November. Even so, unemployment was unchanged, and Houston's pandemic job recovery continued to lag behind most major Texas metros. Exports through the region's ports were up in October in spite of a strong dollar.
Labor Market
November employment climbs
Houston gained 2,756 jobs in November, bringing the total jobs added in 2022 to 108,536. That represents an annualized 4.2 percent growth rate over the three-month period and 3.7 percent rate year to date (Chart 1). Since losing 364,202 jobs between February and April 2020, Houston has recovered 439,598, reaching record-high employment of 3,274,845 in November.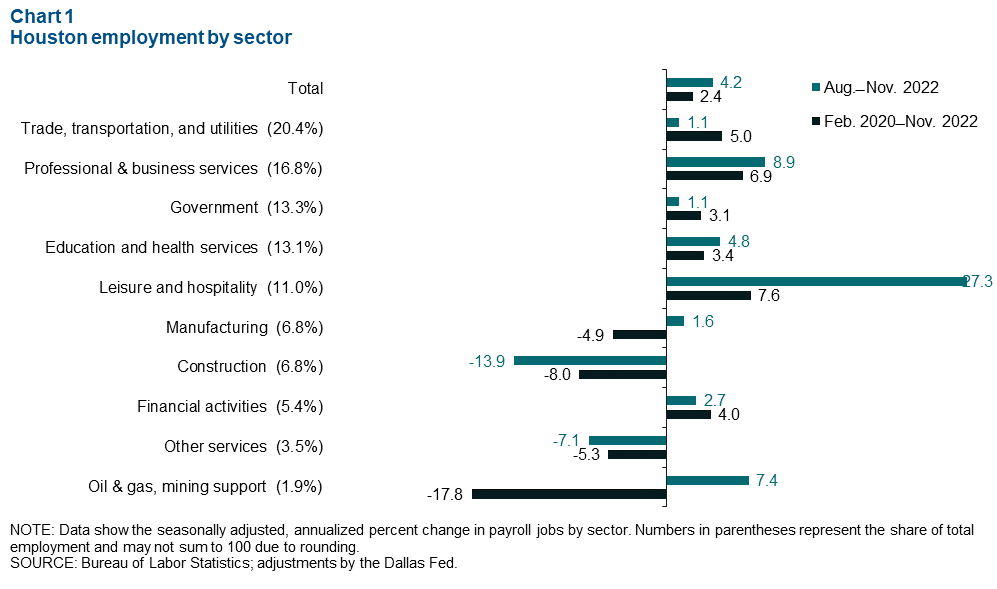 Among the major industries, leisure and hospitality again led the pack, adding 21,467 jobs between August and November. That brings the industry total to 366,789, or 11.0 percent of the jobs in the metro. Professional and business services and oil and gas also posted strong gains over the three months, adding 11,692 and 1,108 jobs, respectively.
Some industries have not yet recovered, with oil and gas, construction, manufacturing and other services still below February 2020 levels. Issues with supply chains and a strong dollar have hit these industries hard, given their reliance on imported inputs and export demand.
Early benchmark revises jobs down
In November, employment data were revised down during the Dallas Fed's early benchmark process (Chart 2). The Dallas Fed uses the Quarterly Census of Employment and Wages (QCEW), which covers over 95 percent of jobs, to update the monthly Current Employment Statistics (CES) with more complete data.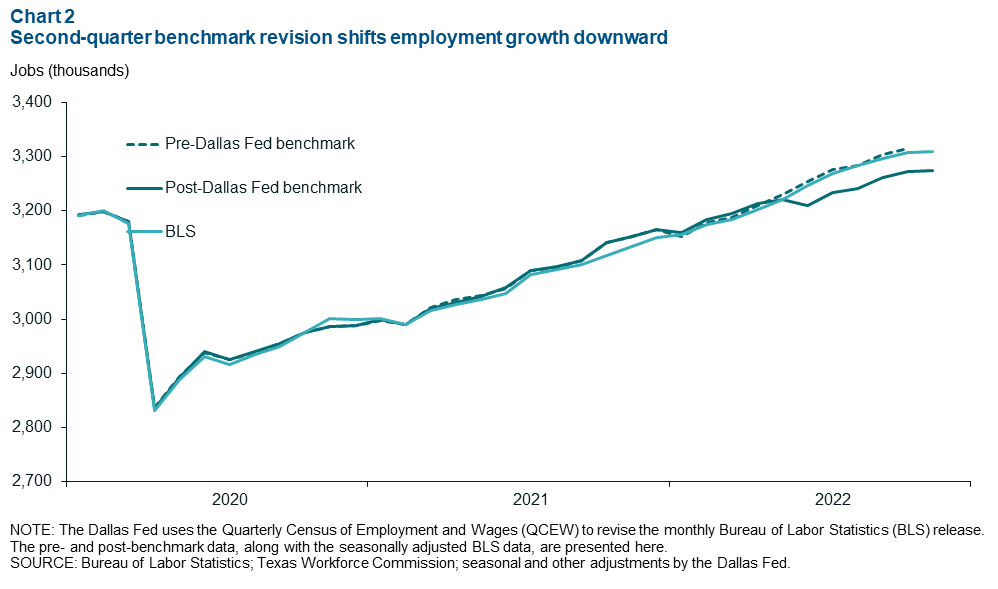 Across the state, the benchmarked data show less growth in 2022 than the original CES suggests. There was a 34,000-job difference between the seasonally adjusted Bureau of Labor Statistics (BLS) release and the fully processed data for Houston in November. The unbenchmarked series shows 5.5 percent growth in the first 11 months of 2022, while the Dallas Fed's early benchmarked data show a more modest 3.7 percent increase. When the BLS benchmarks its CES data in March 2023, it is expected to revise down the strong employment numbers.
Houston employment rallies in 2022
Houston's employment recovery from pandemic lows has been stronger than the nation's but behind the state's (Chart 3). Texas reached prepandemic employment levels in October 2021, while Houston did not catch up until April 2022. Since then, Houston has posted an average 3.9 percent annualized increase each month, faster than the 3.0 percent for Texas and 2.7 percent for the U.S.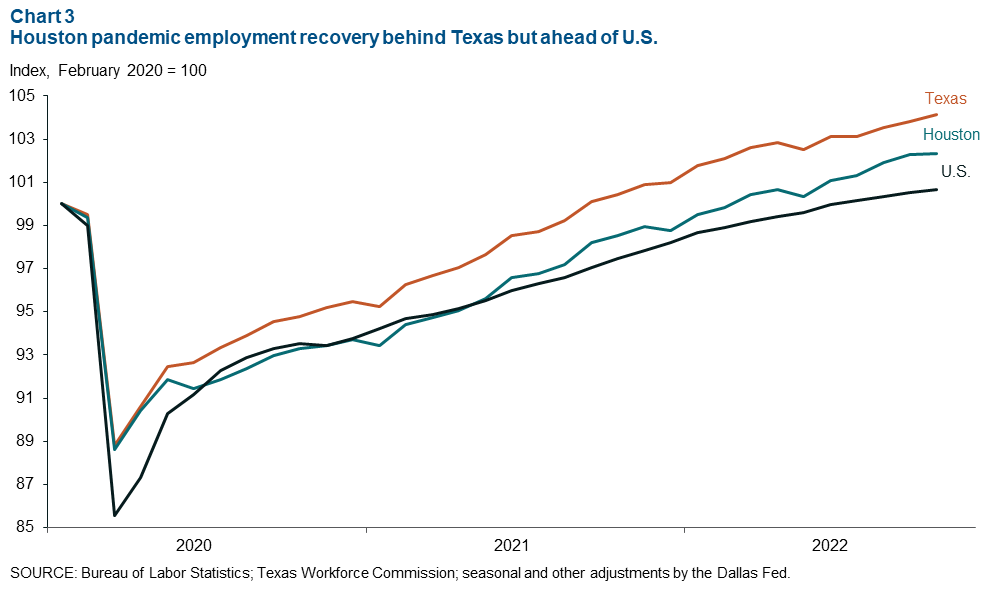 Houston employment was 2.4 percent above prepandemic levels in November, which is low among the major Texas metros. El Paso is just 1.0 percent above prepandemic levels, but Austin is 10.8 percent above, Dallas 7.3 percent above and San Antonio 2.9 percent above levels prior to the pandemic. Houston was likely slow to catch up due the sluggish recovery of oil and gas jobs, which are still behind prepandemic levels in Houston and statewide.
Unemployment steady in November
Houston's unemployment rate in November was 4.4 percent, unchanged from October and above the state's 4.0 percent and nation's 3.7 percent rates (Chart 4). This high rate may be due in part to robust labor force growth. Since February 2020, the Houston labor force has grown 3.1 percent, compared with 4.6 percent for Texas and a decline of 0.1 percent for the U.S. Texas' labor force has recovered faster than the nation's thanks in part to domestic migration and good job prospects that can entice people on the sidelines back into the labor market.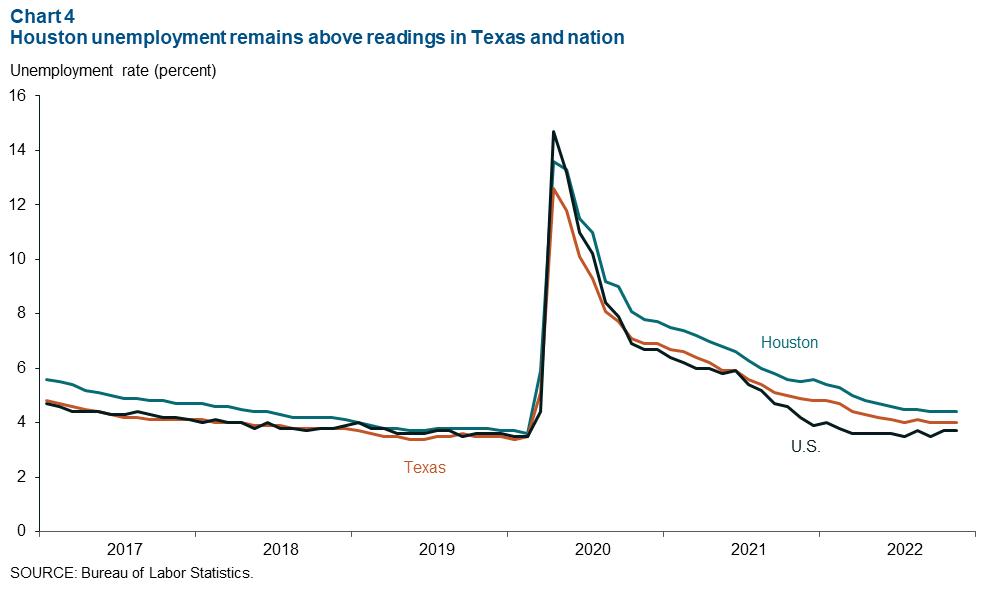 Trade
The value of Houston exports picked up in October after falling for four straight months (Chart 5). In nominal dollar values, exports peaked at $24.0 billion in May, hit a seven-month low of $20.1 billion in September and recovered somewhat to $21.3 billion in October. Price changes for oil-and-gas-related exports, which make up 68.0 percent of Houston's exports by value and 83.4 percent by weight, drove those fluctuations.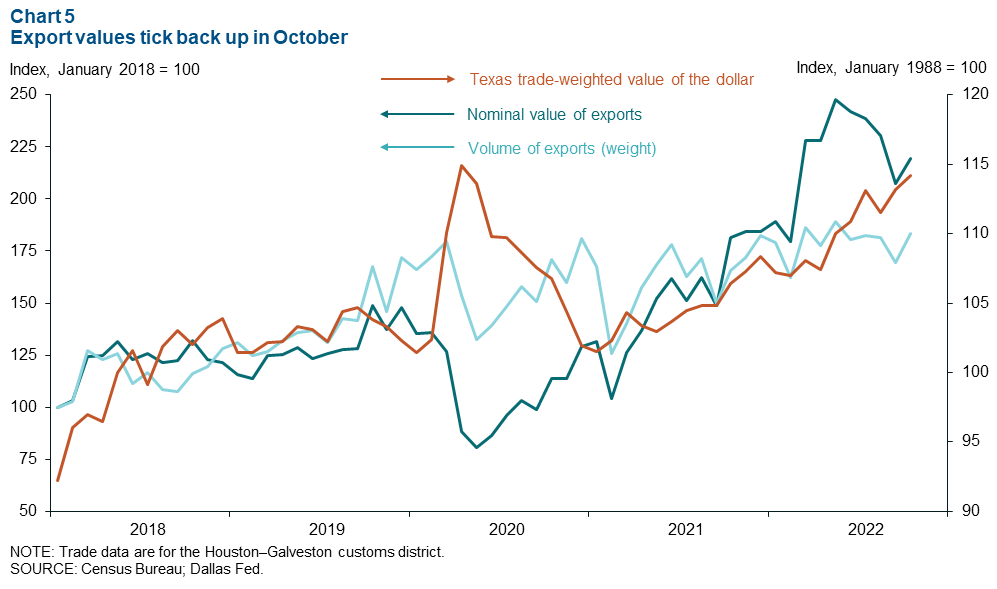 The Texas trade-weighted value of the dollar rose in October. The Texas dollar has an inverse relationship with Texas exports, as a stronger dollar makes exports more expensive. Though the Texas dollar is at its highest point since April 2020, demand changes had a larger impact on exports.
NOTE: Data may not match previously published numbers due to revisions.
About Houston Economic Indicators
Questions or suggestions can be addressed to Ana Pranger at ana.pranger@dal.frb.org. Houston Economic Indicators is posted on the second Monday after monthly Houston-area employment data are released.