Houston Economic Indicators
March 22, 2023
Houston economy dashboard (January 2023)
Job growth (annualized)
Oct. '22–Jan. '23
Unemployment rate

Avg. hourly earnings
Avg. hourly earnings growth y/y

2.6%
4.2%
$33.42
9.61%
Houston employment rose 3.1 percent in January, and benchmark revisions shifted employment growth up for 2022. Leading indicators sent mixed signals in the new year: employment growth and home sales remained strong, while oil prices and rig counts fell. Exports were down from mid-summer peaks but were still strong. High wage growth and relatively stable unemployment pointed to a still-tight labor market.
Employment
Employment growth in January was stronger in Houston than initially estimated, according to revised data released in March 2023 (Chart 1). January employment rose at an annual rate of 3.1 percent from December 2022 and increased 4.9 percent year over year—both gains still above the historical trend of about 2 percent.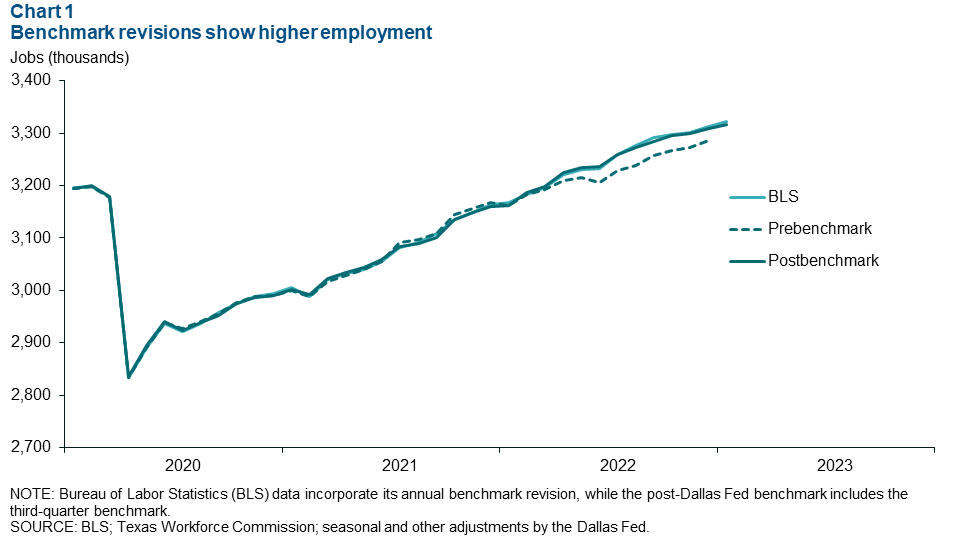 The Dallas Fed runs its quarterly early benchmark, and the Bureau of Labor Statistics (BLS) incorporates its annual employment benchmark to employment data to estimate jobs more accurately. Both procedures rely on the Quarterly Census of Employment and Wages, which covers about 97 percent of firms. This revision amounted to an additional 22,500 jobs in the December count, which left the metro growing 4.7 percent in 2022 overall, or by 147,418 jobs.
Leading indexes
Leading index remains in negative territory while production and jobs signal growth
Leading indexes and job growth have been telling more consistent stories for Houston over the past few months as data revisions have rolled in (Chart 2). Job growth was 2.6 percent, annualized, from November 2022 through January 2023. Houston's Purchasing Managers Index has been signaling job growth since August 2020, but the February reading of 52.7 was 13.6 percent down from its peak in October 2021. Different sectors are facing different challenges: the manufacturing index came in at a contractionary 48.7 in February, while the nonmanufacturing index rose 2.3 points to 53.5, pointing to further growth.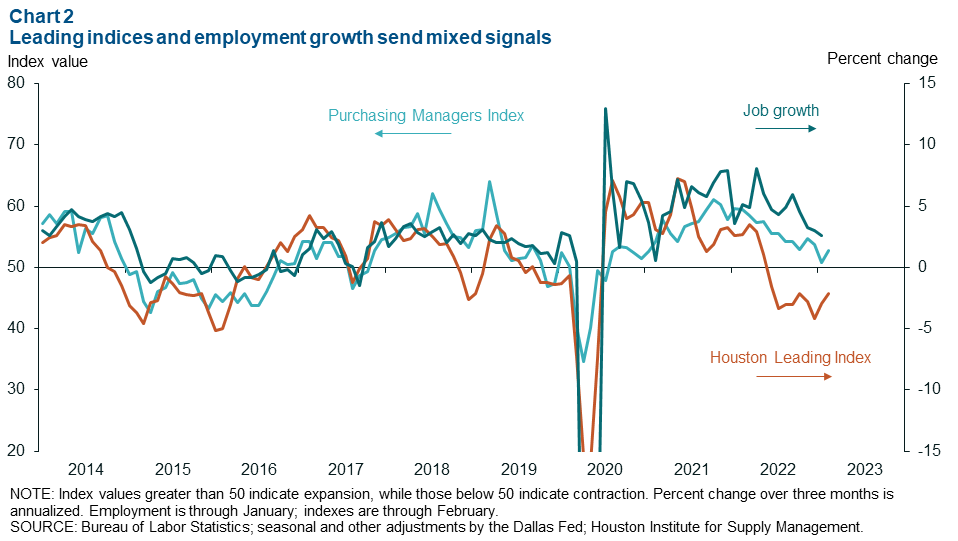 The three-month change in the Houston Leading Index (HLI) was negative in February for the ninth month in a row as many index components like housing, energy, chemicals and equities downshifted from pandemic-recovery highs. These shifts were accelerated by tightening monetary policy, particularly housing. The index declined 2.1 percent over the three months ending in January, indicative of a significant slowing in job growth for the remainder of 2023.
Oil and gas, chemicals production drive declines in HLI
Most components of the HLI fell from November 2022 through February 2023, driving its overall decline (Chart 3). The biggest decline was in railroad traffic of chemicals, which is an important measure for Houston's manufacturing and a broader indicator for industrial production. Oil and gas also contributed to the decline, as the West Texas Intermediate (WTI) oil price and U.S. rig counts fell in February compared with November. Given Houston's concentration of oil and gas headquarters, global changes in energy markets have direct impacts on the metro.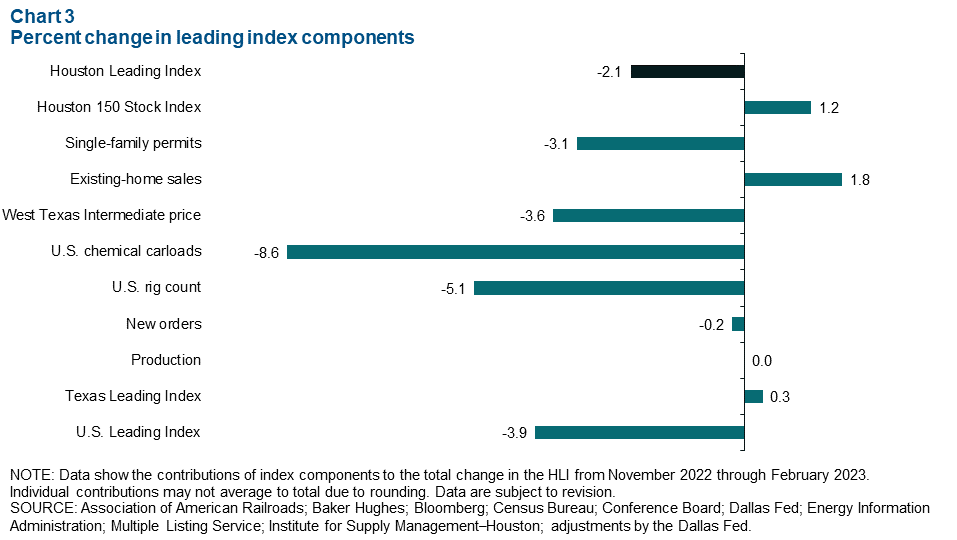 Real estate sent mixed signals as home sales were up for the Houston metro from November through January, but permits to build single-family homes declined. Both experienced a low point in December, but home sales recovered more strongly than permits in January. Seasonally adjusted home sales hit a 31-month low of 6,034 in December, coming in at 7,060 in January. Permits hit their lowest point since 2017, with 2,467 issued in December before they recovered to 2,812 in January.
Exports
The nominal value of Houston's major exports has been falling since mid-summer (Chart 4). The values of chemical exports and petroleum and coal product exports were down 16.4 percent and 34.0 percent, respectively, from their peaks in May 2022. Broad-based declines in oil and fuel prices since last summer have driven down the nominal value of many of Houston's major exports. Meanwhile, the volume of total exports, in kilograms, has fallen 11.2 percent since June on a seasonally adjusted, nonannualized basis.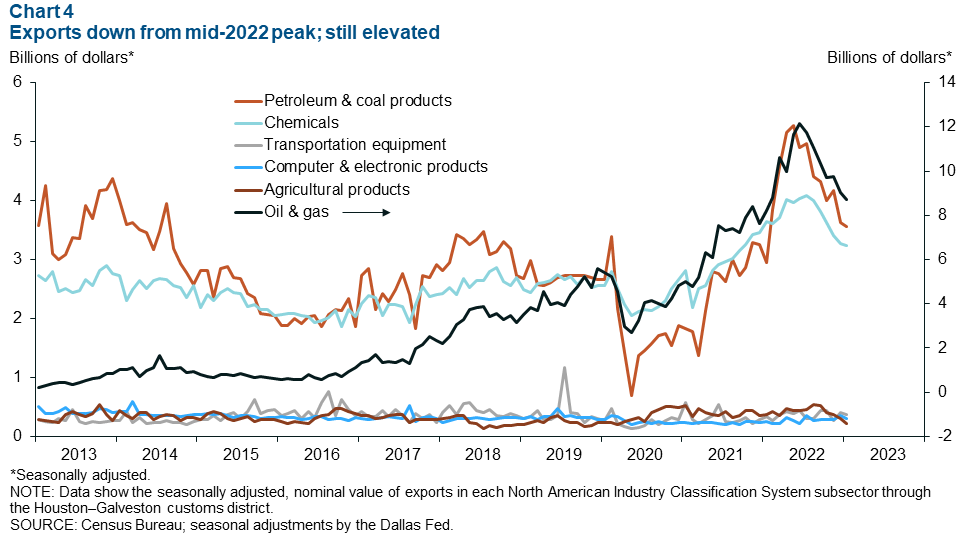 Oil and gas still led exports through the Houston–Galveston customs district, making up 48.9 percent of exports by nominal value and 85.8 percent by volume in January 2023. Since oil and gas prices and exports peaked in June, exports were down 28.1 percent in terms of value and 10.7 percent in terms of volume on a seasonally adjusted basis. Even with the decline, the volume of oil and gas exports remained elevated; the January reading was 10.6 percent above January 2020 levels.
Labor market
Houston unemployment ticked down to 4.2 percent in January, while average weekly wages rose to $1,234 (Chart 5). After spiking in April 2020, unemployment is now on par with mid-2018 levels but still higher than February 2020's record-low unemployment rate. The total labor force—including both employed and unemployed persons—in Houston has grown 3.6 percent since February 2020 (122,100 people). Wages have increased 18.4 percent in nominal terms since February 2020, or 3.2 percent in real terms. Low unemployment, high wages and strong job growth all point to a still-tight labor market in the metro.
NOTE: Data may not match previously published numbers due to revisions.
About Houston Economic Indicators
Questions or suggestions can be addressed to Ana Pranger at ana.pranger@dal.frb.org. Houston Economic Indicators is posted on the second Monday after monthly Houston-area employment data are released.