Houston Economic Indicators
Houston economy dashboard (April 2023)
Job growth (annualized)
Jan. '23–Apr. '23
Unemployment rate

Avg. hourly earnings
Avg. hourly earnings growth y/y

2.0%
4.0%
$33.26
8.4%
Houston has gained 22,600 jobs so far in 2023, and overall employment growth is above trend. Construction has seen declines, but other sectors are posting relatively strong job growth. Average earnings are higher in Houston than in Texas overall, but local unemployment in April was even with the state and above the nation.
Employment
Job growth continues; December numbers revised down
Houston jobs grew an annualized 2.8 percent from December 2022 to April 2023 (Chart 1). These data incorporate the Dallas Fed's latest early benchmark revision, which shifted December 2022 employment down by 8,649 jobs. Even with the downward revision and construction sector slowdown, Houston's employment growth is above its 21st century trend of about 1.7 percent.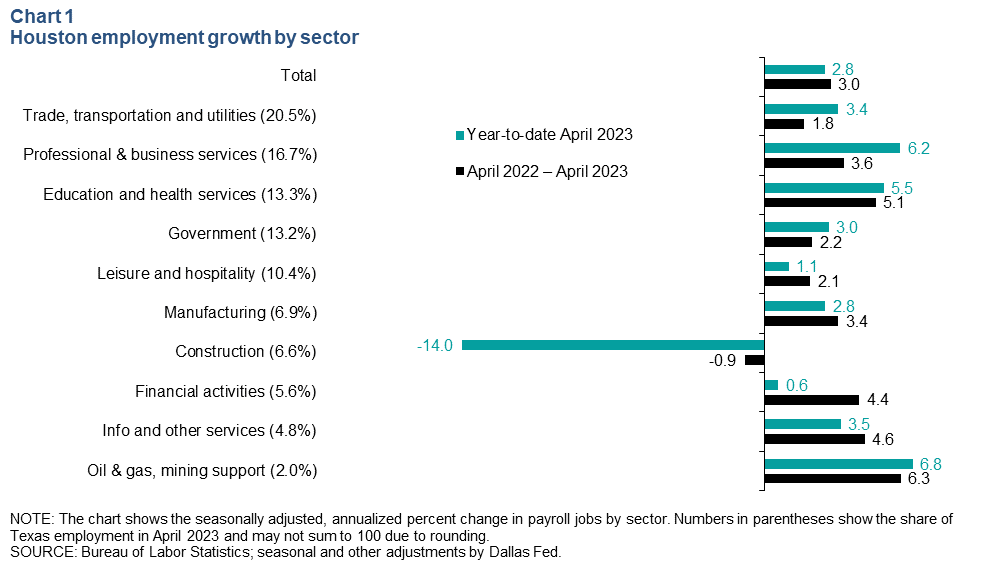 Construction has lost 8,384 jobs so far in 2023, mostly specialty trade contractor positions. Professional and business services and the oil and gas sector have added 8,325 and 1,102 jobs, respectively.
Hourly earnings relatively high
Real average hourly earnings in the Houston metropolitan area were $33.26 in April, above the Texas average of $31.24 and the U.S. average of $33.24 (Chart 2). Real average hourly earnings in Houston grew 4.2 percent in the 12 months ending in April 2023, well above the 0.5 percent growth in Texas and 0.5 percent decline nationally.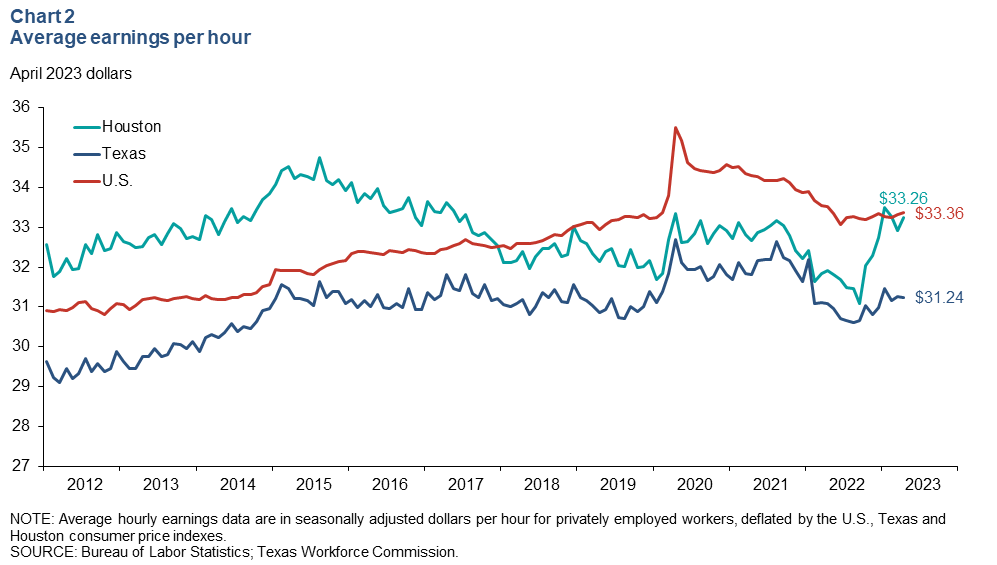 Unemployment declines, remains above U.S. rate
Unemployment in Houston ticked down to 4.0 percent in April, the lowest rate for the metro since February 2020 (Chart 3). Texas unemployment was flat at 4.0 percent in April, while the U.S. rate fell to 3.4 percent. Houston's unemployment rate has come in equal to or above Texas' since the oil bust in 2015.
Compared with the other major Texas metros, Houston's unemployment rate is on the higher end. Although El Paso had a 4.3 percent rate in April, Dallas, Austin, San Antonio and Fort Worth all came in under 4.0 percent.
Labor force growth outpaces U.S. but not Texas
Driving Houston's and Texas' persistently higher unemployment rate is a larger labor force. The number of workers is 3.8 percent higher than in February 2020 in Houston, 6.5 percent higher in Texas and 1.4 percent higher in the U.S. (Chart 4). Houston has 129,500 more people in the labor force than immediately before the pandemic.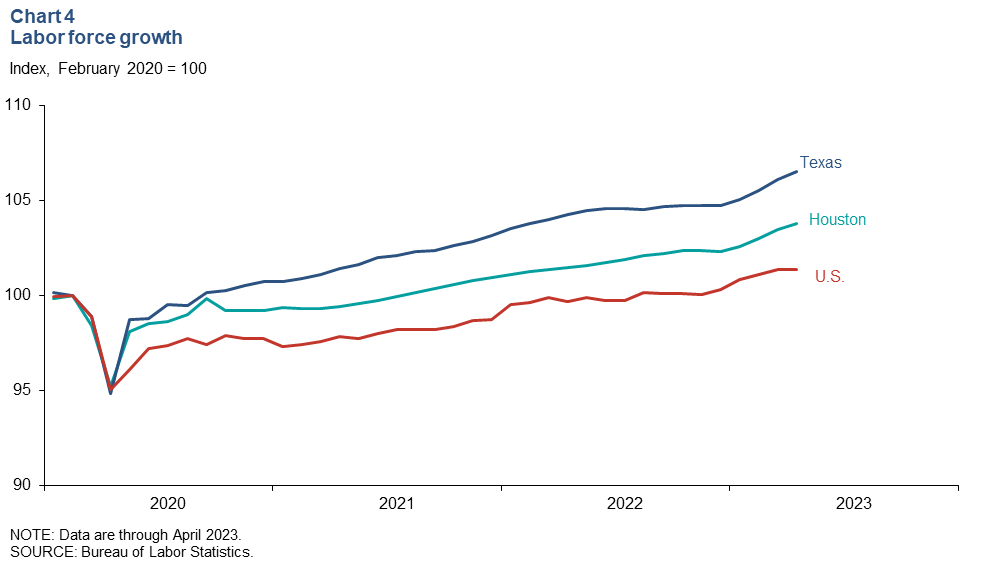 In the 12 months ending in April 2023, the Houston labor force grew by 78,900 people, or 2.4 percent, exceeding the average 2010–19 year-over-year growth of 1.8 percent. The Houston labor force reached prepandemic levels in August 2021, compared with September 2020 for the state and August 2022 for the U.S.
NOTE: Data may not match previously published numbers due to revisions.
About Houston Economic Indicators
Questions or suggestions can be addressed to Ana Pranger at ana.pranger@dal.frb.org. Houston Economic Indicators is posted on the second Monday after monthly Houston-area employment data are released.