Houston Economic Indicators
Houston economy dashboard (July 2023)
Job growth (annualized)
April–July '23
Unemployment rate

Avg. hourly earnings
Avg. hourly earnings growth y/y

0.9%
4.8%
$34.18
10.5%
Houston employment rose 0.9 percent in the three months ending in July, a pickup from June's sluggish growth. With the latest revisions, Houston has added 41,282 jobs in 2023 year to date. Average earnings in the metro are on the rise—above both the state and the nation—though unemployment is also relatively high. Labor force growth has been about even with the state but is outpacing the nation.
Employment
Services slow as construction bounces back in July
The Houston metro added 7,783 jobs in the three months ending in July, a substantial increase from the 2,049 added in the three months ending in June. Construction recovered after adding 7,164 jobs from April to July, a growth of 13.4 percent (Chart 1). Trade, transportation and utilities led growth with 8,475 jobs added, while other sectors saw more mellow gains.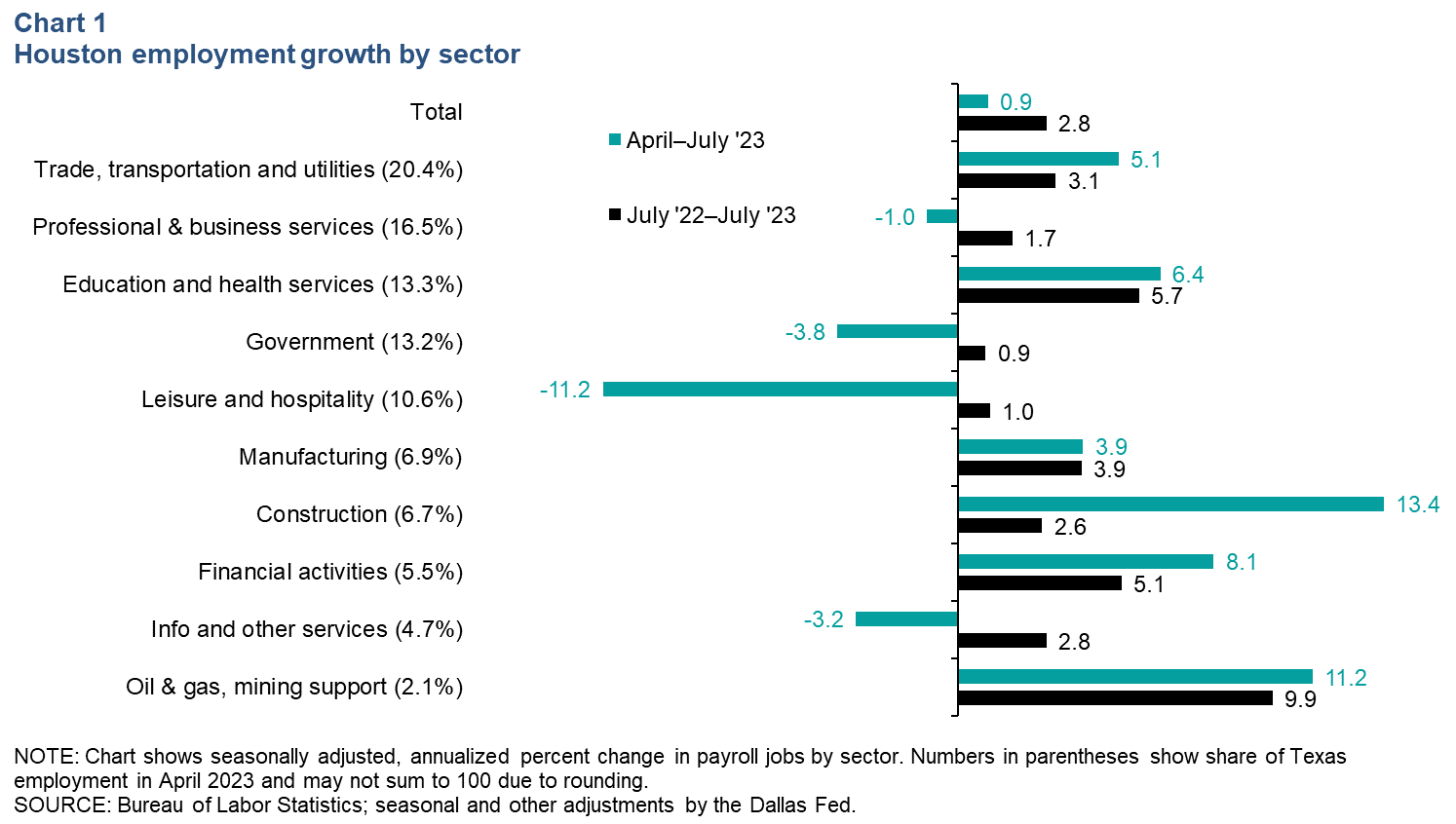 Some services sectors saw employment decline from April to July. Combined, professional and business services, information and other services, and leisure and hospitality had 13,047 fewer jobs in July than April. This decline was driven by the leisure and hospitality industry, which lost 10,366 jobs in the last three months alone.
Early benchmark revises Houston employment up
Employment in the first half of 2023 was stronger than initially estimated, according to the latest data from July (Chart 2). In the first half of the year, Houston added 38,988 jobs, 25 percent above the Dallas Fed's initial estimate of 31,192 jobs and 11 percent above the Bureau of Labor Statistics (BLS) estimate of 35,100.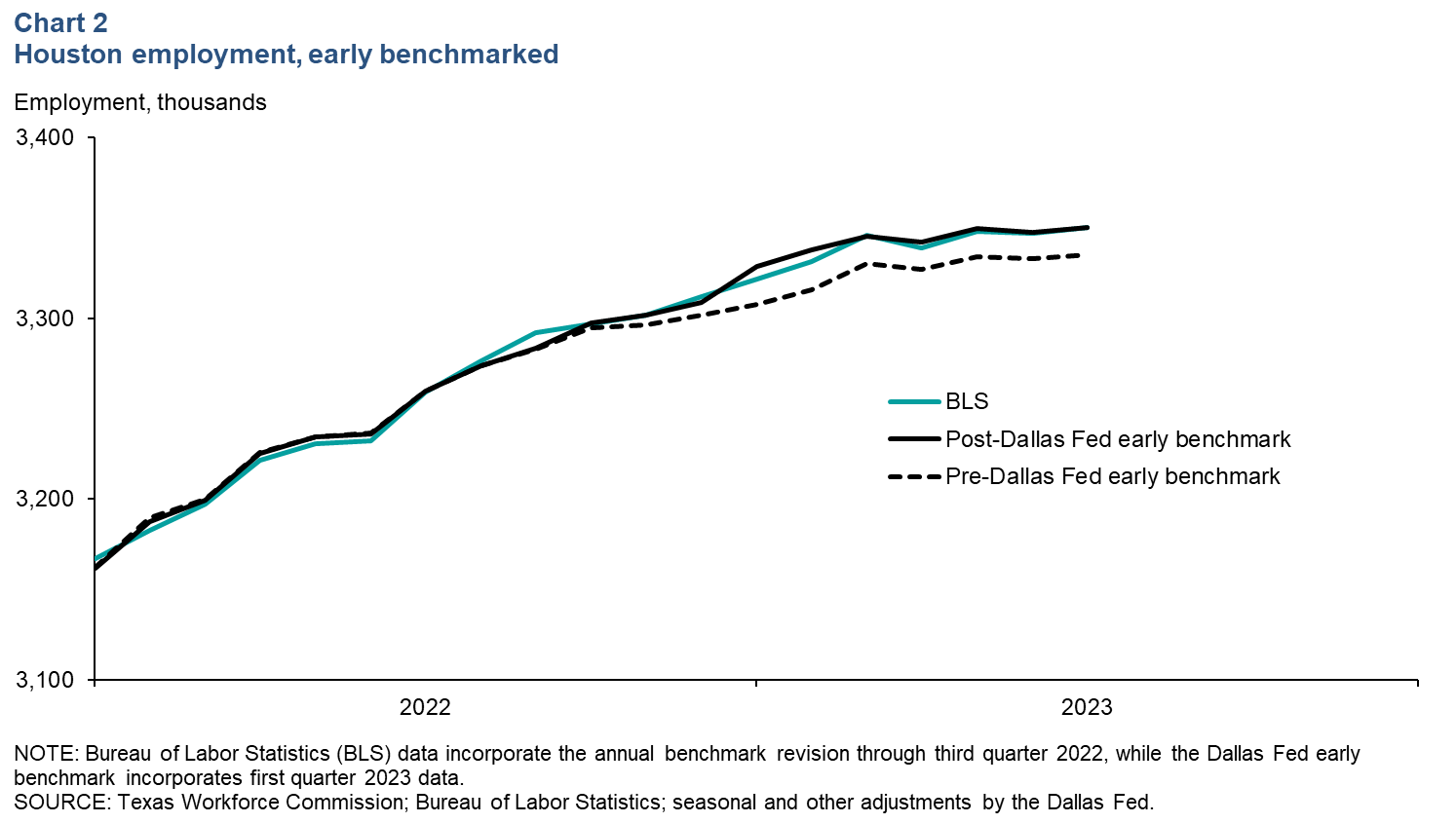 The Dallas Fed runs its quarterly early benchmark, and the BLS incorporates its annual employment benchmark to employment data to estimate jobs more accurately. Both procedures rely on the Quarterly Census of Employment and Wages, which covers about 97 percent of firms. This revision amounted to an additional 14,985 jobs to the July count and 14,939 to the June count.
Labor force indicators
Wage growth in Houston remains strong
Average hourly earnings in the metro rose to $34.18 in July, above $33.68 for the nation and $31.88 for Texas (Chart 3). Real average hourly earnings had fallen to a 20-plus-year low in September 2022 due in part to years of job losses in high-wage mining-related sectors and elevated postpandemic inflation. Since then, real average earnings have risen 10.2 percent through July 2023, compared with increases of 1.1 percent in the U.S. and 3.7 percent in Texas over the same period.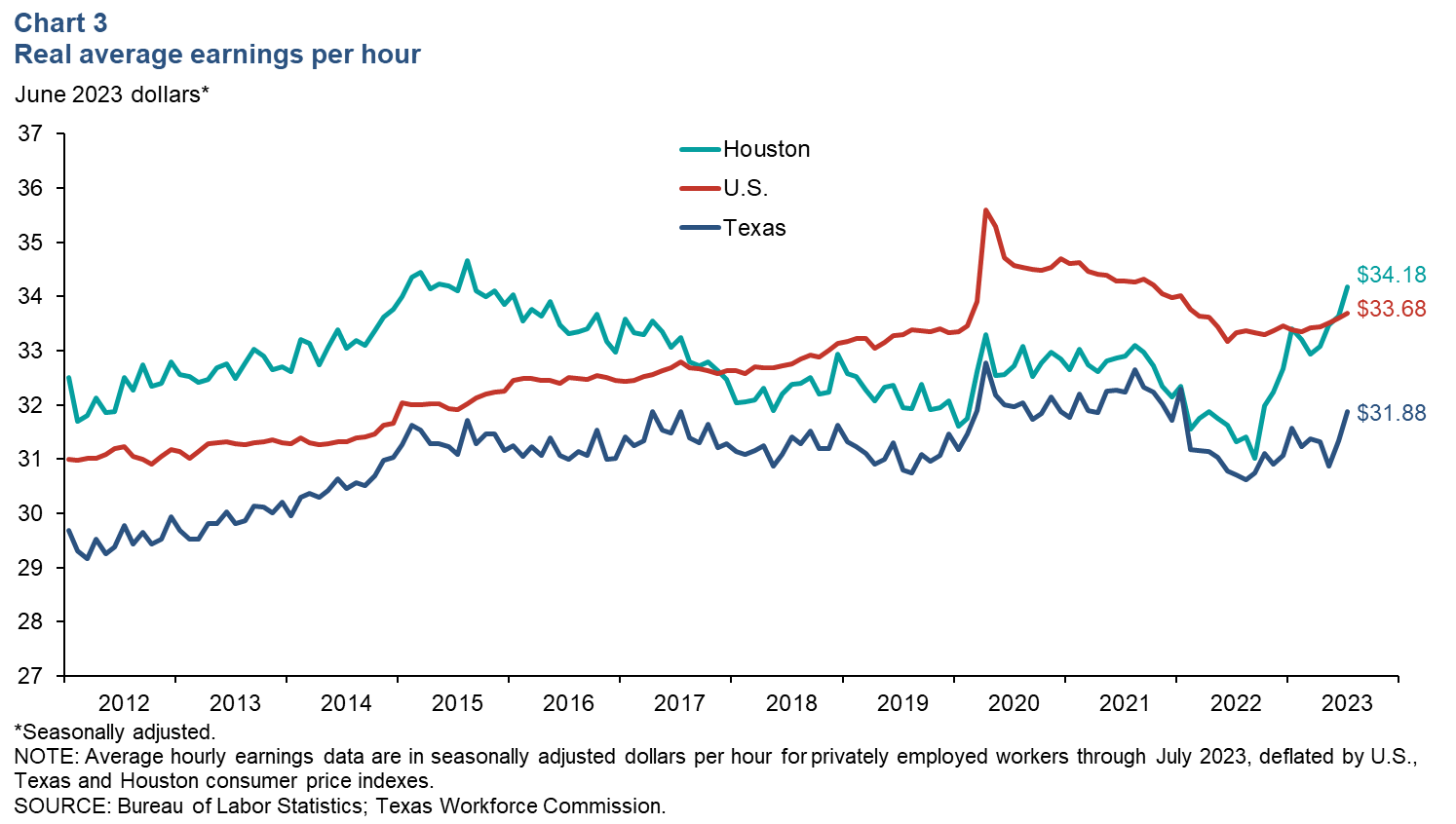 Unemployment in the metro remains above other regions
In July, unemployment in Houston ticked up to 4.8 percent, above the rates of both Texas (4.1 percent) and the nation (3.5 percent) (Chart 4). Houston's unemployment has remained above the state and nation since mid-2020 in part because the energy sector, which has an outsized footprint in the metro, did not recover at the same pace as other industries.
Most Texas metros saw an increase in unemployment in the July data, though Houston's unemployment remains on the higher end. Houston, Austin and Dallas saw a 0.4-percentage-point hike in the unemployment rate between June and July, while San Antonio's jumped 0.9 percentage points.
Houston's labor force rebounding
One reason for elevated unemployment in Texas' metros has been the relatively rapid growth in the local labor force versus the U.S'. In the 12 months ending June 2023, the Houston labor force grew by 84,800 people, a 2.4 percent increase from the previous year (Chart 5). That growth is on par with the state's labor force growth, which was 2.4 percent in June before it ticked up to 2.7 in July, and above the nation's 1.9 percent gains. The strong migration of workers to Houston and to Texas more broadly could be contributing to this outsized growth, which, in turn, contributes to persistently elevated unemployment rates.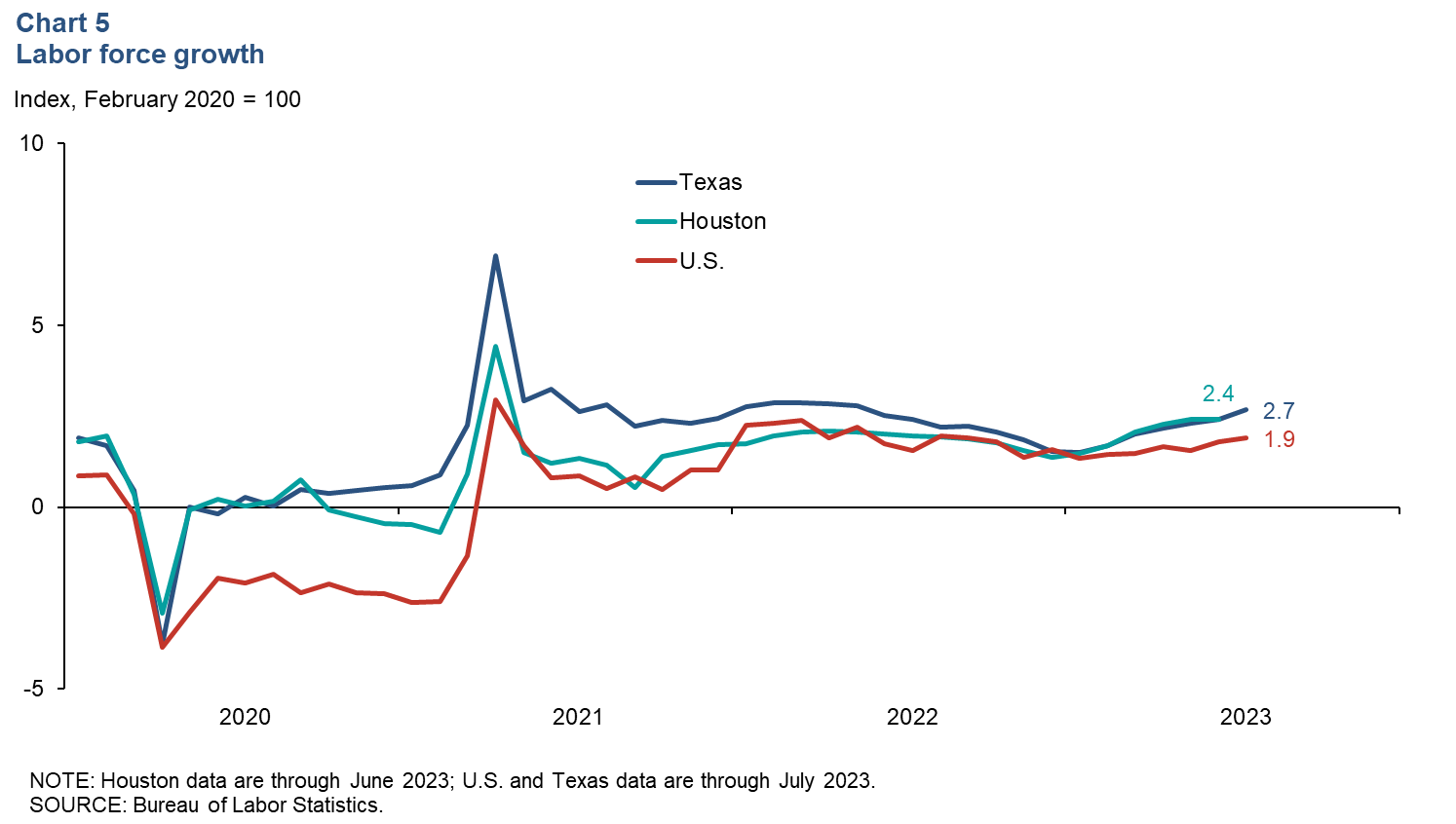 NOTE: Data may not match previously published numbers due to revisions.
About Houston Economic Indicators
Questions or suggestions can be addressed to Ana Pranger at ana.pranger@dal.frb.org. Houston Economic Indicators is posted on the second Monday after monthly Houston-area employment data are released.