Permian Basin Economic Indicators

March 1, 2023
Permian Basin-area employment grew in 2022. Oil production reached a new high, and the rig count increased at the end of 2022. However, home sales slowed and median home prices declined slightly during the fourth quarter.
Energy
Oil prices hold steady
Oil prices remained stable during the fourth quarter. Prices were influenced by several factors: OPEC cutting production, Western sanctions on Russia, global fears of an economic slowdown, and China's reopening and subsequent record numbers of COVID-19 infections. West Texas Intermediate (WTI) crude stood at $80.26 per barrel (bbl) to end the year (Chart 1).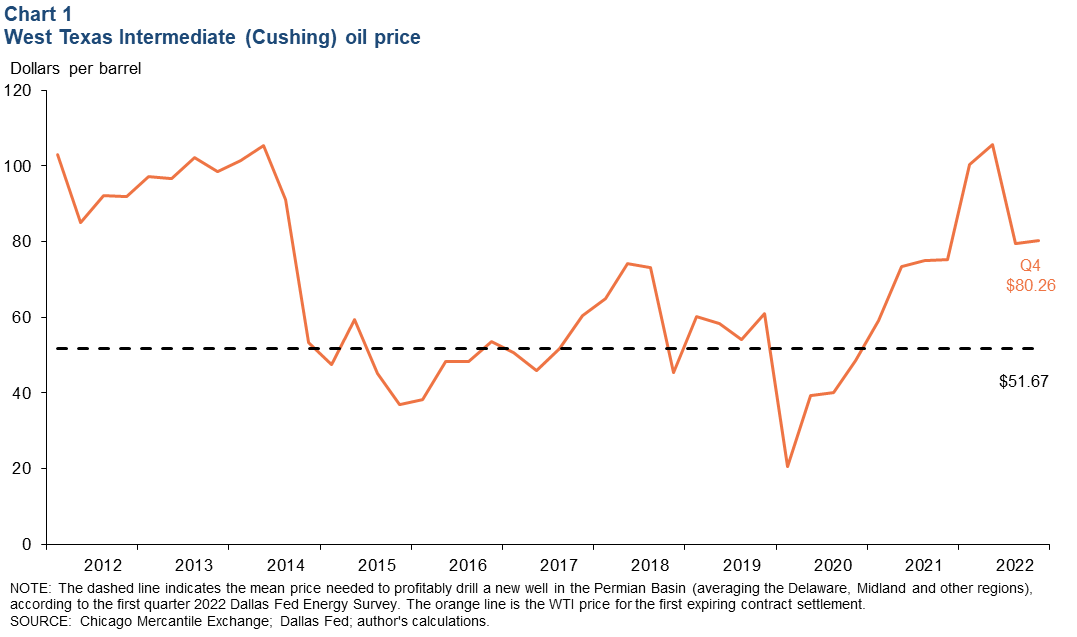 Following the outbreak of war in Ukraine in February 2022, oil prices were on a roller coaster, swinging as high as $124/bbl and as low as $71 during the year. But year-over-year WTI prices increased 6.7 percent in 2022.
Permian oil production hits new high
Permian Basin oil production continued to climb in fourth quarter 2022, with production reaching an all-time high of 5.51 million barrels per day (mb/d) (Chart 2). The rig count moved up to 348 in December from 293 at the start of 2022. WTI crude prices hovered around the $80/bbl mark for much of the fourth quarter and could pave the way for additional rigs in 2023. In 2022, oil production climbed 8.6 percent, while the rig count rose 20.3 percent.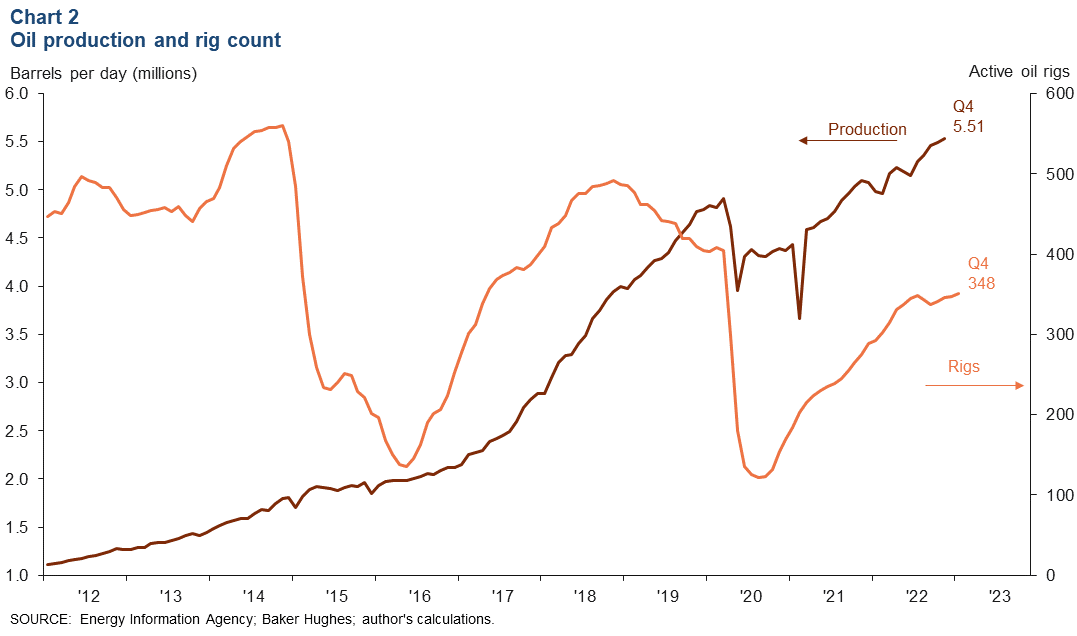 Labor market
Wages fall slightly in quarter
Hourly earnings in Midland and Odessa, Texas, fell 2.8 percent and 1.7 percent, respectively, during fourth quarter 2022 (Chart 3). The three-month moving average for earnings in was $37.99 in Midland and $29.17 in Odessa, with Midland above the state average of $30.49 and the national average of $32.80. During 2022, however, Midland's earnings fell 2.2 percent. Odessa's rose 3.0 percent, which is below the gains in Texas and the U.S. at 4.8 percent.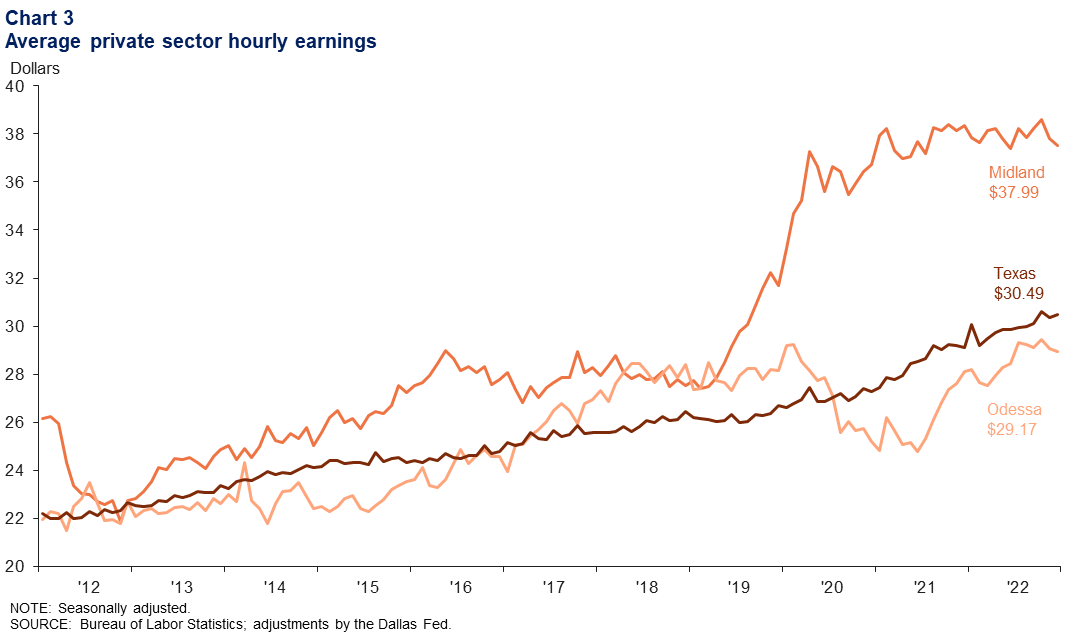 Midland, which boasts many of the white-collar oil industry jobs, continues to enjoy a widening wage gap with the state. The differential was $1.57 at the start of 2019 but grew to $7.50 at year-end 2022. Odessa's average dipped below the state's in August 2020 and has yet to catch up.
Employment growth aided by energy sector
The energy boom led to robust job growth in the Permian Basin's largest industry—mining, logging and construction, which employs about a third of the labor force in the region. In 2022, that sector saw the largest increase, rising 9.8 percent (Chart 4). In the fourth quarter, trade, transportation and utilities led the sectors, followed by manufacturing and mining. Both professional and business services and the manufacturing sector rebounded in the fourth quarter after declining in the third.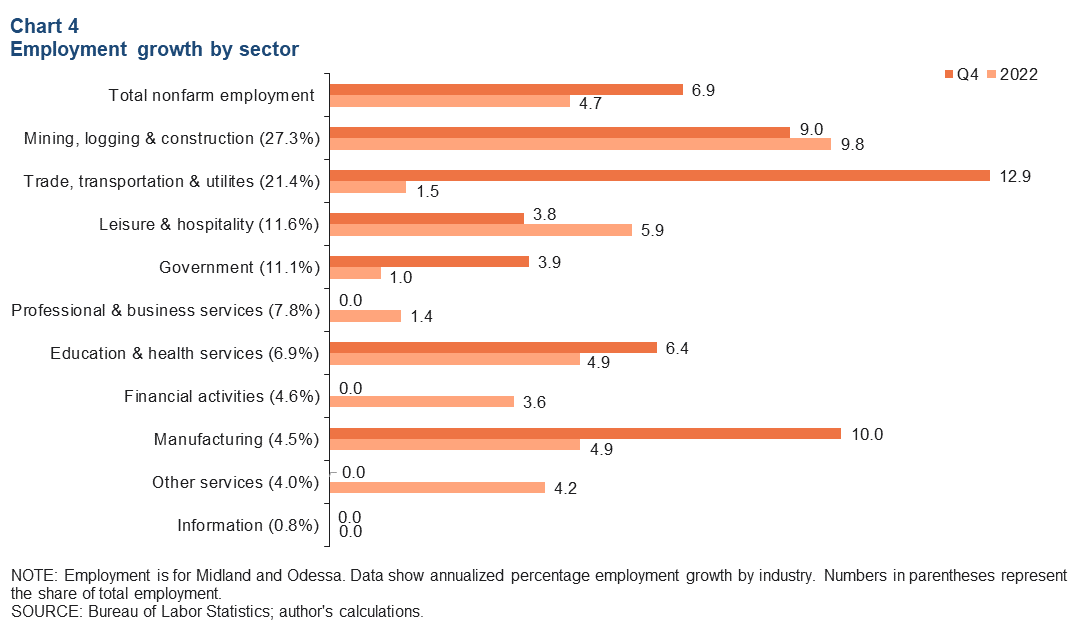 Overall, Midland–Odessa employment grew 6.9 percent in the fourth quarter and 4.7 percent for the year. Those readings compare with annualized 6.0 percent growth in the first half of the year. In 2022, employment growth in the region was lower than in Texas (5.0 percent) but higher than in the U.S. (3.2 percent).
Real estate
Home sales fall in fourth quarter
U.S. mortgage rates reached an average of 6.7 percent in fourth quarter 2022, compared with 3.92 percent the previous year. The elevated rates drove down both existing-home sales and prices in Midland–Odessa over the quarter, though sales moved up in December (Chart 5). Home sales decreased 19 percent in the quarter, compared with a drop of 4.2 percent in Texas. The region did fare better than the rest of the state in 2022, with sales slowing to 6.4 percent versus falling 11.3 percent in Texas.
Housing prices in the region continued to decline in the fourth quarter, down 1.3 percent to a median price of $282,930. Median prices in Texas fell 1.0 percent to around $332,000. In 2022, median home prices declined 0.3 percent in Midland–Odessa but rose 3.3 percent in the state.
Existing-home inventories returning to 2021 levels
Midland–Odessa's supply of existing homes for sale declined during fourth quarter 2022 (Chart 6). The three-month moving average for months of inventory was 2.6 in Midland, slightly below the 2.8 months seen in 2021. Odessa's supply was 3.2 months, the same level as in 2021. In 2022 overall, the supply of homes available for sale in Midland–Odessa decreased 9.8 percent.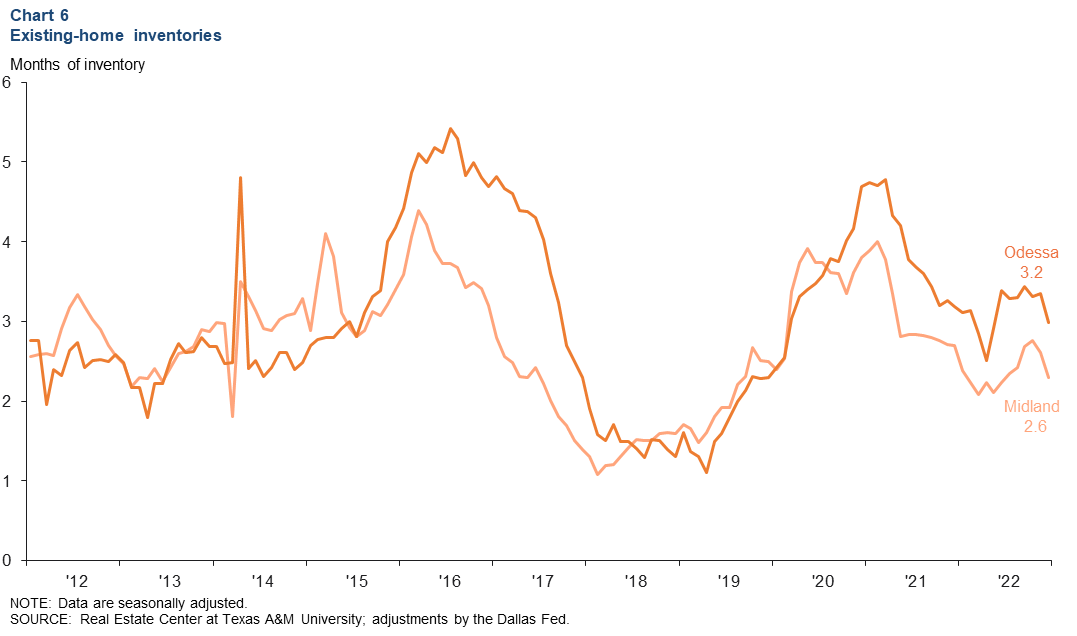 NOTES: Employment data are for the Midland–Odessa metropolitan statistical area (Martin, Midland and Ector counties), unless otherwise specified. Energy data include the 55 counties in West Texas and southern New Mexico that make up the Permian Basin region. Data may not match previously published numbers due to revisions.
About Permian Basin Economic Indicators
Questions or suggestions can be addressed to Kenya Schott at kenya.schott@dal.frb.org. Permian Basin Economic Indicators is released quarterly.