San Antonio Economic Indicators

October 26, 2018
Growth in the San Antonio economy remained mild in September. The San Antonio Business-Cycle Index accelerated while remaining below its long-term average. The unemployment rate was unchanged from August, and job growth continued to be soft. Wages picked up considerably and housing permits grew at a healthy pace, but construction jobs declined.
Business-Cycle Index
The San Antonio Business-Cycle Index expanded at a 2.2 percent annualized rate in September, a slight increase from August's 1.8 percent but still below its long-term average of 2.9 percent (Chart 1). Job growth lingered at 0.6 percent year to date through September, and the unemployment rate remained unchanged from the previous month.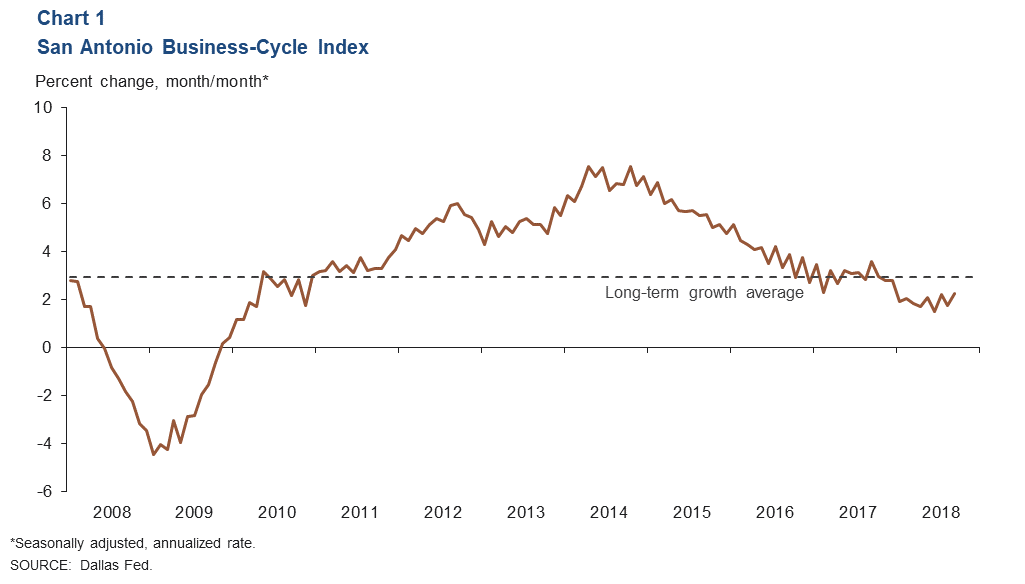 Labor Market
Unemployment Rate Unchanged from August
The San Antonio unemployment rate was 3.3 percent in September, the same as in August (Chart 2). This was considerably below the Texas and the U.S. rates, which were 3.8 and 3.7 percent, respectively. The San Antonio labor force has expanded at an annualized rate of 0.6 percent over the first nine months of the year, whereas the state has grown 2.9 percent and the nation 1.7 percent.
Job Growth Minimal in Third Quarter
San Antonio jobs grew at a mild 0.8 percent rate during the third quarter, slightly above the year-to-date rate of 0.6 percent (Chart 3). Growth within this three-month period was primarily concentrated in the mining, leisure and hospitality, and financial industries. The construction sector, which had grown at a healthy pace the first eight months of the year, experienced a steep decline. Professional and business services continued its trend of shedding jobs.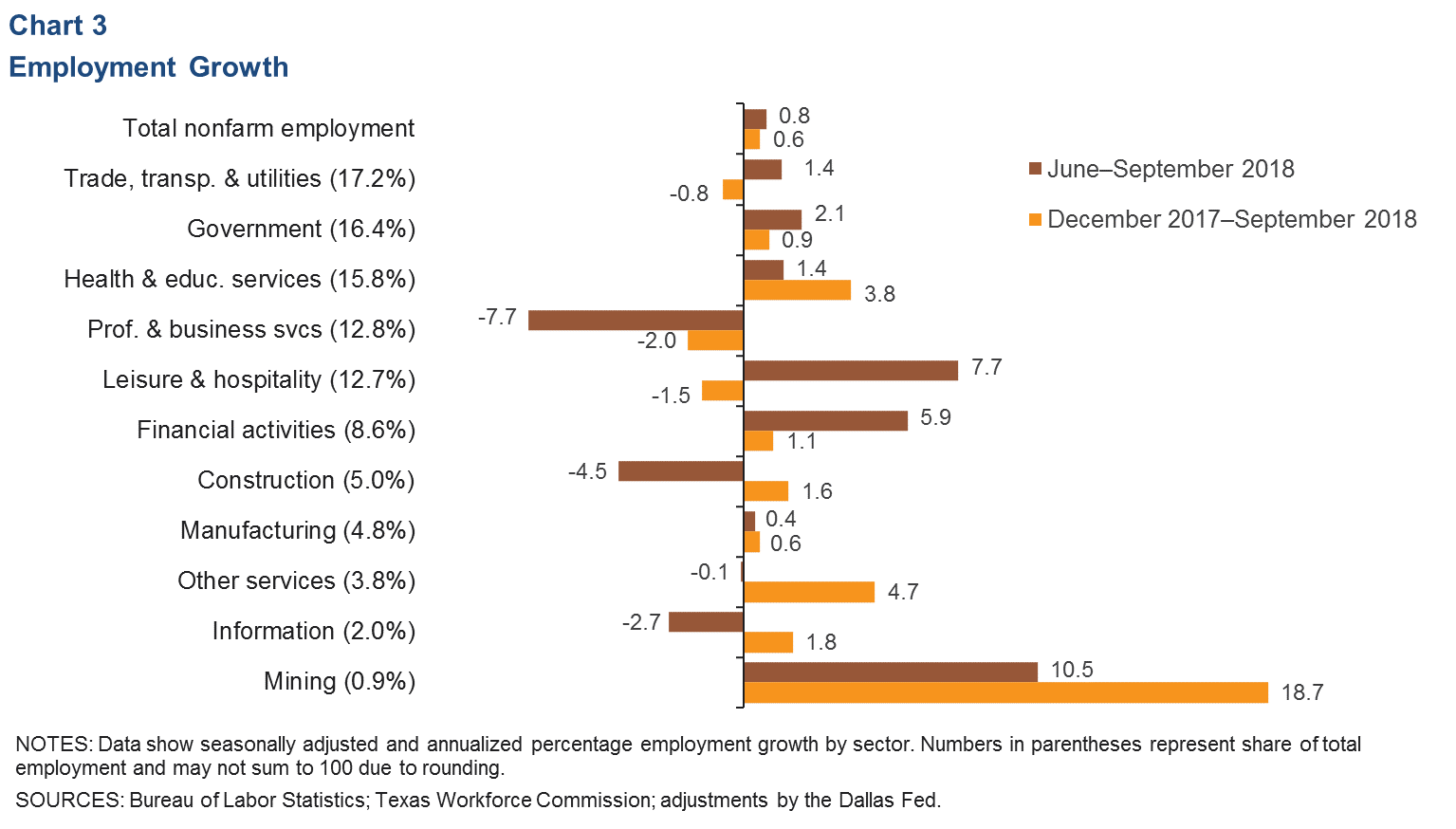 Hourly Wages
San Antonio private sector hourly wages increased in September, and the three-month average rose to its highest level since 2007 (Chart 4). Year to date, wages have grown at an annualized rate of 5.2 percent locally, 1.7 percent in Texas and 3 percent nationally. The overall strength in wage growth is consistent with reports from business contacts in the San Antonio region.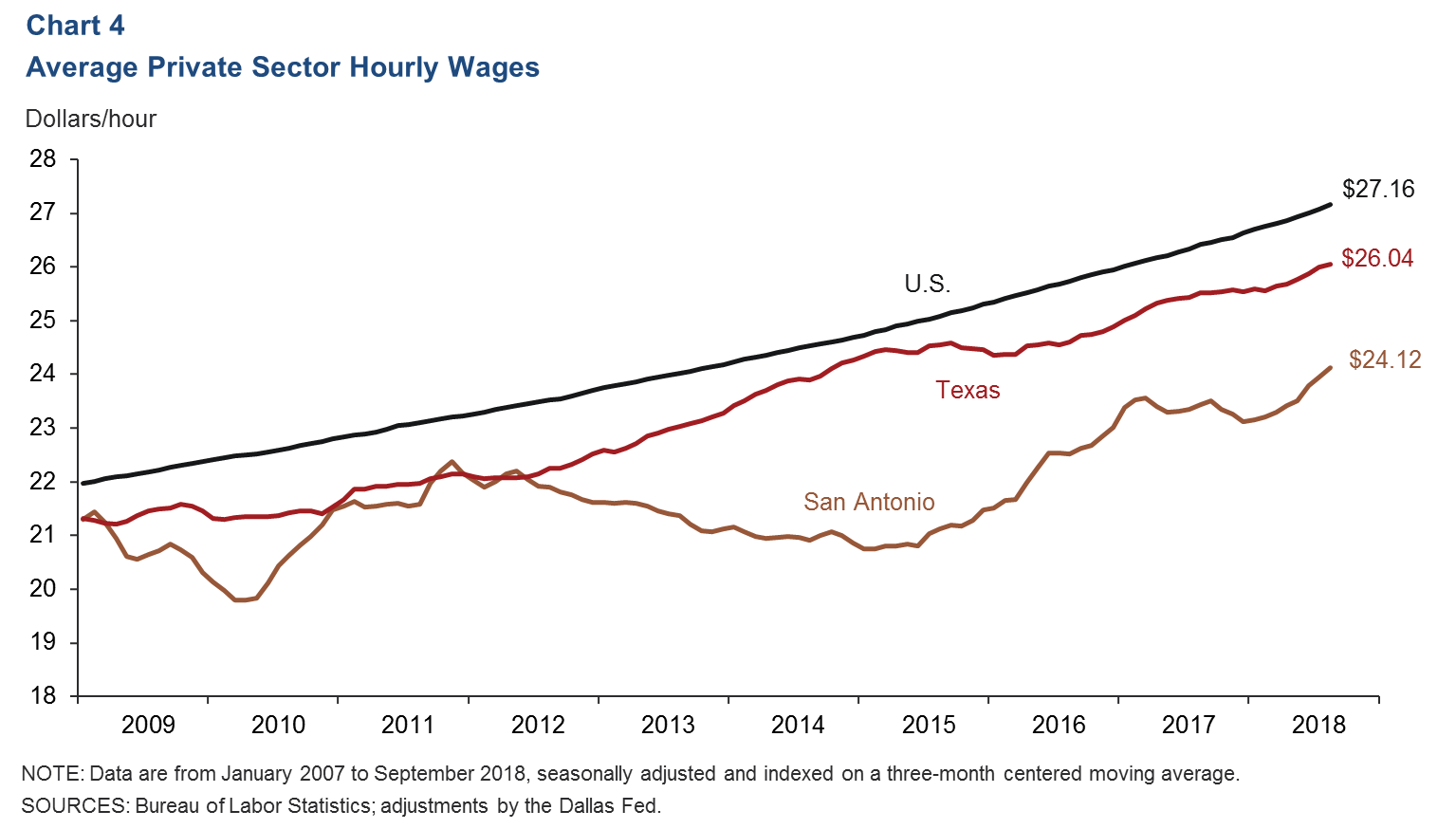 Real Estate
Single-family home construction permits for San Antonio and Texas increased in September, and the three-month averages for both series rose to their highest levels since 2007 (Chart 5). In the first nine months of 2018, San Antonio permits increased 12 percent year over year, while Texas permits increased 6.4 percent. Home inventories remained at 3.3 months' supply, which is significantly below the six months considered a balanced market.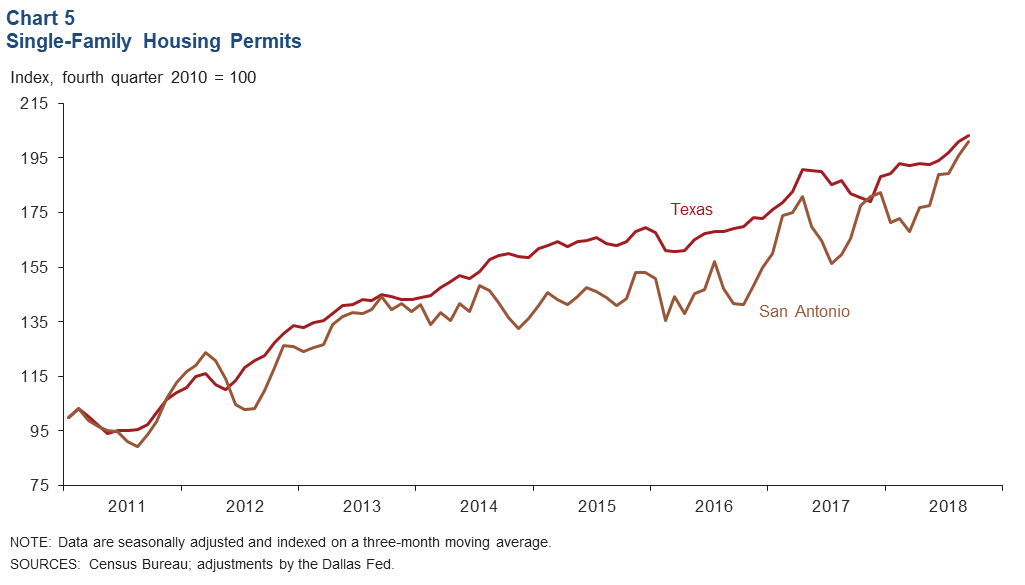 Stock Prices
Stock prices of companies with a significant presence in San Antonio declined 9.7 percent from Sept. 24 to Oct. 19, whereas the S&P 500 decreased 5.2 percent during the same time period (Chart 6). Stock performances from all sectors were influenced, albeit at differing levels, by the stock market downturn in mid-October. In particular, manufacturing, finance and energy sectors experienced moderate to considerable declines, while food services firms saw mild declines. Stock prices of communications-related firms were mixed.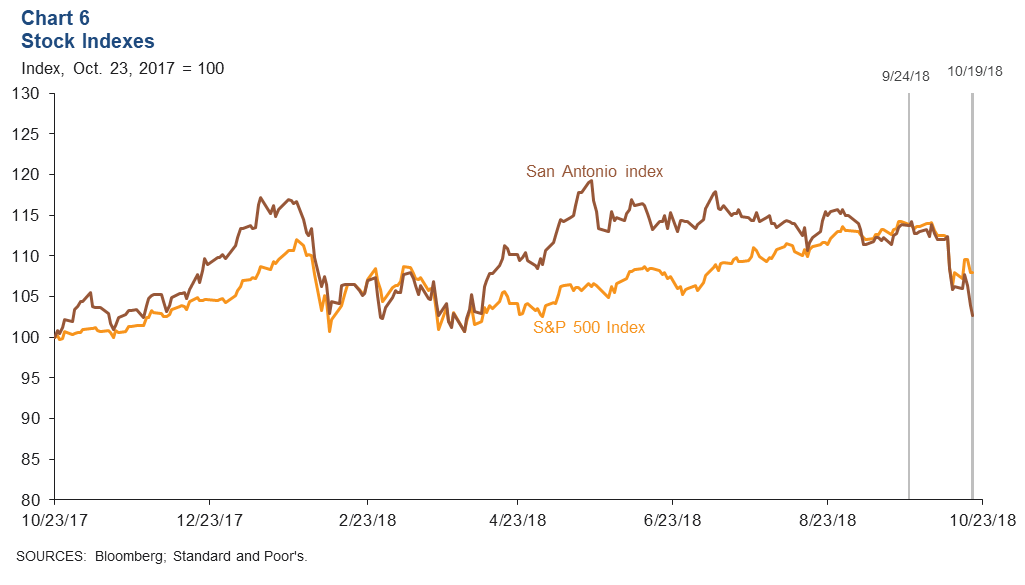 NOTE: Data may not match previously published numbers due to revisions.
About San Antonio Economic Indicators
Questions can be addressed to Judy Teng at judy.teng@dal.frb.org. San Antonio Economic Indicators is published every month on the Thursday after state and metro employment data are released.