San Antonio Economic Indicators

April 1, 2020
Note: Most of the data in this release precede the coronavirus (COVID-19) outbreak in the U.S.
San Antonio's economy grew at a stable pace in February. The San Antonio Business-Cycle Index continued to expand above its long-term average. The unemployment rate declined slightly, and job growth remained steady at a healthy pace over the three months through February. Wages continued to climb, and home sales prices fell. While most data have not captured the impact of the coronavirus outbreak, recent stock prices of San Antonio-based companies show moderate recoveries following sharp declines in February and early March.
Business-Cycle Index
The San Antonio Business-Cycle Index—a broad measure of economic activity in the metro—grew an annualized 4.6 percent in February, above the long-term average of 3.5 percent (Chart 1). Strength in the index was supported by the solid job growth and lower unemployment rate.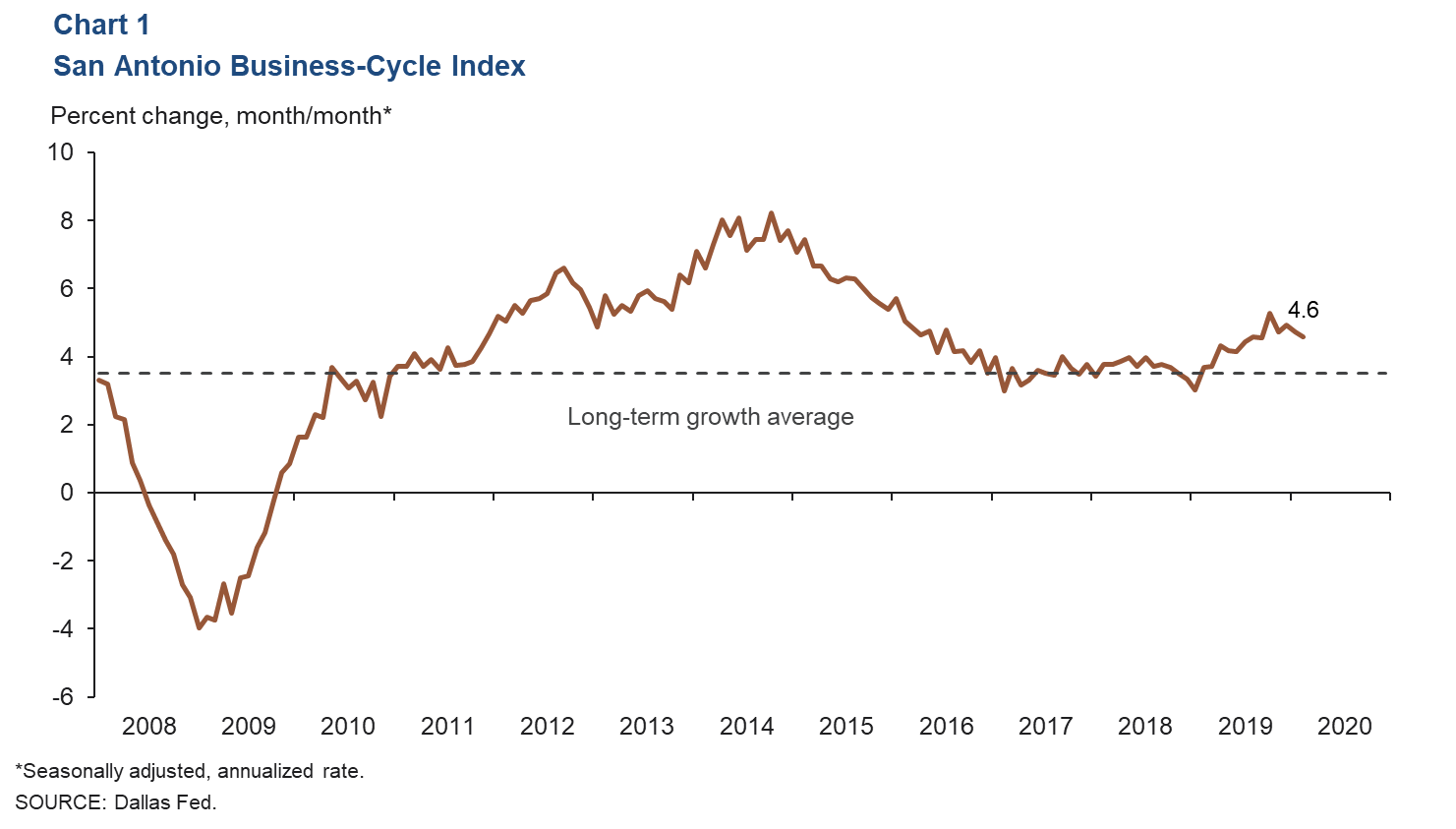 Labor Market
Unemployment Rate Ticks Down
The metro unemployment rate dropped to 3.0 percent in February, while the state jobless rate remained at 3.5 percent and the U.S rate declined to 3.5 percent (Chart 2). In the first two months of the year, the local labor force grew an annualized 1.5 percent, compared with 1.9 percent in 2019.
Recent Job Growth Steady
Jobs grew an annualized 1.8 percent during the three months ending in February (Chart 3). Expansion during this period was mostly broad based across sectors, although mining jobs continued to decline sharply. Professional and business services and financial activities experienced mild job losses. Growth was led by leisure and hospitality (up 7.5 percent, or 2,600 jobs), health and education services (up 4.1 percent, or 1,720 jobs) and information (up 4.5 percent, or 220 jobs).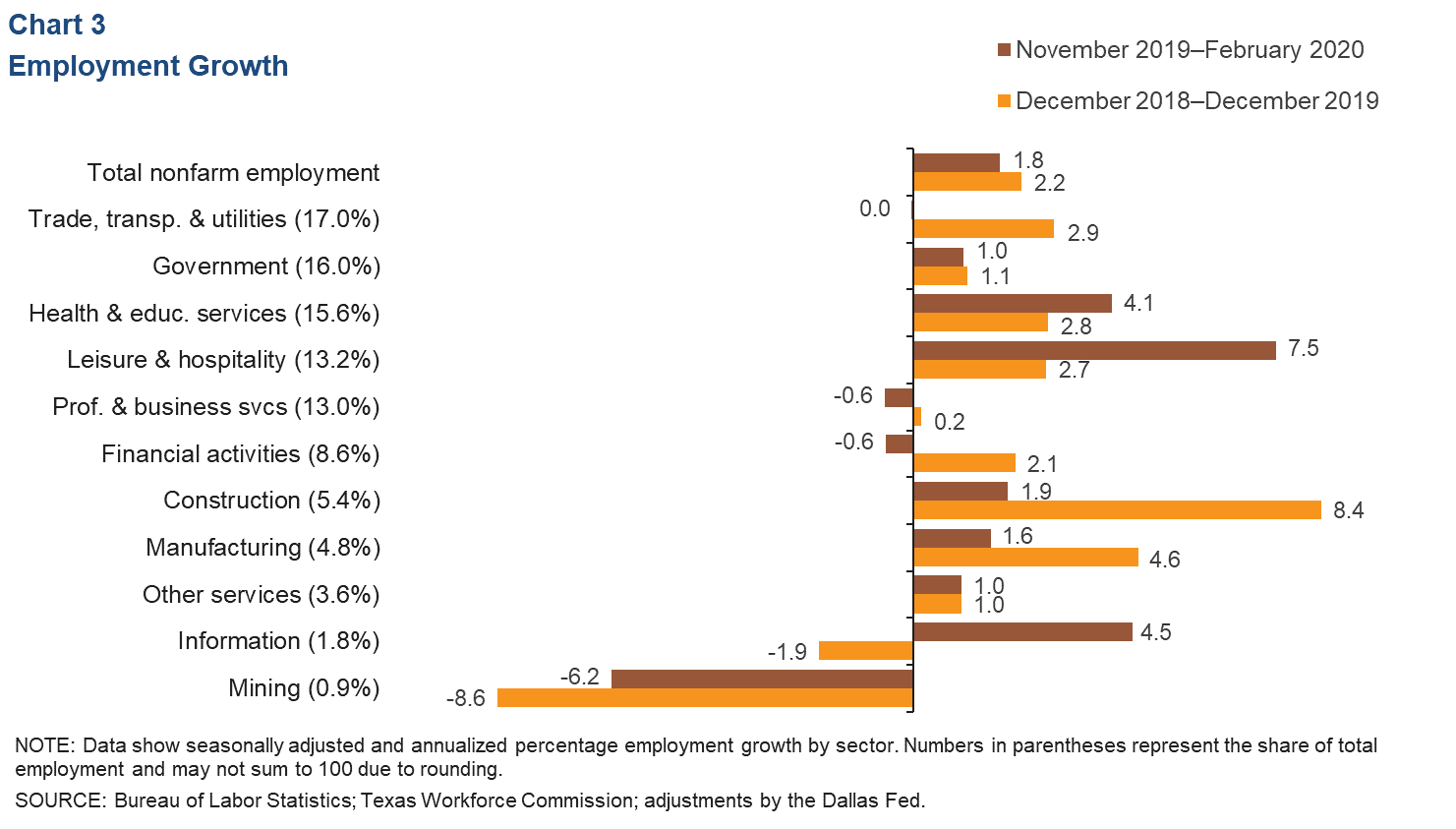 Metro Wages Climb
The three-month average for private sector hourly wages in San Antonio rose to $24.84 in February (Chart 4). Year over year, metro wages increased 3.3 percent, above the Texas and U.S. increases of 1.6 percent and 3.0 percent, respectively.
Real Estate
The median home sales price in San Antonio declined to $233,756 in February, while the state median edged down to $242,108 (Chart 5). Prices were unchanged from a year prior in San Antonio and declined a slight 0.4 percent in the state. Home inventories in San Antonio fell further to three months of supply, their lowest level since the data series began in 1990. The recent weakness is likely impacted by homebuilders' efforts to produce more homes priced below $250,000. Housing affordability, defined as the percentage of homes sold that the median-income household can afford, stood at 65.5 percent in fourth quarter 2019, the highest level since first quarter 2016.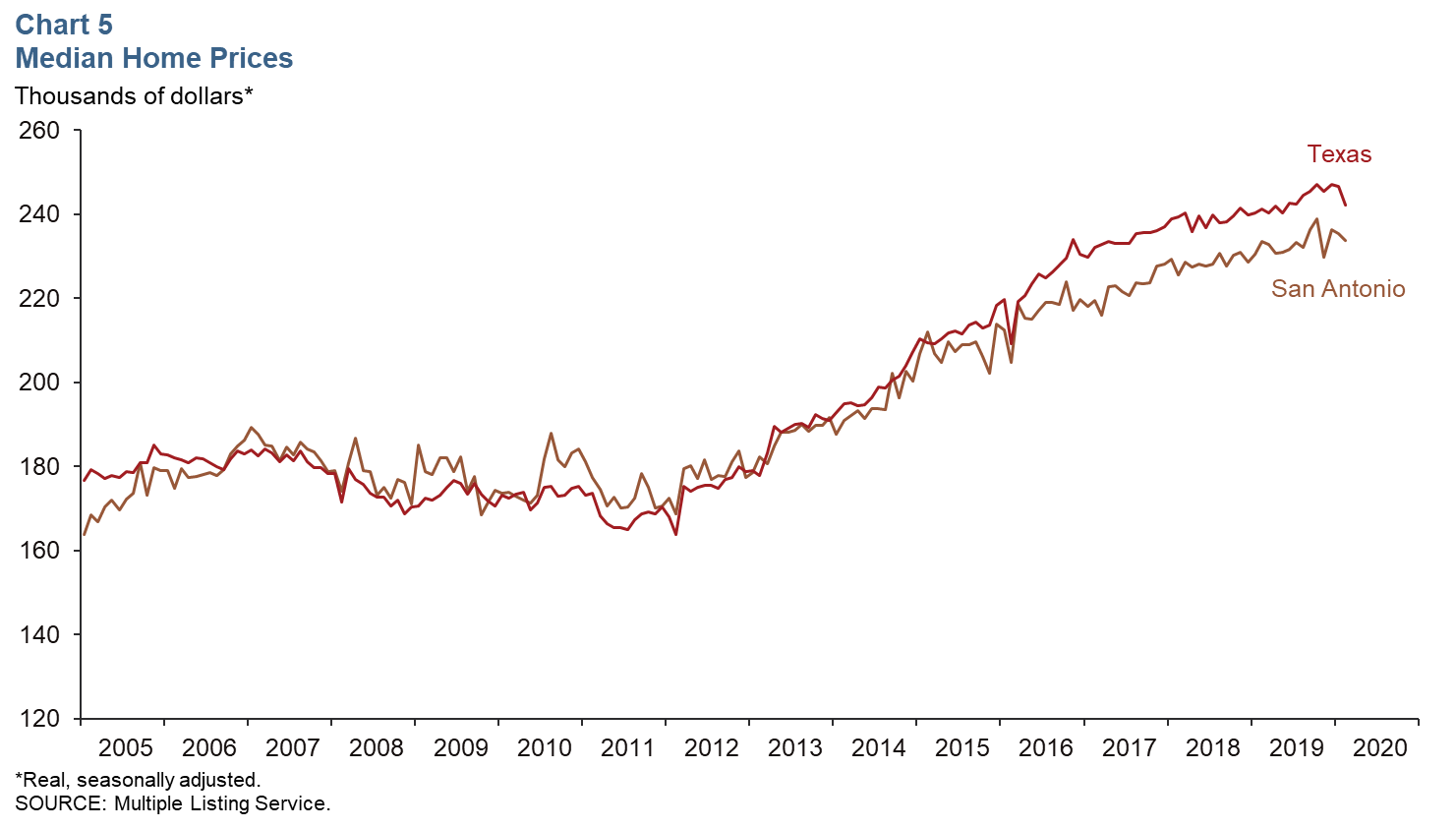 Stock Prices
Stock prices of San Antonio-based companies have somewhat recovered since March 18, though index readings remain significantly lower relative to January 2020 (Chart 6). The San Antonio stock index increased 9.5 percent from March 18 to March 30, moderately lower than the 13.1 increase in the S&P 500 over the same time. The manufacturing, finance and food service industries saw slight recoveries from the stock value plunge. Firms related to communications and energy posted mixed performances.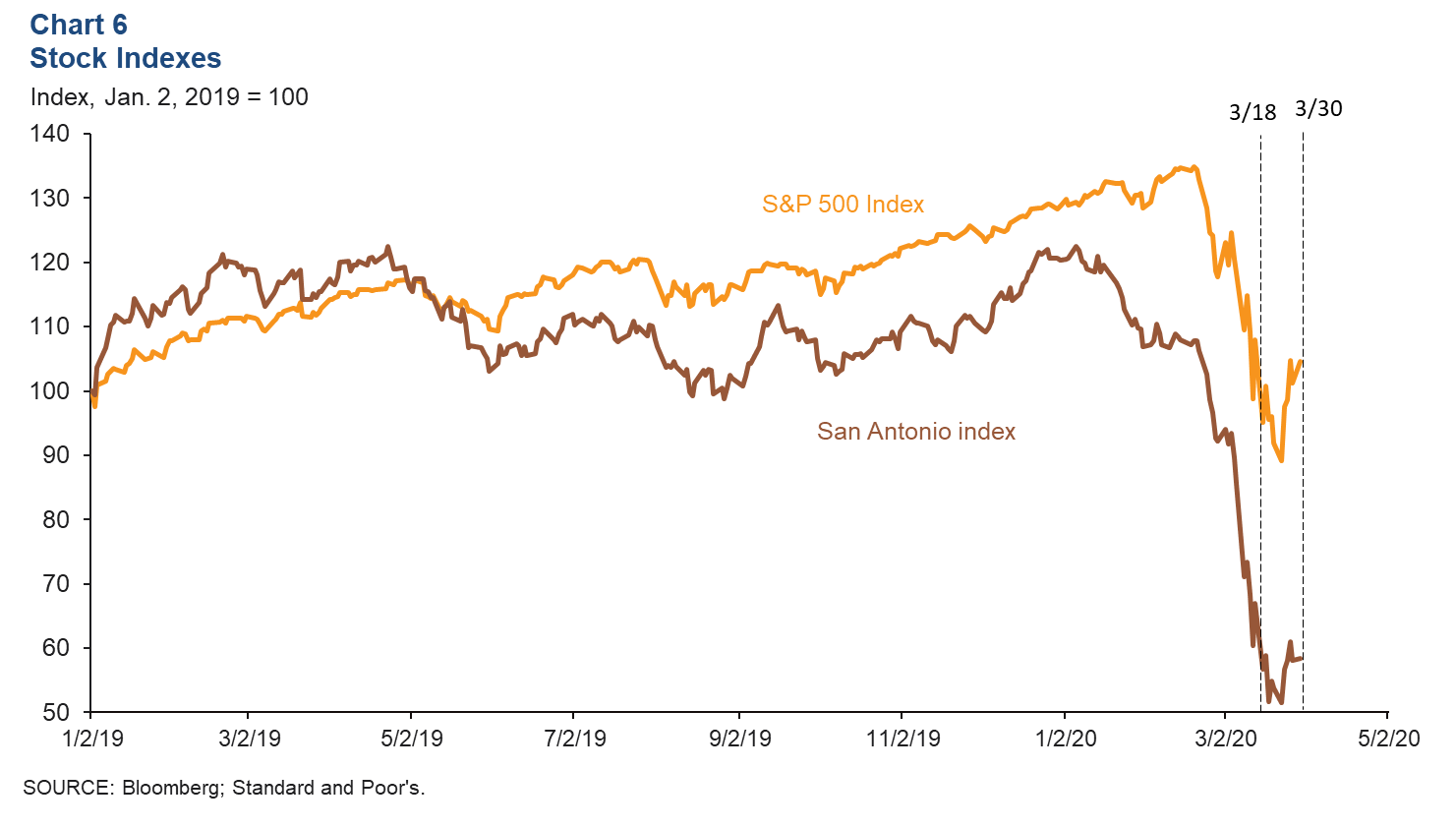 NOTE: Data may not match previously published numbers due to revisions.
About San Antonio Economic Indicators
Questions can be addressed to Judy Teng at judy.teng@dal.frb.org. San Antonio Economic Indicators is published every month on the Thursday after state and metro employment data are released.