San Antonio Economic Indicators

May 25, 2023
San Antonio economy dashboard (April 2023)
Job growth (annualized)
Feb.–April '23
Unemployment rate

Avg. hourly earnings

Avg. hourly earnings growth y/y

2.3%
3.6%
$27.90
2.2%
The San Antonio economy expanded in April, as nearly all sectors experienced growth, wages continued to rise, and unemployment declined slightly. Year to date, the number of employees laid off in San Antonio remains below 2021 levels but is higher than 2022 figures, reflecting a relative softening in the labor market.
Business-cycle index
The San Antonio Business-Cycle Index increased 7.2 percent from March to April—higher than the 5.2 percent increase from February to March (Chart 1).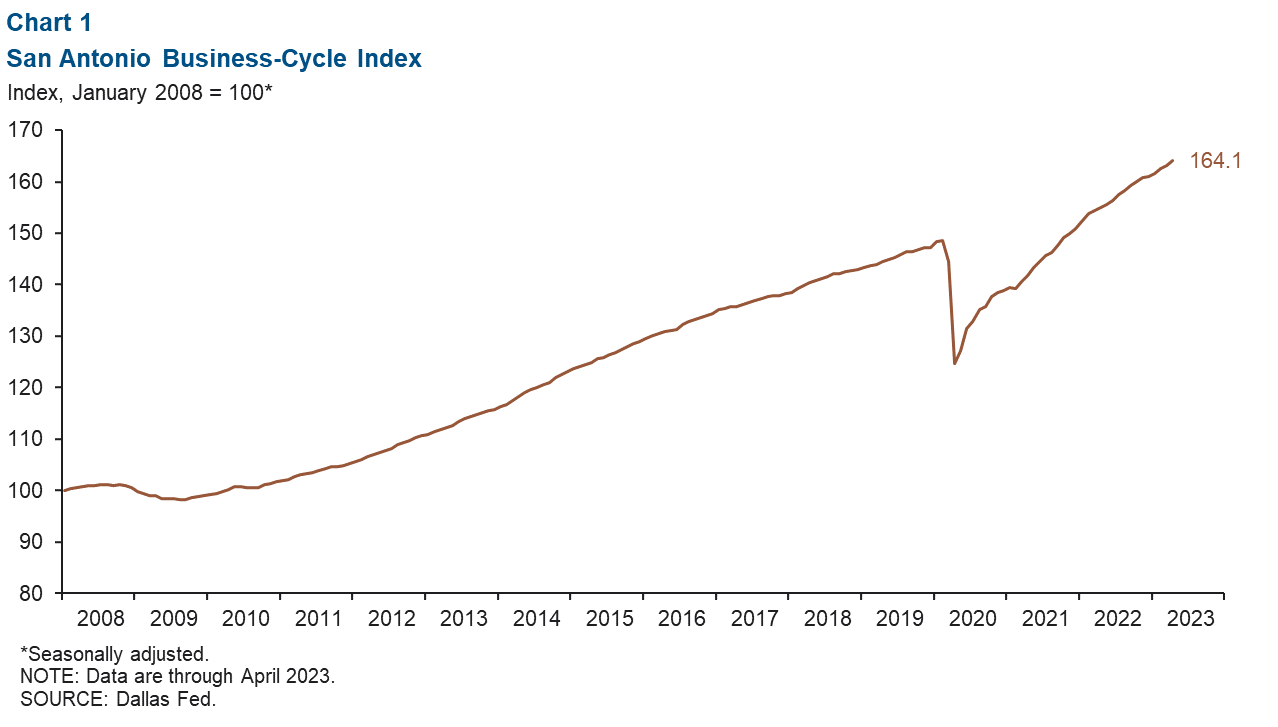 Labor market
Unemployment rate drops
The San Antonio unemployment rate fell to 3.6 percent in April (Chart 2). The metro's jobless rate remains higher than the U.S.' rate of 3.4 percent but lower than the state's 4.0 percent. In April, San Antonio's labor force increased by an annualized 1.2 percent—slower than the annualized year-to-date growth of 4.5 percent.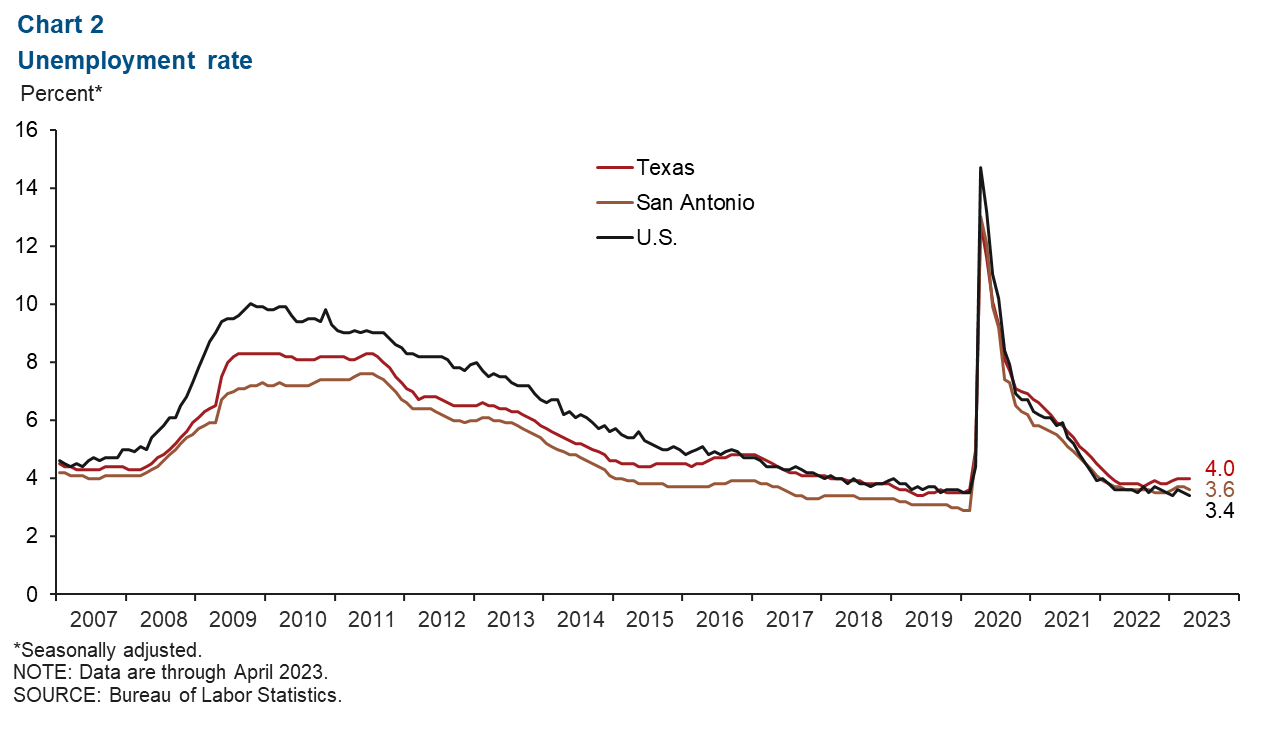 Payrolls accelerate in April
San Antonio payrolls increased an annualized 5.2 percent from March to April (4,913 jobs) (Chart 3). Most sectors saw job gains, though the greatest growth was in professional and business services (2,516 jobs, or 20.4 percent) and mining (82 jobs or 14.8 percent). The sectors seeing decreases were financial activities (296 jobs, or 3.4 percent) and manufacturing (288 jobs, or 5.8 percent). Year to date, total nonfarm employment in San Antonio grew 4.1 percent.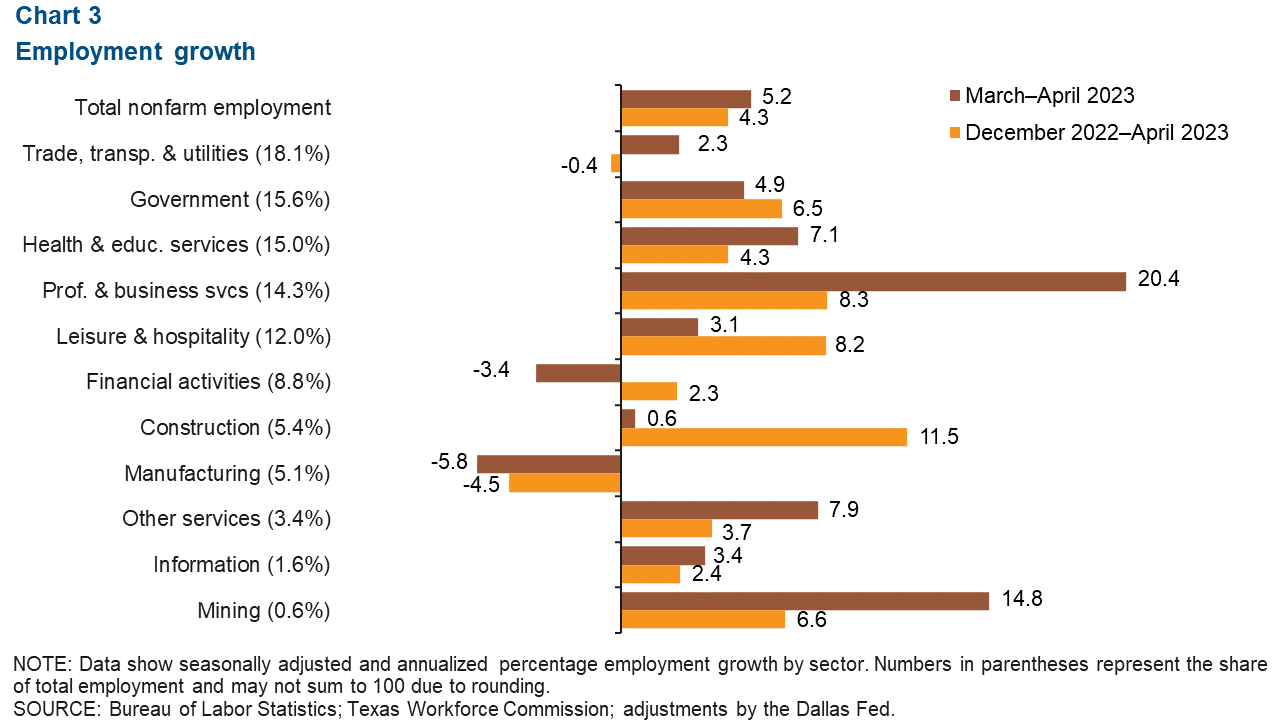 San Antonio wages grow faster than the state
San Antonio wages increased 5.4 percent in April (Chart 4). The three-month moving average of hourly wages in San Antonio was $27.90, below both the state average of $31.17 and the national average of $33.22. In the past year, San Antonio's wages increased 2.2 percent—lower than gains of 5.8 percent in Texas and 4.5 percent in the U.S.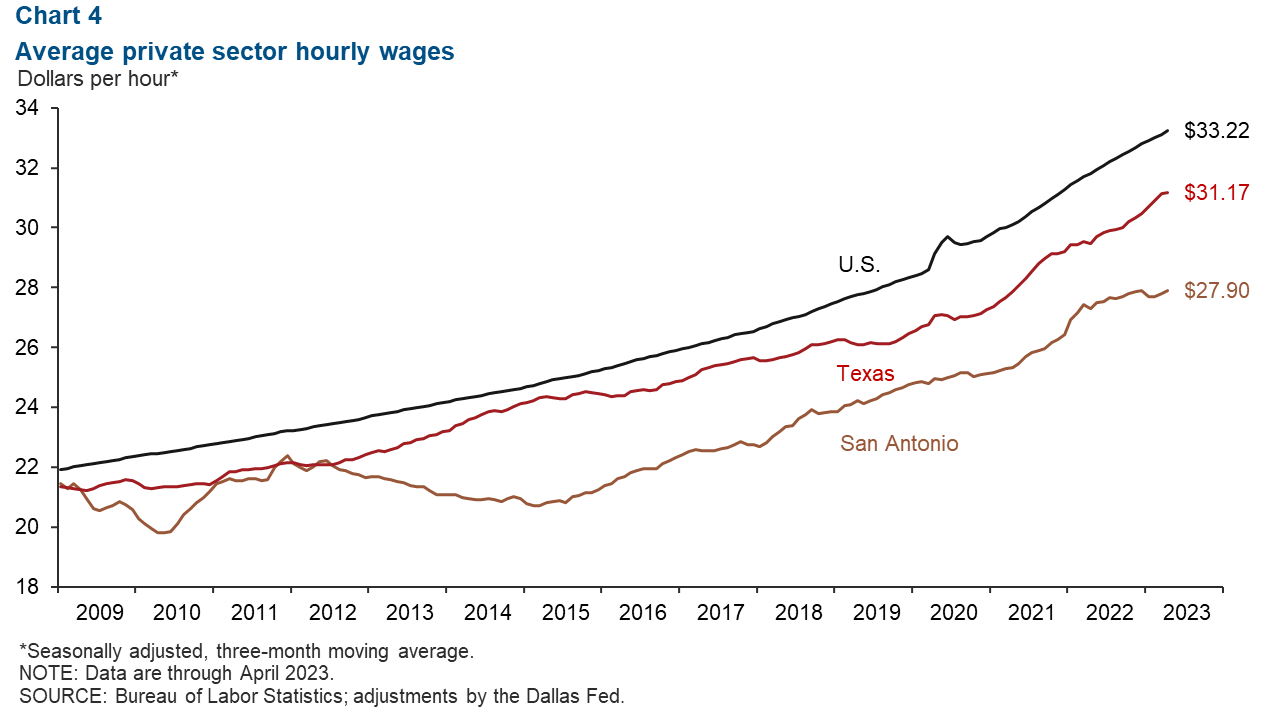 Layoff notices in 2023 surpass 2022 numbers
So far in 2023, 1,708 workers in the San Antonio metropolitan statistical area (MSA) were laid off—greater than the number in 2022 but still lower than 2021 levels (Chart 5). The largest layoff of the year was in the health care sector at Southwest General Hospital. Furthermore, new rounds of layoffs by businesses headquartered in the MSA, such as USAA, have been announced for the second quarter, but those numbers still won't eclipse prepandemic levels.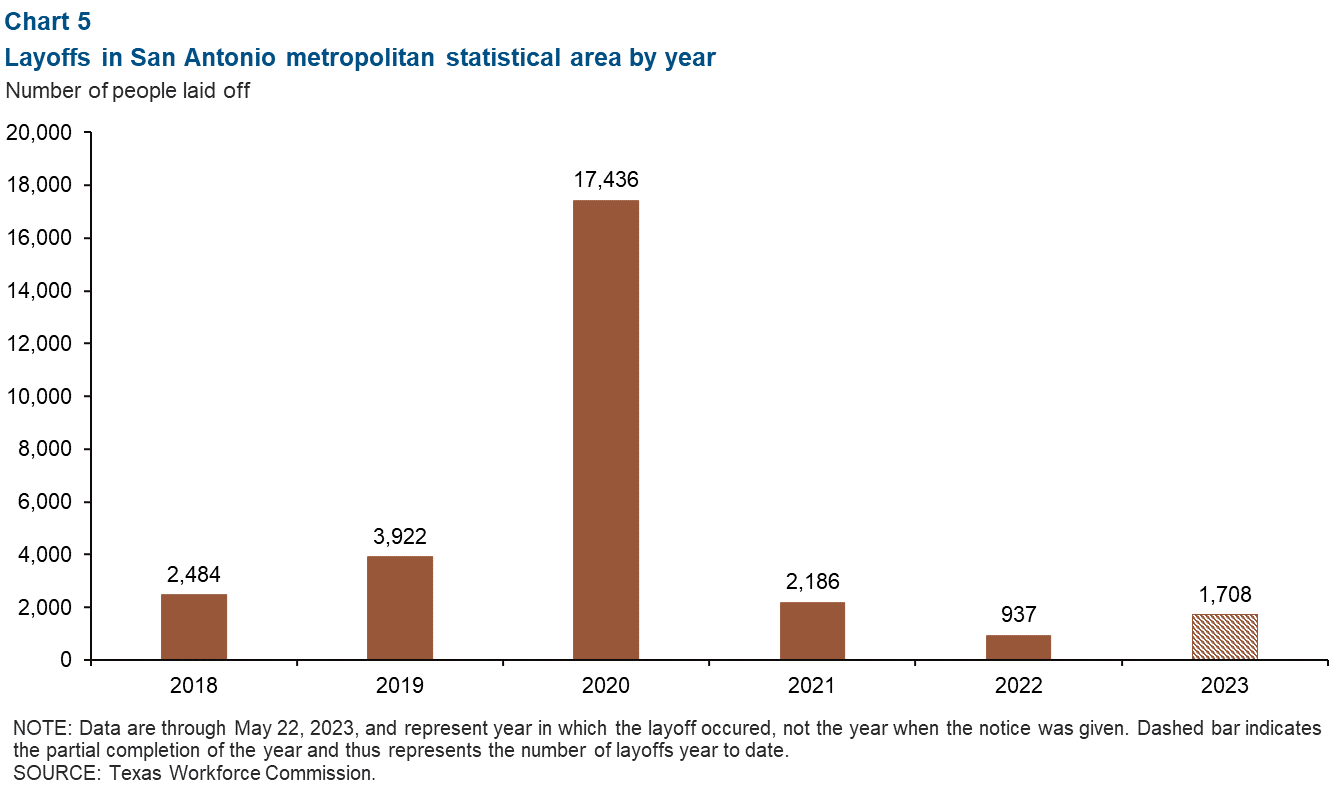 NOTE: Data may not match previously published numbers due to revisions.
About San Antonio Economic Indicators
Questions or suggestions can be addressed to Vee Kalkunte at Prithvi.Kalkunte@dal.frb.org. San Antonio Economic Indicators is published every month during the week after state and metro employment data are released.