Texas Economic Indicators

January 22, 2018
The Texas economy strengthened in 2017. Though Texas employment growth was slower than expected in December, the Texas Leading Index strengthened. Oil prices for the week ending Jan. 19 were 25 percent above their 2017 average. In November, exports rebounded to their pre-oil-bust levels. Median home prices appreciated less rapidly toward year end. Through November, year-to-date growth in single-family housing permits outpaced growth in multifamily permits. 
Labor Market
Texas employment ticked up an annualized 0.6 percent in December, slower than the nation's 1.2 percent growth. Texas employment grew 2.4 percent in 2017, faster than the nation's 1.4 percent increase and the state's 1.2 percent growth in 2016. Employment expanded 2.8 percent in manufacturing and 9 percent in energy in 2017 after two consecutive years of contraction in both sectors (Chart 1).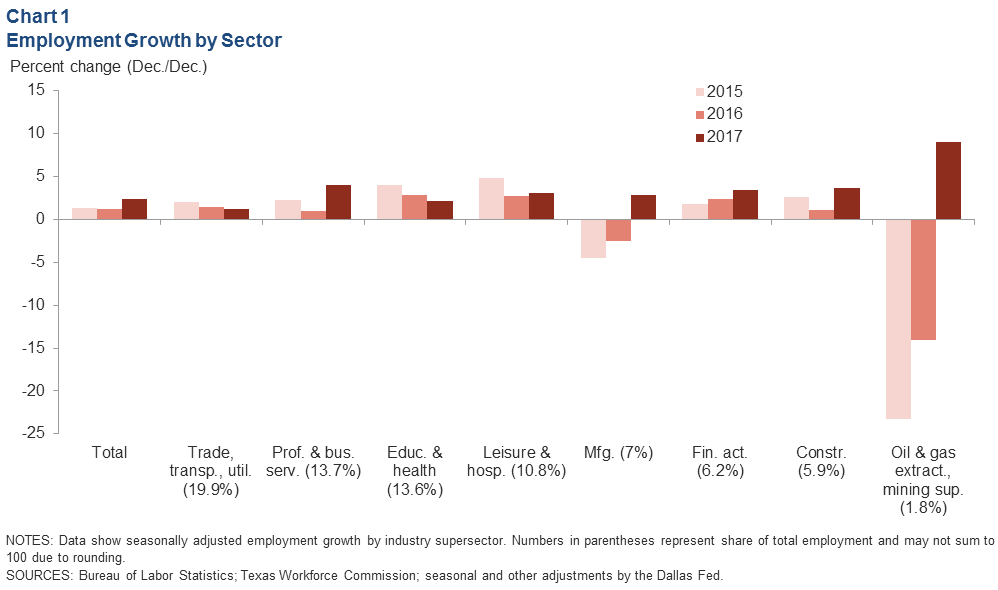 Texas Leading Index
The Texas Leading Index, a composite of eight indicators that tend to change direction before the overall economy does, sheds light on the future of the state's economy. Over the three months ending in December, the estimated value of the index, adjusted for the effects of Hurricane Harvey, rose 1.9 percent (Chart 2). The help-wanted index was the largest positive contributor to the index in the three-month period, while the Texas value of the dollar was the largest negative contributor.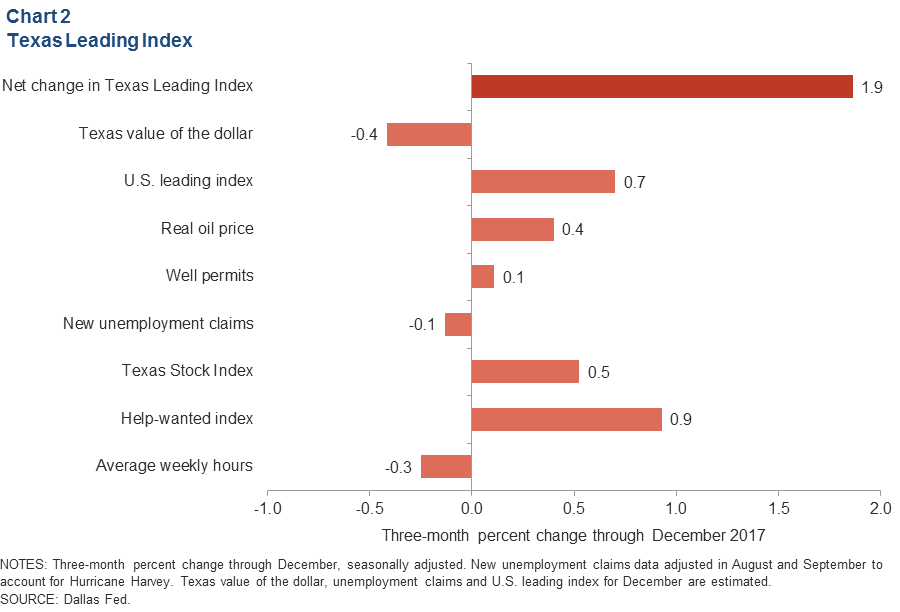 Energy Sector Activity
The price of West Texas Intermediate (WTI) crude oil ticked up in the week ending Jan. 19 to $63.78 per barrel, 25 percent above its 2017 average of $50.90 (Chart 3). The Permian Basin weekly oil rig count increased to 409, up 40 from when the price of WTI hit its 2017 low of $43.14 per barrel in the week ending June 23.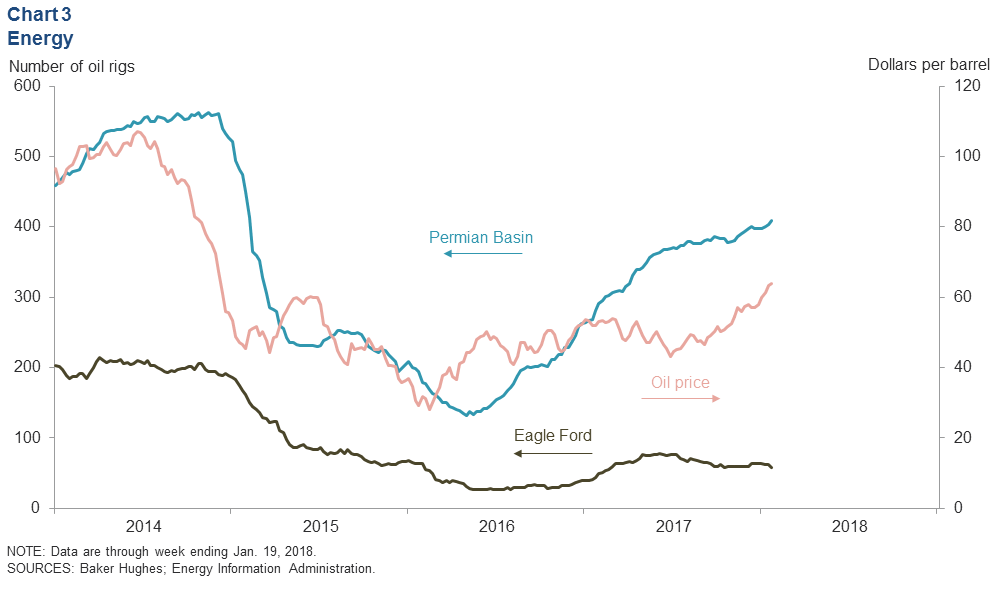 Exports
Texas exports climbed 3 percent in November, and U.S. exports rose 3.4 percent. Through November, exports are up 10.2 percent for Texas and 3.8 percent for the U.S. compared with the same period in 2016.
Texas exports have recovered to pre-energy-bust levels (Chart 4). Texas exports slid during the energy bust until reaching a low in July 2016. Petroleum and coal products, among Texas' top export commodities, accounted for 16.7 percent of exports in 2017 (through the third quarter), down from 20.5 percent in 2014.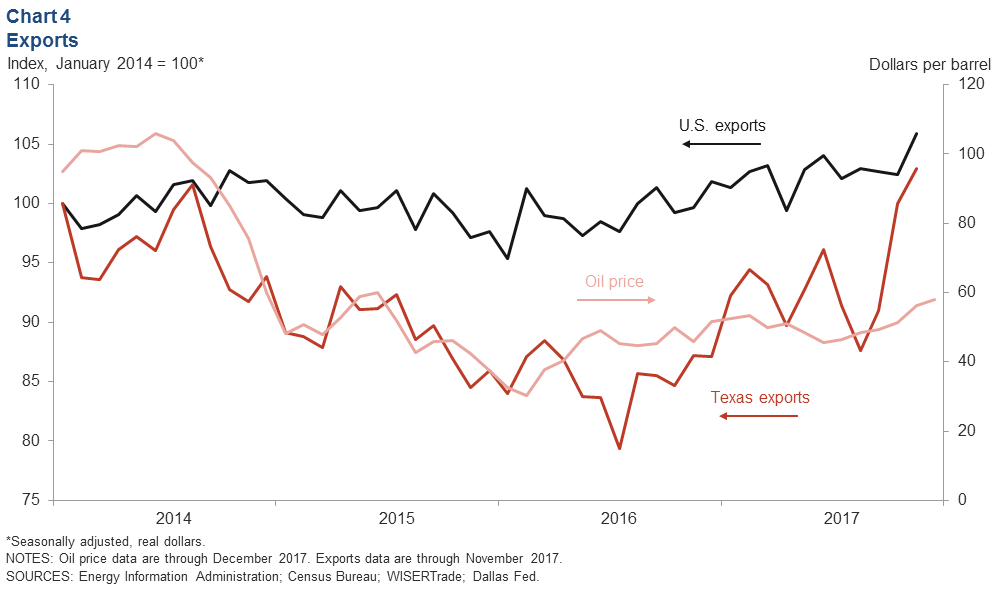 Housing Market
Median Home Price Appreciation Slows
The Texas median home price was $226,779 in November—up 1 percent from a year ago and flat from the previous month. Looking at the year-over-year change in the three-month moving average, median home price appreciation has recently slowed in Texas and its major metros (Chart 5). Through November, Texas median home prices have increased at a slower pace than in each of the past four years.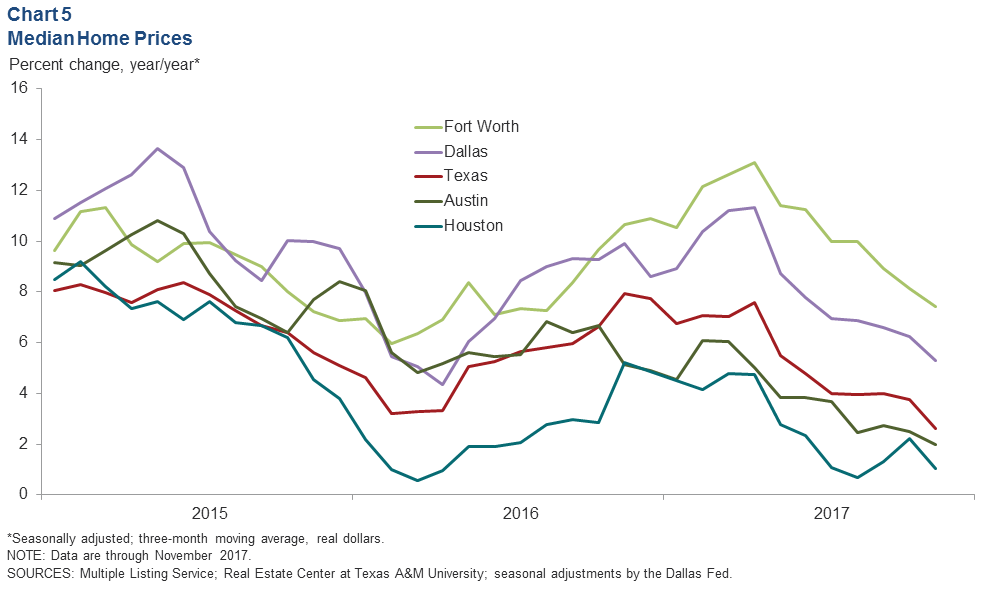 Single-Family Construction Accelerates, Multifamily Slows
Through November, nearly 108,000 single-family housing permits were issued in Texas, up 11.1 percent compared with the same period in 2016 (Chart 6). Single-family permits grew slower in the previous two years—2 percent in 2016 and 5.7 percent in 2015. Almost 52,000 Texas multifamily permits were issued through November, up 1.4 percent compared with the same period in 2016. Multifamily permits plunged nearly 20 percent in 2016 after strong growth from 2010 through 2014.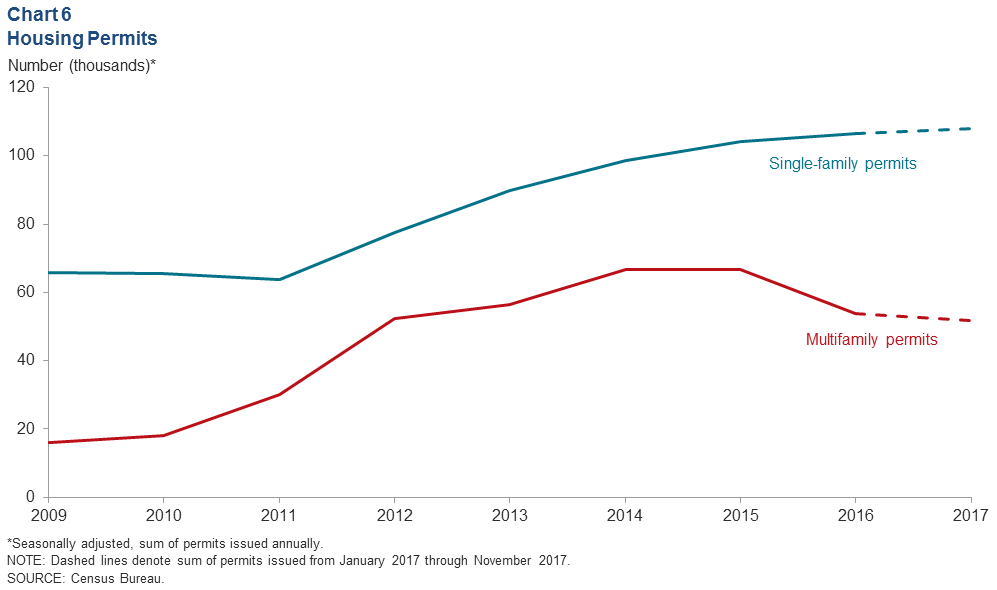 NOTE: Data may not match previously published numbers due to revisions.
About Texas Economic Indicators
Questions can be addressed to Alex Abraham at alex.abraham@dal.frb.org. Texas Economic Indicators is published every month on the Monday after Texas employment data are released.