Texas Economic Indicators

April 21, 2020
The Texas economy contracted in March, as payrolls declined and unemployment ticked up as a result of the coronavirus (COVID-19) pandemic. Texas led the nation in the dollar amount of approved loans from the Paycheck Protection Program, followed by other large states. The Texas Leading Index slipped in March for the second month in a row. Oil and natural gas prices remain depressed. Texas exports grew in February.
Labor Market
Texas Job Growth Slips in March
Texas employment fell an annualized 4.7 percent in March following upwardly revised growth of 3.9 percent in February (Chart 1). This was the first time that payrolls weakened since mid-2017. Most industries lost jobs in March, especially leisure and hospitality, which contracted an annualized 19.5 percent. The government, financial activities and other services sectors grew in the month. U.S. payrolls also contracted in March, shrinking an annualized 5.4 percent after robust growth in the first two months of the year.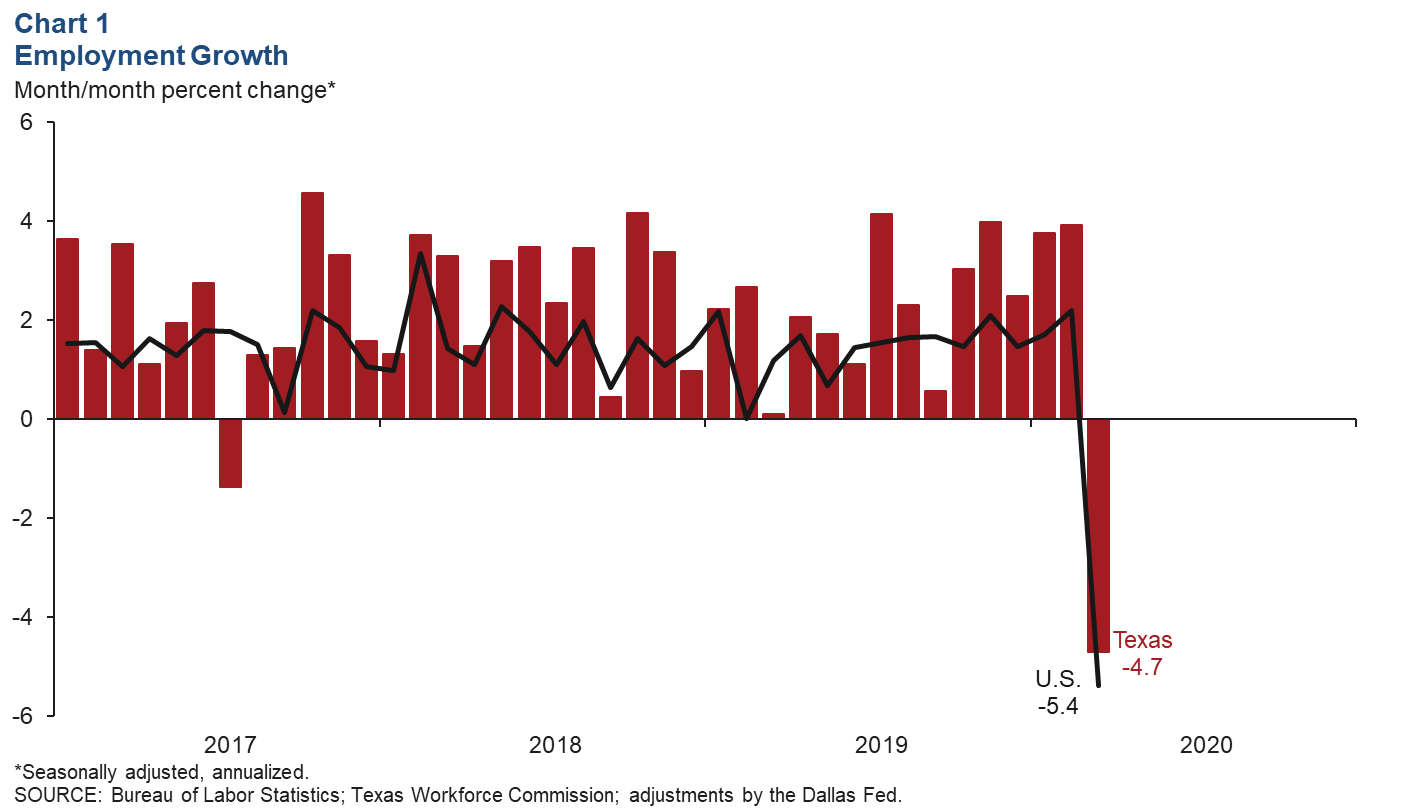 March Unemployment Rises
Texas unemployment rose to 4.7 percent in March after holding at a near-record low for the past eight months (Chart 2). U.S. unemployment also climbed in the month to its highest level since August 2017. The increase partly reflects recent layoffs in the state. According to weekly insurance claims data, most of the initial unemployment claims filed in early- to mid-March were from the accommodation and food services sector, but other sectors followed subsequently.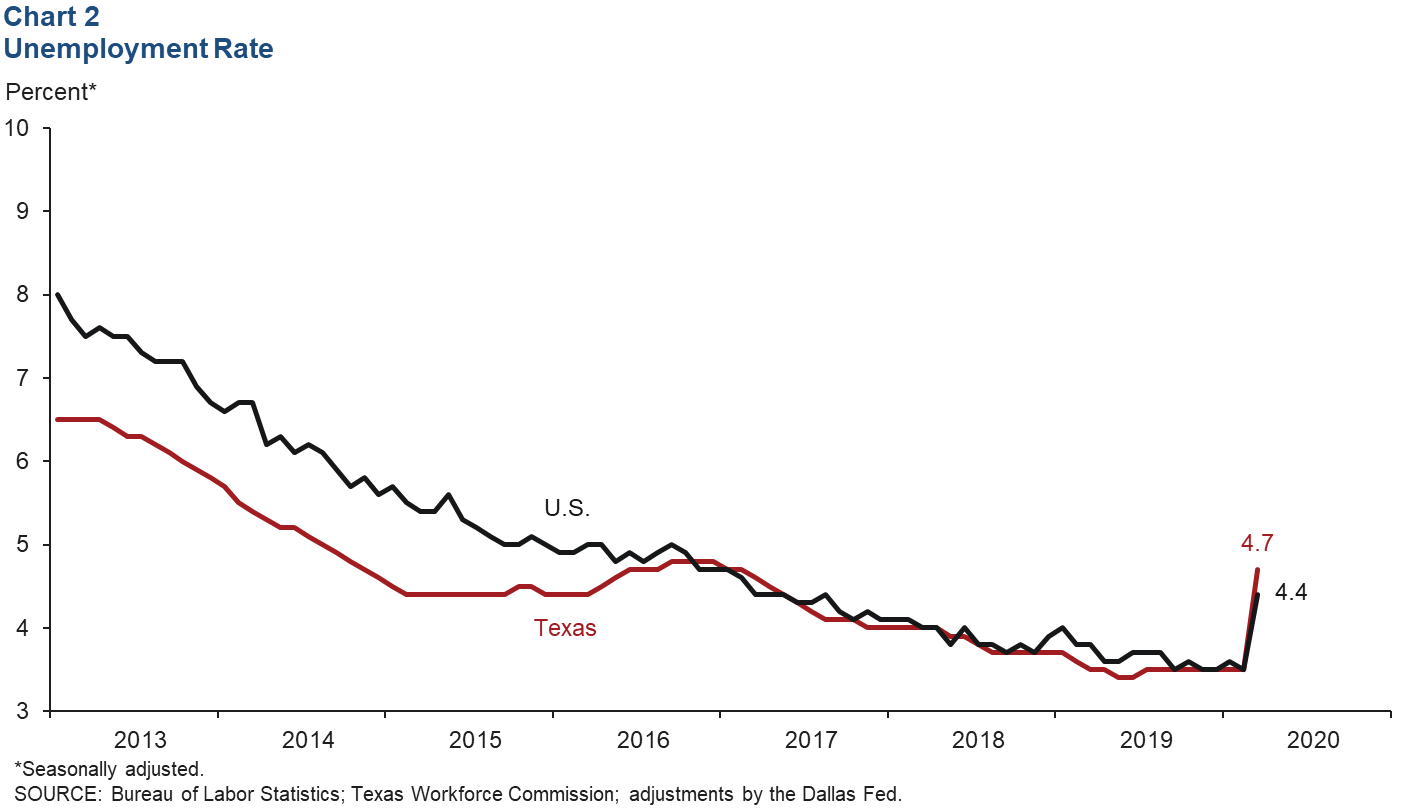 Paycheck Protection Program Loans
Texas leads the nation in approved loans from the Paycheck Protection Program (PPP), established to help small businesses impacted by the COVID-19 pandemic (Chart 3). Through April 13, Texas had $22 billion in PPP loans approved, according to the Small Business Administration. Borrowing relative to state gross domestic product, however, puts Texas in the bottom third. Construction (13.7 percent) borrowed the most among industries at the national level followed by professional, scientific and technical services and manufacturing (both 12.3 percent). A recent report published by Bloomberg calculated that the amount approved for Texas will cover 57.5 percent of small-business jobs in the state.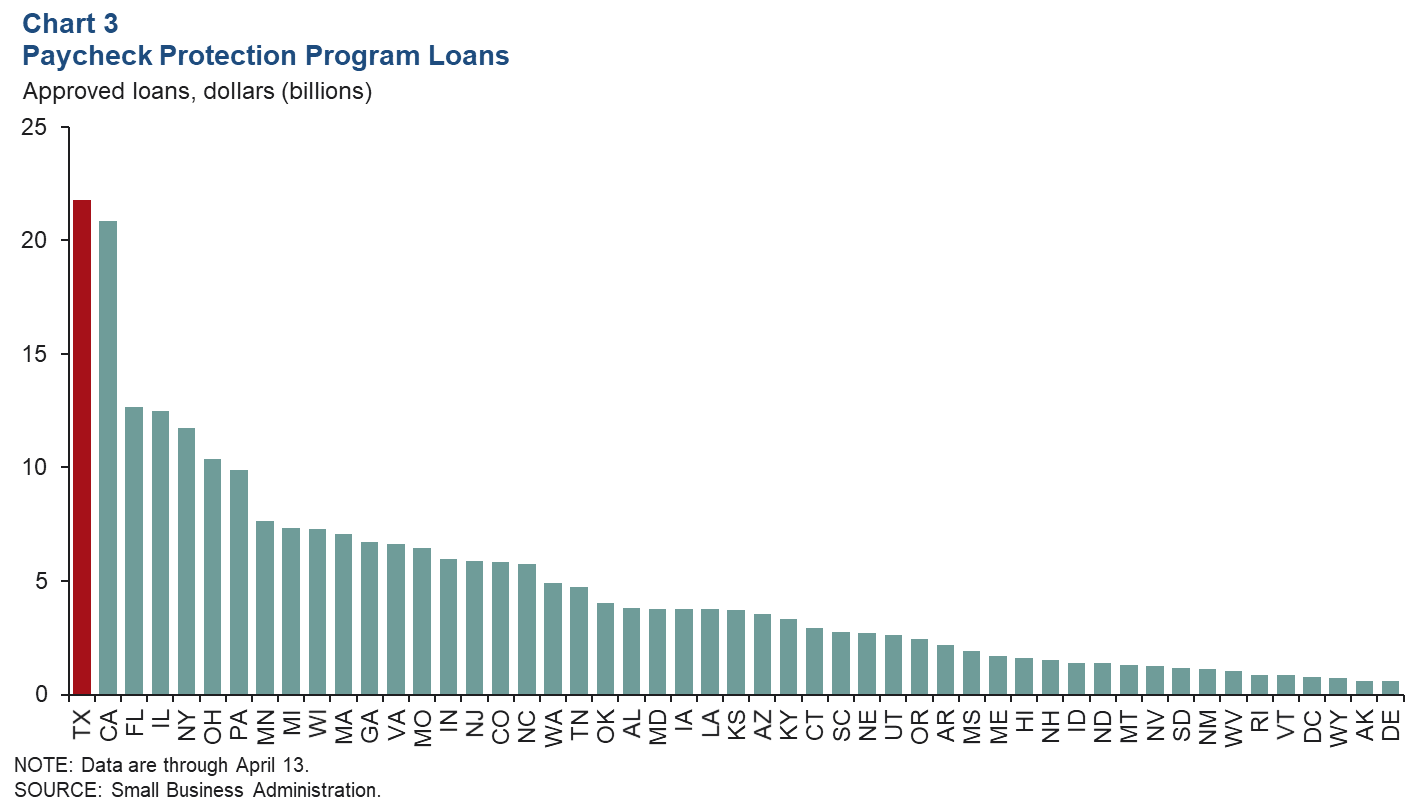 Texas Leading Index
The Texas Leading Index, which is used to estimate the Dallas Fed's Texas Employment Forecast, sheds light on the future of the state's economy. After increasing slightly in January, the index fell in February and March, 1.0 percent and 11.8 percent, respectively (Chart 4). The drop in March is the steepest monthly decline ever recorded since the series began in 1981. All components contributed to the drag on the index except for the help-wanted index, which saw moderate growth of 0.3 percent. The three-month percent change also showed negative growth, due in large part to the increase in new unemployment claims.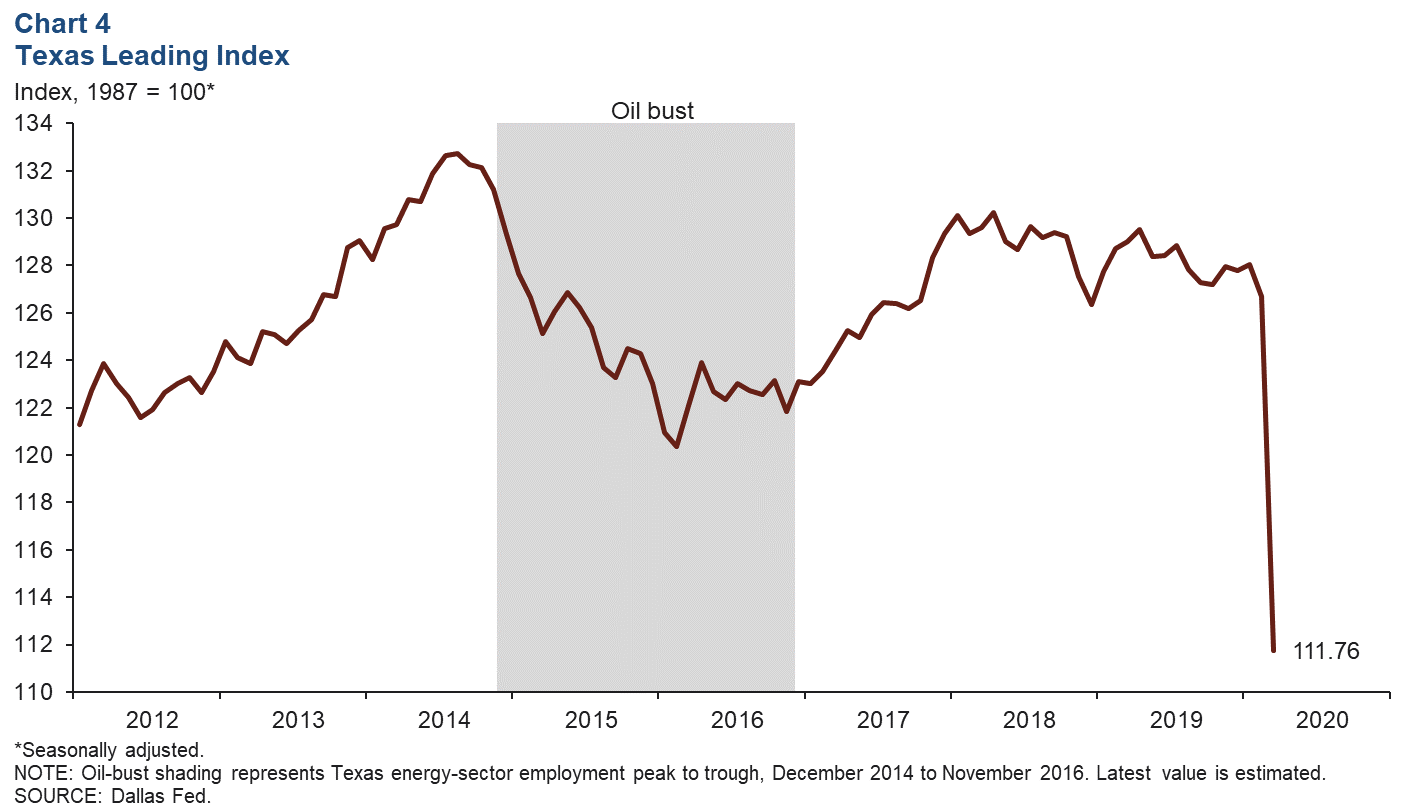 Energy
After falling in March to the lowest level in 18 years, oil prices recovered somewhat in early April, climbing to over $24 a barrel before dipping to $20 in the week that ended April 17 (Chart 5). Even during this moderate bounceback, prices remained below the lows seen during the 2015–16 oil bust and were still well under the breakeven range of $46 to $52 per barrel needed to profitably drill a new well, as suggested by the first quarter 2020 Dallas Fed Energy Survey. Natural gas prices have continued to fall over the course of this year.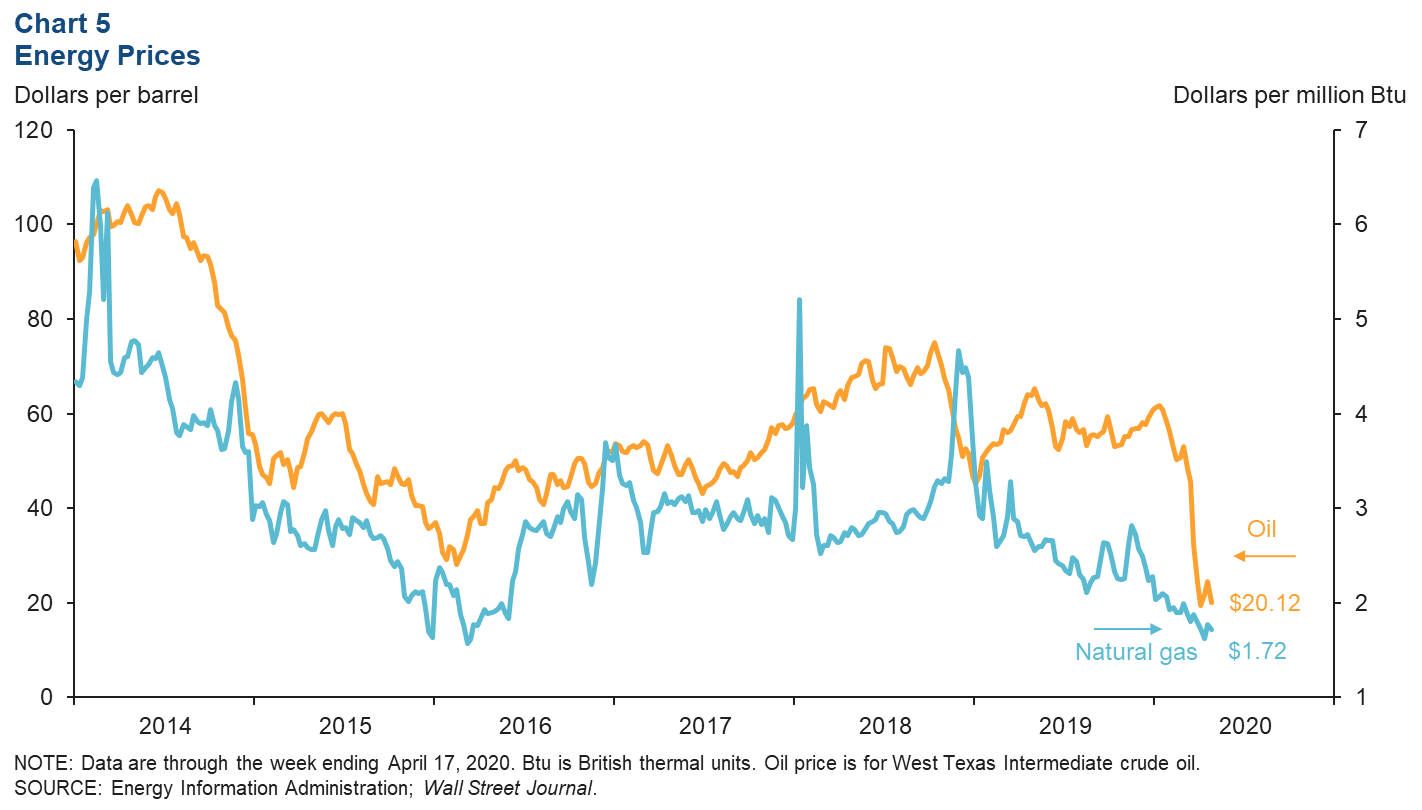 Exports
Texas exports picked up in February after slumping in January (Chart 6). This rise was primarily driven by an uptick in mining exports, which, through February were 39.0 percent above the same period in 2019. Through February, manufacturing and agriculture exports have also grown year over year by 1.6 percent and 3.2 percent, respectively. U.S. exports also rose in February and were 0.9 percent higher in the first two months of 2020 than in 2019.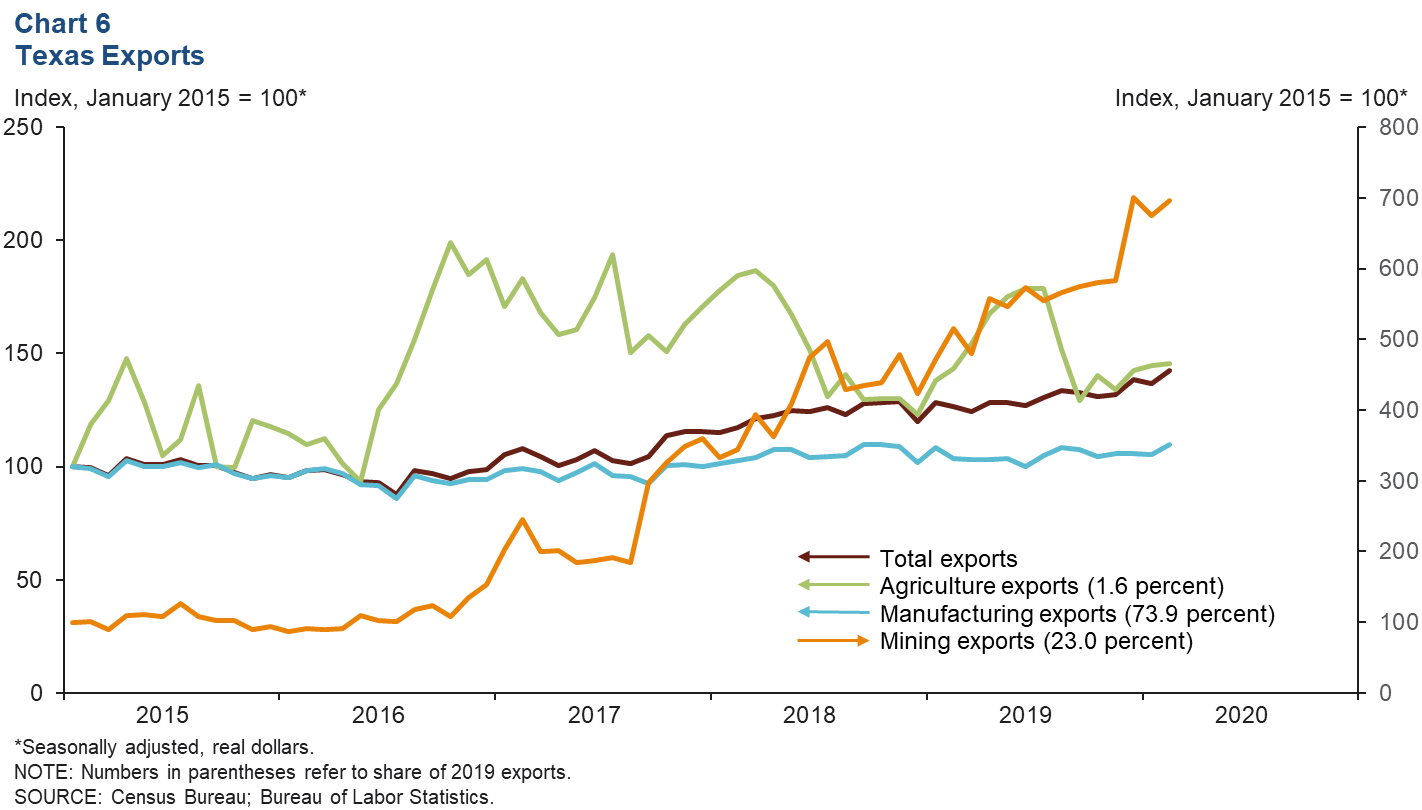 NOTE: Data may not match previously published numbers due to revisions.
About Texas Economic Indicators
Questions can be addressed to Carlee Crocker at carlee.crocker@dal.frb.org. Texas Economic Indicators is published every month on the Monday after Texas employment data are released.