Texas Economic Indicators

June 24, 2020
The Texas economy showed some signs of recovery in May, as payrolls grew and the unemployment rate dipped. Oil prices rose while the rig count continued to fall, though the pace of decline has slowed since the week that ended June 5. April exports to most regions dropped, and home sales slumped for most price points in May. Restaurant reservations started to pick up in early May and appeared to be flat to down in mid-June.
Labor Market
Texas Jobs Recover Somewhat in May
Texas employment grew a nonannualized 2.7 percent in May after a revised decline of 9.7 percent in April (Chart 1). All major metros in Texas saw strong job gains in the month, most notably San Antonio, where jobs grew a nonannualized 3.3 percent, followed by Fort Worth and El Paso, which both saw employment gains of 3.0 percent. Despite the broad-based expansion, year-to-date job growth remains negative statewide and in the metros. U.S. payrolls also grew in May, climbing a nonannualized 1.9 percent after declining a revised 13.7 percent in April.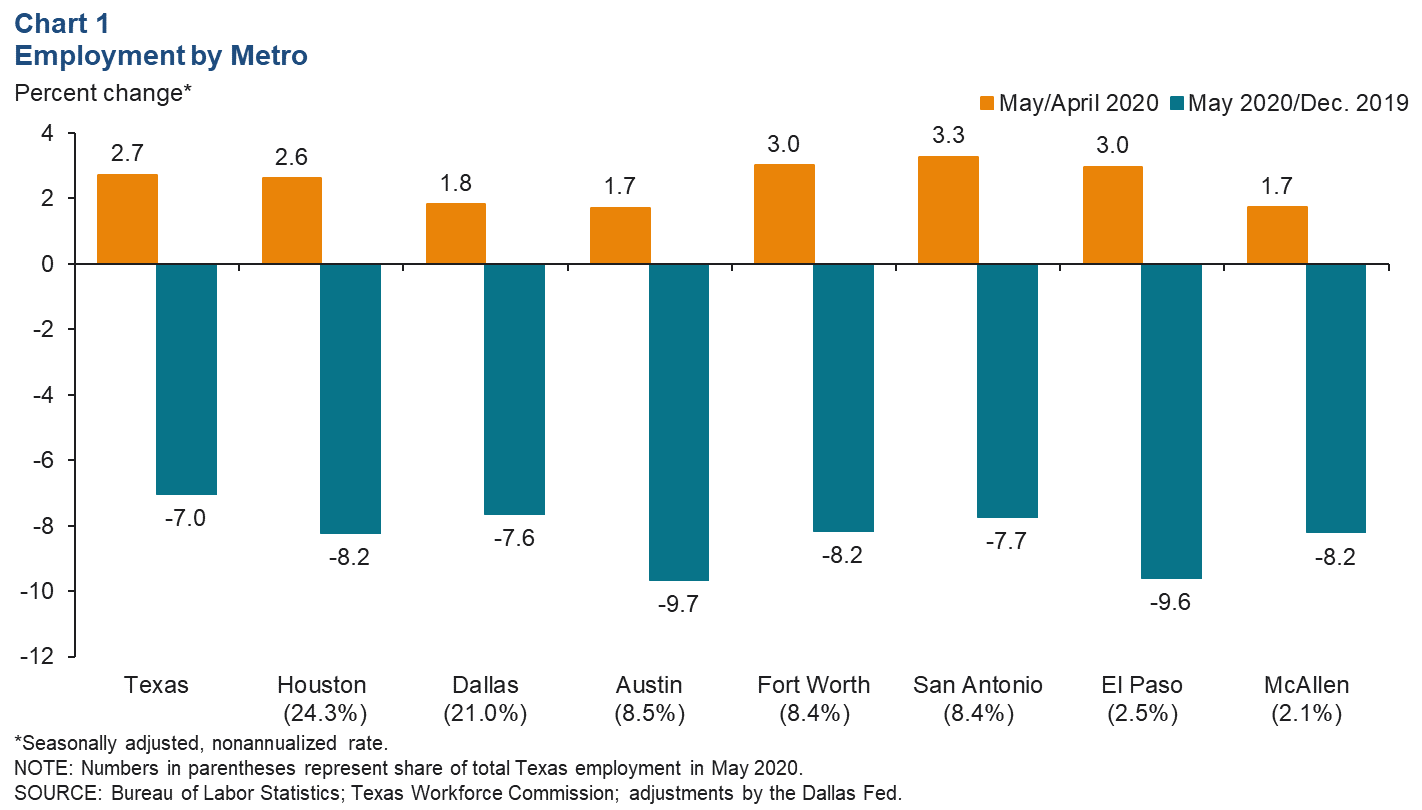 May Unemployment Dips Slightly
The Texas unemployment rate ticked down to 13.0 percent in May after spiking in April (Chart 2). This slightly lower reading comes as the state goes through its phased reopening process, allowing many previously closed businesses to open their doors and bring back staff. The jobless rate in nearly all major metros edged down from their April figures, though all remain elevated. The only exception was McAllen, where the unemployment rate held steady at its April reading of 17.1 percent. The U.S. jobless rate also ticked down in May and remains above the Texas figure.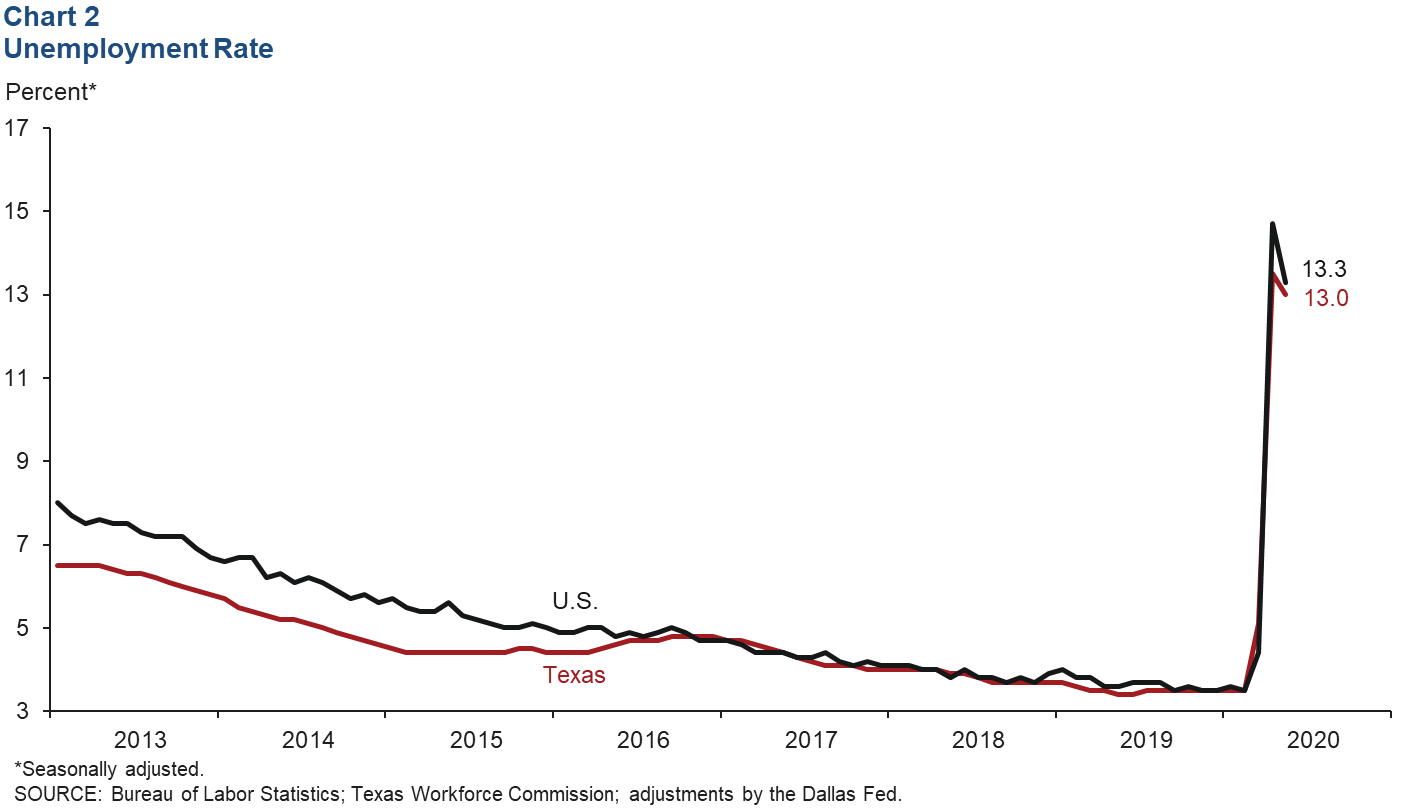 Energy
After bottoming out in late April, oil prices have partially recovered, reaching their highest level since early March (Chart 3). Despite this rebound, prices are still below the breakevens needed to profitably drill a new well, according to the Dallas Fed Energy Survey. The weekly rig count—measuring the number of rigs in use that week—continues to decline, though the pace has slowed as oil prices have increased.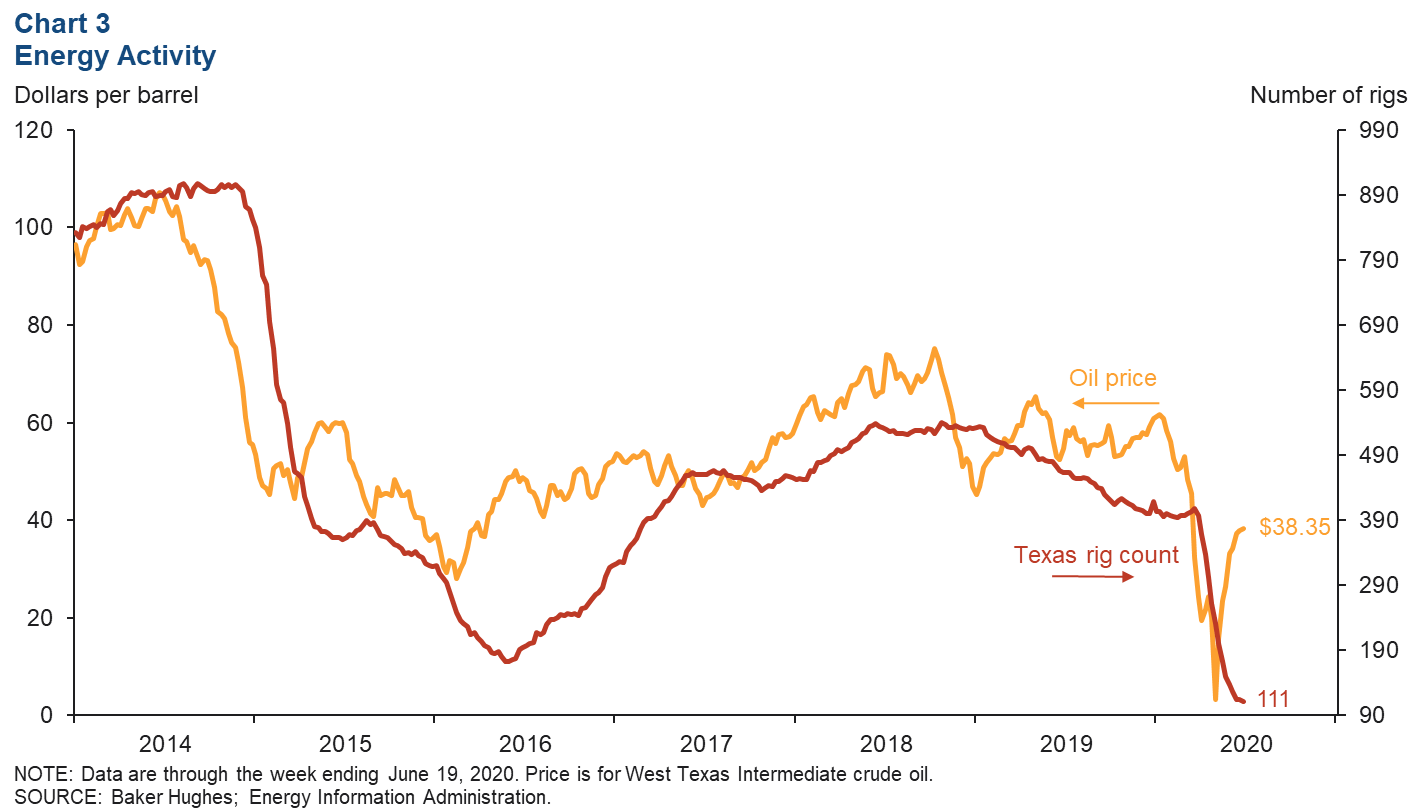 Exports
The three-month moving average for Texas exports fell in April for the second month in a row (Chart 4). Exports to all regions fell in the month except for exports to China, which climbed 12.8 percent. Texas exports have fallen to their lowest level since July 2016; through April, they are 1.0 percent below the same period in 2019.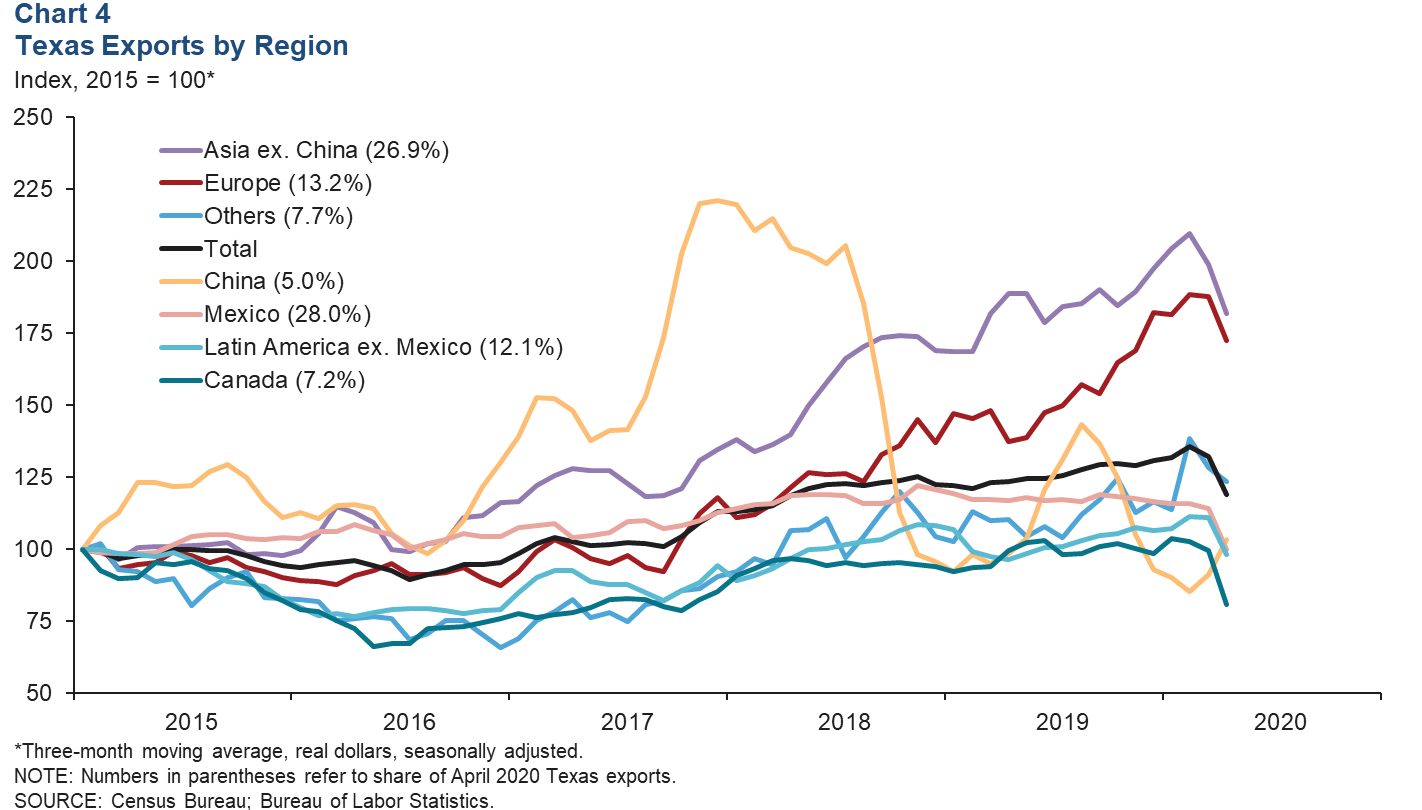 Texas agriculture, mining and manufacturing exports declined in April. Mining exports fell most notably, slipping 37.2 percent. U.S. mining and manufacturing exports also fell, though U.S. agriculture exports grew 0.8 percent in the month.
Home Sales
Existing-home sales in Texas dropped across most price ranges in May. This marks the second month that the three-month moving average of home sales slumped for all broad-price categories since June 2019—likely due to the impacts of COVID-19 (Chart 5). The decline comes after sales of homes in mid-to-high price ranges reached record highs earlier this year. Sales of homes priced between $150,000 and $199,999 also slipped in May, continuing the persistent downward trend in sales of these entry-level homes due to a lack of inventory.
Restaurant Reservations
After over a month of enforced restaurant closures across the state, the number of restaurant reservations began climbing in early May as the economy reopened, according to data from OpenTable (Chart 6). The statewide figure has recovered with reservations (seven-day average) in mid-June at 53.2 percent below reservations made during the same week last year. Among the major Texas metros, Houston has recovered the most, followed by San Antonio, Austin and then Dallas. In mid-June, the nationwide measure trails by 66.5 percent compared with last year. Despite this broad-based recovery beginning in May, Texas reservations—statewide and in the major metros—dipped slightly in the week ending June 19. This comes at the same time the state has seen a resurgence in the number of COVID-19 cases.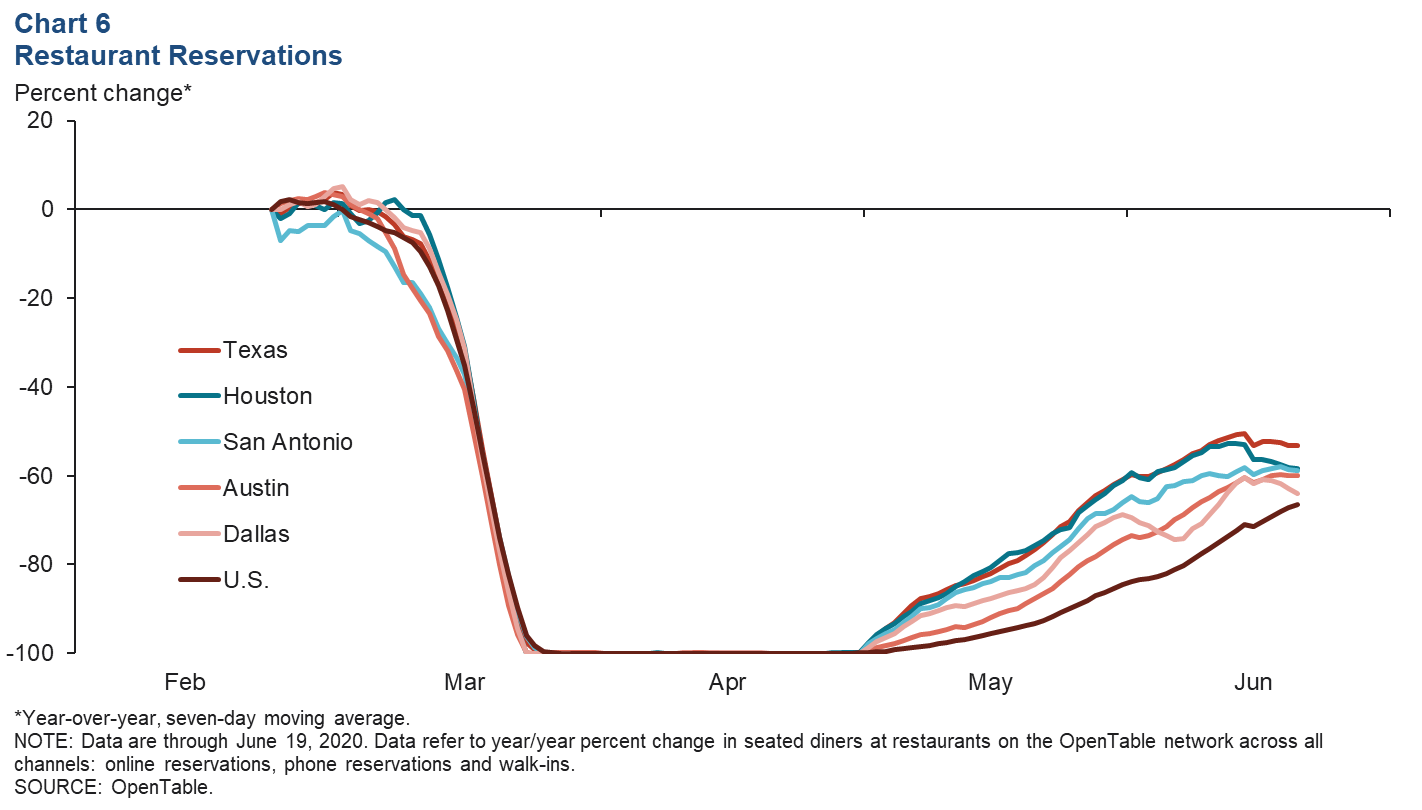 NOTE: Data may not match previously published numbers due to revisions.
About Texas Economic Indicators
Questions can be addressed to Carlee Crocker at carlee.crocker@dal.frb.org. Texas Economic Indicators is published every month on the Monday after Texas employment data are released.