Texas Economic Indicators

October 20, 2020
The Texas economy showed signs of a slowing expansion in September as payroll growth softened and the unemployment rate ticked up. The Texas Leading Index increased, though at a more moderate pace than in recent months. Small business net revenue in Texas has recovered somewhat from its collapse in March and April, though the index for firms in the leisure and hospitality industry has trended down since June. Texas exports inched up in August. The share of households reporting that their schooling was taking place online fell from mid-spring semester to mid-fall, while those reporting no change to learning methods rose, according to the Census Bureau's Household Pulse Survey.
Labor Market
Employment Growth Slows
Texas employment grew a nonannualized 0.1 percent in September after posting 0.6 percent growth in August (Chart 1). Growth was strongest in Houston, where payrolls jumped 0.7 percent, nonannualized. Dallas and Austin payrolls also expanded, up 0.5 and 0.1 percent, respectively. Employment contracted in the remaining major Texas metros except Forth Worth, which held steady.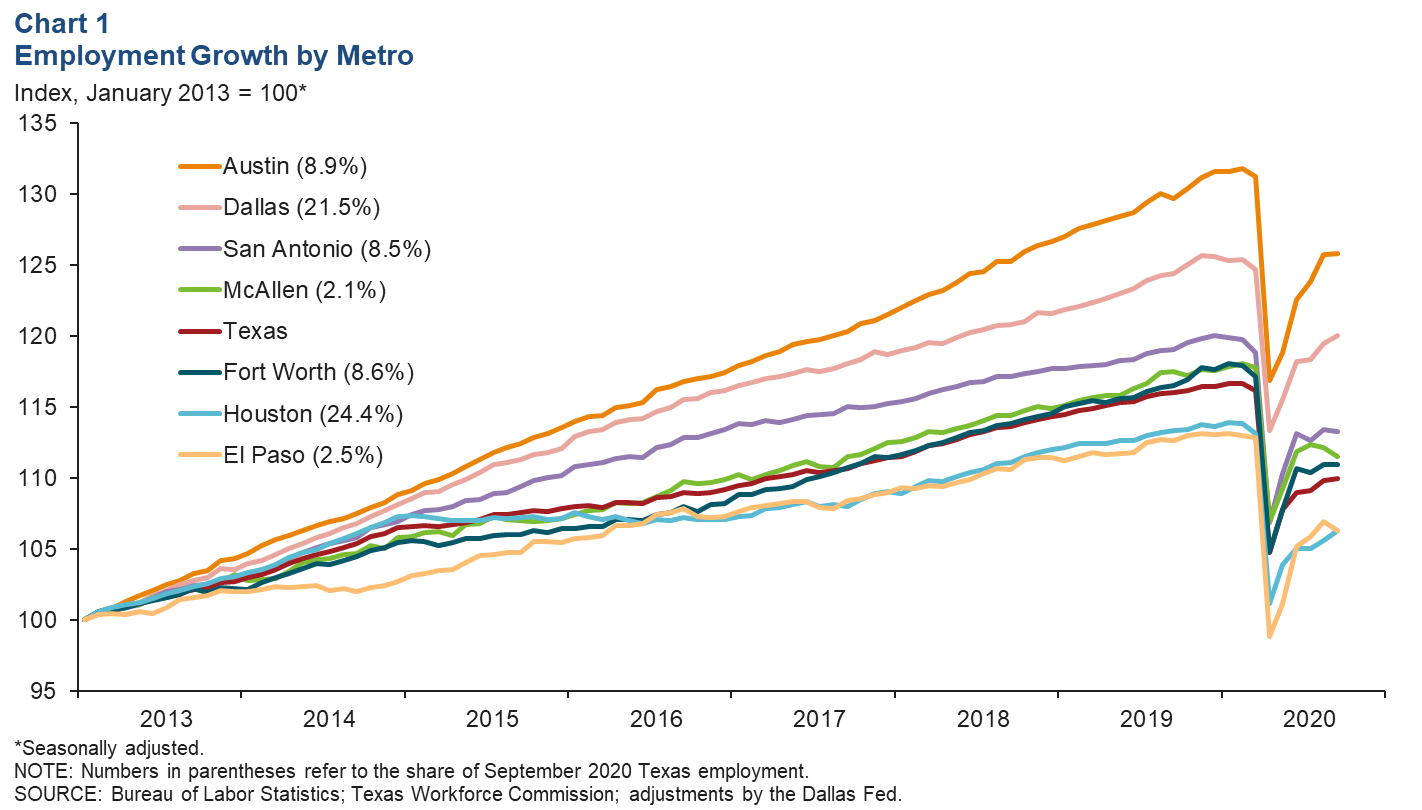 Texas employment in several industries reversed course in September. Payrolls in the manufacturing sector inched up after three months of decline, while employment in financial activities dipped for the first time since May. Energy employment, after contracting for 16 months, held steady in September.
U.S. employment growth slowed to a nonannualized 0.5 percent in September after four months of increases over 1 percent. Job growth in the U.S. continued to outpace that in the state last month.
State Unemployment Ticks Up
The Texas unemployment rate rose in September to 8.3 percent, while the U.S. unemployment fell for the fifth straight month to 7.9 percent, dipping below the Texas rate for the first time since March (Chart 2). The September unemployment rate in Texas ticked up despite declining initial unemployment claims as the number of unemployed shot up and the civilian labor force, or those actively looking for work, declined.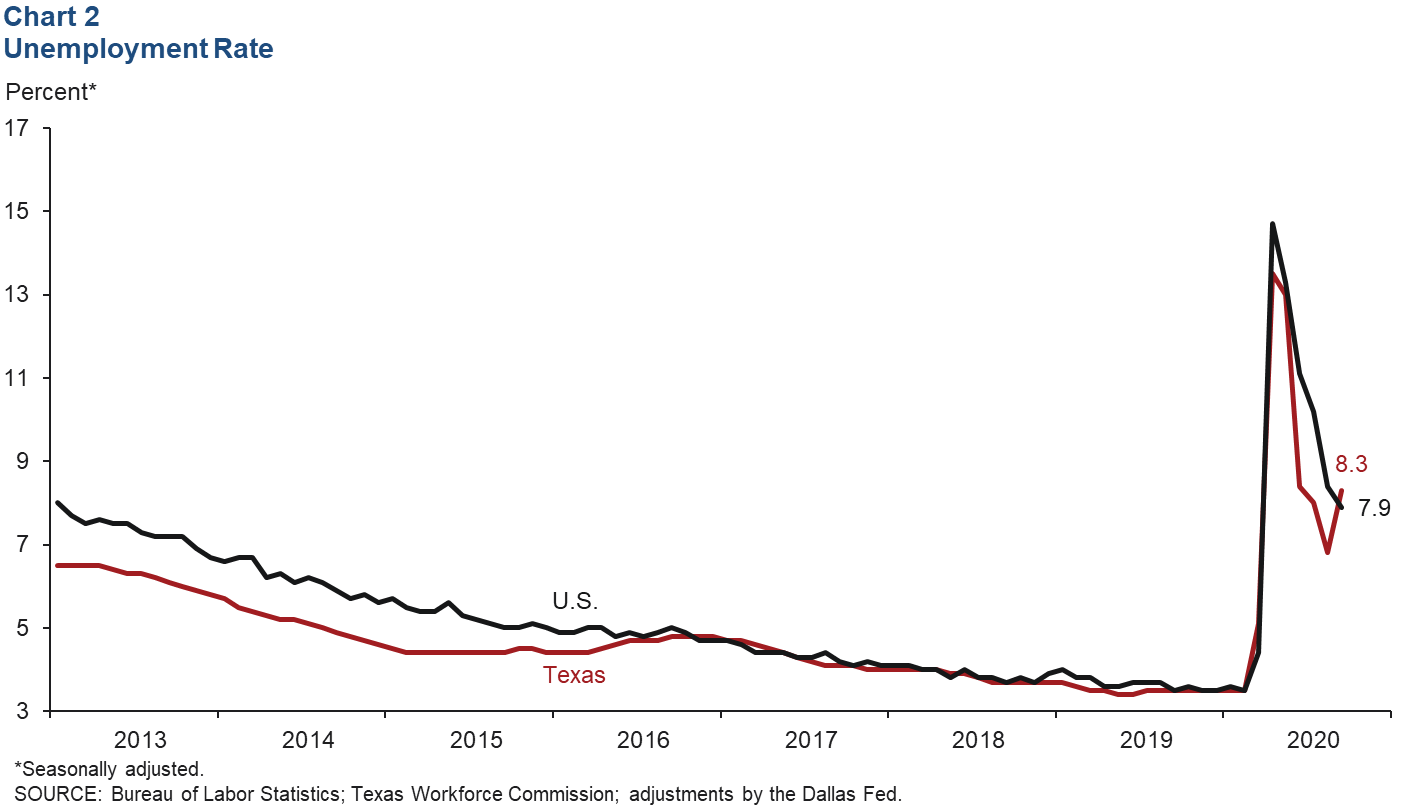 Texas Leading Index
The Texas Leading Index, which is used to estimate the Dallas Fed's Texas Employment Forecast, sheds light on the future of the state's economy. In April, the index bottomed out at a level comparable to the trough during the Great Recession (Chart 3). The steep March and April declines were followed by four months of robust growth; the index averaged 2.9 percent growth per month from April to August. In September, growth faltered to 0.5 percent. The leading index remains 11.0 percent below its December 2019 reading.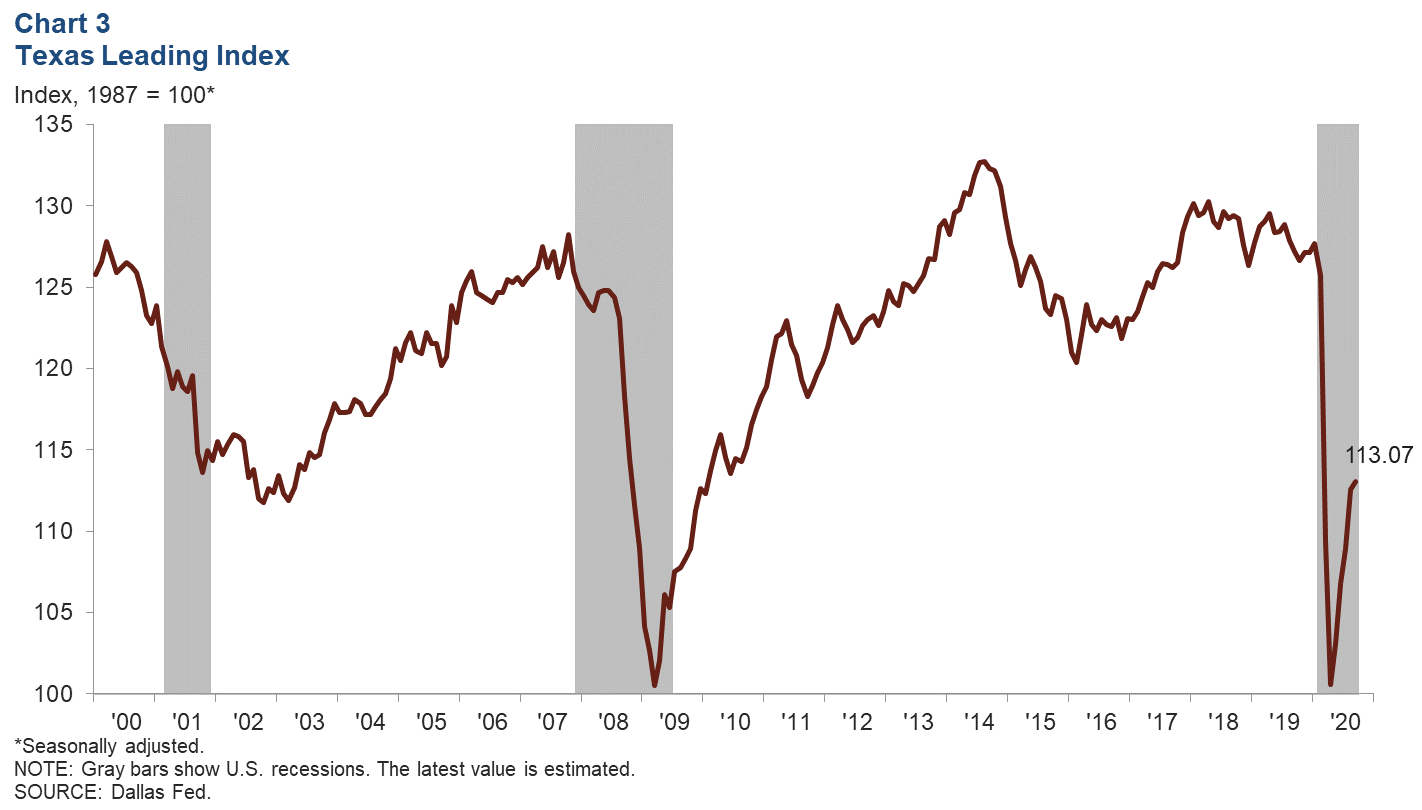 Small Business Revenue
In mid-to-late March, net revenue for Texas small businesses plummeted across industries (Chart 4). Small businesses in the transportation industry were least impacted and recovered most quickly, surpassing the January revenue baseline in mid-May. The index has since dropped back below the baseline and measured 11.2 percent short of prepandemic revenue as of Sept. 29. The industry hardest hit was leisure and hospitality, which had fallen to 67.1 percent below its baseline by April 5. While small business revenues in transportation and education and health services have mostly recovered from their respective troughs in the spring, leisure and hospitality revenues saw a brief climb before beginning to slip again in early June. As of Sept. 29, net revenue for leisure and hospitality small businesses remained 63.4 percent short of the prepandemic baseline.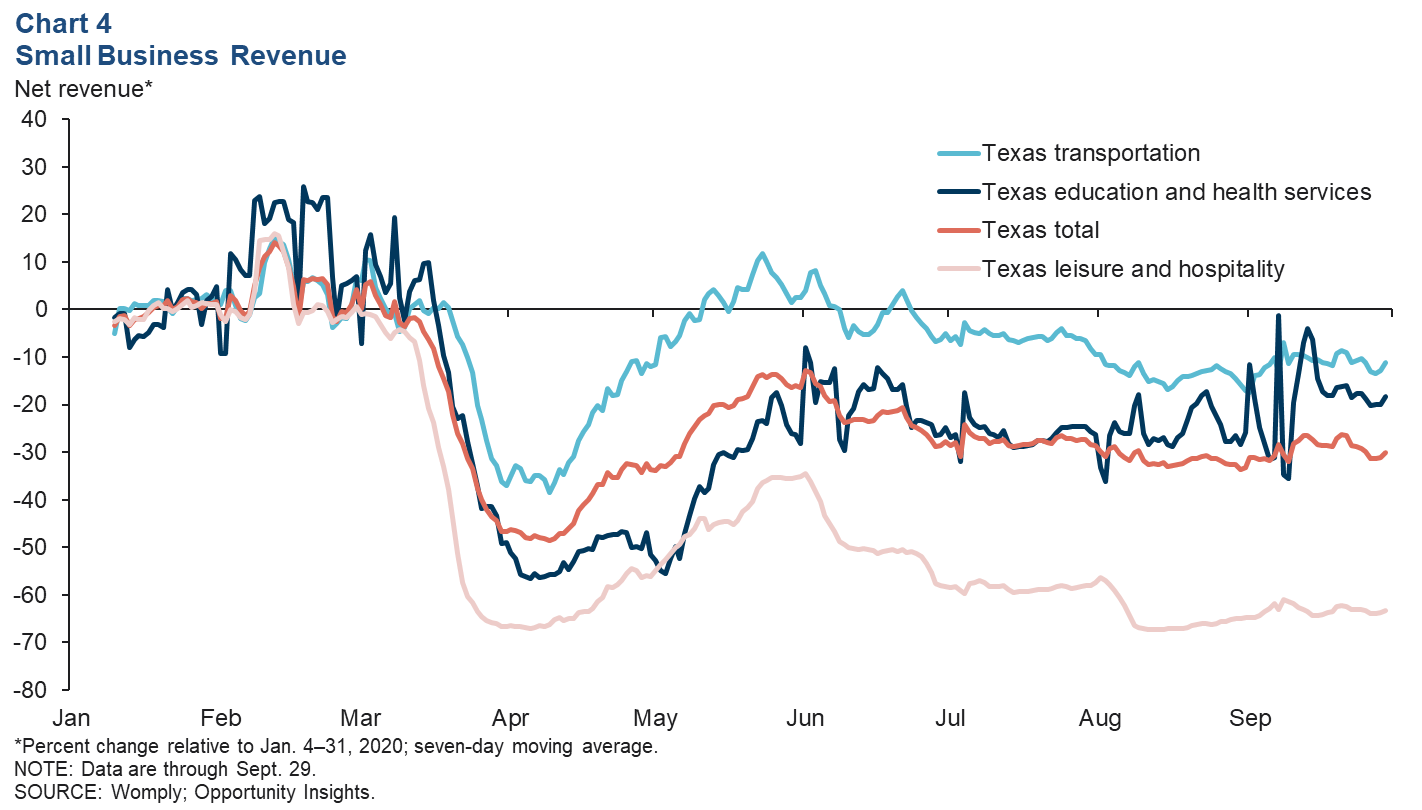 Exports
In August, Texas exports inched up 1.7 percent, continuing their climb from the lows reached in May (Chart 5). Moderate growth in the most recent month came after two months of robust increases. In the months immediately following the May trough, U.S. exports also saw record growth, though they slipped in August. Texas exports through August remain 12.7 percent below their 2019 levels. U.S. exports are 12.9 percent short.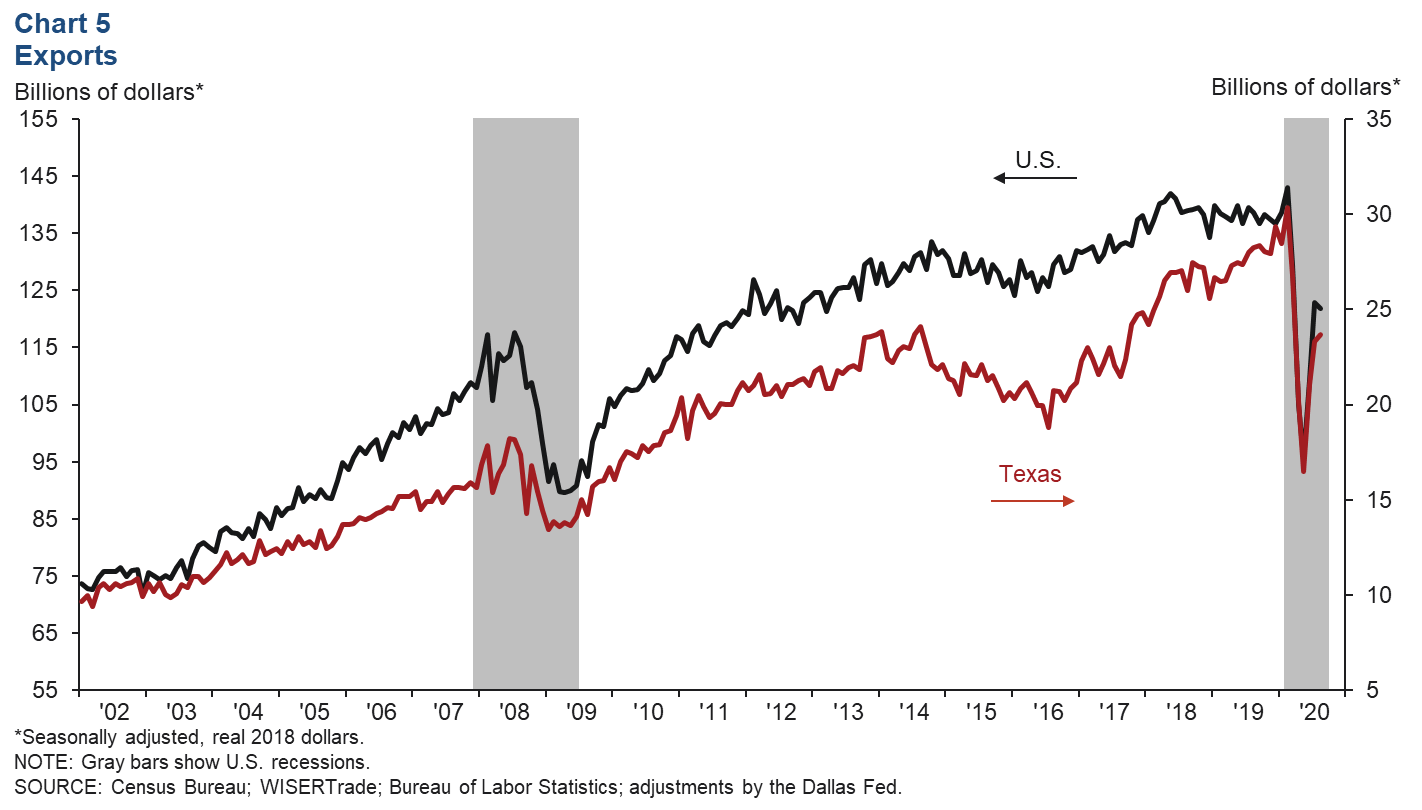 Both agriculture and mining exports increased, while manufacturing exports dipped in August for the U.S. and Texas. Exports in all major categories year to date through August were below those in the same period in 2019. Most impacted were manufacturing exports, which lagged 13.8 percent behind 2019 levels for the U.S. and 15.1 percent for Texas.
Education
In the spring semester of the 2019–20 academic year, schools had to determine how to operate amid the coronavirus pandemic. Between April 23 and May 5, the majority of students found themselves completing coursework online, according to the Census Bureau's Pulse survey (Chart 6). That share increased by the end of the semester as more in-person classes moved online. Since the start of the 2020–21 school year, many campuses across the state have reconfigured their classrooms and introduced new procedures to be able to offer face-to-face learning. The timing of when students were allowed back on campus differed across the state, but as of Sept. 28, 96.2 percent of Texas independent school districts had reported to the Texas Department of State Health Services that at least some students were back on campus. As students switched from virtual to in-person learning, the number of households reporting no change in schooling methods rose more than 20-fold from early May to late September. Over the same period, the share of those learning online dropped, though it remained the most common response (survey respondents were able to select more than one answer, thus the shares do not add to 100).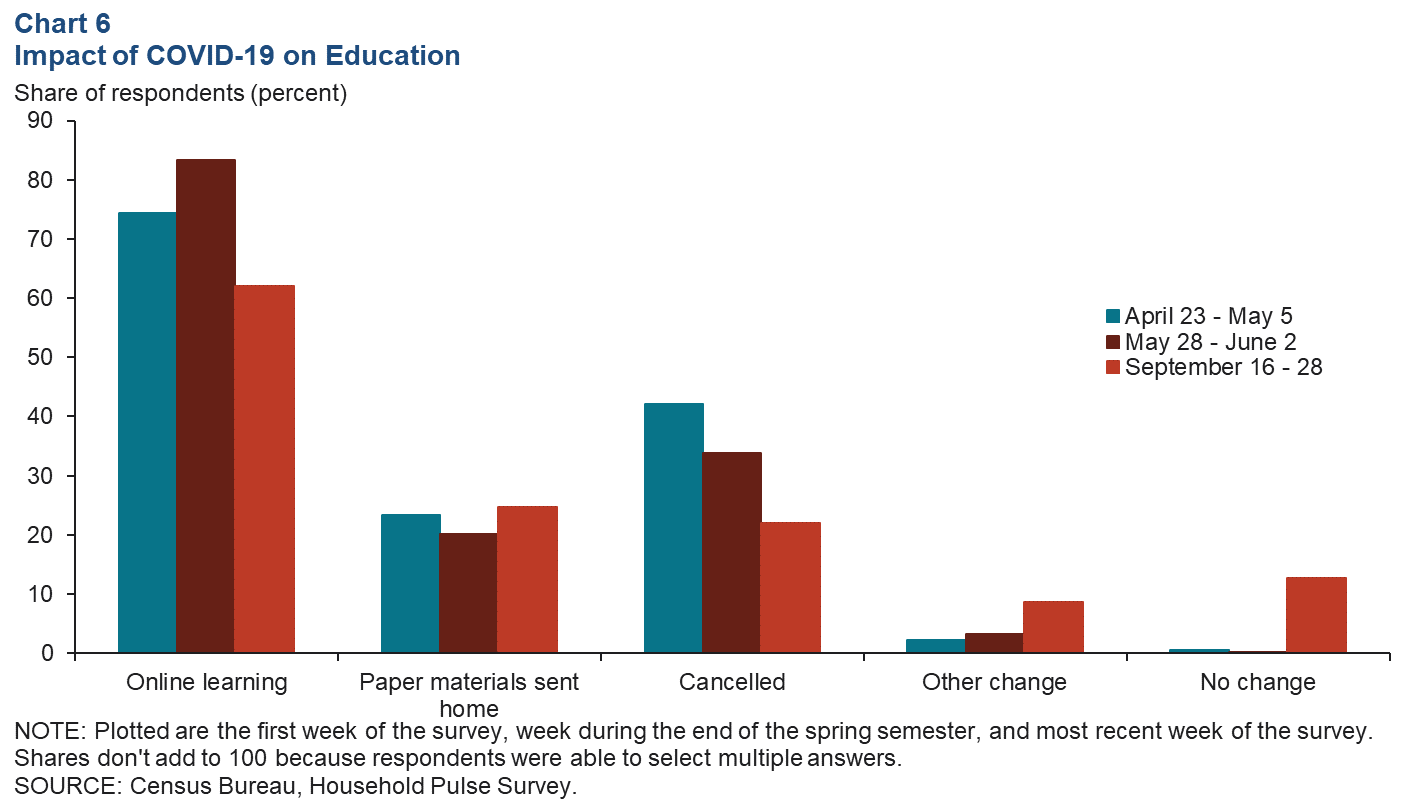 NOTE: Data may not match previously published numbers due to revisions.
About Texas Economic Indicators
Questions can be addressed to Carlee Crocker at carlee.crocker@dal.frb.org. Texas Economic Indicators is published every month on the Monday after Texas employment data are released.