Texas Economic Indicators

May 25, 2021
The Texas economic recovery showed mixed signs in April as payroll growth softened but most other indicators of activity posted solid gains. The unemployment rate ticked down in April. Total Texas unemployment claims rose in the week ending May 1, though that number will likely fall as Texas opts out of federal pandemic unemployment assistance in June. The Texas Leading Index grew robustly in April, and Texas Business Outlook Survey respondents were increasingly optimistic in their company outlooks. Texas exports slipped in March. The number of domestic migrants to Texas from July 2019 to July 2020 grew, while international migration declined.
Labor Market
Texas Employment Growth Slows
Texas employment grew an annualized 1.3 percent in April after jumping an upwardly revised 12.3 percent in March (Chart 1). In the first four months of 2021, Texas employment rose 4.2 percent. U.S. employment also saw slower growth in April, increasing 2.2 percent after climbing 6.6 percent in March.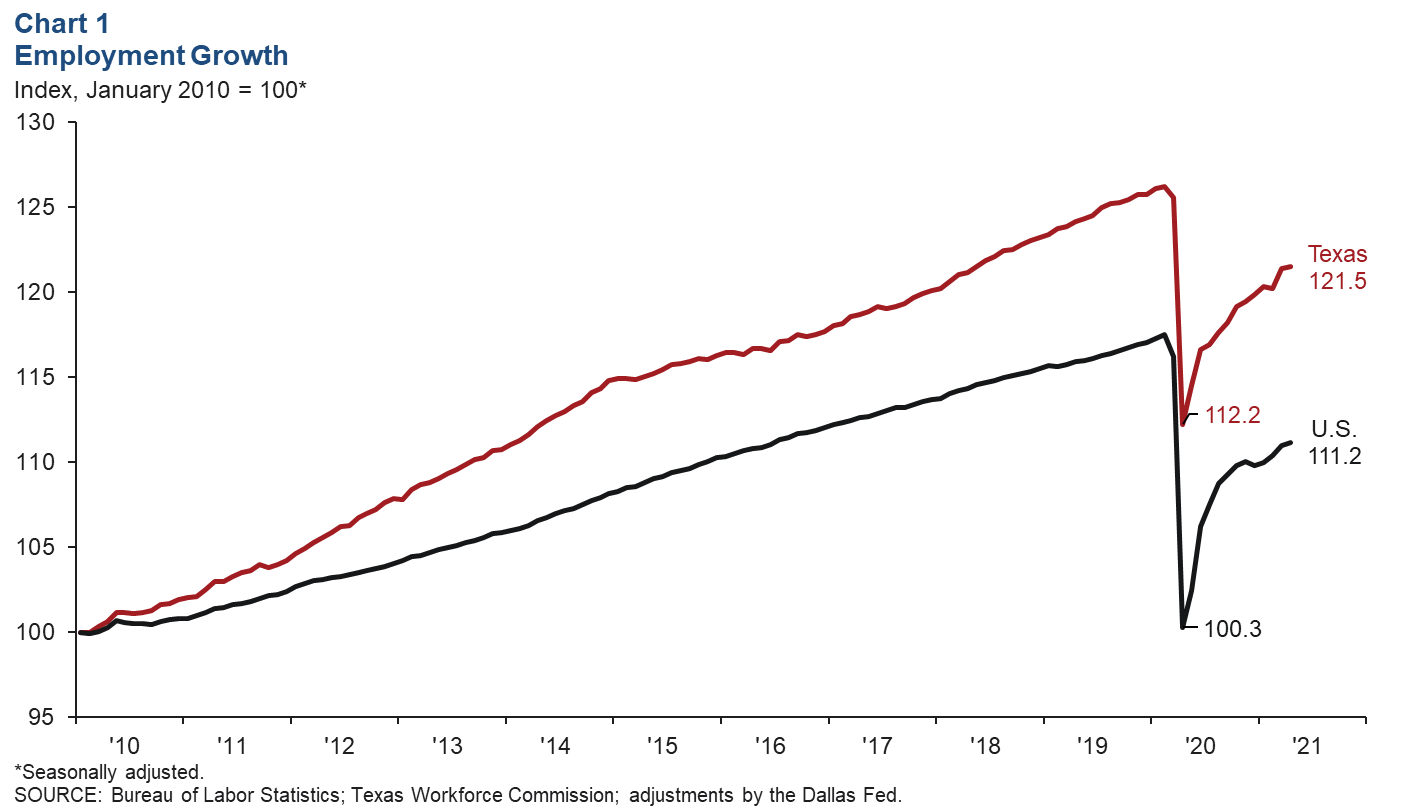 April job growth in Texas was strongest in leisure and hospitality, which grew 17.8 percent. Professional and business services, government, information and other services also saw gains during the month. All other sectors shed jobs, especially the oil and gas and construction sectors, which contracted 23.6 and 13.2 percent, respectively.
Texas Unemployment Claims Tick Up
Since the beginning of 2021, total Texas unemployment claims, including federal pandemic-related claims and extended benefits, have vacillated from week to week with little overall change during the period (Chart 2). For the week ending May 1, total claims ticked up, remaining significantly elevated compared with the first week in March 2020. In mid-May, Gov. Greg Abbott announced that Texas would opt out of federal pandemic unemployment assistance starting in late June. This suggests that the number of unemployment claims in the state will likely fall this summer as those relying on the expanded benefits lose them. Unemployment claims across the nation have seen less variability; U.S. claims and have been trending down since spiking at the onset of the pandemic, though the pace of that decline has slowed in 2021.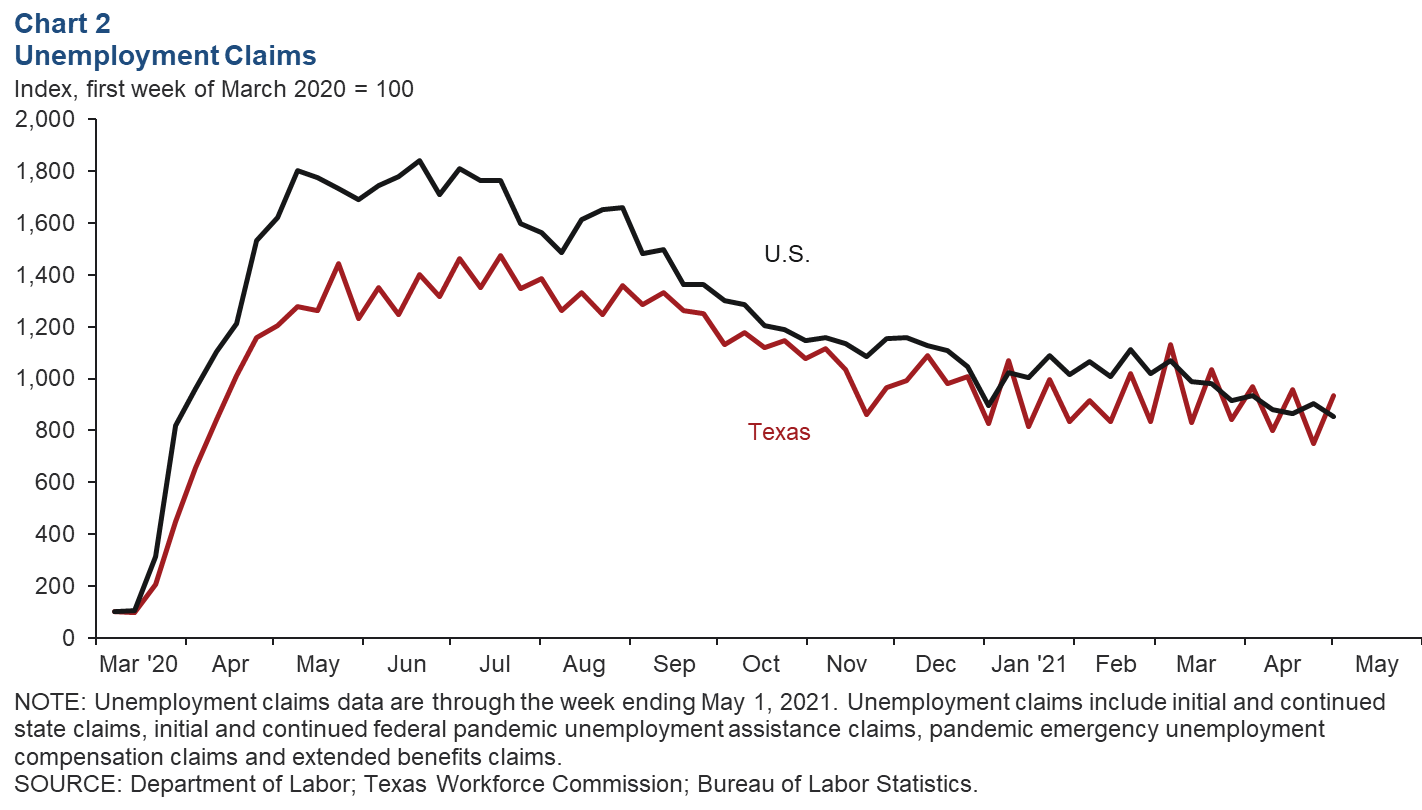 The Texas unemployment rate fell in April to 6.7 percent, its lowest level since the start of the COVID-19 pandemic in March 2020. The national unemployment rate ticked up slightly in April to 6.1 percent.
Texas Leading Index
The Texas Leading Index sheds light on the future of the state's economy. In April, the index jumped 4.0 percent, boosting 2021 year-to-date growth to 5.9 percent (Chart 3). April's growth was the strongest single-month increase since the series began in 1981. Due to this healthy growth, the index remains only 0.2 percent below its prepandemic, February 2020 reading.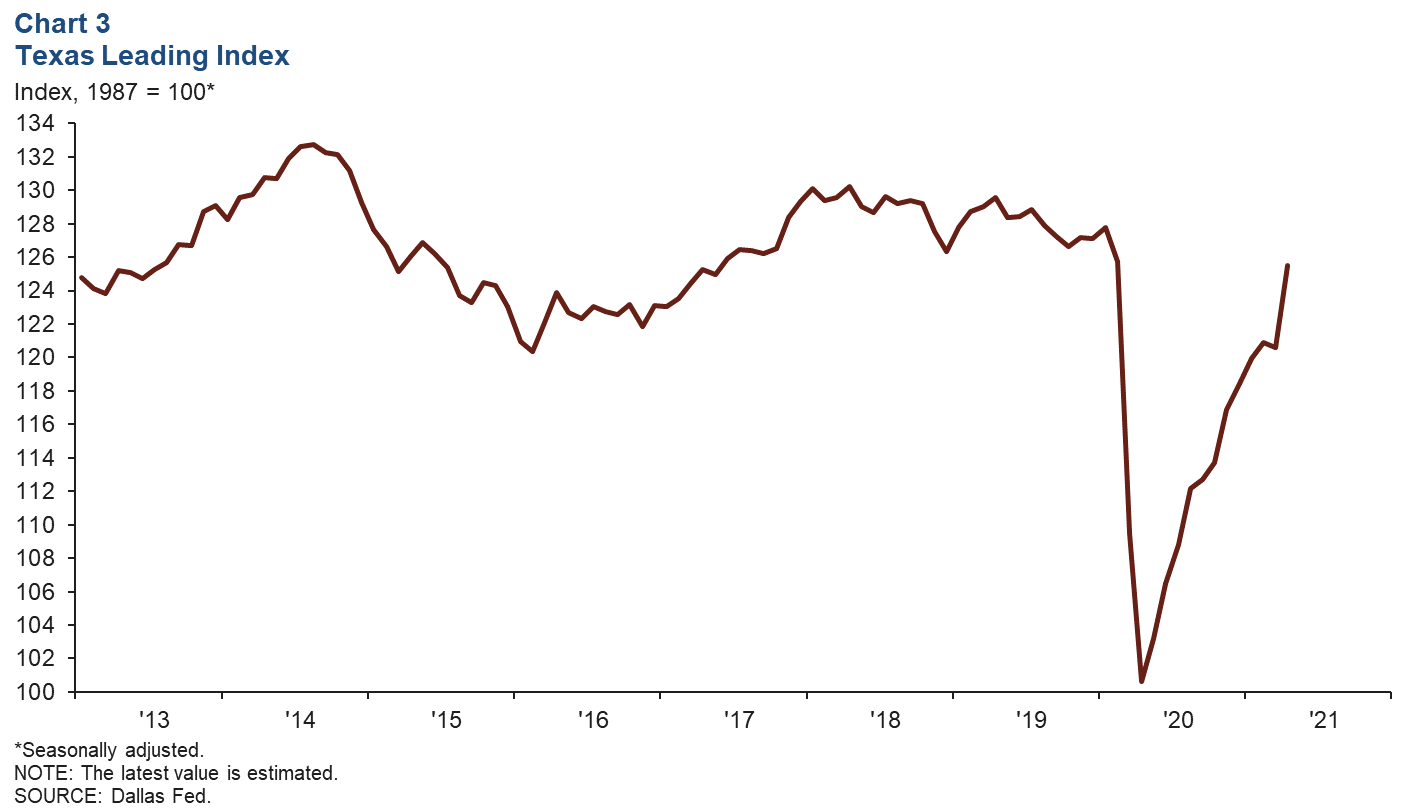 Texas Business Outlook Surveys
An increasing number of respondents to the Texas Business Outlook Surveys reported improved outlooks from March to April (Chart 4). After plummeting in the spring of 2020, the manufacturing outlook index has been above its postrecession average for 10 straight months. Service sector respondents have been less consistently optimistic; the outlook index for the service sector has hovered around the postrecession average since the onset of the pandemic last spring. However, Texas service sector businesses have grown increasingly positive in their outlooks the past couple of months, and April's index reading was the highest since the series began in 2007.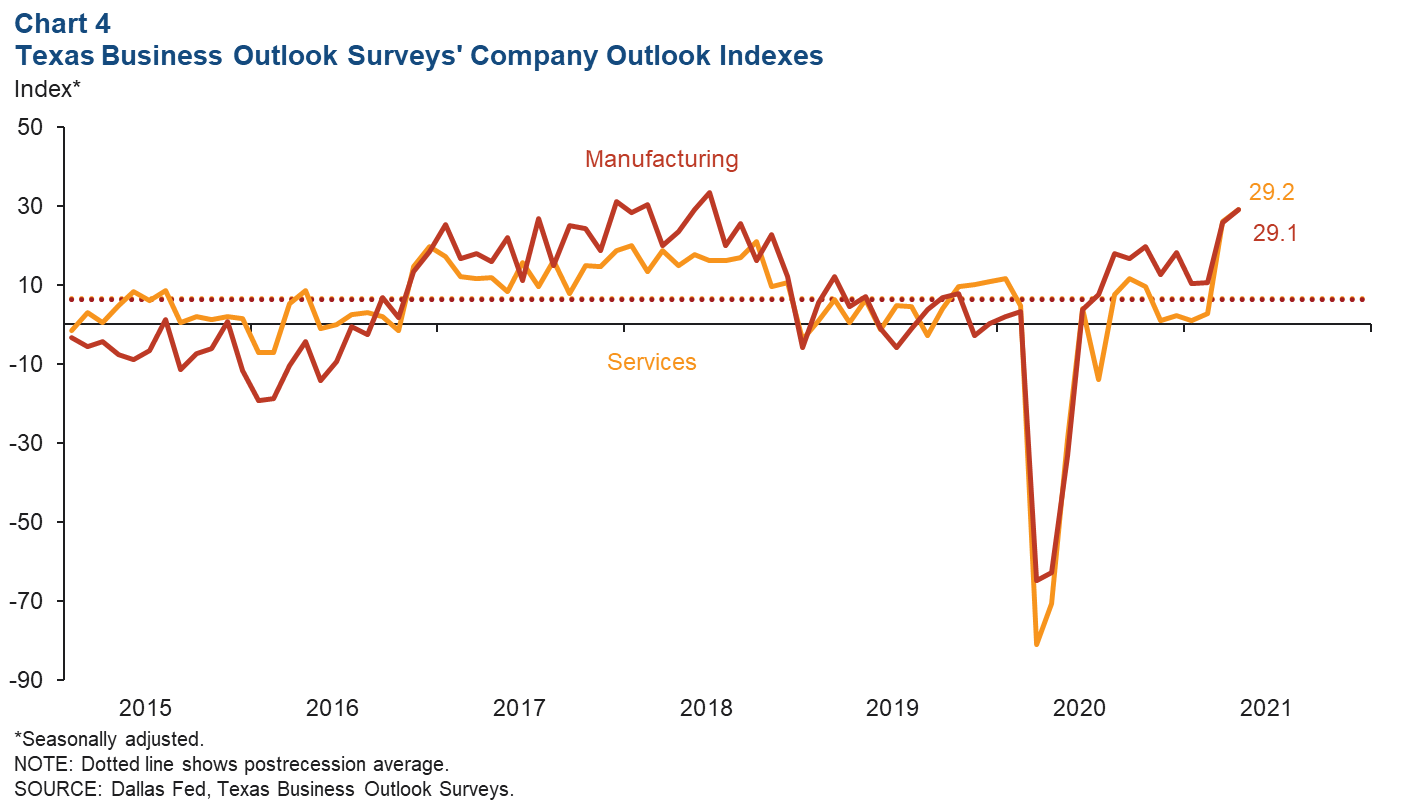 Exports
Texas exports fell 0.5 percent in March, while U.S. exports rose 3.5 percent (Chart 5). The state's decline came mostly from mining exports, which fell 12.6 percent. Agriculture and manufacturing exports grew 2.6 and 4.6 percent, respectively. Texas exports to China skyrocketed, and exports to the rest of Asia and to Canada also saw strong growth. In March, Texas exports remained 14.1 percent below their prepandemic, February 2020 level.
Population
From July 2019 to July 2020, Texas' population grew by 374,000, with more than half the increase stemming from domestic and international migration (Chart 6). Natural increase—births minus deaths—added 157,000 people. Net domestic migration to Texas climbed 33.7 percent to 162,000 from July 2019 to July 2020, while net international migration slipped 18.2 percent to 55,000—its lowest level in over three decades. This drop in international migration was partially due to the pandemic, which impeded travel. Domestic migration, which has outpaced international migration almost every year since 2006, picked up despite the pandemic. Overall, Texas drew the second-highest number of migrants in 2020, behind only Florida.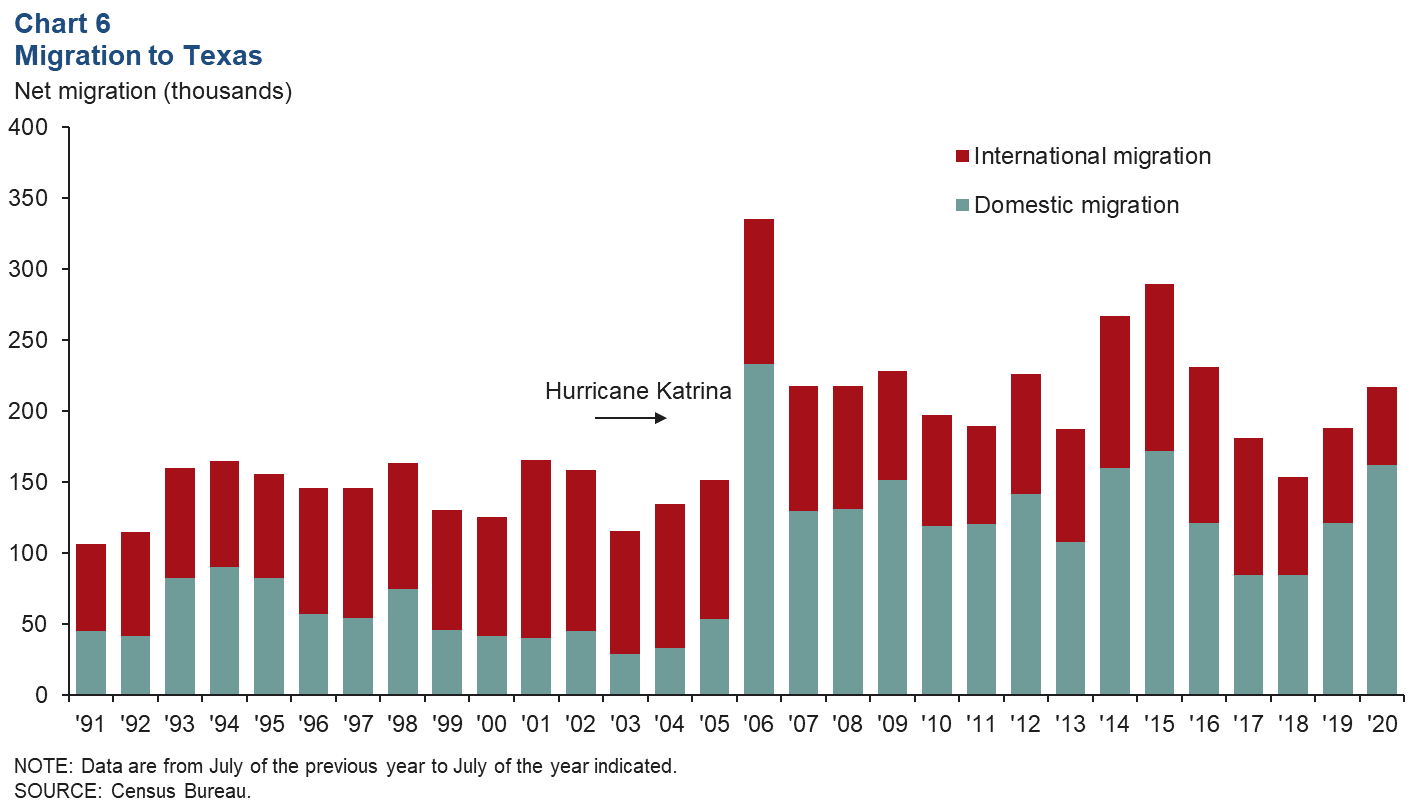 NOTE: Data may not match previously published numbers due to revisions.
About Texas Economic Indicators
Questions can be addressed to Carlee Crocker at carlee.crocker@dal.frb.org. Texas Economic Indicators is published every month during the week after state and metro employment data are released.