Texas Economic Indicators

July 19, 2021
Texas' economic recovery continued in June as payrolls grew and the unemployment rate declined. However, total Texas unemployment claims ticked up in the week ending June 26. Texas Business Outlook Surveys respondents indicated continued growth in manufacturing and services but contraction in retail. Texas exports increased in May, and median home prices rose in major Texas metros, largely driven by North Texas. Retail sales ticked up in May to a record high.
Labor Market
Texas Employment Growth Continues
Texas employment grew an annualized 4.3 percent in June after upwardly revised growth of 4.4 percent in May (Chart 1). In the first half of 2021, employment rose 4.4 percent statewide. The Dallas Fed's Texas Employment Forecast predicts 5.6 percent job growth this year (December/December), suggesting that all jobs lost in spring 2020 will be recovered by the end of the year. Across the nation, employment growth was robust. U.S. payrolls expanded 7.3 percent in June, boosting year-to-date growth to 4.6 percent.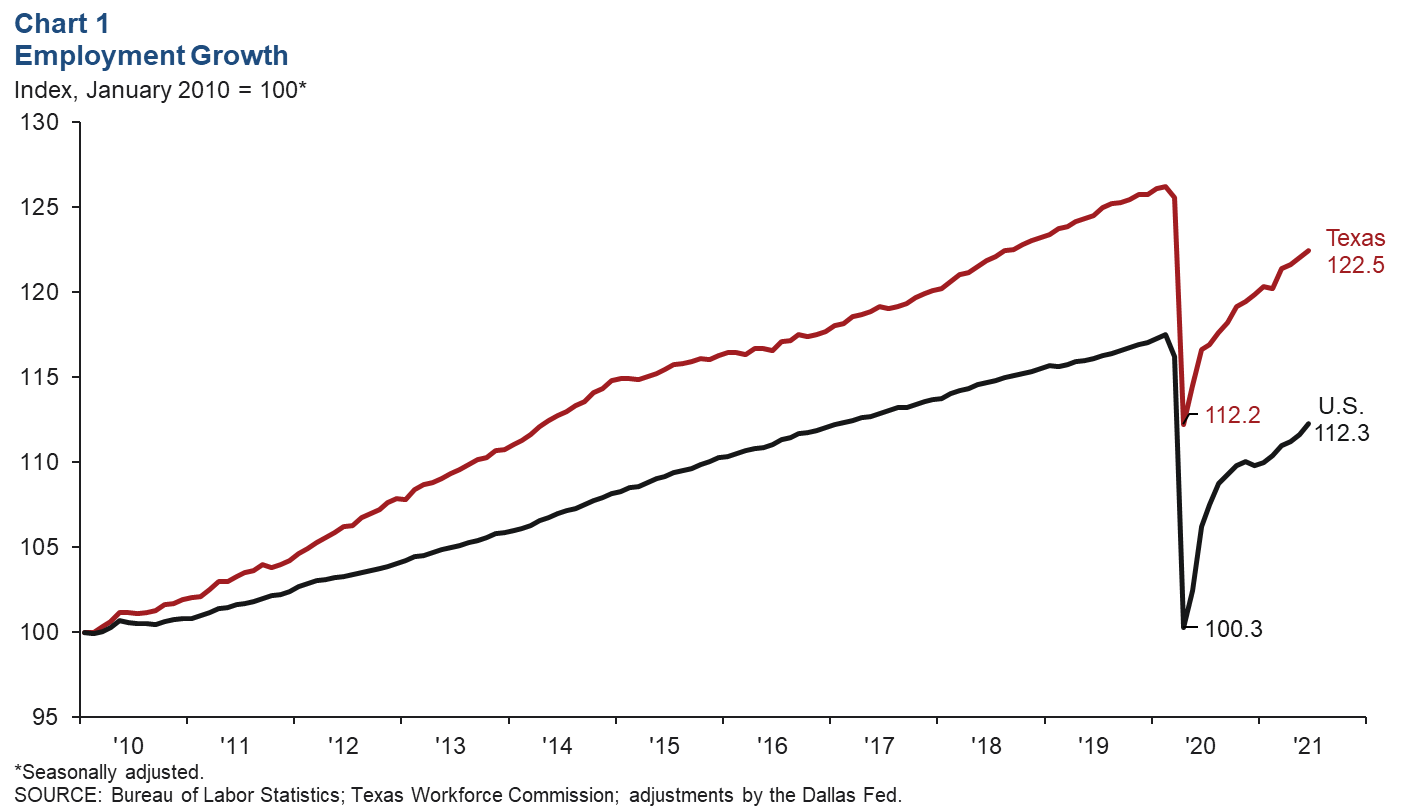 Texas Unemployment Claims Tick Up
Total Texas unemployment claims, including federal expanded benefits, ticked up the week ending June 26 (Chart 2). Claims at the end of June were largely unchanged from their level a month prior, suggesting that the long-term decline seen in total claims slowed. However, in March, Gov. Greg Abbott declared an end to Texas' participation in the federal expanded benefit programs (including pandemic unemployment assistance and pandemic emergency unemployment compensation), effective June 26. As Texans participating in these pandemic programs lose their unemployment benefits, it is likely the largely steady claims numbers will begin to decline again.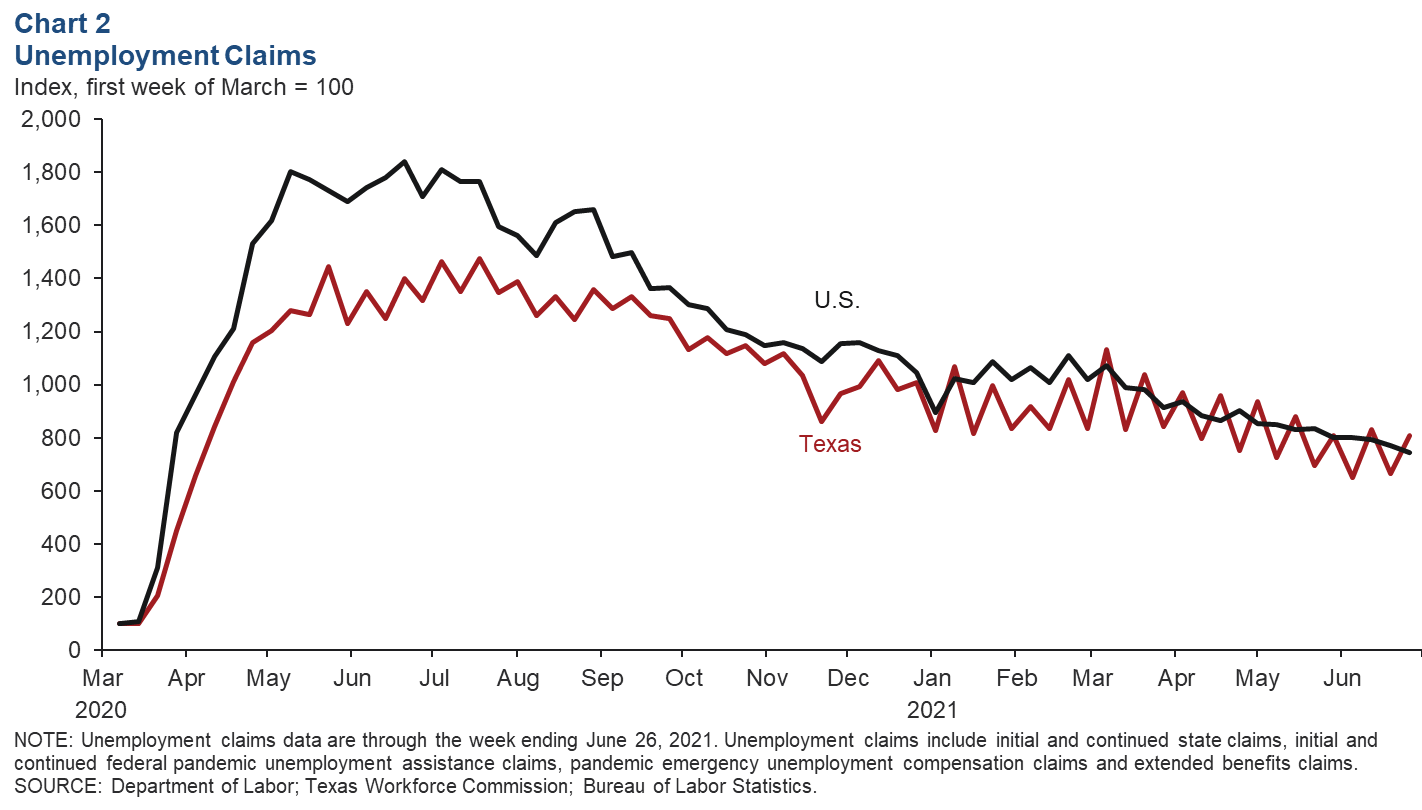 The Texas unemployment rate inched down in June to 6.5 percent, its lowest level since the start of the COVID-19 pandemic in March 2020. The national unemployment rate ticked up in June from 5.8 to 5.9 percent.
Texas Business Outlook Surveys
In June, the Texas Business Outlook Surveys headline indexes' three-month moving average fell across all surveys (Chart 3). The smoothed retail index fell below zero for the first time since January 2021, indicating that on average more retail respondents in the second quarter reported contraction in sales than reported growth. Manufacturing and service-sector contacts continued to report net growth in production and revenue, respectively, though the level of the indexes has come down from the multiyear highs reached earlier this year. The three-month moving average of the future headline indexes for all three surveys—which sheds light on how businesses expect production or revenue to change six months in the future—remained strong in June. This indicates continued optimism for growth among businesses across the state.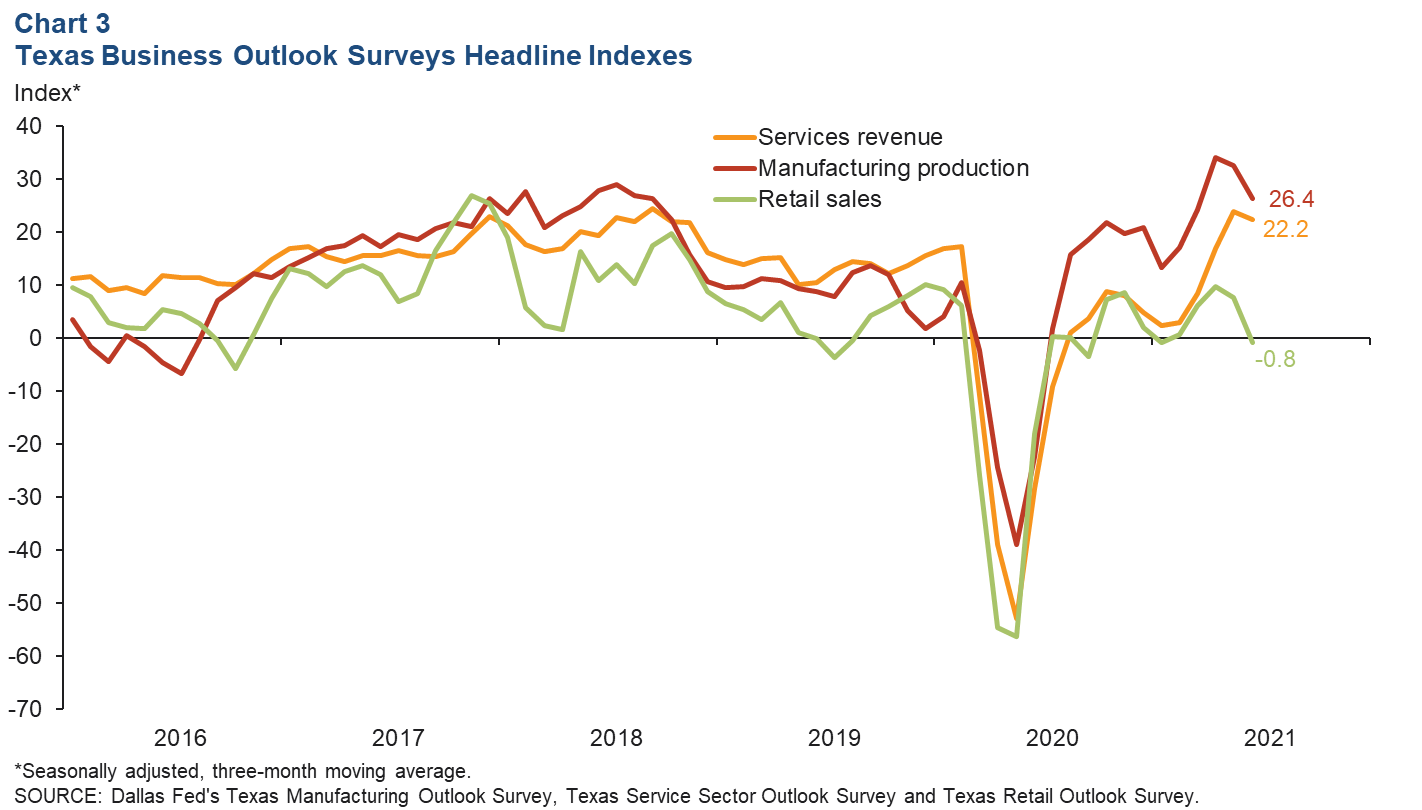 Exports
The three-month moving average of Texas exports ticked up in May for the 11th month in a row (Chart 4). This growth was led by upswings in exports to China and the rest of Asia, which climbed 7.6 and 7.8 percent, respectively. Texas exports to Europe also grew strongly, increasing 6.7 percent from April to May. Exports to Mexico fell in the month, while exports to the rest of Latin America and Canada saw healthy growth. The rest of the world saw a contraction in exports from Texas.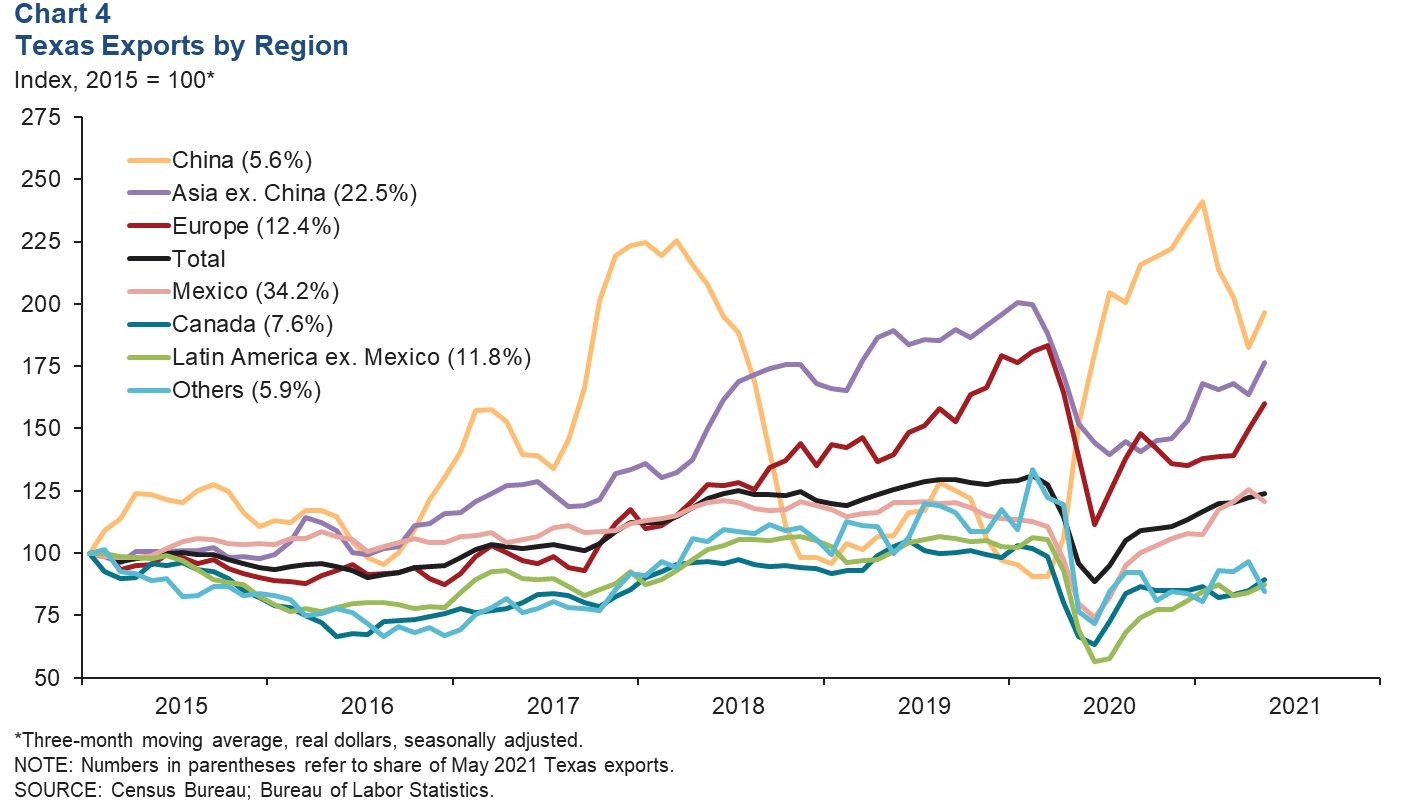 There was also an uptick in the three-month moving average for exports from the U.S. This increase came from moderate growth in U.S. exports to Asia, which offset minor declines in exports to Canada and Mexico.
Home Prices
The median sales price of homes across the state ticked up in May for the fifth month in a row (Chart 5). Among the major Texas metros, sales prices grew the most in Fort Worth, increasing 1.5 percent in May. The Dallas median home price appreciated 1.1 percent. Austin saw the largest decrease in the month, slipping 1.1 percent. Despite this, year-to-date median house price growth remained strongest in Austin at 18.2 percent through May. Prices have increased so far in 2021 in all major Texas metros and are likely to continue to do so due to strong demand and tight supply.
Retail Sales
Texas retail sales edged up in May, according to the Texas comptroller (Chart 6). Statewide, retail spending fully recovered in third quarter 2020 from its pandemic-related slump in early 2020. It has continued to grow since then, aside from a small decline in February 2021. While retail sales growth was muted in May after two months of robust gains, the year-to-date increase remains strong. May sales were 7.0 percent above 2020 year-end levels, reaching their highest level since the series began in 1990.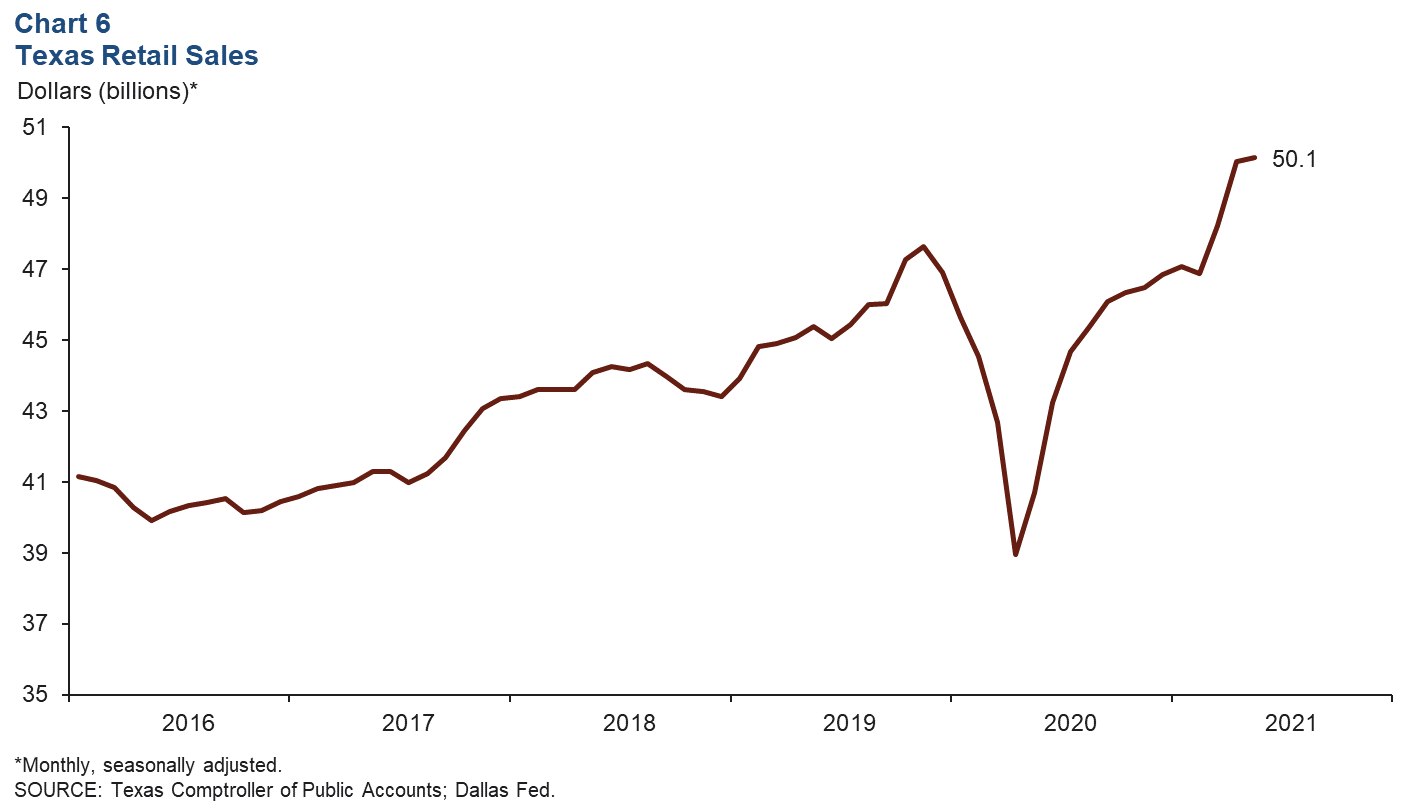 NOTE: Data may not match previously published numbers due to revisions.
About Texas Economic Indicators
Questions can be addressed to Carlee Crocker at carlee.crocker@dal.frb.org. Texas Economic Indicators is published every month during the week after state and metro employment data are released.