Texas Economic Indicators

August 24, 2022
The Texas economy continued to expand in July, with broad based growth in payrolls. Job openings remained elevated, and the unemployment rate ticked down. The July Texas Business Outlook Surveys (TBOS) headline indexes indicated that expansion slowed in the service and manufacturing sectors, and sales contracted in the retail sector. Median home prices cooled in July, while existing-home inventories increased.
Labor market
Employment growth widespread
Texas employment expanded an annualized 7.4 percent (80,263 jobs) in July after growing an upwardly revised 8.2 percent in June (Chart 1). Job growth was broad based, with oil and gas employment posting the strongest growth at an annualized 46.5 percent. Year to date, Texas payrolls have expanded 6.1 percent. The Dallas Fed's Texas Employment Forecast estimates 5.2 percent job growth this year (December/December).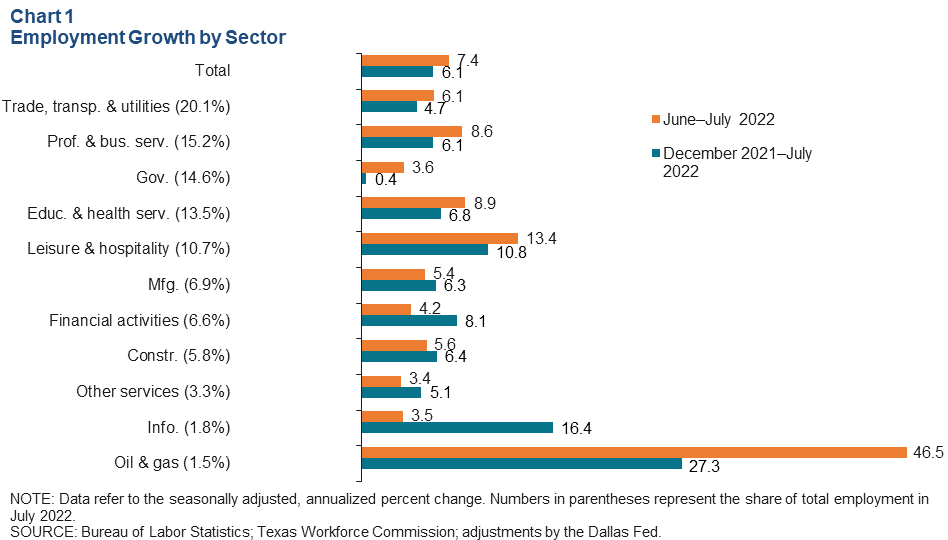 Job openings moderate but Remain Plentiful
Job openings moderated in Texas but continued to outpace the U.S. in July (Chart 2 ). As of July 29, job openings decelerated slightly in Texas but were 56.6 percent higher than February 2020 levels. U.S. job openings also slowed but were 53.4 percent higher than February 2020 levels.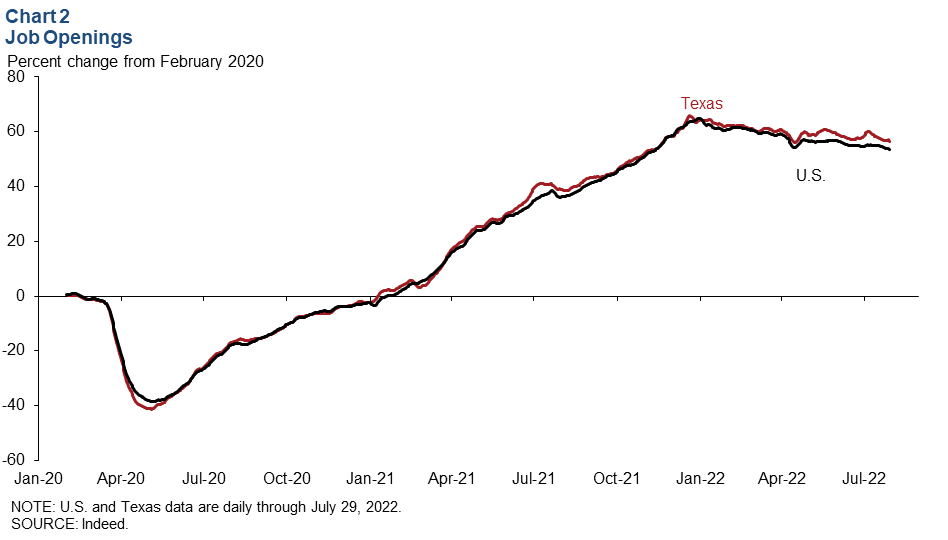 Unemployment rate dips
The Texas unemployment rate dipped from 4.1 percent in June to 4.0 percent in July (Chart 3 ). Meanwhile, the U.S. jobless rate declined from 3.6 percent in June to 3.5 percent. The Texas labor force continued to expand, increasing at an annualized rate of 2.3 percent in July, while the U.S. labor force decreased by 0.5 percent.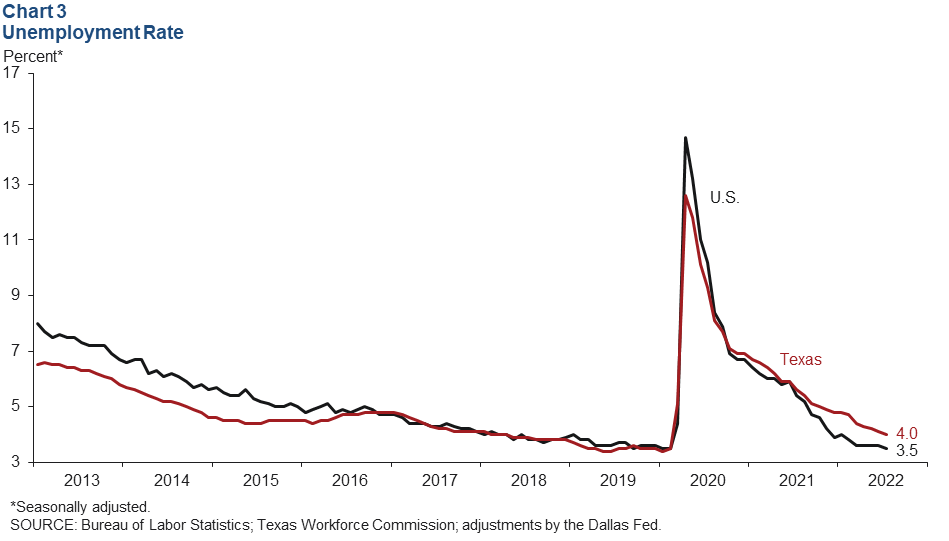 Texas Business Outlook Surveys
The three-month moving average of the Texas Business Outlook Surveys service and manufacturing sectors' headline indexes dipped further in July and were below their long-run averages (Chart 4). The service sector revenue index fell by 0.6 points to 8.4, and the manufacturing production index fell 2.3 points to 8.3, suggesting a moderation in the pace of growth. The retail sales index contracted for the fifth month in a row, falling 3.8 points in July. The company outlook indexes for all sectors remained in negative territory.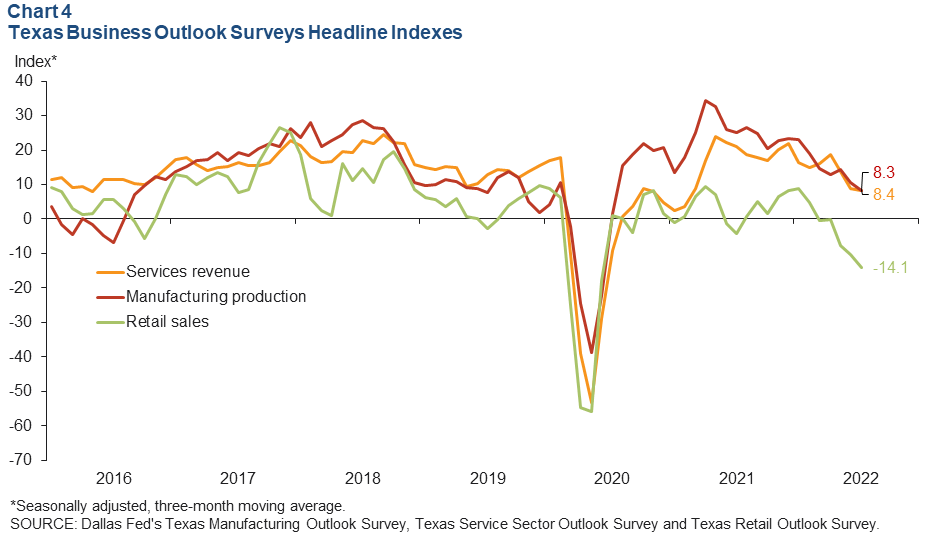 Housing
Home prices cool down
The median sales price of homes statewide fell for a second straight month in July to $341,704—a 1.7 percent decrease from June (Chart 5). Among the major Texas metros, Dallas–Fort Worth posted the largest decline, with the median price slipping 1.5 percent from June to $404,284. The median home price in San Antonio dipped 1.2 percent to $326,092, and in Austin it ticked down 0.8 percent to $503,649. Houston had the smallest drop in the median home price, with it falling 0.6 percent to $338,289. Year-over-year median house-price growth was the strongest in Dallas–Fort Worth at 7.5 percent.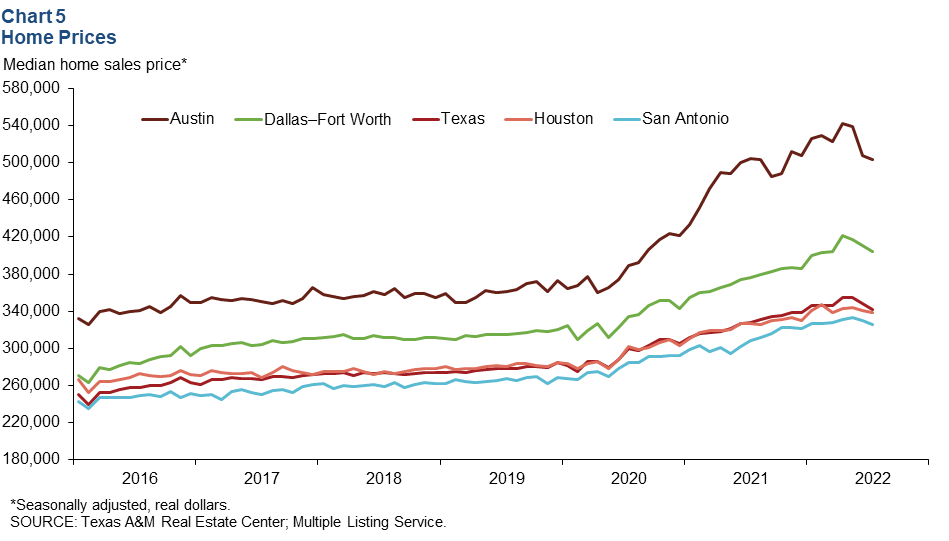 Housing inventories increase in most major Texas metros
In July, housing supply increased in most major Texas metros but remained well below the six months considered a balanced market (Chart 6). Existing-home inventories ticked up to 2.3 months in San Antonio, 2.1 months in Houston and 1.8 months in Dallas–Fort Worth, while in Austin, they remained flat at 1.9 months.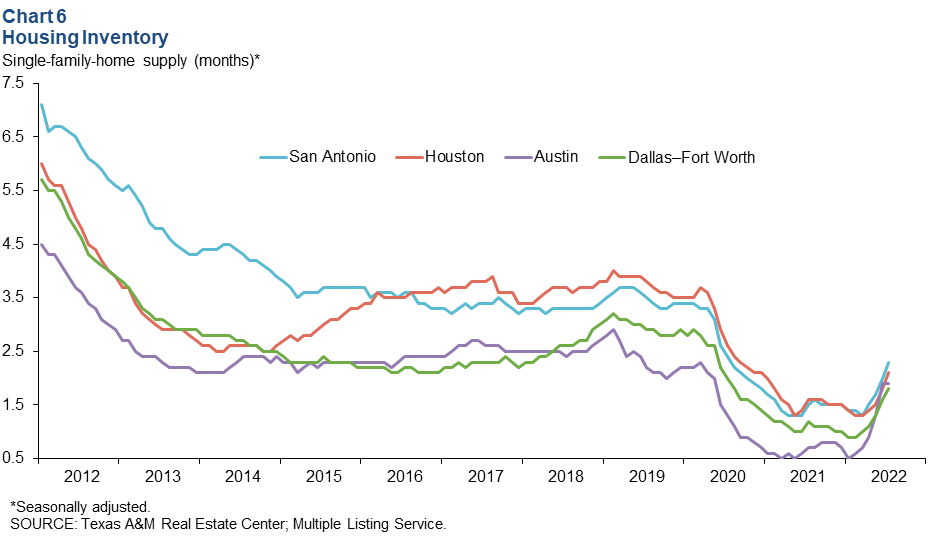 NOTE: Data may not match previously published numbers due to revisions.
About Texas Economic Indicators
Questions can be addressed to Mytiah Caldwell at Mytiah.Caldwell@dal.frb.org. Texas Economic Indicators is published every month during the week after state and metro employment data are released.