Texas Economy
Texas Manufacturing Outlook Survey
April 24, 2017
Texas Manufacturing Expansion Continues
Texas factory activity increased for the 10th consecutive month in April, according to business executives responding to the Texas Manufacturing Outlook Survey. The production index, a key measure of state manufacturing conditions, moved down three points to 15.4, suggesting output growth continued but at a slightly slower pace this month.
Other measures of current manufacturing activity also indicated continued expansion in April. The survey's demand indicators saw upward movement, with the new orders and growth rate of orders indexes edging up to 11.5 and 5.1, respectively. The shipments index also moved up, rising three points to 9.5. The capacity utilization index fell slightly but stayed positive for a 10th month in a row, coming in at 11.5.
Perceptions of broader business conditions improved again. The general business activity index held steady at 16.8, and the company outlook index inched down but remained positive at 15.1.
Labor market measures indicated employment gains and longer workweeks in April. The employment index posted a fourth consecutive positive reading and remained unchanged at 8.5. Eighteen percent of firms noted net hiring, compared with 9 percent noting net layoffs. The hours worked index fell three points to 5.9.
Prices and wages continued to rise in April. Upward pressure on input costs continued to recede slightly, with the raw materials prices index falling four points to 20.8. Meanwhile, upward pressure on selling prices increased. The finished goods prices index rose 4.5 points to 12.0, slightly lower than levels seen earlier this year but still well above average. The wages and benefits index held fairly steady at 18.8, indicating compensation costs continued to rise at roughly the same pace seen over the past several months.
Expectations regarding future business conditions continued to improve, although several six-month-ahead indexes retreated from their March levels. The indexes of future general business activity and future company outlook came in at 27.1 and 26.2, respectively, down from last month's readings but still solidly in positive territory. Most other indexes for future manufacturing activity slipped but remained positive.
Next release: Tuesday, May 30
Data were collected April 11–19, and 108 Texas manufacturers responded to the survey. The Dallas Fed conducts the Texas Manufacturing Outlook Survey monthly to obtain a timely assessment of the state's factory activity. Firms are asked whether output, employment, orders, prices and other indicators increased, decreased or remained unchanged over the previous month.
Survey responses are used to calculate an index for each indicator. Each index is calculated by subtracting the percentage of respondents reporting a decrease from the percentage reporting an increase. When the share of firms reporting an increase exceeds the share reporting a decrease, the index will be greater than zero, suggesting the indicator has increased over the prior month. If the share of firms reporting a decrease exceeds the share reporting an increase, the index will be below zero, suggesting the indicator has decreased over the prior month. An index will be zero when the number of firms reporting an increase is equal to the number of firms reporting a decrease. Data have been seasonally adjusted as necessary.
April 24, 2017
---
Click on links in the table for greater details. Historical data are available from June 2004 to the most current release month.
*Indicator direction refers to this month's index. If index is positive (negative), indicator is increasing (decreasing) or improving (worsening). If zero, indicator is unchanged.
**Number of months moving in current direction.
Data have been seasonally adjusted as necessary.
April 24, 2017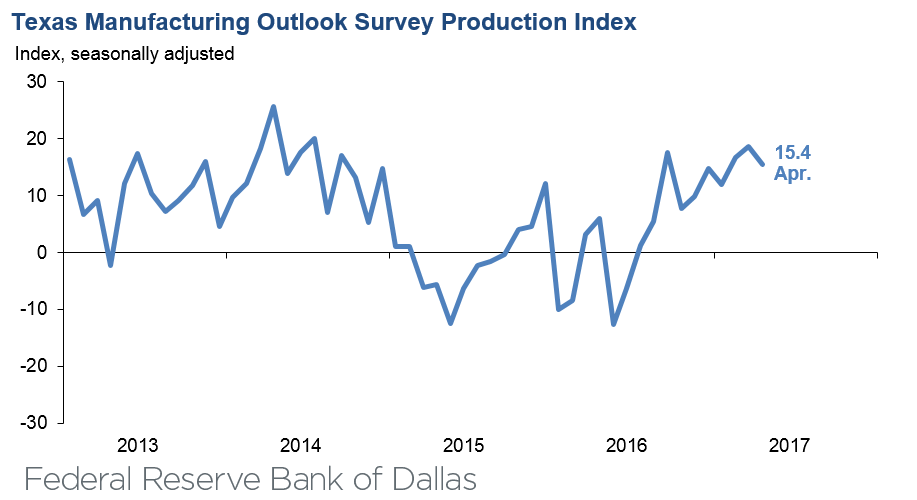 April 24, 2017
Comments from Survey Respondents
These comments are from respondents' completed surveys and have been edited for publication.
Primary Metal Manufacturing
It is a fairly stable market right now.
We have never seen our construction industry in North Texas busier than it is right now, going back nearly 50 years.
Fabricated Metal Product Manufacturing
I keep reading and hearing that things are swinging in a favorable direction. I don't see it yet. Steel consumption is still soft.
We are swamped!
More than just optimism, we are starting to see an increase in current orders, with plans from customers expecting real growth.
General business activity in the area continues to increase, with the large petrochemical capital projects kicking off in the Texas and Louisiana areas. This is putting pressure on wages and being able to retain skilled craftsmen. Refining maintenance and capital spending levels are not improving, as refiners wait to see if the general economy is going to improve and crack spreads increase.
The first quarter of 2017 has been a tough environment for sales so far.
The global economies and the U.S. economy are very weak and uncertain.
Printing and Related Support Activities
We continue to be optimistic about the future; however, it still seems to be a slow thaw to the winter doldrums. We are busier in April than March, and hopefully this trend continues.
Wood Product Manufacturing
Miscellaneous Manufacturing
Oil and gas has little or no impact in our business. The one exception is that fewer workers are needed, as some roles have been replaced by more advanced equipment. Fewer workers means fewer families can afford craft and art supplies for themselves and their children. As we are in the art and craft business, this is not a cheery outlook.
We are still looking for some tax relief to expand faster and hire more people faster. In this labor market it is getting hard to find quality candidates, and salaries are increasing. The labor regulations and rules are starting to be less burdensome for the first time in a long time, improving the hiring outlook and allowing us to pay people more. The business sector is still suffering from too much bureaucracy and governmental red tape. We are becoming more concerned about future trade interruptions due to international conflicts. We are hoping for improved trade conditions, lower barriers, reduced tariffs and improved ease of commerce between countries.
Historical Data
Historical data can be downloaded dating back to June 2004.
Indexes
Download indexes for all indicators. For the definitions of all variables, see Data Definitions.
All Data
Download indexes and components of the indexes (percentage of respondents reporting increase, decrease, or no change). For the definitions of all variables, see Data Definitions.
Questions regarding the Texas Manufacturing Outlook Survey can be addressed to Emily Kerr at emily.kerr@dal.frb.org.
Sign up for our e-mail alert to be automatically notified as soon as the latest Texas Manufacturing Outlook Survey is released on the web.