Regional
Labor Scarcity, Trade Woes Squeeze Texas Business, Survey Finds
Businesses face difficulty both trying to hire in a historically tight labor market and navigating tariffs and trade policy uncertainty. We used our Dallas Fed Texas Business Outlook Surveys (TBOS) to specifically ask firms how they are dealing with these headwinds.
Solid and broad-based growth in the Texas economy over the past few years has prompted businesses to expand their payrolls while at the same time contending with slower growth in the labor force due to less in-migration to the state. These factors have pushed the state unemployment rate to a historical low.
More than 70 percent of firms are trying to hire, according to a survey of Texas businesses conducted by the Dallas Fed in May. Every month, the Dallas Fed reaches out to over 500 firms through the TBOS, which provides reliable real-time intelligence on economic conditions that is crucial for regional analysis and policymaking.
Among firms currently trying to hire, an astounding 83 percent reported in May that they were having problems finding qualified workers. For retailers, the share was closer to 90 percent.
Dallas Fed contacts have been conveying for quite some time that these labor shortages span a wide array of industry and skill levels. Frequent mentions include retail, hospitality, skilled tradespeople in construction, energy and manufacturing, truck drivers and nurses. Multiple contacts mentioned explicitly that worker shortages are damping growth in their company, mitigating their ability to capitalize on strong demand.
Labor Shortages Pushing Up Wages
Firms are responding to the historically tight labor market primarily by increasing pay. When asked in the May survey what they are doing to recruit and retain employees, 58 percent of firms said boosting wages—the top response. Firms are also increasingly turning to improving working conditions—from 15 percent of firms in 2014 to 30 percent this year. Examples include offering flexible work arrangements (such as telecommuting), a more casual dress code or better workplace amenities.
Wages are expected to increase 3.8 percent in 2019 on average among respondent firms. This is certainly elevated but down slightly from the 4.5 percent average reported for 2018, suggesting wage pressures may have peaked last year and have begun moderating (Chart 1).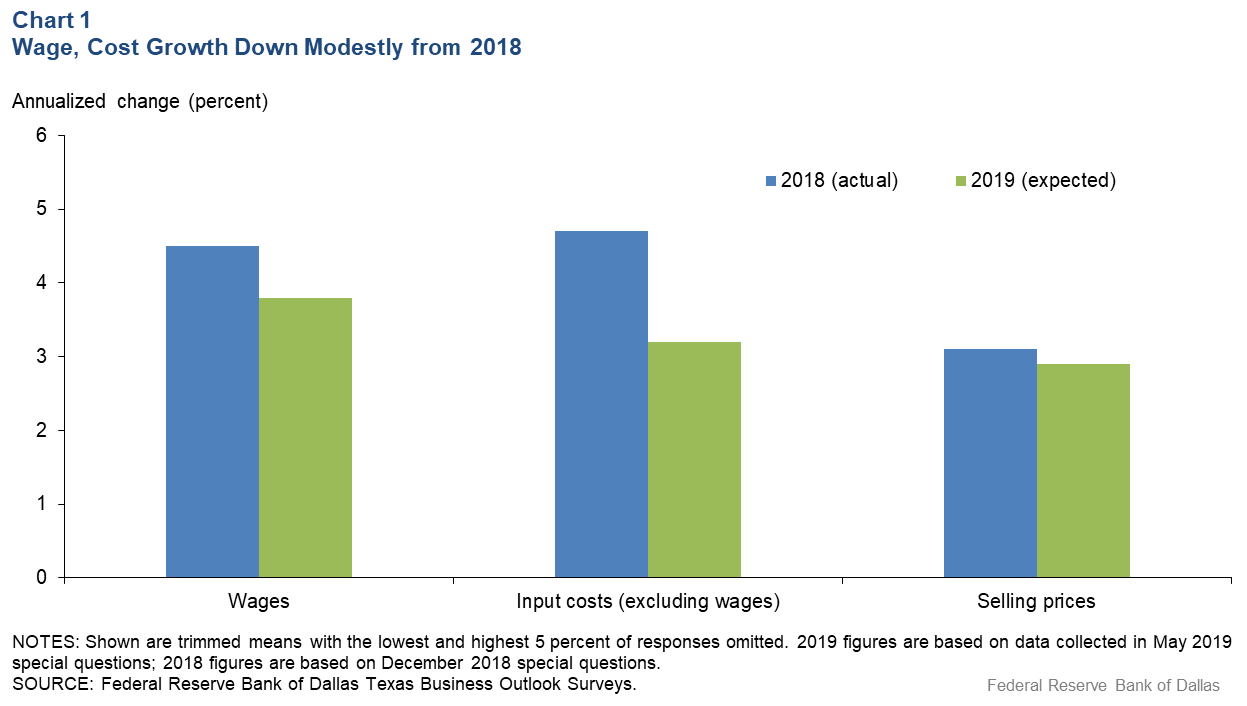 Still, rising labor costs, especially coupled with increasing input costs, harm businesses' bottom lines if they aren't matched with productivity increases or can't be fully passed on to customers. As shown in the chart, selling price growth is not keeping pace with wage and input price growth, and more firms note decreased margins over the past six months than increased margins (42 percent versus 29 percent, not shown in chart).
Tariffs Damping Capital Spending, Outlooks
A number of announced tariffs and retaliatory tariffs (some imposed, others planned) and trade negotiations since early 2018 pose an additional threat to business—business expansion in particular. More than a quarter of firms (28 percent) report a negative net impact from the tariff situation, according to results from a June Dallas Fed survey. The balance is split between respondents experiencing a positive impact (5 percent), no impact (58 percent) and unknown impact (9 percent).
Looking at the tangible impact of tariffs on various business aspects, more than a third of firms note increased input costs. For manufacturers in particular, that share is roughly 50 percent (Chart 2). The measure shown in the chart is a diffusion index—the share of respondents reporting an increase in a particular measure (for example, input costs) minus the share of respondents saying they saw a decrease.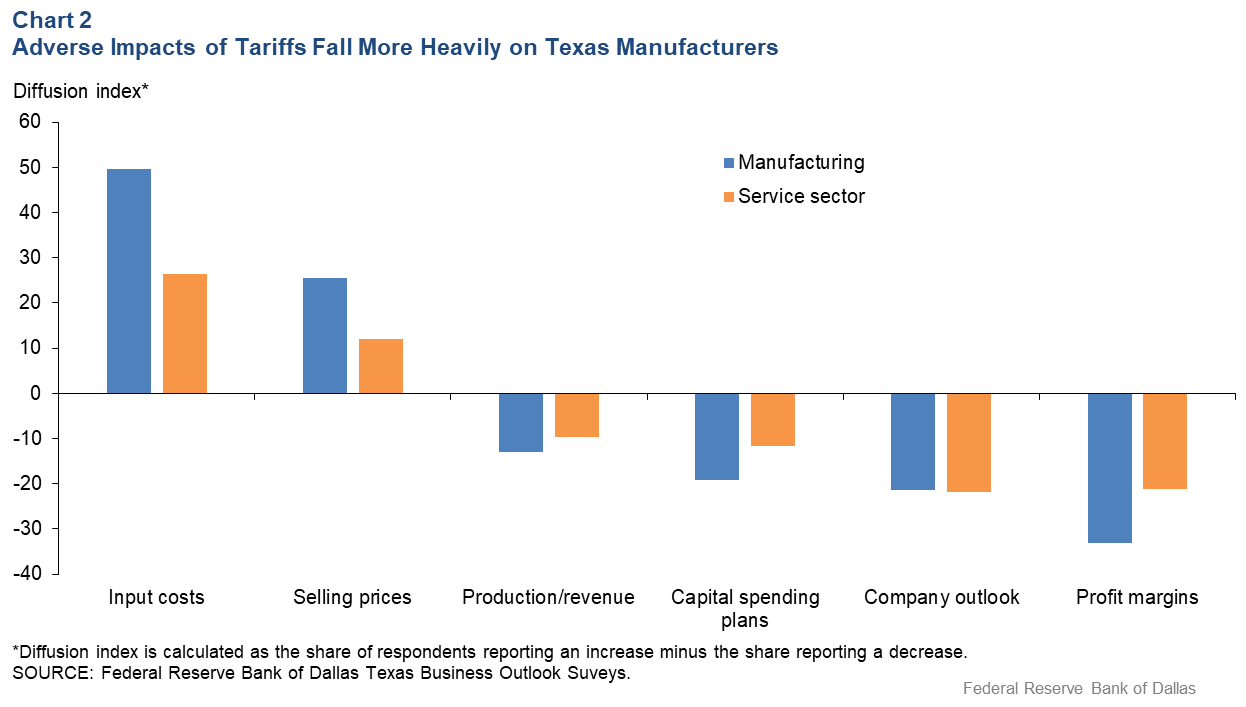 Perhaps more impactful and lasting on the aggregate economy, however, is the cooling impact these tariffs are having on capital expenditures. Among manufacturers, a net 19 percent of firms note that the tariffs decreased their capital spending plans, up from 7.5 percent in September 2018. For services firms, the number was lower at 12 percent, although up from just 3.4 percent in September last year.
Among retailers, increased tariffs have exacerbated some of the long-term trends that have impacted profit margins, with a net 28 percent noting declines due to tariffs. A majority of retailers in May 2019 had already noted declining margins relative to the prior six months, in part due to increased competitive pressure from online retailing.
Finally, firms' outlooks have seen notable negative impacts due to tariffs. Roughly 21 percent of respondents say tariffs have diminished their outlooks, a notably larger share than in September last year.
Adapting to New Trade Landscape
For those businesses experiencing a negative tariff impact, 41 percent report implementing price increases to pass at least some of the tariff costs on to consumers. Among manufacturers, this share was over 54 percent. However, these price increases are generally not enough to fully pass through the tariff costs, as evidenced by the large share of firms reporting reduced profit margins.
Logistics management is another way many firms are mitigating the tariff impact. Twenty-two percent of firms noting a negative tariff impact say they are finding new domestic suppliers, and 11 percent say they are finding new foreign suppliers—many located in southeast Asian countries such as Vietnam.
Trade Uncertainty Looms Large
Beyond the realized tariff impact looms the unknown of future trade policy decisions, which is having a chilling effect on the business climate. Across all surveyed firms, more than a quarter say tariffs and other potential changes to trade policy have increased uncertainty regarding their outlook and business decisions, net the share noting a decrease. This increased uncertainty reduces demand from customers, makes planning and decision-making more difficult, and delays or reduces capital spending, according to respondents.
About the Authors
The views expressed are those of the authors and should not be attributed to the Federal Reserve Bank of Dallas or the Federal Reserve System.