Regional
Texas Economy Still Growing, Though Pace Slows
The regional economy is growing at a slower pace in recent months, with Texas labor markets remaining tight. Energy activity has declined, and export growth has slowed this year. Initial unemployment claims increased slightly in early October, indicative of labor market cooling. Apartment rental markets continue to be strong, and inflation has ticked up since dipping in June.
Employment in Texas grew an annualized 0.7 percent in September, 1.1 percentage points lower than in August and below the U.S. rate of 1.4 percent in September. Year-to-date job growth through September was 2.1 percent, in line with the Dallas Fed's Texas Employment Forecast of 2.1 percent growth for 2019 (December/December).
Broad-Based Growth Among Metros, Industries
Austin led Texas metros in employment expansion through September (3.1 percent), followed by Dallas (2.3 percent) and Fort Worth (2.4 percent). Growth in Houston (2.0 percent) and San Antonio (1.1 percent) trailed the state average. The construction sector experienced the strongest gains, climbing 6.8 percent through September (Chart 1). The financial, manufacturing, and education and health services sectors also led Texas employment growth, while the energy sector shed jobs at a 2.1 percent annual rate.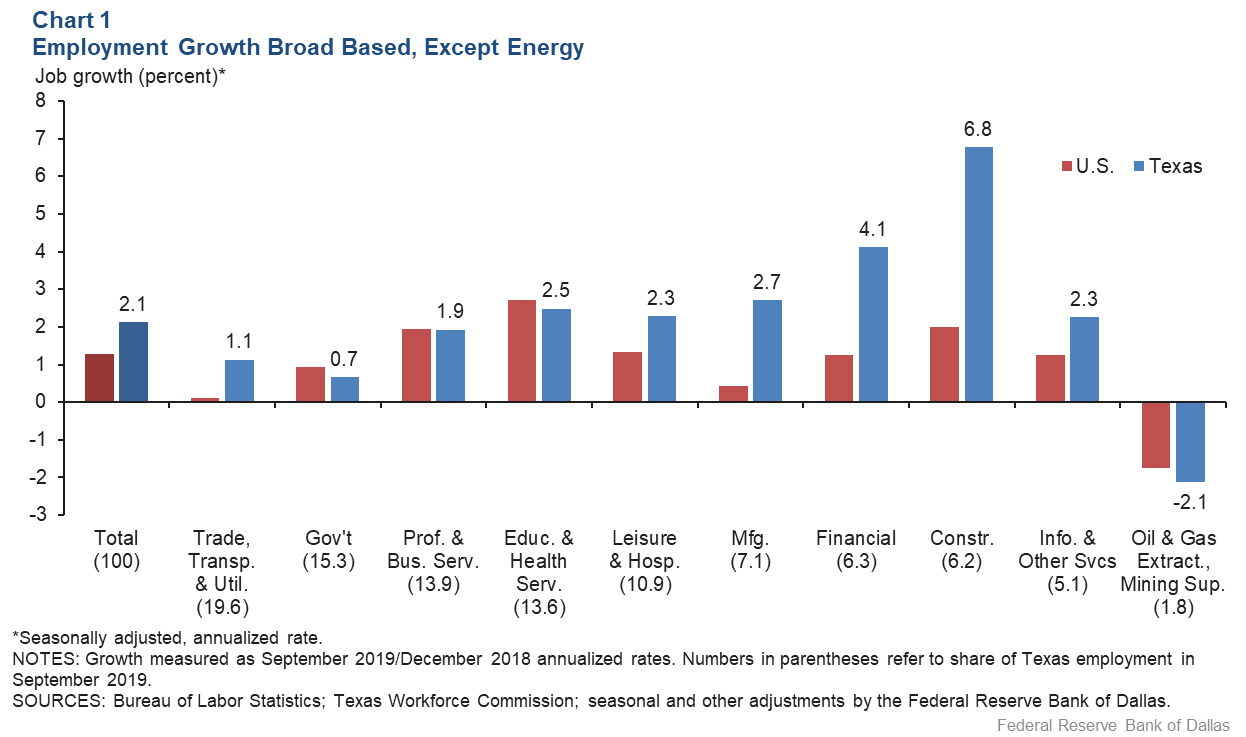 The Texas unemployment rate was unchanged in September for the fourth consecutive month at 3.4 percent, a record low. To maintain this rate through year-end, 17,387 jobs must be added monthly, amounting to a 1.6 percent annualized job growth rate. The current job growth forecast exceeds this threshold rate, leading to a probable slight unemployment rate decline, assuming that the labor force participation and population growth rates remain unchanged.
Despite the low unemployment rate, initial claims for unemployment insurance ticked higher in early October, which may indicate a cooling labor market. This coincided with slightly higher unemployment rates in Midland and Odessa, up from record lows in May. The Permian Basin communities are heavily energy dependent.
Manufacturing Growth Eases, Services Improve
Texas manufacturing expansion was muted in October, according to the Texas Business Outlook Surveys, while growth in the service sector strengthened, and retail sales remained moderate (Chart 2).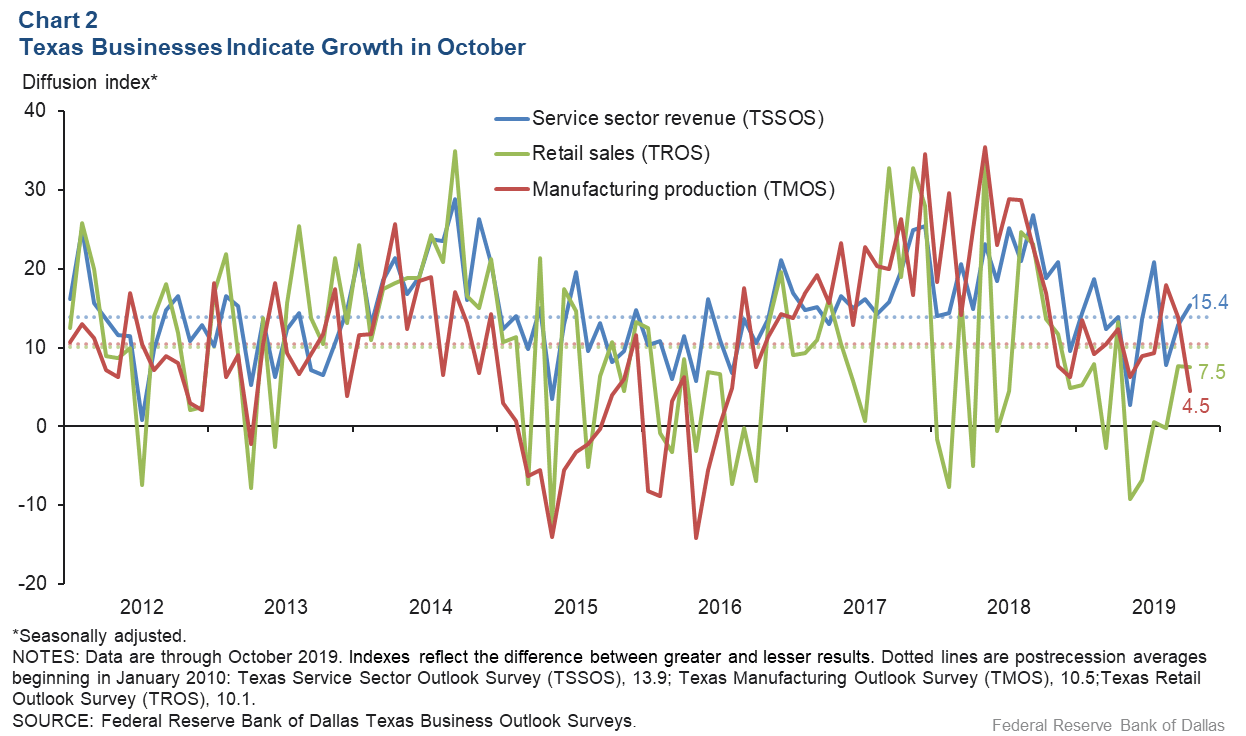 Respondents in the service sector reported improved employment growth in October following weak readings in September when the employment index remained positive but fell to 6.5—the lowest reading in two years.

The indexes are calculated by subtracting the percentage of respondents reporting a decrease from the percentage reporting an increase. Thus, while the index number was relatively low, the positive result suggests an increase over the prior month, though at a slower pace.
The October service sector index recovered somewhat. In the retail sector, respondents indicated a decline in employment and shorter work weeks in September. However, the retail employment index turned positive in October. The hours worked index fell in both the service sector and retail surveys in September and declined further in October.
All three surveys continued to report high levels of uncertainty, though all noted improved outlooks. Manufacturing and service sector outlooks climbed further into positive territory, while the retail sales outlook index rose above zero.
Since peaking in mid-2018, the wages and benefits indexes in all three surveys have generally weakened. However, all three reported an uptick in October, suggesting that wages and benefits improved somewhat.
Overall, input costs continued rising in October, while selling prices changed more moderately. The raw materials price index for the manufacturing sector climbed, while the finished goods price index grew moderately after remaining near zero for five months. The October selling price index for the service sector dipped below zero, indicating that more firms reported falling prices than increasing prices. The increase in input costs relative to selling prices is likely squeezing Texas firms' profits.
Energy Sector Activity Declines
Activity in the energy sector declined in third quarter 2019, according to the Dallas Fed Energy Survey. The business activity index fell to -7.4 in the third quarter (from -0.6 in the second quarter), with oilfield service firms driving the decline. The aggregate employment index slid to -8.0 in the third quarter. West Texas Intermediate (WTI) spot oil prices slilpped from $59 per barrel (on Sept. 20) to $52.75 per barrel on Nov. 1.
The rig count in Texas dropped to 416 in the week ended Nov. 1, following two weeks of rising counts in mid-October. These earlier increases marked the first gain in two months. Increasingly efficient drilling operations continue to reduce the amount of time needed to drill wells. This has helped maintain the number of wells drilled despite a steadily declining number of rigs actively drilling. Thus, demand for oilfield labor has not fallen in tandem with the active rig count as in previous slowdowns.
Apartment Rentals Stay Strong
The apartment market remained strong during the third quarter, especially in Dallas–Fort Worth, where 10,000 units were absorbed. Among major Texas metros, rent growth was the strongest in Austin and slowest in Houston.
Occupancy levels were above average in most major Texas metros except for Houston. Building activity slowed but remained elevated, according to RealPage data: 43,700 units were under construction in DFW at the end of the third quarter, compared with 45,000 during the second quarter. In Houston, 24,500 units were being built, compared with 24,900 in the previous quarter; in San Antonio, activity was at 5,400 units in the third quarter, little changed from 5,500 in the second quarter.
Texas Exports Growth Slower
The three-month average of Texas exports through September rose 5.2 percent over the same period last year. Exports grew 22.1 percent during the similar 2017–18 period.

Texas exports to China declined 53.9 percent in the second half of 2018 and have since partially recovered, largely attributable to the oil and gas trade (Chart 3).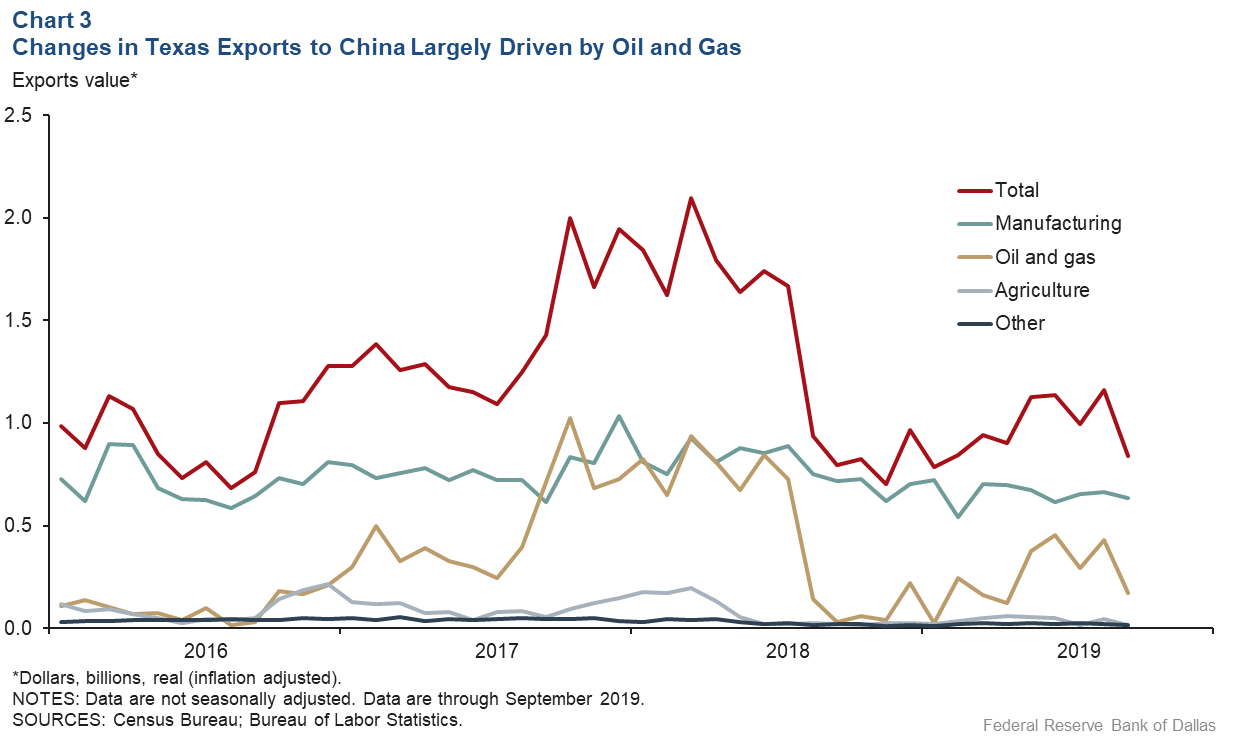 Inflation Rises in July and August After Falling in June
Total 12-month headline inflation, measured by combining the consumer prices indexes for DFW and Houston, reached 2.0 percent in August after falling to 1.3 in June. Despite this recent uptick, inflation is still lower than the recent peak of 3.5 percent in June 2018. Core inflation, which excludes fuel and food prices, rose from 1.7 percent in June to 2.6 in August but remained lower than the peak of 2.8 percent in May 2018.
About the Authors
The views expressed are those of the authors and should not be attributed to the Federal Reserve Bank of Dallas or the Federal Reserve System.