Regional
Insights from Dallas Fed Surveys: Uneven Economic Recovery Likely in Texas
August 11, 2020
With the unusual economic shocks following COVID-19, traditional measures of economic activity have not been timely enough to capture the latest changes in the economy and are likely subject to greater revision than usual. In this environment, surveying businesses on real-time economic conditions becomes even more valuable.
The Dallas Fed's Texas Business Outlook Surveys (TBOS) show that while recovery continued in some sectors in July, it faltered in others as new COVID-19 cases surged across the state (Chart 1). The surveys have a well-established track record of reliably informing the nation about economic conditions in Texas, and they reflect a large and robust sample, in fact reaching record response numbers amid the pandemic.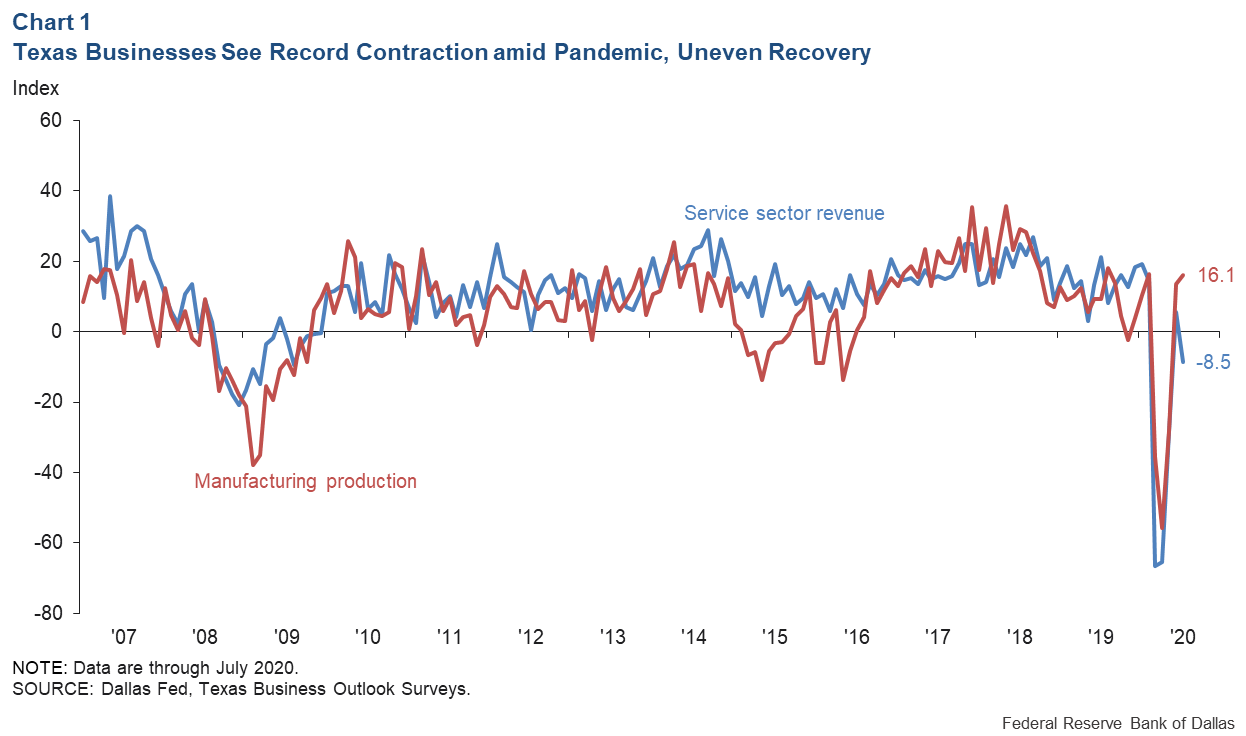 Emerging from Worst of COVID-19 Downturn
The COVID-19 pandemic has had a devastating effect on the Texas economy, which shed 10 percent of its jobs from February to April. Despite some recovery since then, June employment remained 6 percent below pre-COVID February levels.
TBOS provides insight into what has happened since the June employment data were collected. Thus, we learn that Texas manufacturing activity continued to recover in July, with production growth accelerating slightly from June. But it's important to note that the level of activity is still well below normal. In a follow-up TBOS question in July, nearly three-quarters of manufacturers noted that their revenues were lower than a typical July—by about one-third on average (Chart 2).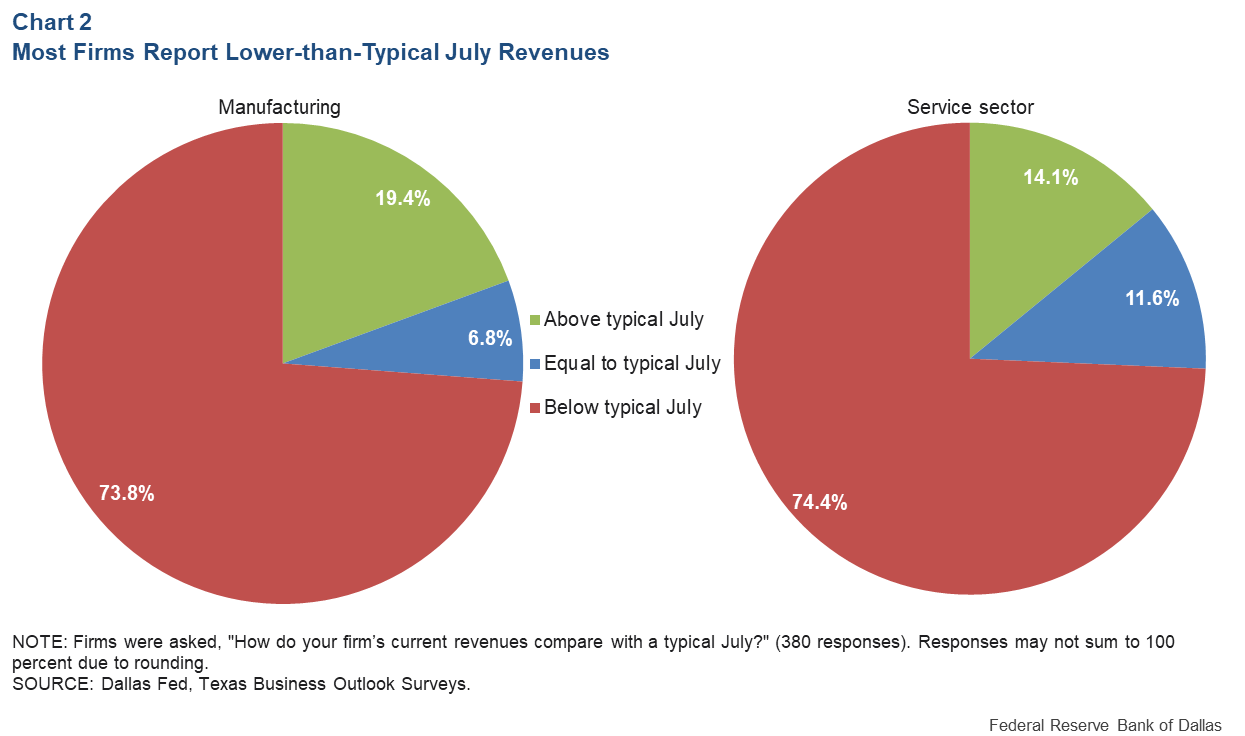 Service sector activity contracted overall in July after a short-lived expansion in June. Weakness was most prevalent among face-to-face contact industries, such as restaurants and retail, which suffered the most as new COVID-19 cases rose sharply in Texas.
Other service sector industries, notably financial activities and professional/technical services, continue recovering. While the share of service firms noting lower-than-normal July revenues is similar to the share in manufacturing, the observed impact was greater in some industries. All leisure and hospitality firms said revenues were lower than in a typical July, by about 46 percent on average. Among retailers, the share was 76 percent, with revenues off by an average of 22 percent.
Businesses Outline Constraints They Face
When asked about factors restraining revenues, a majority of firms reported weak demand as a primary constraint. A significant share of businesses also cited limited operating capacity, due to either staffing shortages or mandated restrictions.
The seven-day average number of new daily COVID-19 cases in Texas rose from just below 1,400 on June 1 to more than 10,000 in mid-July, prompting a pullback in activity at some businesses and creating heightened uncertainty for many. A number of contacts expressed these sentiments in their survey comments:
"The resurgence of COVID around the globe has extended our view of how long it will take to recover from the economic shock." (Chemical manufacturer)
"The uncertainty over the reopening of the economy is greater today than a month ago." (Pipeline services firm)
"Business activity has declined some with the resurgence of COVID-19." (Utilities firm)
"The constant media focus on COVID-19 and uncertainty over what leaders will do regarding letting businesses open or stay open is a huge drag on the recovery." (Real estate firm)
"Demand for industrial engineering projects has declined, as the industrial sector has cut production and spending." (Engineering firm)
"Restaurants are dying a slow, painful death." (Restaurant owner)
Rising infection rates across the state prompted a majority of businesses to increase spending on health and safety equipment, and many decreased the number of employees working on-site and/or postponed efforts to bring telecommuting workers back on-site, according to July survey results.
Mixed Sentiment on Immediate, Long-Term Outlooks
Despite pandemic-related challenges, fewer than 10 percent of businesses report that it is likely they will fail over the next 12 months. This varies by sector, however. Given their current outlook, 26 percent of leisure and hospitality contacts say it is at least somewhat likely their businesses will not survive through next July.
Pessimism was the highest among hoteliers, caterers and outdoor recreation operators, who have already noted staff layoffs of nearly 50 percent from February, on average. Conversely, less than 6 percent of manufacturers say they are at meaningful risk of shutting down.
When asked about expectations for future general business conditions, responses remained split along industry lines. Nearly 30 percent of manufacturing respondents expect an improvement, compared with 18 percent who expect a worsening, while in services, just one-quarter expect an improvement, compared with nearly 35 percent who expect worsening conditions.
Nevertheless, when asked about more-tangible measures of future activity—how production and/or revenue six months ahead will compare to now—the most popular response among all 400-plus businesses surveyed was that output will be stronger.
This optimism, coupled with a downward trend in new COVID-19 infections in Texas in recent weeks, gives hope that a more sure-footed rebound may be on the horizon.
About the Authors
The views expressed are those of the authors and should not be attributed to the Federal Reserve Bank of Dallas or the Federal Reserve System.