Austin Economic Indicators

February 2, 2023
Austin economy dashboard (December 2022)
Job growth (annualized)
Sept..–Dec. '22
Unemployment rate

Avg. hourly earnings

Avg. hourly earnings growth y/y

3.1%

2.9%
$32.82
4.4%
In December, Austin's job growth declined slightly and wages slowed. However, home sales ticked up as prices continued to fall, and unemployment remained low.
Business-cycle index
Austin Business-Cycle Index—a broad measure of economic activity—grew an annualized 3.4 percent in December, lower than the 6.8 percent growth rate in November (Chart 1).
Labor market
Unemployment rate holds steady
Austin's unemployment rate remained at 2.9 percent in December (Chart 2). This is lower than the state's jobless rate of 3.9 percent and the nation's rate of 3.5 percent. The metro area labor force increased an annualized 3.4 percent in December.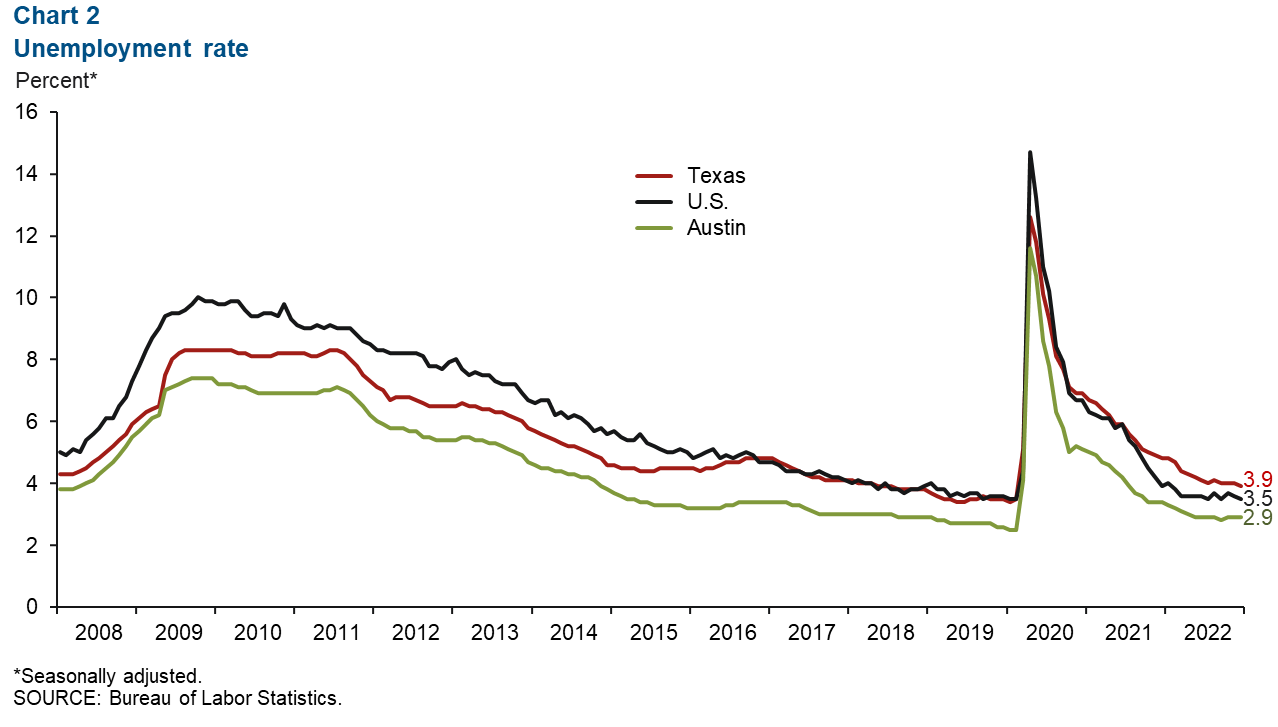 Austin employment expands in 2022
Austin employment fell by 0.5 percent, or by 552 jobs, in December (Chart 3). The sectors that experienced decreases were manufacturing (26.0 percent, or 1,760 jobs), construction (13.8 percent, or 898 jobs), and leisure and hospitality (9.9 percent, or 1,271 jobs). Not all sectors saw declines during December. Professional and business services experienced the most growth (9.2 percent, or 1,782 jobs). In 2022, Austin payrolls grew 3.1 percent, led by leisure and hospitality, which increased 11.0 percent. The only sectors that experienced declines in 2022 were construction and mining at 2.1 percent and government at 0.5 percent.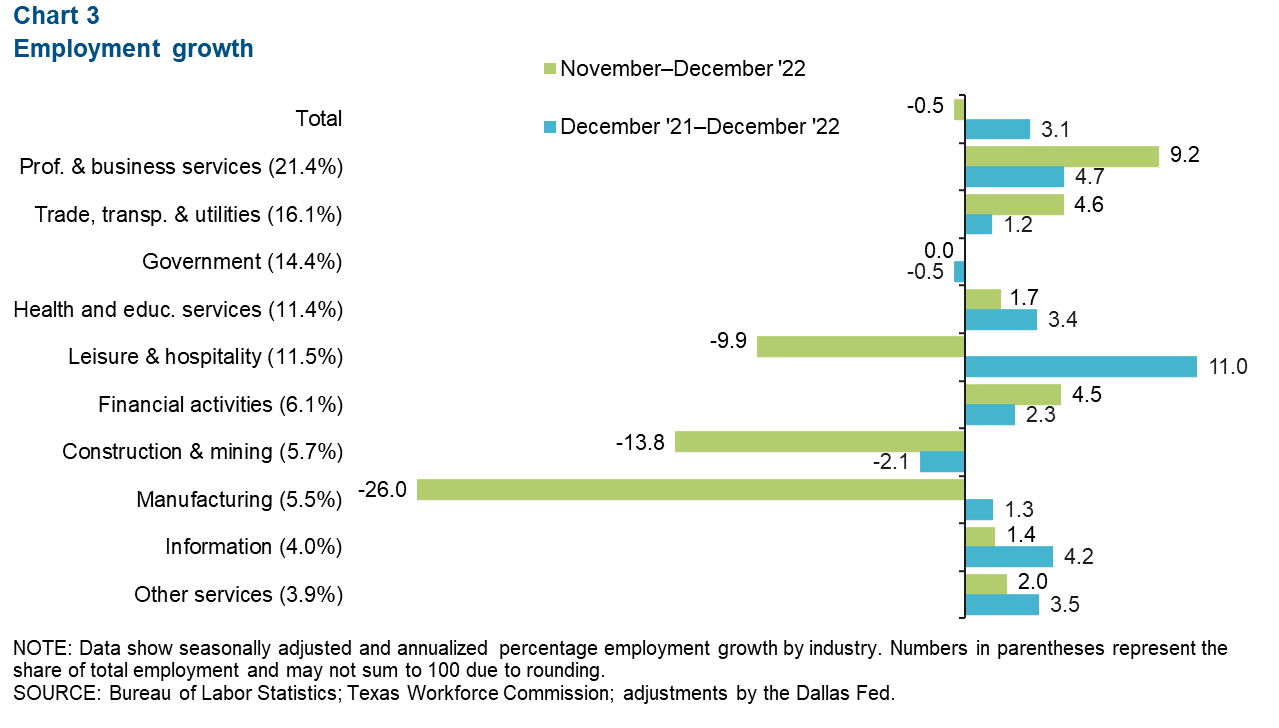 Earnings moderate in December
Austin earnings, defined by gross pay plus overtime, increased by an annualized 0.1 percent in December. The three-month moving average of earnings in Austin was $32.82, above the state average of $30.42 but below the national average of $32.78 (Chart 4). In 2022, Austin earnings increased by 4.4 percent, less than the gains in Texas and the U.S. of 4.8 percent and 4.6 percent, respectively.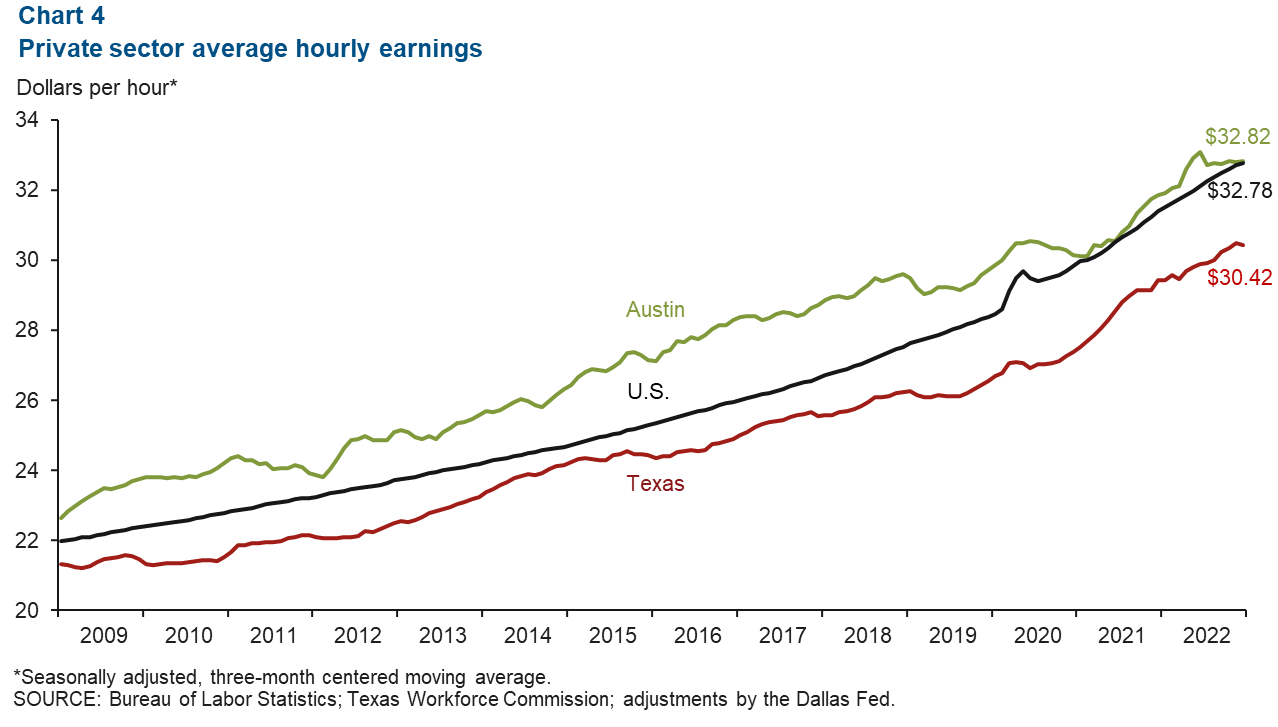 Housing market
Home prices fall further
Austin housing prices continued to decline in December, by 1.4 percent, reaching a median price of $478,157 (Chart 5). Texas median home prices didn't change, remaining around $335,753. In 2022, Austin experienced an overall decline of 8.8 percent in median home prices, more than the 2.3 percent decrease seen at the state level.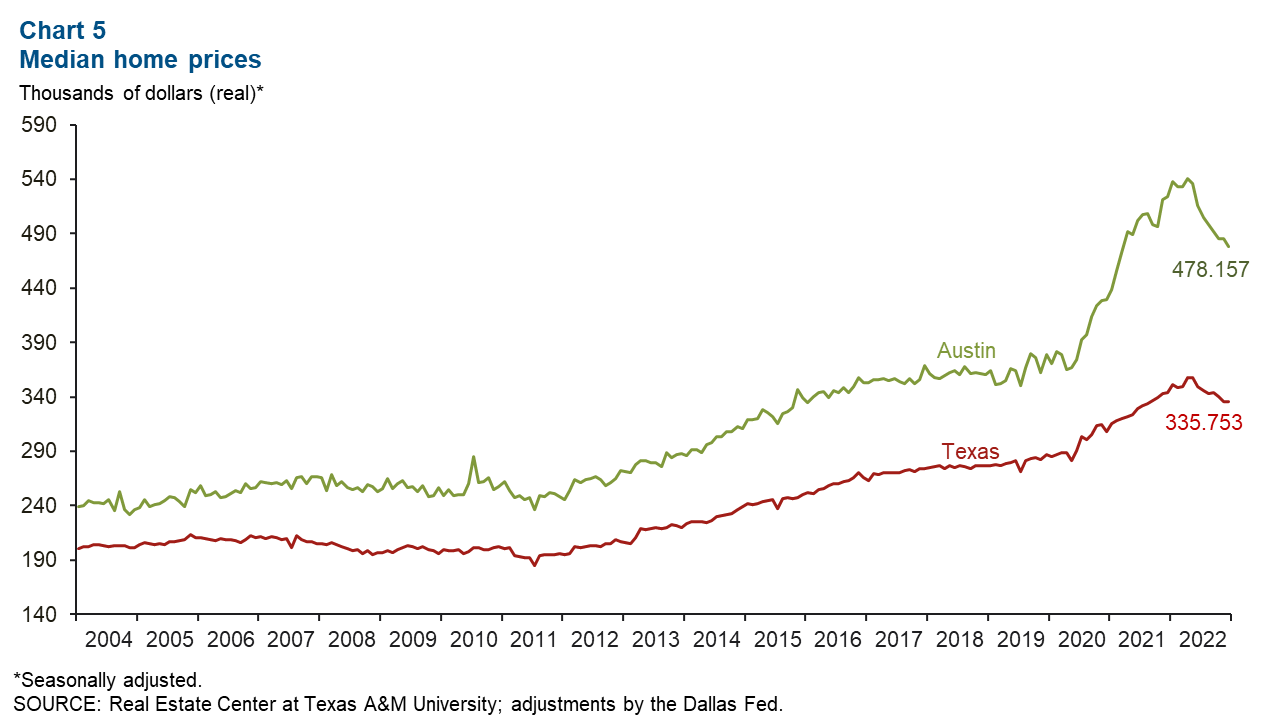 Austin home sales rebound
Austin home sales rebounded in December, increasing by 6.0 percent, annualized. In contrast, home sales in Texas fell by 3.9 percent (Chart 6). Even with Austin home sales increasing in December, they fell by 30.4 percent in 2022, similar to Texas' decline of 29.1 percent. Texas home sales continued to approach levels last seen in spring 2020, while Austin sales were just above those levels.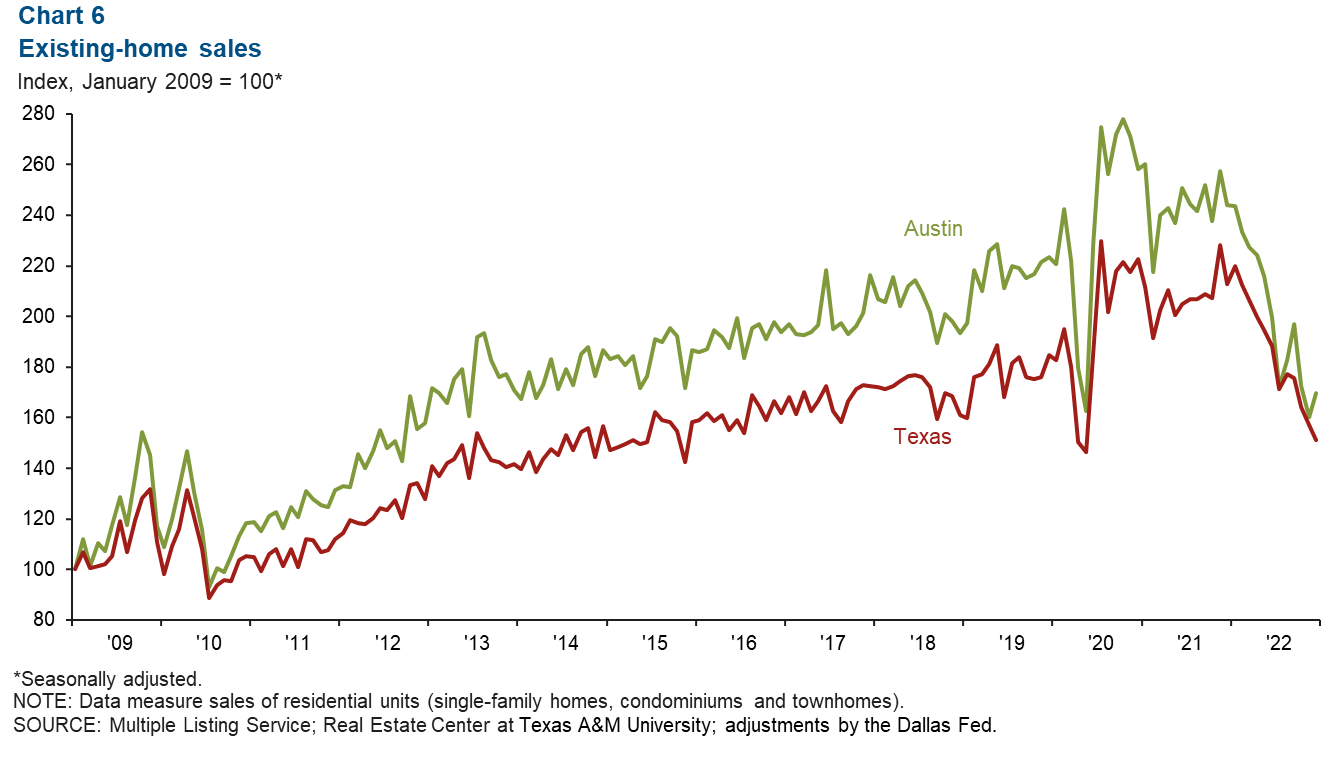 NOTE: Data may not match previously published numbers due to revisions.
About Austin Economic Indicators
Questions or suggestions can be addressed to Vee Kalkunte at Prithvi.Kalkunte@dal.frb.org.
Austin Economic Indicators is released on the first Thursday of every month.