Austin Economic Indicators

April 6, 2023
Austin economy dashboard (February 2023)
Job growth (annualized)
Dec. '22–Feb. '23
Unemployment rate

Avg. hourly earnings

Avg. hourly earnings growth y/y

0.4%
3.3%
$33.71
5.1%
Austin's economy showed signs of cooling in February as unemployment ticked up, layoffs rose and employment sectors broadly declined. Semiconductor manufacturing employment decelerated, though the industry's long-run outlook remains positive. Meanwhile, wages continued to rise.
Labor market
Unemployment rate increases
Austin's unemployment index increased to 3.3 percent in February (Chart 1). However, the rise was largely due to the metro-area labor force continuing to grow, up an annualized 4.6 percent in February and a revised 11.0 percent in January. The Austin unemployment rate is lower than the state's rate of 4.0 percent and the nation's rate of 3.6 percent.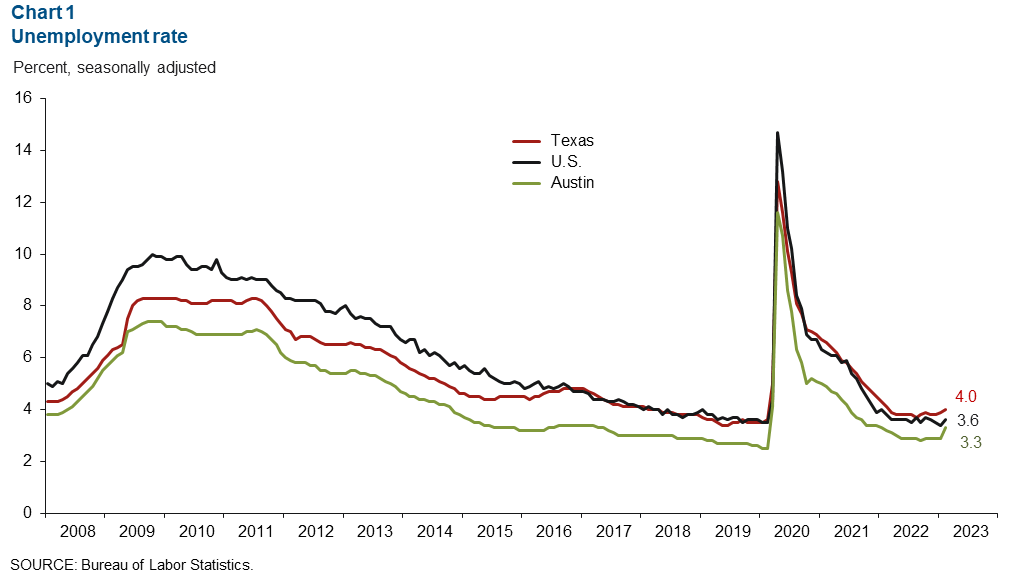 Austin employment contracts
Austin employment declined 2.0 percent in February as most sectors lost jobs (Chart 2). The biggest decliners were construction and mining (9.8 percent, or 668 jobs) and other services (9.7 percent, or 421 jobs). Leisure and hospitality (3.7 percent, or 452 jobs) and government (1.6 percent, or 242 jobs) were the only sectors to experience growth in February.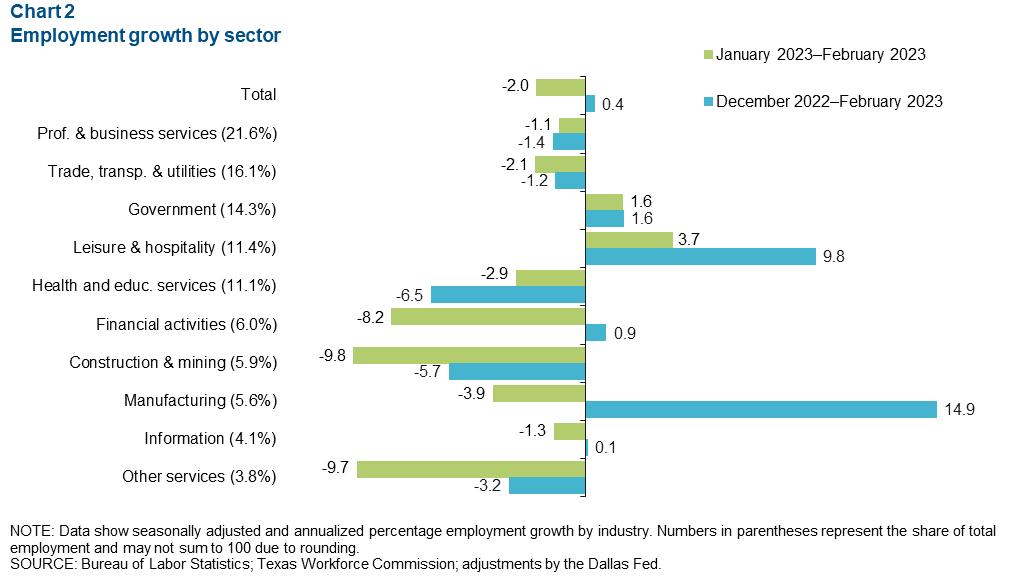 Wages continue to rise
The three-month moving average of Austin wages increased an annualized 8.4 percent in February (Chart 3). Austin's hourly earnings were $33.71, remaining above the state average of $30.91 and the national average of $33.01. In the past year, Austin wages have risen 5.1 percent, more than the nation's 4.6 percent increase but less than the state's growth of 6.2 percent.
Layoffs in 2023 greater than 2022 and 2021 combined
As of April 3, a total of 2,074 layoffs have been announced this year in Travis County, greater than in 2022 and 2021 combined (Chart 4). This has largely been driven by the tech sector and related companies as market uncertainty and interest rates have increased.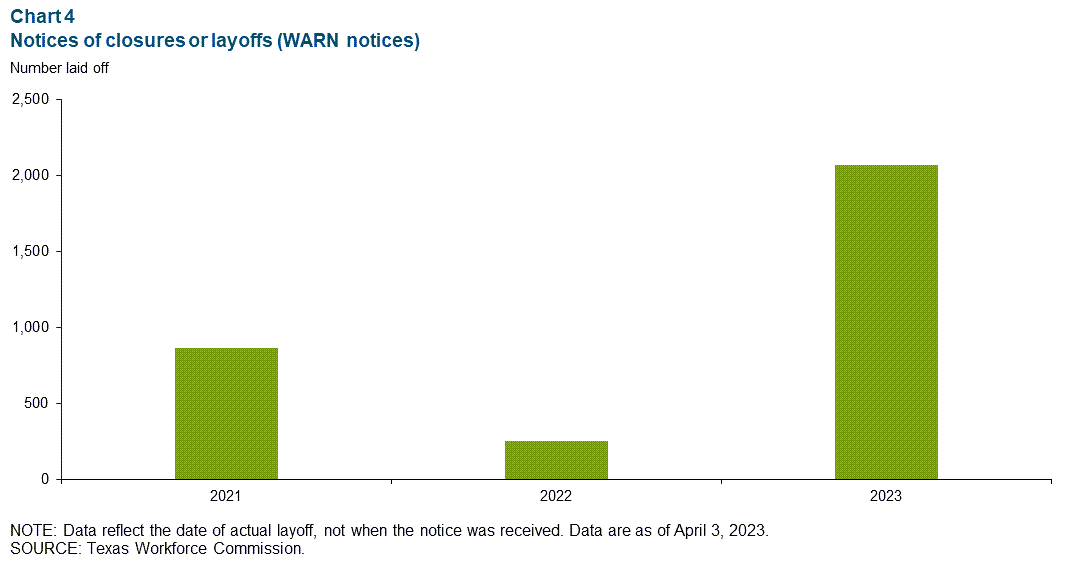 Semiconductor manufacturing employment slows
Austin semiconductor manufacturing jobs grew 1.4 percent in February, based on a three-month moving average, slower than growth in January but stronger than the flat growth for the rest of the local economy (Chart 5). The long-run outlook for the industry is positive, with greater investment from the state to lure electric vehicle chip and other semiconductor manufacturers to Texas and recent growth such as Samsung's plant in Taylor. Year over year, Austin semiconductor manufacturing jobs grew 9.4 percent, compared with the metro's employment increase of 4.9 percent.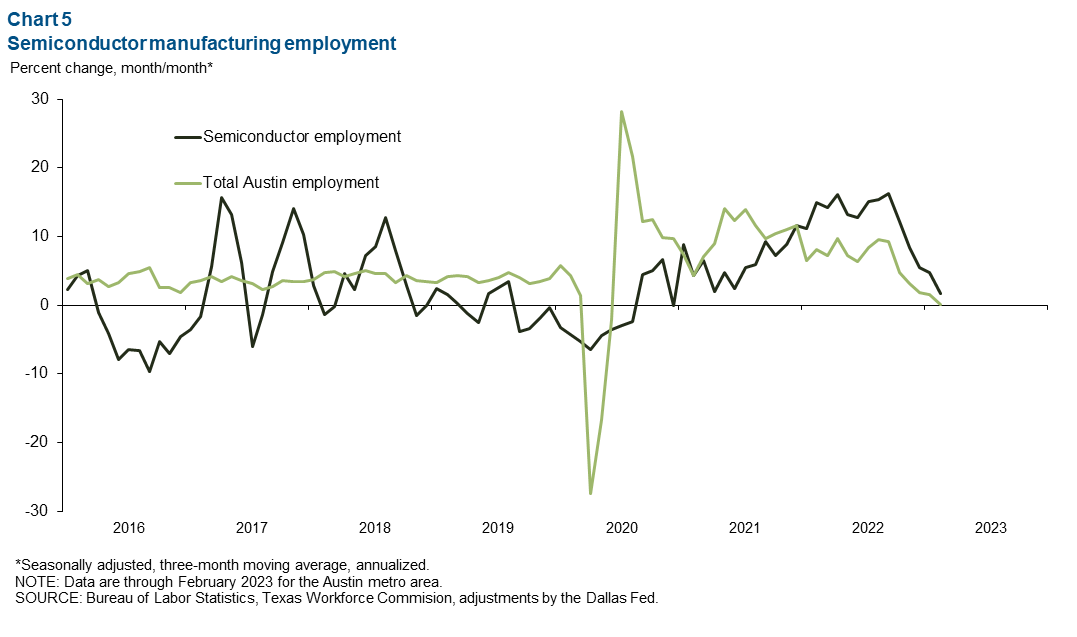 NOTE: Data may not match previously published numbers due to revisions.
About Austin Economic Indicators
Questions or suggestions can be addressed to Vee Kalkunte at Prithvi.Kalkunte@dal.frb.org.
Austin Economic Indicators is released on the first Thursday of every month.