Dallas-Fort Worth Economic Indicators

May 29, 2020
The DFW economy contracted at an unprecedented pace in April due to the ongoing economic distress caused by the COVID-19 pandemic. Payroll employment saw its steepest decline on record, and unemployment spiked to a historical high as business closures led to layoffs spanning most industries. The Dallas and Fort Worth business-cycle indexes—broad measures of economic activity in the metro area—slumped further. Single-family permits fell for the second month in a row, and apartment absorption slowed notably in April relative to year-ago levels.
Labor Market
Payrolls Contract Sharply
DFW employment fell an annualized 69.6 percent (9.4 percent nonannualized, or 361,300 jobs) in April following a 9.3 percent decline (0.8 percent nonannualized, or 31,400) in March (Chart 1). Payrolls contracted an annualized 67.5 percent (8.9 percent nonannualized) in Dallas and plummeted 74.3 percent (10.7 percent nonannualized) in Fort Worth.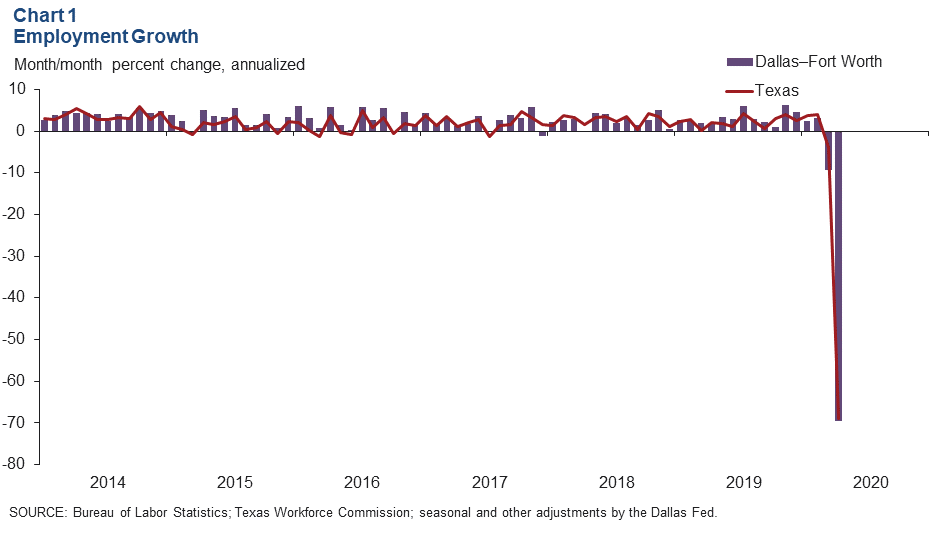 Job losses were widespread across industries, with employment in all supersectors shrinking in April. Employment in the goods-producing sector dropped an annualized 43.7 percent (4.7 percent nonannualized), but cuts were steeper in the service sector, with payrolls shrinking 72.5 percent (10.2 percent nonannualized). Declines in leisure and hospitality (149,700 jobs, nonannualized), "other services" (16,500), professional and business services (60,800) and education and health services (52,000) led the service sector contraction. Losses were less pronounced in financial activities (3,800), government (10,700) and information (2,000). Employment in manufacturing (10,500) and construction and mining (14,200) also fell.
Unemployment Surges to Record Highs
Unemployment climbed further in April, jumping to 11.8 percent in Dallas and 12.3 percent in Fort Worth, reflective of the layoffs occurring from mid-March to mid-April (Chart 2). Unemployment remained below the state and U.S. rates, which rose to 12.8 percent and 14.7 percent, respectively. Recent data for weekly initial claims for unemployment insurance in Texas suggest the unemployment rate will increase further in May to close to 20.6 percent.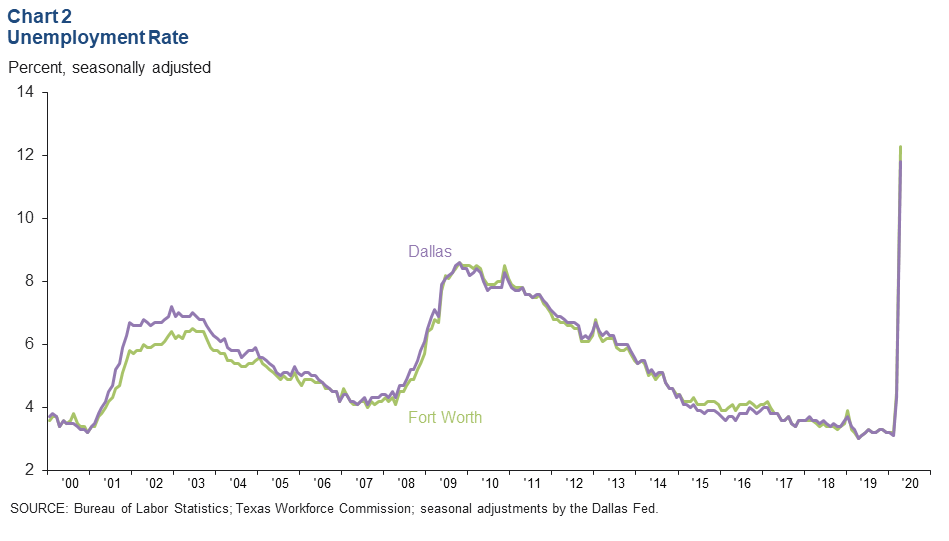 Jobless Claims Remain Elevated
Over 28,000 new claims for unemployment insurance were filed in DFW during the week ended May 16. A total of 476,000 initial claims have been filed in the metroplex since the week ended March 7, representing nearly 12 percent of DFW's labor force (Chart 3). New jobless claim filings in DFW peaked during the week ended April 4 and have been gradually declining since then; however, they remain elevated. Based on the claims data, the unemployment rate will continue its ascent in May.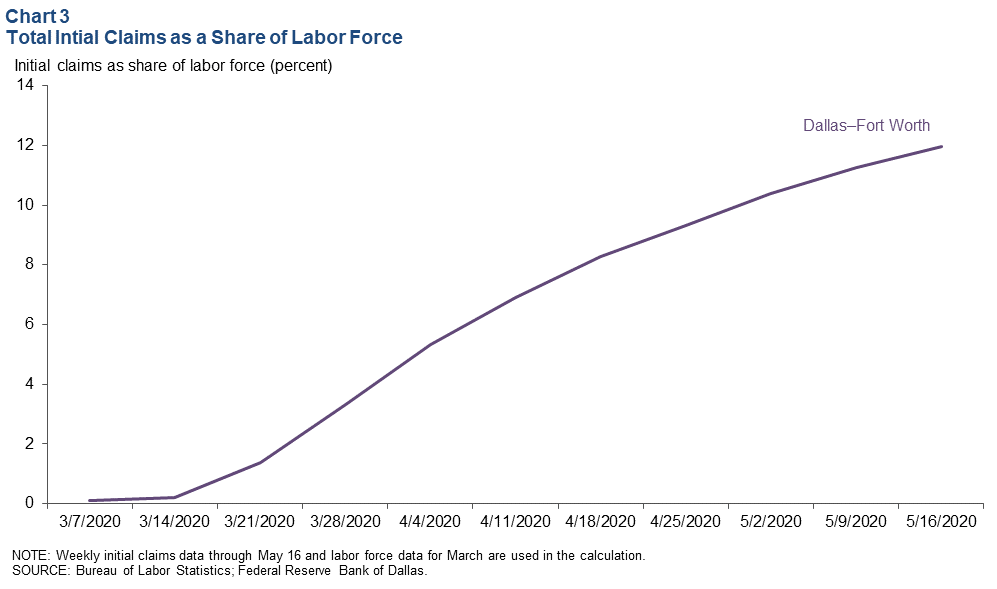 Business-Cycle Indexes
The Dallas and Fort Worth business-cycle indexes fell at a historical pace in April, driven by widespread job losses and a rapidly rising unemployment rate in the metroplex. Both the Dallas and Fort Worth indexes saw their largest drops ever dating back to November 1978. Contraction in the Fort Worth index was more pronounced relative to the Dallas index, partly due to a larger employment decline. Year over year in April, the Dallas index fell 6.0 percent and the Fort Worth index was down 12.3 percent (Chart 4). This is the first time since early 2010 that year-over-year growth in both indexes has been negative.
Residential Real Estate
Single-Family Construction Dips
DFW single-family housing permits fell in March and April after growing strongly in the beginning of the year. The three-month moving average reflects the recent declines (Chart 5). Through April, total single-family permits were higher than in the same period last year by 17.2 percent in DFW and 13.5 percent in Texas. Single-family construction will likely slow further in coming months given that several new land and lot deals have been put on pause or canceled and that spec building has moderated, in part due to heightened uncertainty, according to the Federal Reserve's May Beige Book.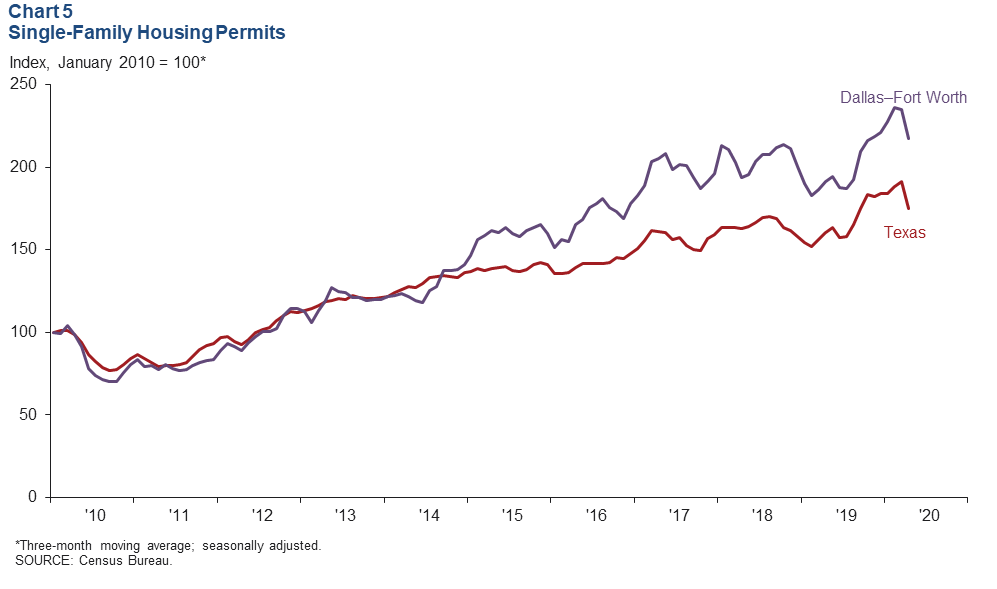 Apartment Absorption Slows
Apartment absorption weakened and rents dipped in DFW, according to ApartmentData.com. A total of 962 units were absorbed on net in April—less than a third of the 3,070 units absorbed in April 2019 (Chart 6). Average rents in DFW dropped $9 to $1,166 per unit in April, a 0.8 percent decline. Absorption was modest and rents dipped in Austin, Houston and San Antonio as well during the month.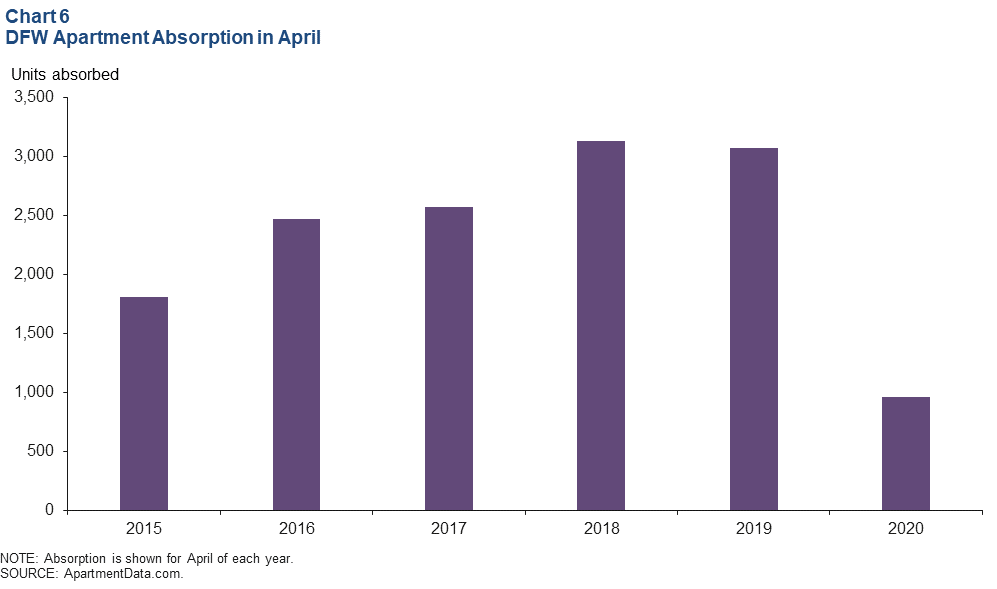 NOTE: Data may not match previously published numbers due to revisions.
About Dallas–Fort Worth Economic Indicators
Questions can be addressed to Laila Assanie at laila.assanie@dal.frb.org. Dallas–Fort Worth Economic Indicators is published every month on the Tuesday after state and metro employment data are released.