Dallas-Fort Worth Economic Indicators

June 30, 2020
The Dallas–Fort Worth economy showed some signs of recovery in May following epic declines in April. The unemployment rate dipped and payrolls rebounded, although employment stayed significantly below levels seen in February, before COVID-19 measures took effect. Initial jobless claims continued to be elevated in mid-June, though they have come down from the highs seen in late March and early April. Movements in the Dallas and Fort Worth business-cycle indexes were mixed in May. Home sales slumped again across most price points, though inventories remained tight. Apartment leasing remained sluggish in May.
Labor Market
Payrolls Expand, Unemployment Dips
DFW employment grew a nonannualized 2.2 percent (74,900 jobs) in May following a 9.4 percent decline in April (Chart 1). Payrolls rose a nonannualized 1.8 percent (45,300 jobs) in Dallas and 3.0 percent (29,600 jobs) in Fort Worth. Job growth in DFW lagged the state's 2.7 percent nonannualized increase. Through May, payroll employment in DFW is down a nonannualized 7.8 percent because of job losses resulting from the COVID-19 pandemic and related stay-at-home orders.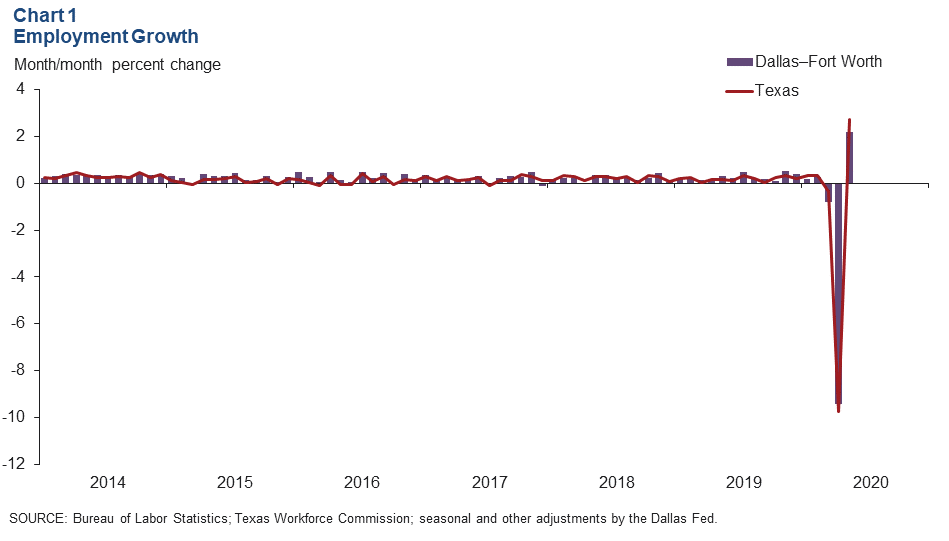 Job gains were widespread, with payrolls in most sectors expanding in May. Employment in the service sector bounced back strongly, up a nonannualized 2.4 percent (72,400 jobs). Growth in leisure and hospitality—hardest hit by the COVID-19 measures—led the service sector expansion, with payrolls rebounding a nonannualized 17.7 percent (41,900 jobs). Education and health services (5.6 percent, or 22,800 jobs) and "other" services (4.8 percent, or 5,300 jobs) also saw sizable gains. Information and government employment were the only major sectors that lost jobs in May.
The unemployment rate ticked down to a still-elevated 10.9 percent in Dallas and 11.7 percent in Fort Worth in May, lower than the state and national rates of 13.0 and 13.3 percent, respectively.
Jobless Claims Stay Elevated
Just over 19,500 new claims for unemployment insurance were filed in DFW during the week ended June 13 (Chart 2). A total of 571,000 initial claims have been filed in the metroplex since the week ended March 7, representing 14.3 percent of DFW's labor force. New jobless claim filings in DFW peaked during the week ended April 4 and have been gradually declining since then; however, they remain elevated.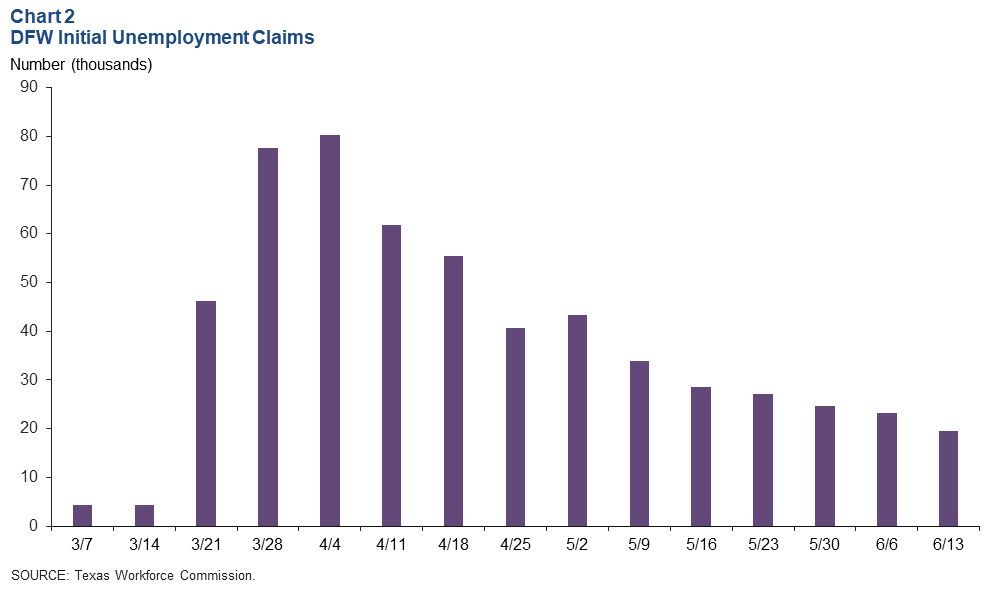 Business-Cycle Indexes
The Dallas and Fort Worth business-cycle indexes showed mixed movements in May following historic declines in April. The Fort Worth index recovered slightly, rising an annualized 23.2 percent, in part due to a larger employment increase than Dallas. The Dallas index continued to drop in May, falling an annualized 11.5 percent, slower than April's record-setting rate. Year over year in May, the Dallas index dropped 7.3 percent and the Fort Worth index was down 7.7 percent (Chart 3).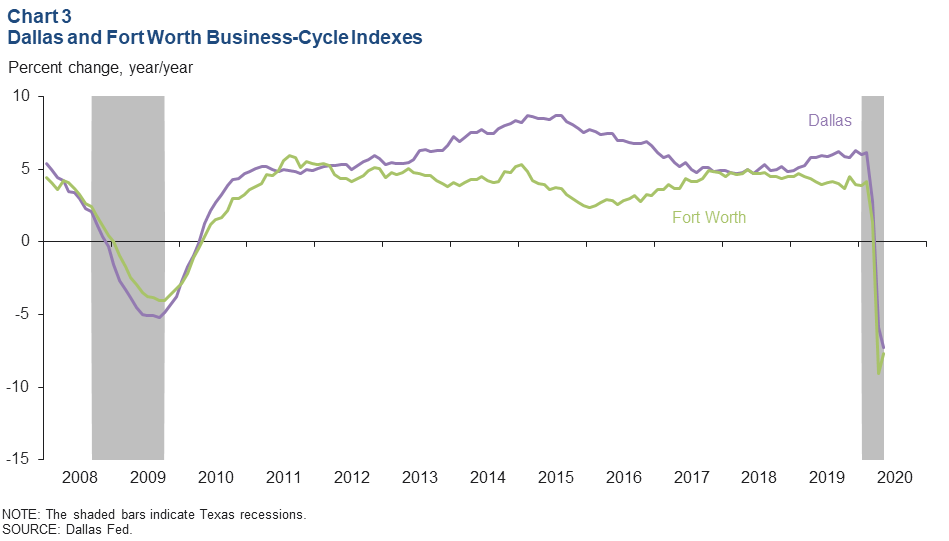 Housing
Home Sales Fall Further
COVID-19 and its related containment measures continued to impact activity in the housing market. DFW existing-home sales fell for the third straight month in May, dipping 1.8 percent. The drop in May was less severe relative to April's 16.8 percent decrease. Sales were down 3.0 percent in Dallas and relatively flat in Fort Worth during the month. Homes sales fell statewide as well, down 0.5 percent.
Existing-home sales across most broad price categories declined except for homes priced below $150,000 and between $200,000 and $299,999. However, the three-month moving averages dropped further across all price points (Chart 4). According to business contacts, new-home sales rebounded in mid-April and rose further in May as the COVID-19-related shelter-in-place orders were lifted.
Home Inventories Still Tight
DFW existing-home inventories remained tight and well below the six months' supply typically associated with a balanced market (Chart 5). Overall inventories in DFW were under three months in May, below the Texas and U.S levels of 3.2 months and 4.4 months, respectively. Inventories of entry-level homes (priced below $200,000) were the tightest at under two months. Inventories of homes priced from $200,000 to $299,999 dipped below the two-month mark in May.
Apartment Absorption Remains Slow
DFW apartment absorption stayed weak and rents dipped further in May, according to ApartmentData.com. A total of 495 units were absorbed on net in May—less than half of the units absorbed in April and nearly one-seventh of the May 2019 figure (Chart 6). Average rents in DFW dropped $8 to $1,159 per unit in May, a 0.7 percent decline. Similarly, net absorption was flat to down, and rents dipped in Austin, Houston and San Antonio during the month.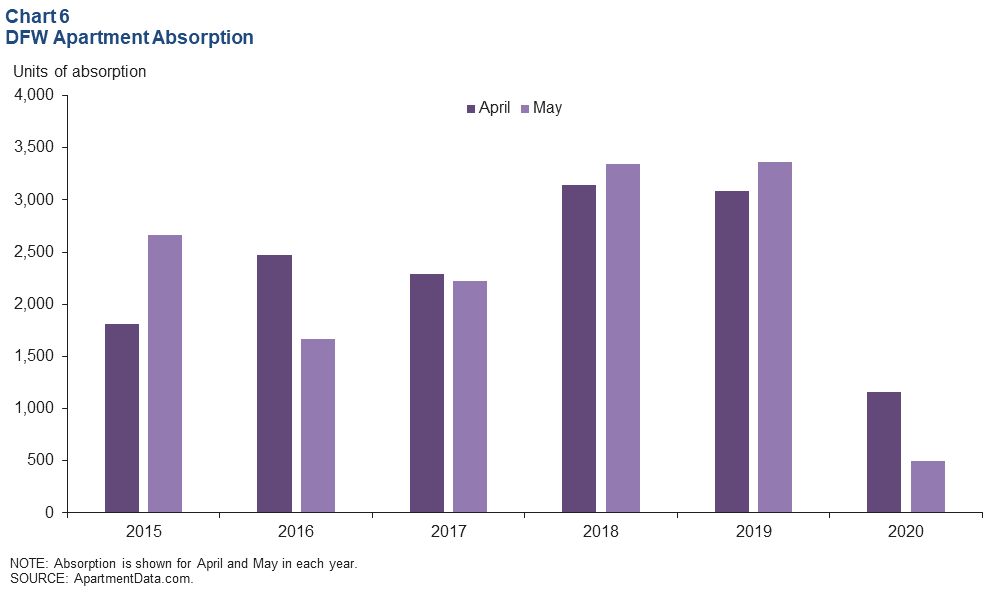 NOTE: Data may not match previously published numbers due to revisions.
About Dallas–Fort Worth Economic Indicators
Questions can be addressed to Laila Assanie at laila.assanie@dal.frb.org. Dallas–Fort Worth Economic Indicators is published every month on the Tuesday after state and metro employment data are released.