Dallas-Fort Worth Economic Indicators

August 28, 2020
The Dallas–Fort Worth economy saw continued signs of a nascent recovery in July, though the pace of growth slowed from June. Payrolls expanded moderately, and the unemployment rate dipped. The housing market was a bright spot, with home sales rising sharply and reaching new highs. Home prices increased moderately, and apartment leasing improved, though rents remained flat.
Labor Market
Payrolls Edge Up, Unemployment Dips
DFW employment grew a nonannualized 0.2 percent (6,700 jobs) in July following a solid 2.4 percent increase in June (Chart 1). Payrolls rose a nonannualized 0.2 percent (5,100 jobs) in Dallas and 0.1 percent (1,600 jobs) in Fort Worth. Job growth in DFW was on par with the state's 0.2 percent nonannualized increase last month. Through July, payroll employment in DFW is down a nonannualized 5.7 percent because of losses resulting from the COVID-19 pandemic and related stay-at-home orders.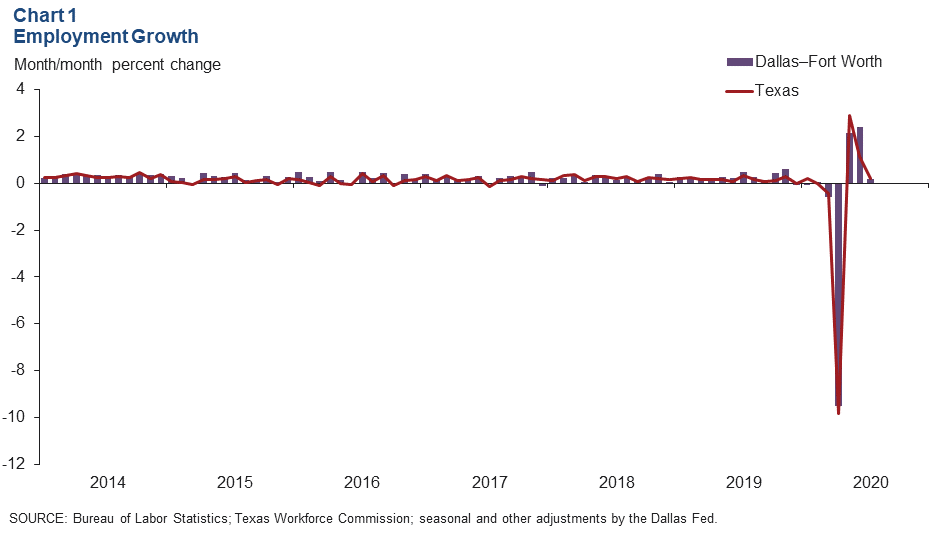 The unemployment rate fell to a still-elevated 6.6 percent in both Dallas and Fort Worth in July, lower than the state and national rates of 8.0 and 10.2 percent, respectively.
Recent Job Gains Broad Based
Job gains were widespread, with payrolls in nearly all sectors expanding in the last three months (Chart 2). Employment in the service sector grew strongly, up a nonannualized 5.5 percent (162,200 jobs). Leisure and hospitality—hardest hit by the COVID-19 measures—led the service sector expansion as payrolls increased a nonannualized 35.6 percent (85,000 jobs). Payrolls in other services, such as automotive repair shops and hair salons, also saw sizable gains (5.4 percent, or 6,000 jobs). Employment in education and health services rose notably at 5.1 percent (20,500 jobs). Trade, transportation and utilities—the metro's largest sector—saw a sluggish increase of 1.7 percent (13,500 jobs). Information was the only major sector that lost jobs in the last three months. Despite the healthy gains, employment in all sectors remains below pre-COVID levels, and a recovery is expected to be uneven.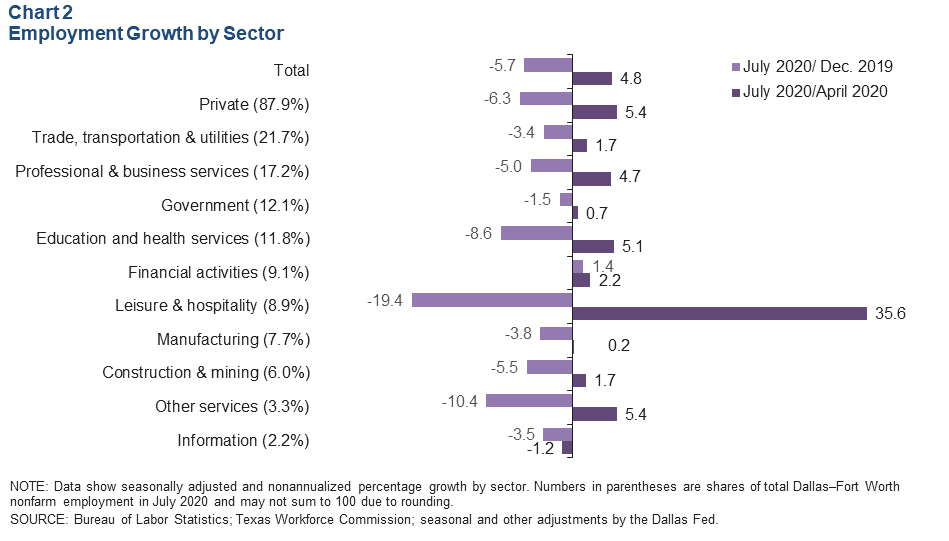 Business-Cycle Indexes
The Dallas and Fort Worth business-cycle indexes showed further improvement in July following a notable bounce back in June. The Dallas index rose an annualized 4.7 percent, slower than June's rate. The Fort Worth index was relatively flat, in part due to slow employment growth last month. Year over year in July, the indexes are down 5.3 percent in Dallas and 8.8 percent in Fort Worth (Chart 3).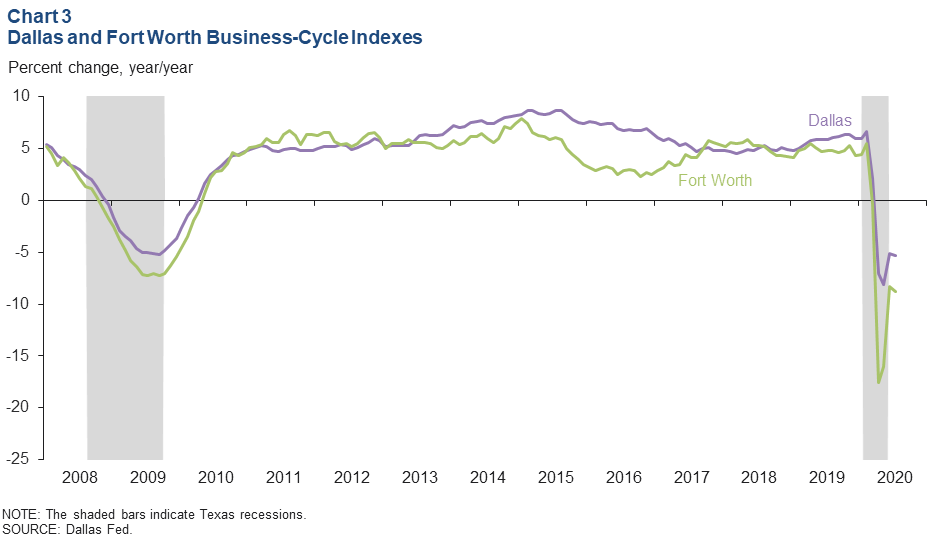 Housing
Home Sales Rebound
Existing-home sales rebounded strongly in June and posted vigorous growth in July following widespread weakness in the spring (Chart 4). Historically low interest rates and pent-up demand from the economic shutdown likely supported sales in the existing-home market. DFW home sales climbed 28 percent in June and 17 percent in July, and the number of homes sold set a new high last month. Statewide, home sales jumped 14 percent in July. Lack of inventory due to COVID-19 shelter-in-place orders limited sales activity in the spring. Through July, DFW home sales are up 1.5 percent from the same period last year, similar to Texas' increase of 1.6 percent. According to business contacts, new-home sales have also been robust, outperforming expectations since May, when COVID-19-related shelter-in-place orders were lifted.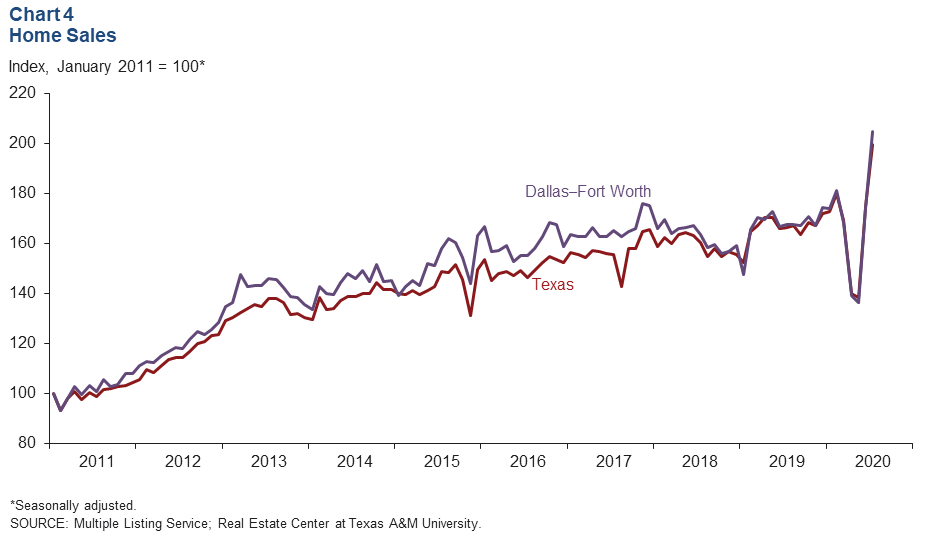 Home Prices Trend Upward
Strong sales activity together with tight home inventories continued to buoy home price appreciation. House prices rose 0.6 percent in Dallas and 1.2 percent in Fort Worth in the second quarter, according to the Federal Housing Finance Agency's purchase-only house price index. Prices in the quarter were up 4.1 percent in Dallas and 4.5 percent in Fort Worth compared with year-ago levels, while U.S. and Texas prices increased 5.4 percent and 4.5 percent, respectively (Chart 5). Existing-home inventories in Dallas–Fort Worth were at two months of supply in July, well below the six months associated with a balanced market.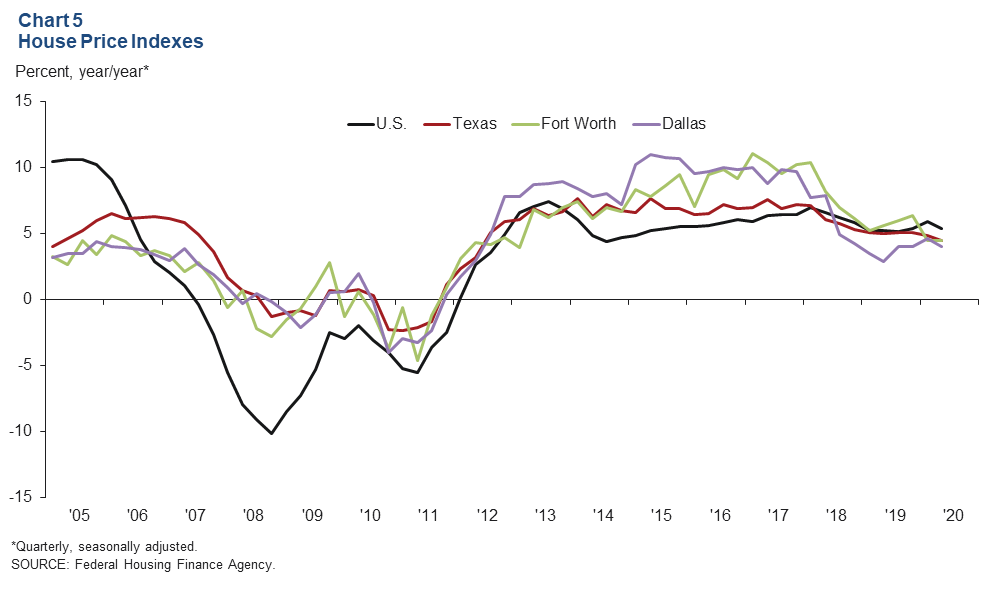 Apartment Absorption Strengthens
DFW apartment absorption improved in June and July following a weak stretch in mid-to-early spring. A total of 3,241 units were absorbed on net in July—four times the number of units absorbed in May and 30 percent above the June figure, according to ApartmentData.com (Chart 6). From April through July, absorption was a third of that seen during the same period in 2019. Average rents in DFW were little changed in July at $1,163 and were down 1.1 percent from March.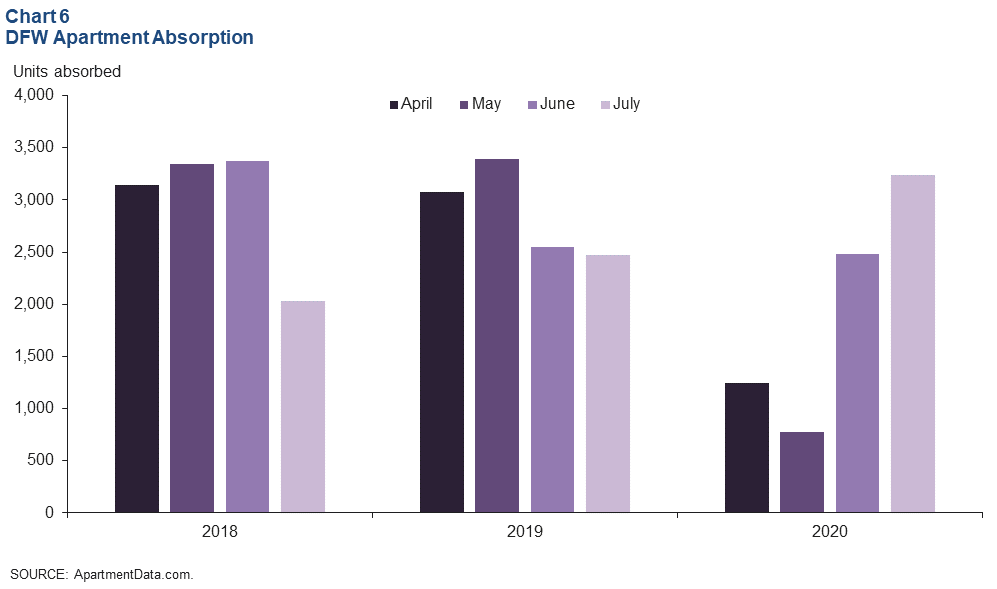 NOTE: Data may not match previously published numbers due to revisions.
About Dallas–Fort Worth Economic Indicators
Questions can be addressed to Laila Assanie at laila.assanie@dal.frb.org. Dallas–Fort Worth Economic Indicators is published every month on the Tuesday after state and metro employment data are released.