Dallas-Fort Worth Economic Indicators

September 28, 2020
The Dallas–Fort Worth economy expanded in August. Payrolls rose strongly, and the unemployment rate dipped further; however, the recovery has been uneven across sectors. Initial unemployment claims also continued their downward trend but remained elevated. The Dallas and Fort Worth business-cycle indexes rose. Homebuilding activity reversed course, rising strongly in the summer. Apartment rent collections in the first three weeks of September slightly trailed year-earlier levels.
Labor Market
Payrolls Rise
DFW employment grew a nonannualized 0.8 percent (29,900 jobs) in August after holding fairly steady in July (Chart 1). Payrolls rose a nonannualized 1.0 percent (26,000 jobs) in Dallas and 0.4 percent (3,900 jobs) in Fort Worth. Job growth in DFW outperformed the state's 0.6 percent nonannualized increase last month. Through August, DFW payroll employment was down a nonannualized 5.1 percent (196,500 jobs) because of losses resulting from the COVID-19 pandemic and related stay-at-home orders. Losses have been concentrated in the leisure and hospitality sector, where employment was down 20.4 percent (82,100 jobs). Meanwhile, employment in financial services was up 1.8 percent (5,900 jobs) over the same period.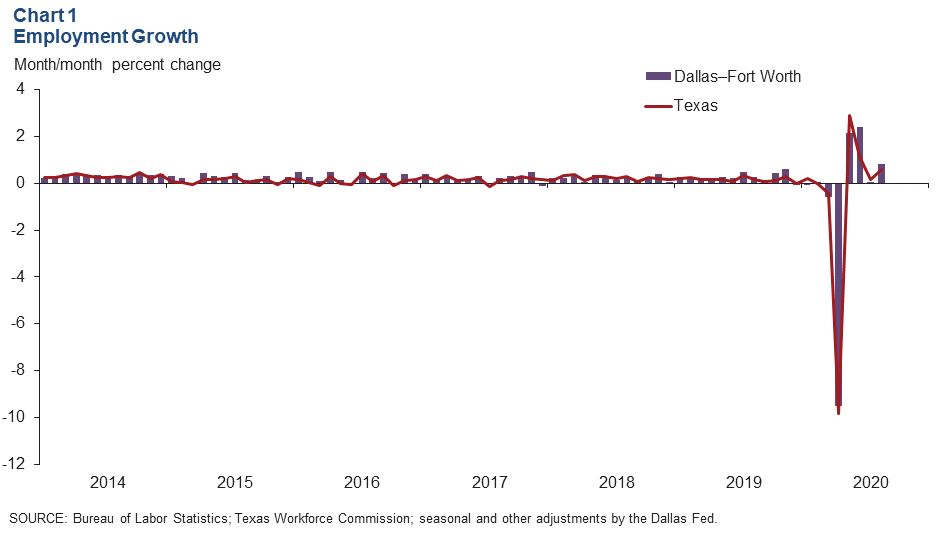 Unemployment Decreases
The jobless rate declined further in August, falling to a still-elevated 6.1 percent in Dallas and 6.2 percent in Fort Worth (Chart 2). Texas and U.S. unemployment also continued a downward trend, dropping to 6.8 percent and 8.4 percent, respectively. Unemployment in DFW, like Texas and the U.S. rates, peaked at unprecedented levels in April and has since fallen to levels more in line with previous national recessions.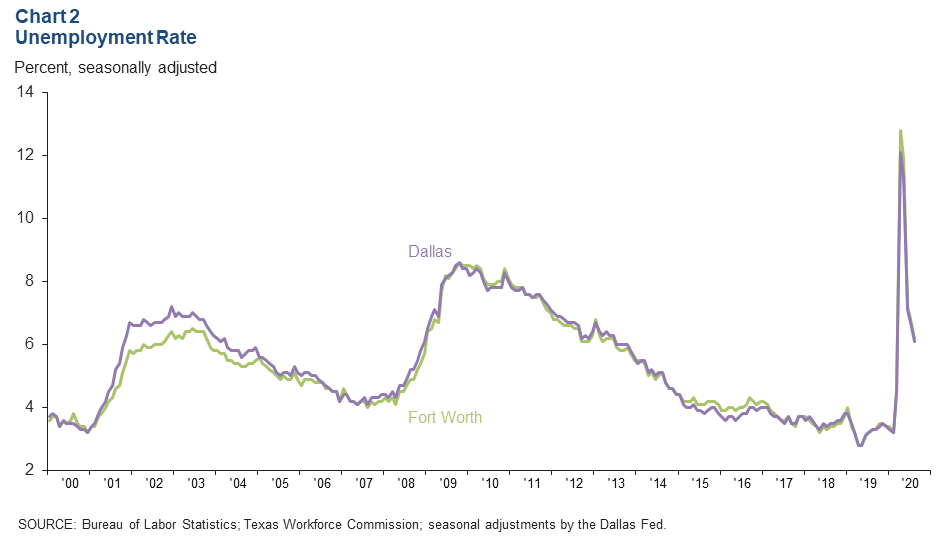 Jobless Claims Trending Down
Weekly initial unemployment insurance claims in DFW dropped by 4,300 to 10,300 during the week ended Sept. 12, a continuation of the downward trend that began in early April (Chart 3). That trend was briefly interrupted in early July when limitations on certain businesses were reinstated amid a sharp rise in COVID-19 cases, hospitalizations and deaths. Since that time, the week-to-week declines appear to be narrowing, and claims still remain stubbornly high—more than double early-to-mid-March (pre-COVID-19) levels.
Business-Cycle Indexes
The Dallas and Fort Worth business-cycle indexes showed improvement in August but were down markedly from year-ago levels. The Dallas index rose an annualized 14.9 percent, faster than July's rate. The Fort Worth index grew an annualized 17.9 percent after declining in July. Year over year in August, the indexes were down 2.0 percent in Dallas and 9.8 percent in Fort Worth (Chart 4).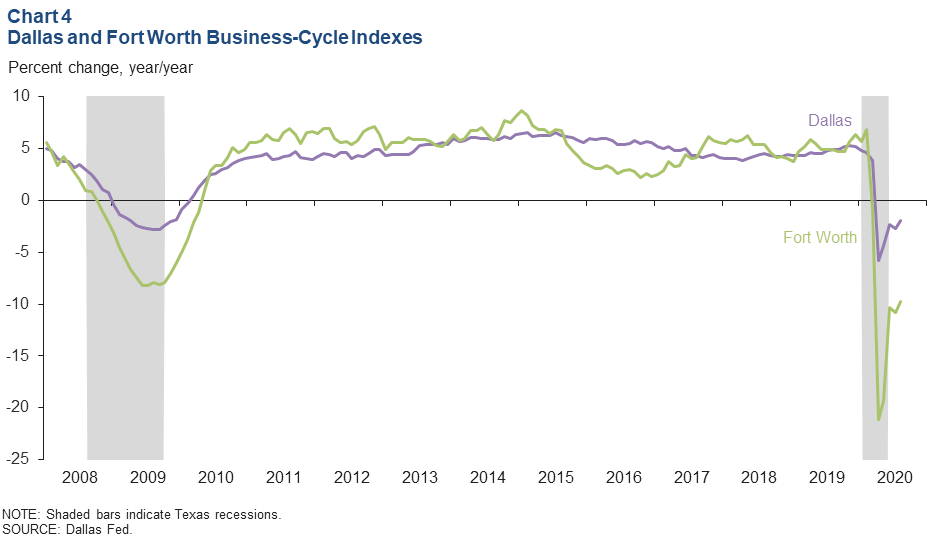 Housing
Single-Family Construction Soars
Homebuilding in DFW ramped up in the summer, buoyed by robust housing demand. DFW single-family housing permits climbed for the third month in a row in August, up 19.4 percent year over year, and the three-month moving average showed strong growth (Chart 5). Single-family permit issuance fell in the spring as uncertainty weighed on outlooks. After a temporary pause, new development activity has picked back up, and our business contacts note they are evaluating new deals and moving forward with planned acquisitions. Through August, total single-family permits issued are up 17.3 percent in DFW and 15.7 percent in Texas compared with the same period last year.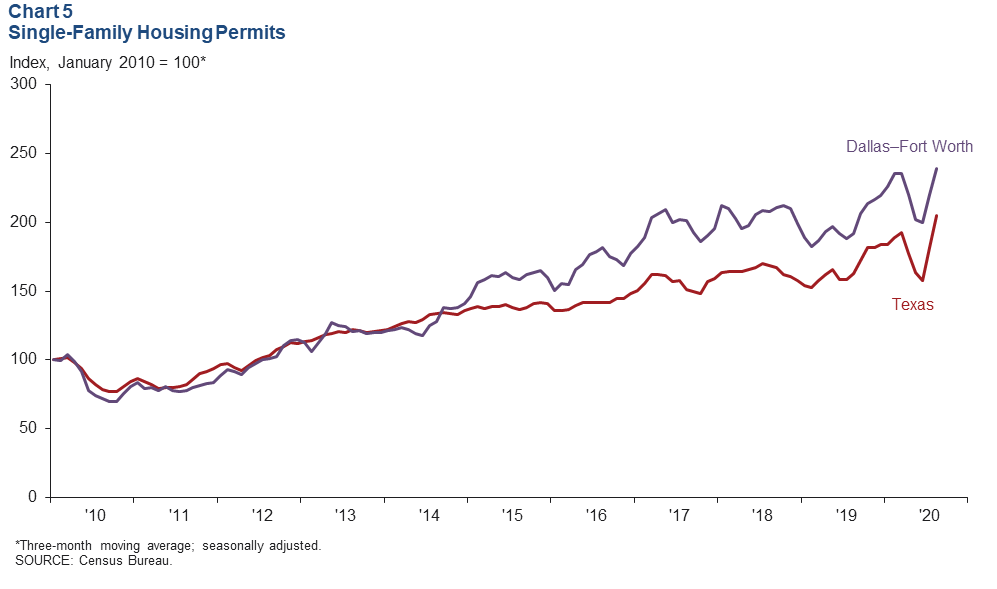 Most DFW Apartment Tenants Making Timely Rent Payments
In DFW, the majority of apartment renters continue to make their payments on time. As of Sept. 20, nearly 95 percent of the tenants living in professionally managed market-rate apartments in DFW had paid their rent for the month of September, compared with 94.1 percent for Texas (Chart 6). This share trails the same period in 2019 by 1.7 percent in Dallas, 2.0 percent in Fort Worth and 1.6 percent in Texas. Rent collections for Sept. 1–20 are running ahead of the share (93 percent) that had paid rent by Aug. 20.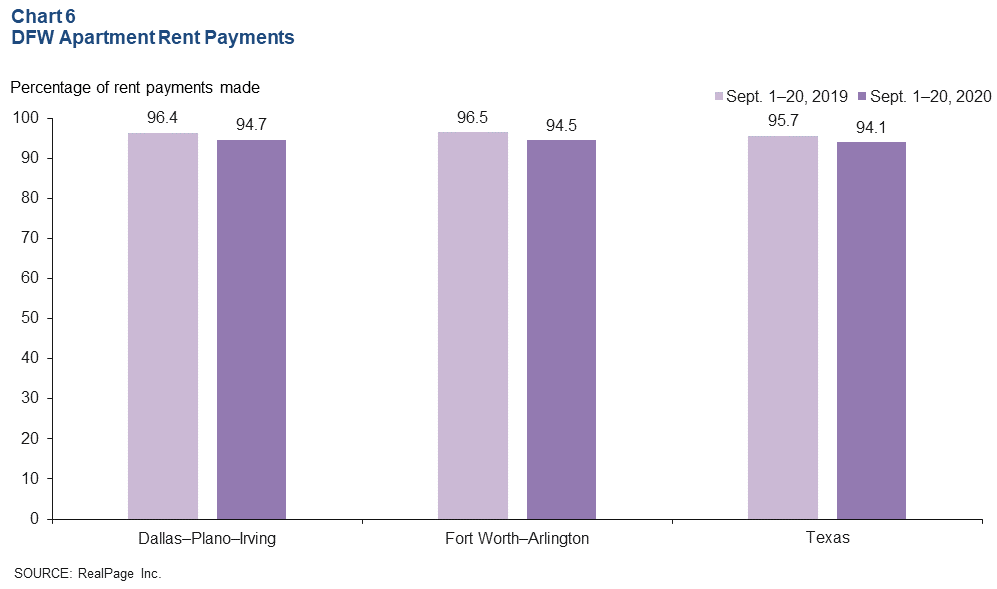 NOTE: Data may not match previously published numbers due to revisions.
About Dallas–Fort Worth Economic Indicators
Questions can be addressed to Laila Assanie at laila.assanie@dal.frb.org. Dallas–Fort Worth Economic Indicators is published every month on the Tuesday after state and metro employment data are released.