Dallas-Fort Worth Economic Indicators

July 1, 2021
Recovery in the DFW economy continued in May. Payroll gains were broad based across sectors, the unemployment rate dipped, and the business-cycle indexes for Dallas and Fort Worth grew at a healthy clip. However, the recovery remains uneven and far from complete. Apartment demand ramped up in April and May, strengthening occupancy and rents. Apartment construction dipped in May but is up year to date.
Labor Market
Payroll Expansion Strengthens in May
DFW metro area payrolls surged in May by 19,800 jobs (6.6 percent annualized), boosted by the reopening of the economy. April data were revised down to an annualized 1.0 percent growth or an increase of 3,100 jobs. That brought payroll job gains since April 2020 to a hefty 310,000—a recovery of 77.0 percent of the jobs lost in the initial months of the pandemic. In May, employment expanded in all major sectors except government. While overall employment remains below February 2020 highs, payrolls in financial activities and trade, transportation and utilities have more than recovered, with growth in the latter fueled by strong e-commerce activity (Chart 1). Employment in professional and business services has nearly recouped as well.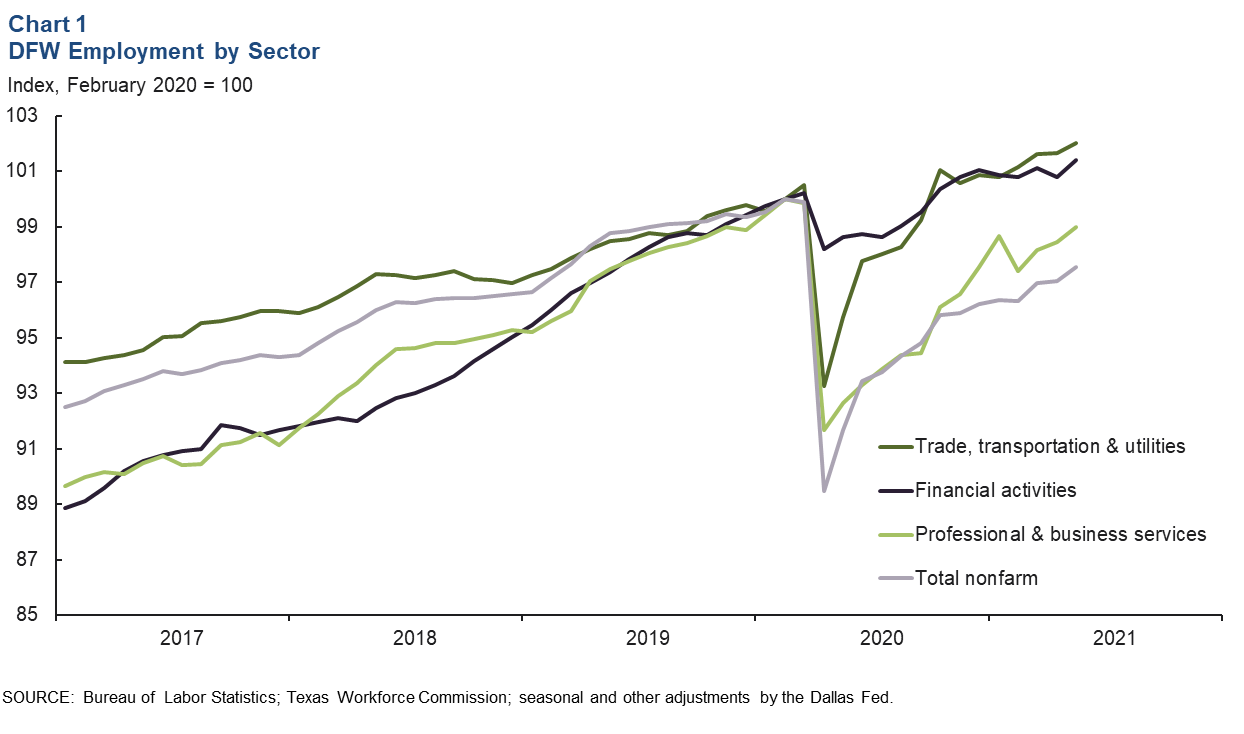 Unemployment Falls
The jobless rate in Dallas and Fort Worth dipped below 6.0 percent for the first time since the onset of the pandemic in March 2020 (Chart 2). In May, the unemployment rate fell to 5.6 percent in Dallas and 5.8 percent in Fort Worth, both remaining below the state's rate (6.5 percent). Since peaking in early April 2020, the headline unemployment rate in DFW has generally been on a downward trend.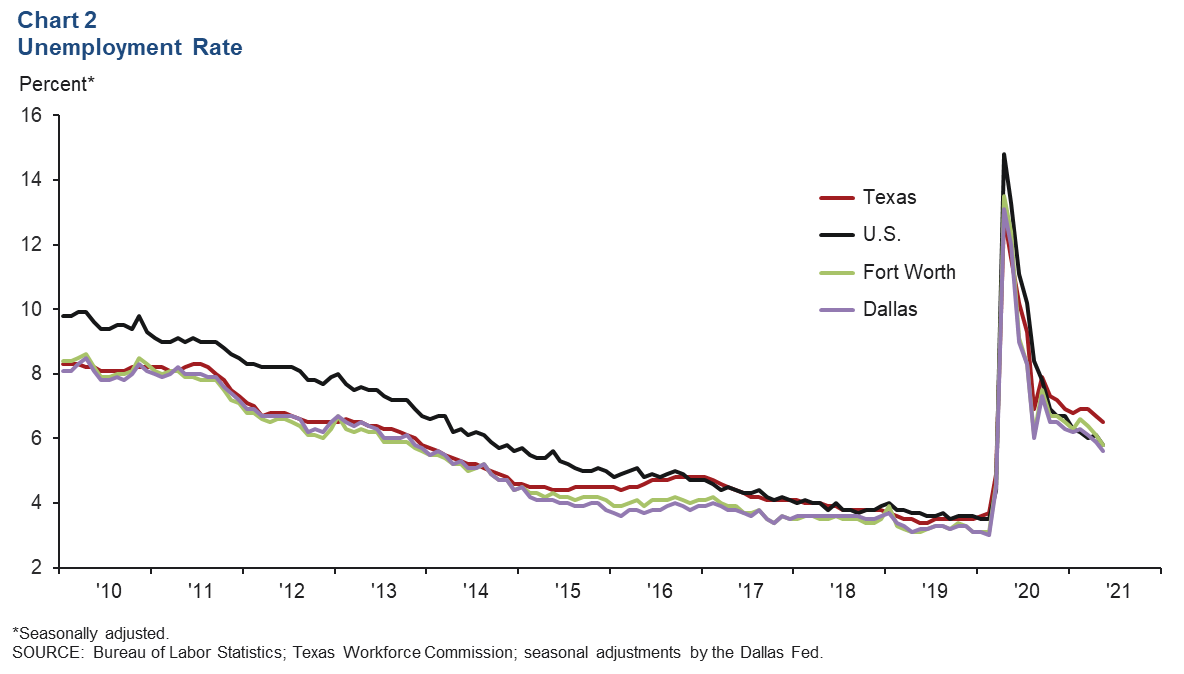 Employment Recovery Trails for Low-Income Workers
The COVID-19 pandemic has disproportionately affected low-income workers. Data from the Opportunity Insights Economic Tracker illustrate that medium-to-high-income workers (those earning above $27,000) in Dallas have been less impacted than their low-income counterparts (Chart 3). In early spring 2020 when shelter-in-place orders were implemented, job losses were steepest amid those earning less than $27,000. The recovery has been mixed, with employment in the highest-wage group in mid-March 2021 slightly above January 2020 levels. Employment among middle-wage workers was down 6.0 percent over the same period. By contrast, employment among low-wage earners in Dallas remained 21.8 percent below January 2020 levels. In fact, employment levels among low-income workers has been deteriorating since early February. Fort Worth's employment has seen similar trends, with low-wage workers seeing much lower levels of employment relative to prepandemic figures.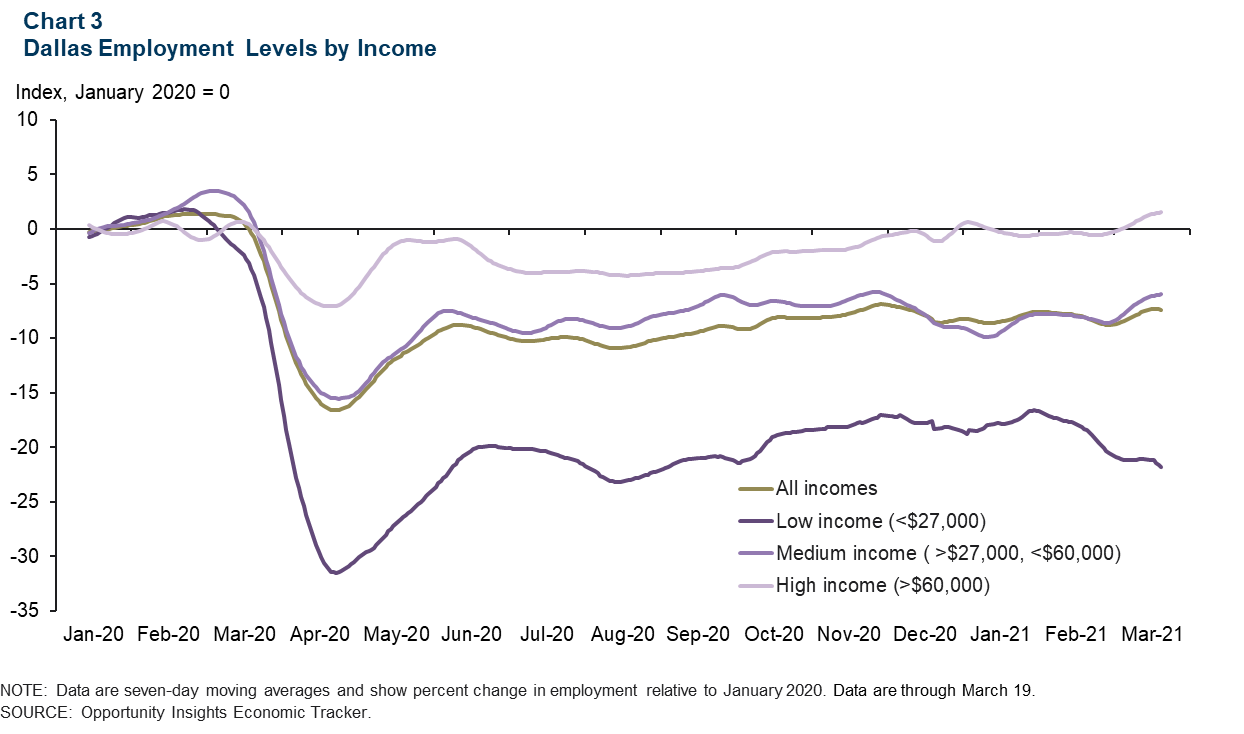 Business-Cycle Indexes
The Dallas and Fort Worth business-cycle indexes—broad measures of economic activity—expanded in May, buoyed by recent job gains and unemployment rate declines. The indexes rose 13.0 percent in Dallas and 3.8 percent in Fort Worth in May, marking the 13th consecutive month of growth for both indexes and suggesting continued recovery in the DFW economy (Chart 4). Indexes remain down 1.1 percent in Dallas and 3.1 percent in Fort Worth from February 2020 levels.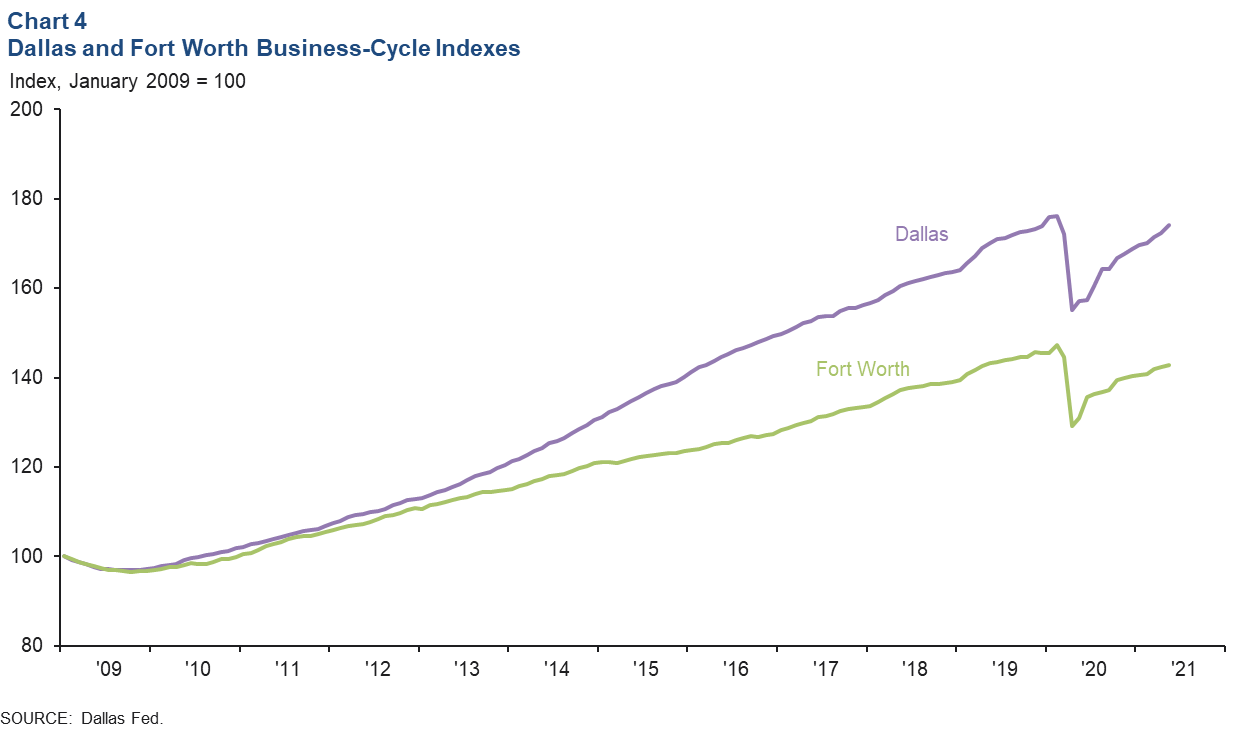 Multifamily Housing
Apartment Demand Strengthens Further
DFW apartment absorption has ramped up this spring, pushing up occupancy and rents, according to ApartmentData.com. Absorption was exceptionally strong with a total of 10,399 units absorbed in April and May, up from 6,404 units in the first quarter. Average monthly rents in DFW ticked up to $1,242 per unit, up 7.0 percent year over year (Chart 5). Rent concessions were being offered mostly in Class A properties. Market-wide occupancy rose as well to 91.6 percent; however, it remained low in Class A and Class B properties that were in the lease-up phase.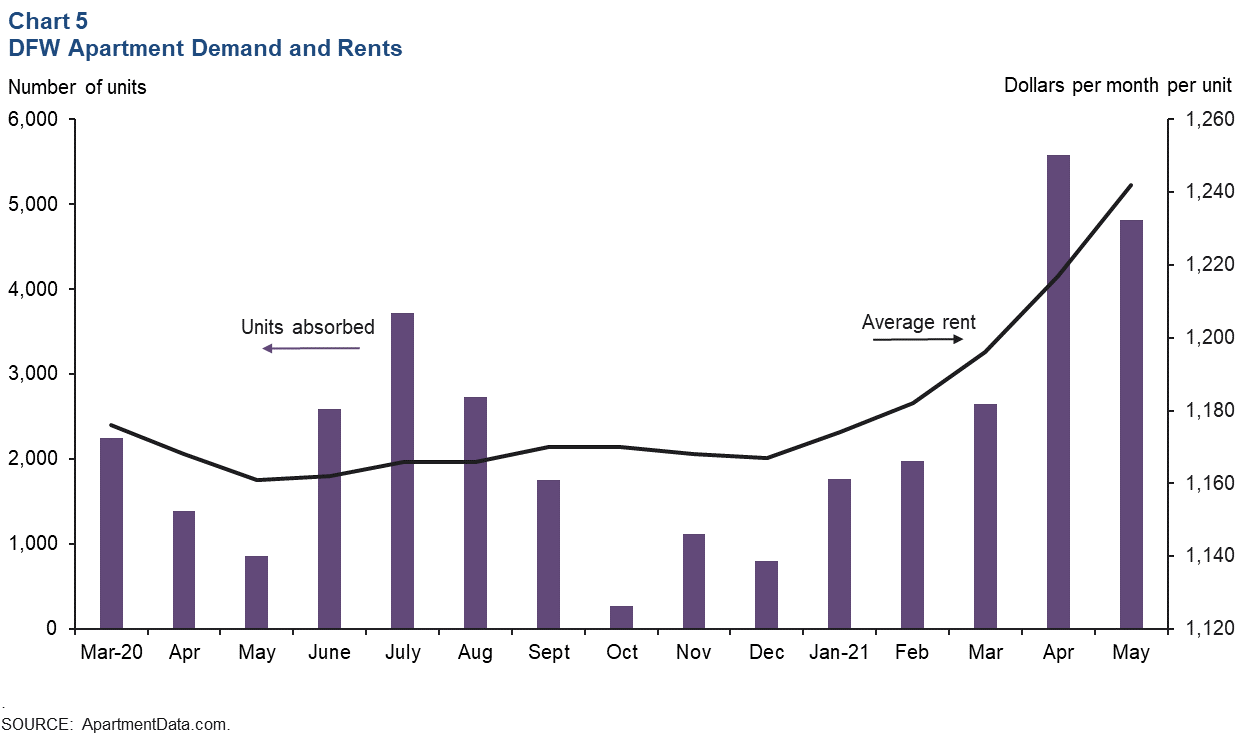 Multifamily Construction Elevated
Multifamily permit issuance, which leads apartment construction, dipped in May after holding steady in April and rising strongly in March. The three-month moving average rose, and through May, DFW multifamily permits are up 37.7 percent compared with the same period in 2020 (Chart 6). In 2020, DFW multifamily permits issuance was just over half that of 2019. By comparison, Texas multifamily permits fell 8.0 percent. DFW multifamily permit issuance moderated in 2020 due to the pandemic; however, construction in the metroplex has ramped up and is currently elevated at approximately 37,000 units. DFW remains the busiest market in apartment building among large U.S. metros.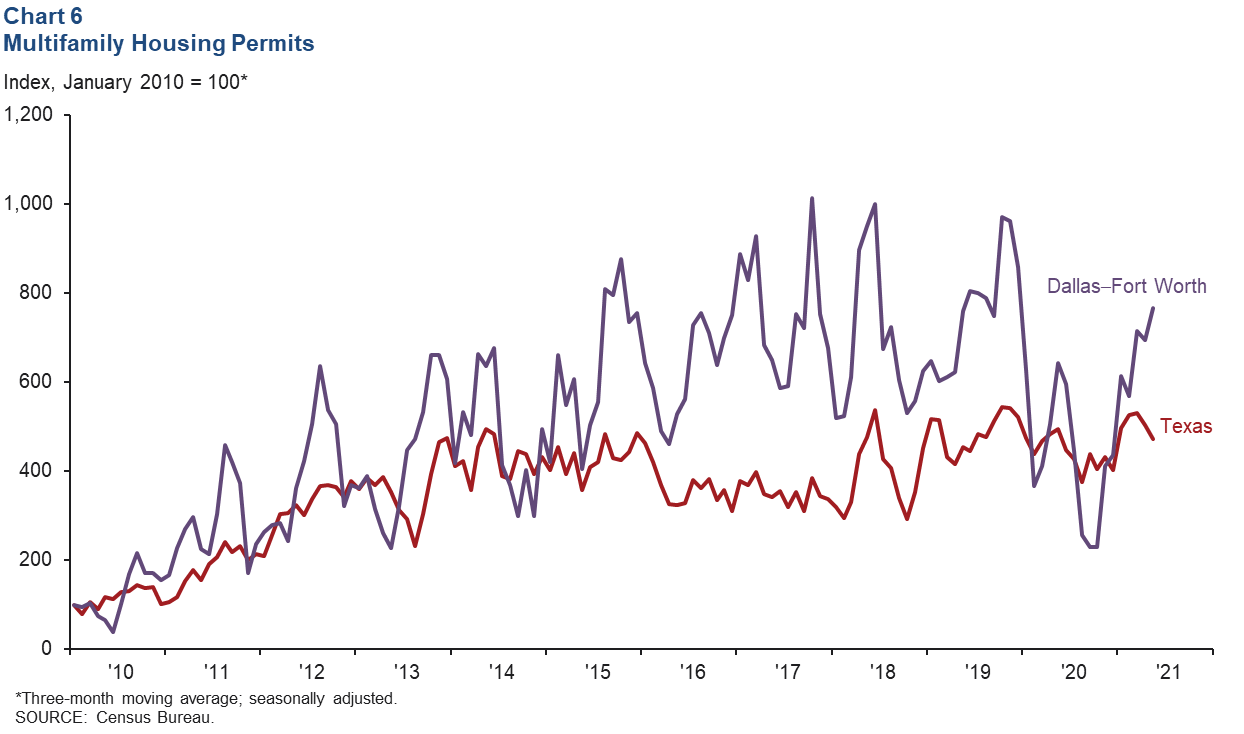 NOTE: Data may not match previously published numbers due to revisions.
About Dallas–Fort Worth Economic Indicators
Questions can be addressed to Laila Assanie at laila.assanie@dal.frb.org. Dallas–Fort Worth Economic Indicators is published every month after state and metro employment data are released.