Dallas-Fort Worth Economic Indicators

November 1, 2022
Dallas–Fort Worth's economy expanded in September. Payroll employment rose following declines in August. In October, consumer spending stayed above prepandemic levels. Home prices fell again in August. Demand for industrial space remained robust in the third quarter, while activity in the office market was tepid.
Labor market
DFW employment rose an annualized 2.5 percent (8,470 jobs) in September, a reversal from the 0.9 decline seen in August. Payrolls in the construction and mining sector posted the fastest growth, followed by the other services category and professional and business services. Employment levels expanded 4.1 percent (9,820 jobs) in the Dallas–Plano–Irving metro division but contracted 1.4 percent (1,350) in Fort Worth–Arlington.
Two and half years from the onset of the pandemic, DFW employment exceeds the February 2020 peak by 6.6 percent (253,360 jobs). Employment was 7.6 percent (208,330 jobs) above prepandemic levels in the Dallas–Plano–Irving metro division in September and 4.1 percent (45,030) higher in the Fort Worth–Arlington division (Chart 1). Payrolls in Texas were 4.5 percent higher than their prepandemic high.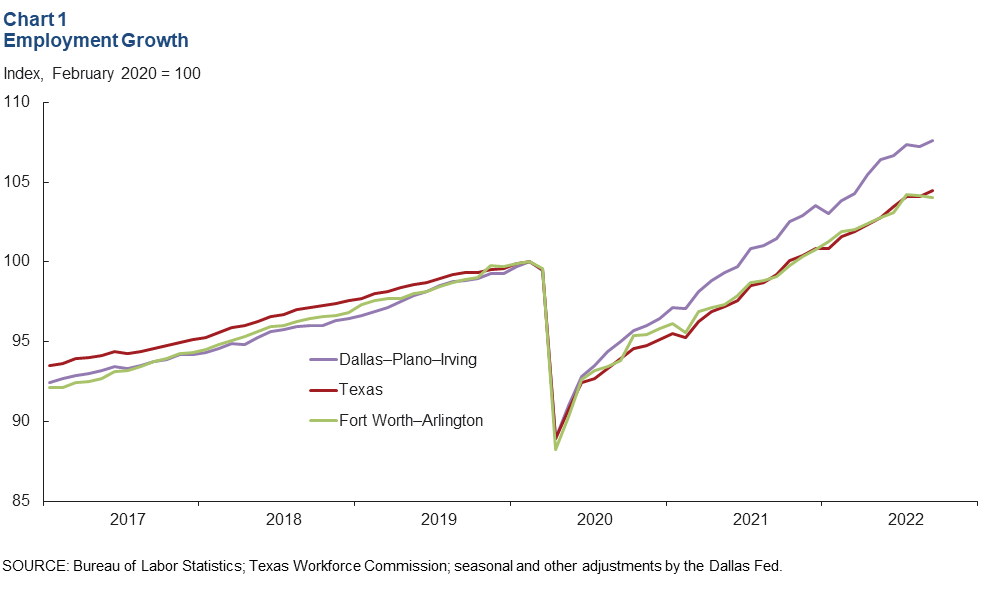 Consumer spending
Consumer spending in DFW was robust, though somewhat less so than in the prior month, and remained above prepandemic levels. As of the week ending Oct. 16, debit and credit card spending on a smoothed basis was 10.3 percent higher in Dallas County and 14.7 percent higher in Tarrant County relative to January 2020 (Chart 2). Above-average consumer spending is typically indicative of solid demand and consumer confidence.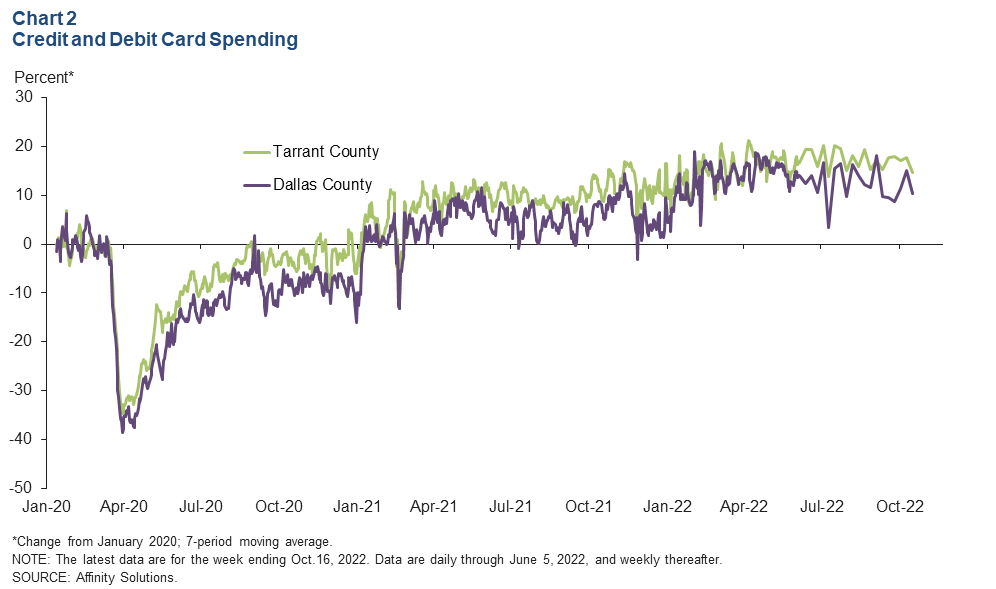 Home prices
Declining home sales, partly a result of rising mortgage rates, are weighing on prices. Home prices dipped for the second month in a row in August, falling 1.5 percent in DFW and 1.3 percent in the U.S., according to the Case-Shiller Home Price Index. Year over year in August, prices were up 20.2 percent in DFW and 13.1 percent in the U.S. (Chart 3). The real median sales price in DFW was little changed from July at $405,339 in August but down from the record high of $421,881 in April. Existing-home sales have been falling for several months.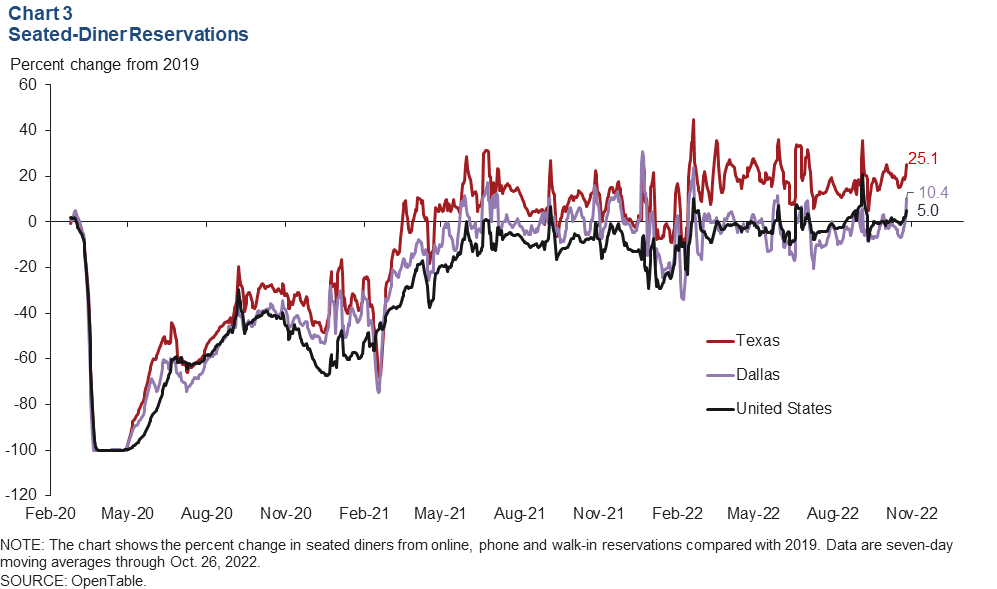 Commercial real estate
Office space demand weakens; vacancy rate rises
Demand for office space in DFW slowed in the third quarter. Net absorption was a negative 574,571 square feet, following three quarters of positive net absorption, according to data from CBRE Research (Chart 4). The vacancy rate edged up from 24.0 percent in the second quarter to 24.6 percent in the third, driven by an increase in sublease space, which rose to 9.7 million square feet, or 14.8 percent of total available space. Class A properties continued to account for well over 70 percent of sublease listings. The volume of space under construction fell to 5.7 million square feet in the third quarter. Business contacts expect leasing activity to remain subdued in the near term.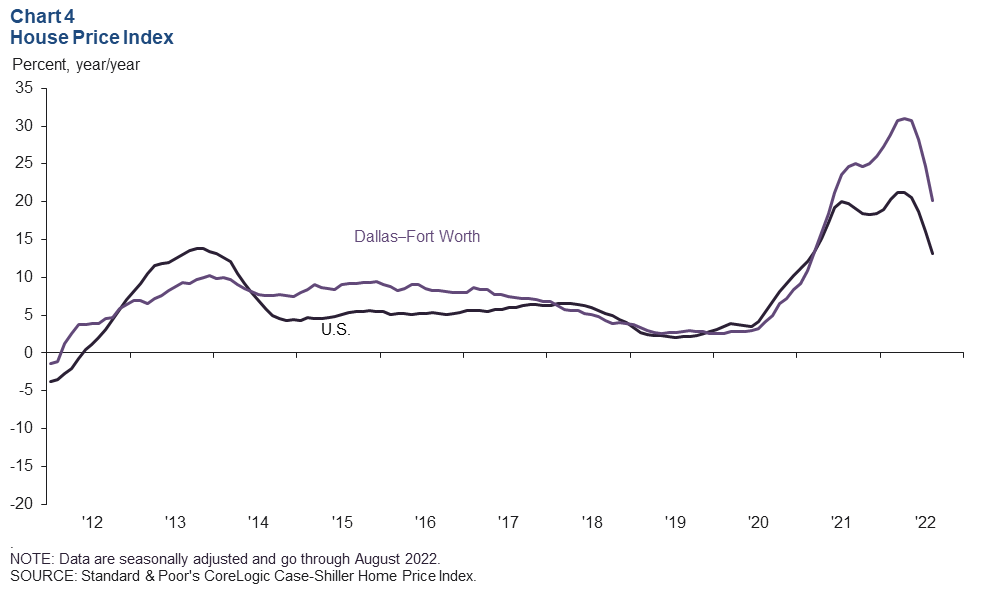 Industrial leasing stays robust
Industrial leasing's strong momentum continued in the third quarter, driven by demand from wholesalers, retailers, manufacturing and logistics firms. Net absorption was a robust 10.3 million square feet—marking the 48th straight quarter of positive absorption, according to CBRE (Chart 5). The vacancy rate edged up to 5.2 percent due in part to an increase in square footage from new construction. The pandemic has boosted online sales growth, which has been a boon to distribution hubs such as DFW. Industrial construction continued to expand in the third quarter, reaching a new high of 65 million square feet. DFW ranks No. 1 among U.S. metros in industrial square footage under construction.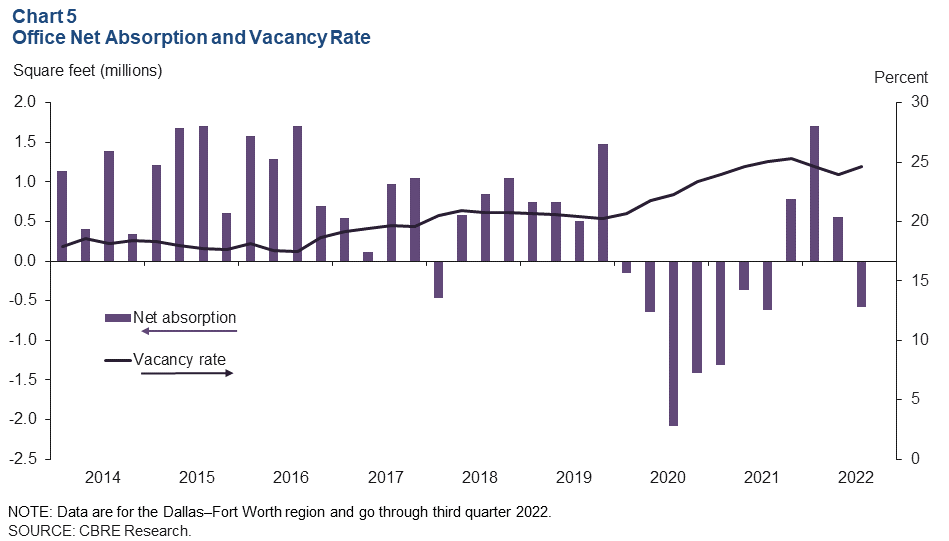 NOTE: Data may not match previously published numbers due to revisions.
About Dallas–Fort Worth Economic Indicators
Questions or suggestions can be addressed to Laila Assanie at laila.assanie@dal.frb.org. Dallas–Fort Worth Economic Indicators is published every month after state and metro employment data are released.