El Paso Economic Indicators

January 26, 2018
El Paso economic activity continues to climb. Maquiladoras in Ciudad Juárez are still adding jobs, and trade through the El Paso port of entry is steady. Home sales in El Paso remain robust, near all-time highs.
Business-Cycle Index
The El Paso Business-Cycle Index, which is based on employment, unemployment, retail sales and wages, posted annualized growth of 0.9 percent in December (Chart 1).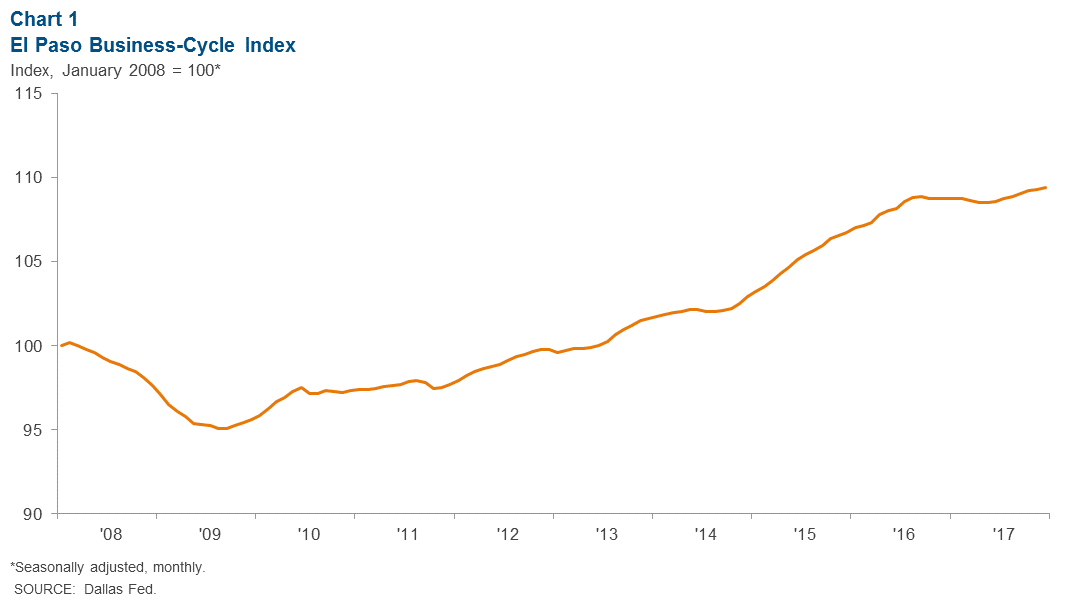 Labor Market
In 2017, El Paso employment rose 0.6 percent as the metro added over 1,700 jobs (Chart 2). Employment growth slowed from 2.0 percent in 2016, when El Paso added 6,000 jobs.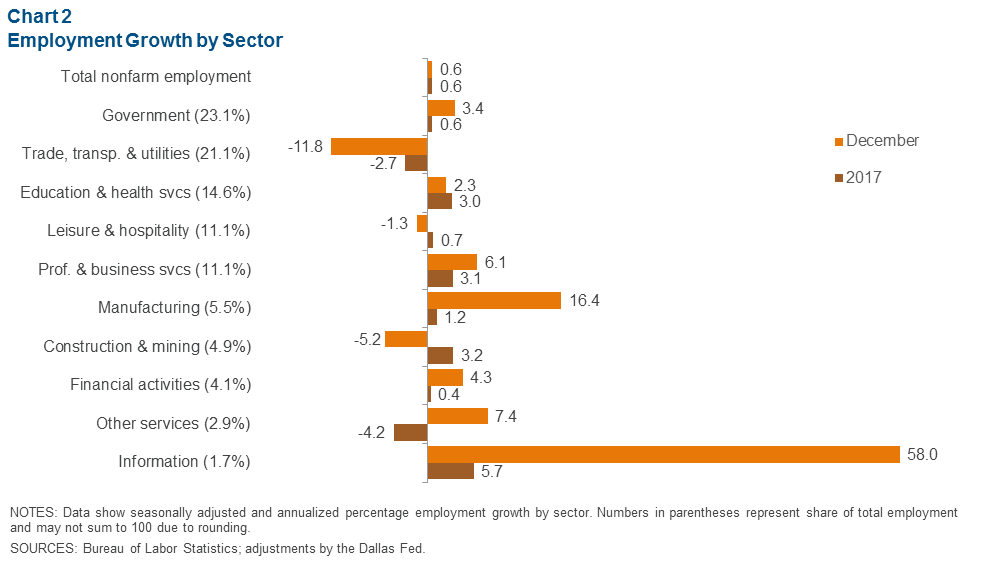 The slower growth in 2017 was due to sluggish expansion in government and job losses in trade, transportation and utilities. Trade, transportation and utilities, which accounts for 21.1 percent of total El Paso jobs, declined 2.7 percent in 2017. Losses in the sector have been driven by a drop in employment at general-merchandise stores.
The largest employment gains in 2017 were in education and health services, which added over 1,300 jobs, and in professional and business services, which tacked on 1,000.
In December, the unemployment rate remained at 3.7 percent, unchanged from November and below that of Texas (3.9 percent) and the U.S. (4.1 percent).
Total Trade
Annualized total trade in El Paso rose to $80.4 billion in November, up 3.8 percent from a year earlier (Chart 3). The total was driven by year-over-year growth of 6.4 percent in imports. Imports amounted to an annualized $49.5 billion in November, accounting for over 60 percent of total trade through the port. Meanwhile, exports were $30.9 billion, on par with exports from a year ago.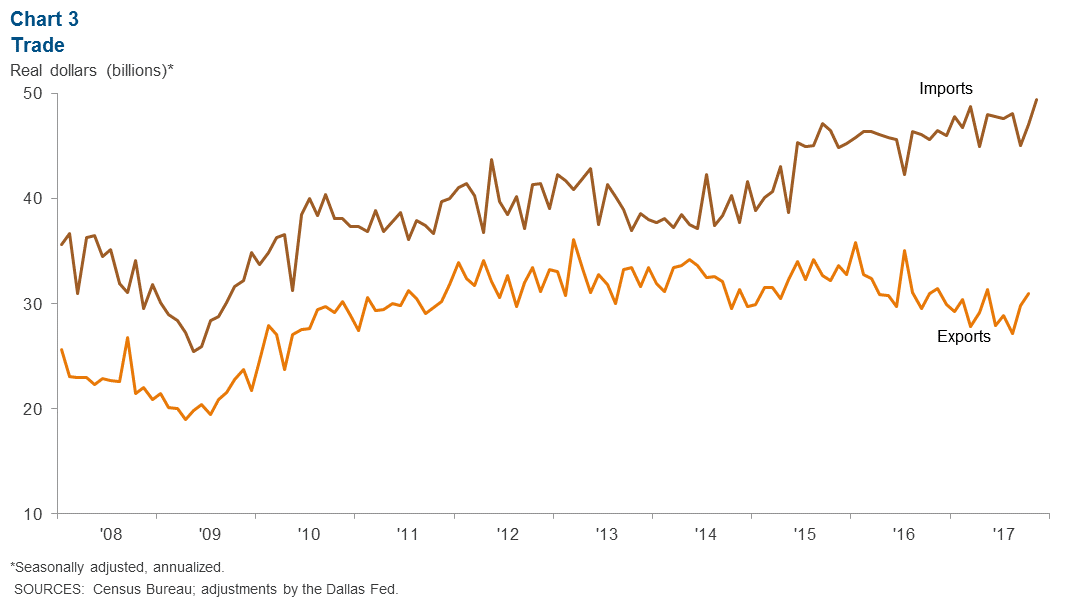 Housing Market
Home sales in El Paso totaled an annualized 8,032 units in December, up 10 percent over the same month in 2016 (Chart 4). Home sales have been on an upward trend since 2008, when annual sales totaled 4,775.
The median home price remained relatively stable at $150,935 in December, up 1.2 percent from a year ago.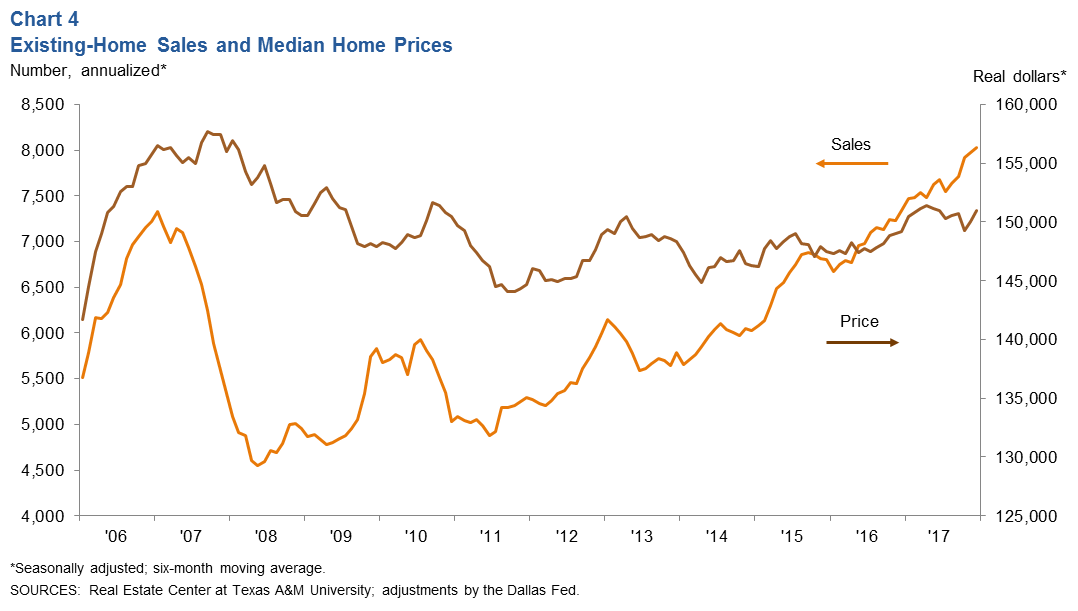 Juárez Maquiladora Activity
The U.S. industrial sector continues to post growth, a good sign for Ciudad Juárez manufacturing (Chart 5). U.S. industrial production rose 3.6 percent year over year in December. The Institute for Supply Management manufacturing index rose to 59.7 in December from 58.2 in November, and its associ­ated new-orders index—a leading indicator of industrial activity—increased to 69.4 in December from 64.0 in November.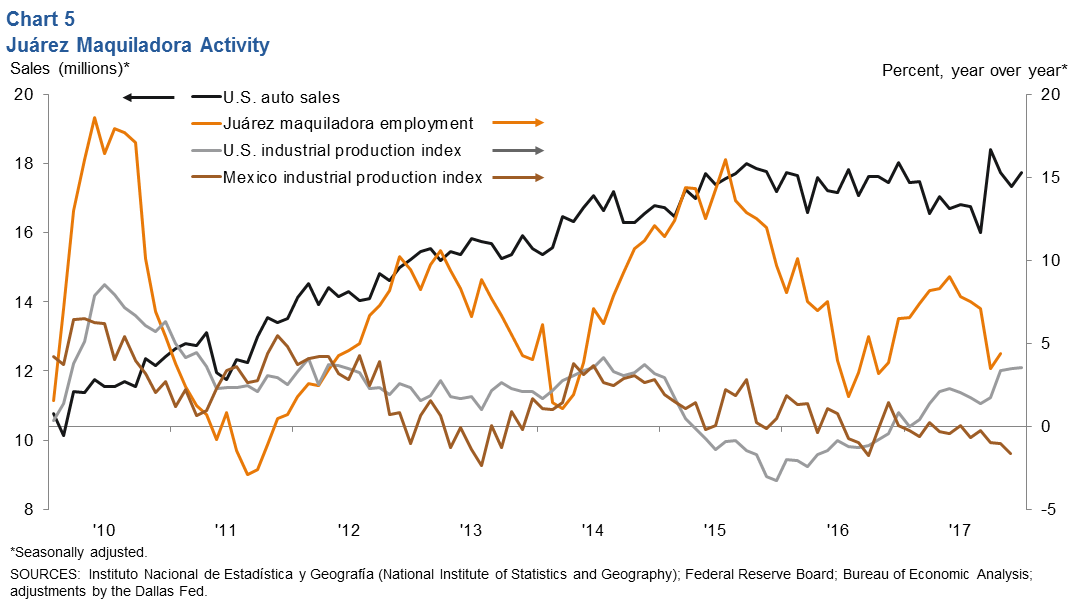 According to Mexico's IMMEX series, Juárez manufacturing employment totaled over 272,300 in October, up 4.4 percent from a year earlier.
U.S. auto and light-truck production rose slightly to 10.8 million in December from 10.7 million in November. Auto sales also inched up in December from the previous month, to 17.7 million. Auto sales are closely linked to the local economy because roughly half of maquiladoras in Juárez are auto related.
NOTE: Data may not match previously published numbers due to revisions. The El Paso metropolitan statistical area includes El Paso and Hudspeth counties.
About El Paso Economic Indicators
Questions can be addressed to Marycruz De León at marycruz.deleon@dal.frb.org. El Paso Economic Indicators is released on the fourth Wednesday of every month.