El Paso Economic Indicators

April 25, 2018
Economic activity in El Paso remains solid. Ciudad Juárez maquiladora employment is steady, while employment in El Paso continues to expand.
Business-Cycle Index
The El Paso Business-Cycle Index expanded at a 2.7 percent annualized rate in March, down from 3.7 percent in February (Chart 1). The gains are in part due to continued healthy job creation in the metro.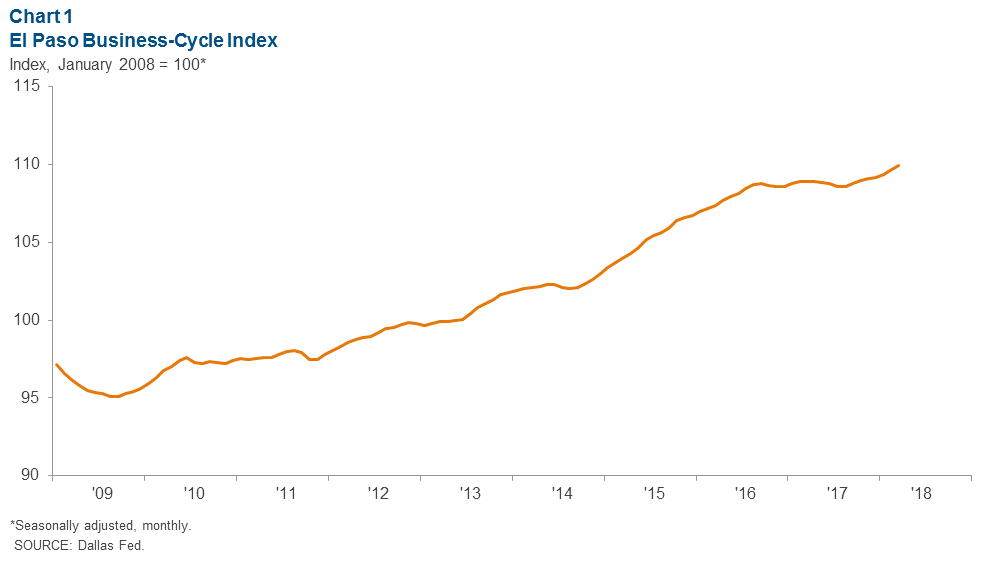 Labor Market
El Paso continued to post strong employment growth at an annualized rate of 2.6 percent in March (Chart 2). Year to date, the metro area has added approximately 2,450 jobs. While all major sectors have contributed to growth, professional and business services has added the most jobs, accounting for about half of year-to-date gains.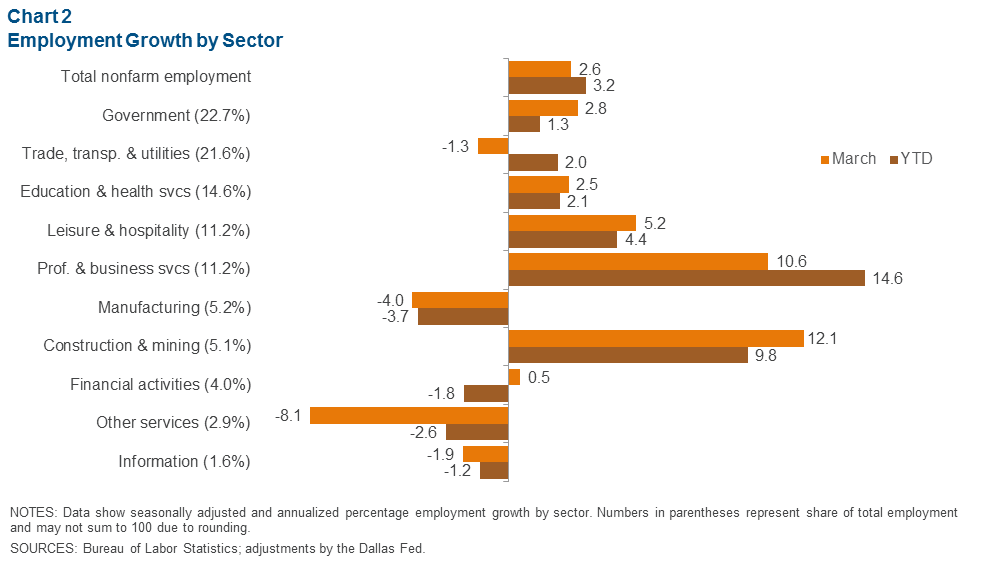 The unemployment rate edged up to 4.5 percent in March from 4.4 percent in February but remains near historic lows. The rate is above the Texas and U.S. rates of 4.0 percent and 4.1 percent, respectively.
Housing Market
In March, existing-home sales in El Paso stood at an annualized 8,173, up 8.5 percent from a year ago (Chart 3). As home sales have picked up, inventory has tightened. Inventories were at 5.0 months in March. Even so, the median home price is little changed over the past year. In March, it stood at $150,744, down 0.8 percent from a year ago.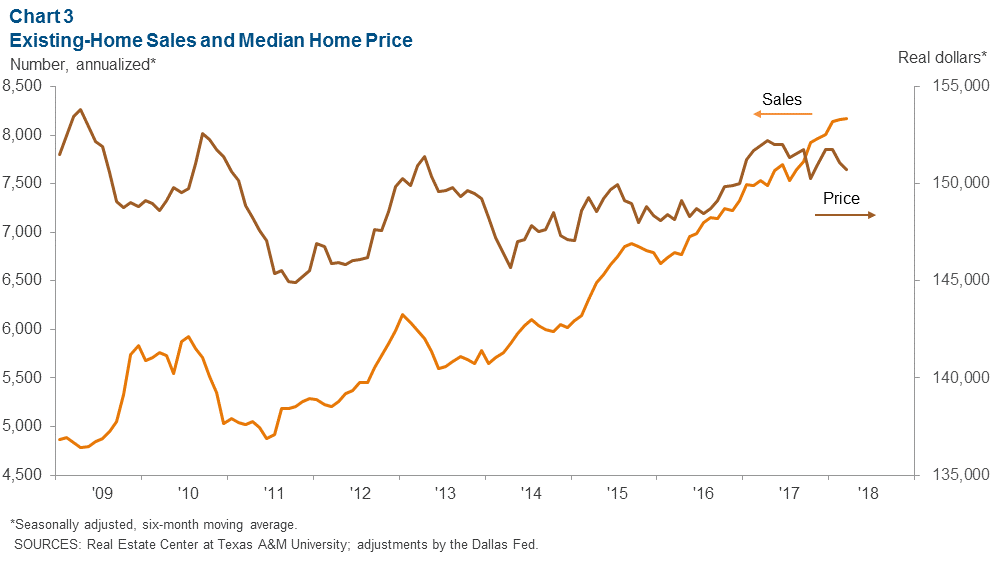 Trade
Annualized total trade in El Paso rose to $78.7 billion in February from $77.0 billion a year earlier. Exports rose 5.4 percent over the same time period, while imports inched up 0.3 percent (Chart 4). Imports account for approximately two-thirds of total trade through the port. Total trade experienced a month-over-month decrease of 10 percent after January's strong reading as exports fell 18.5 percent in February.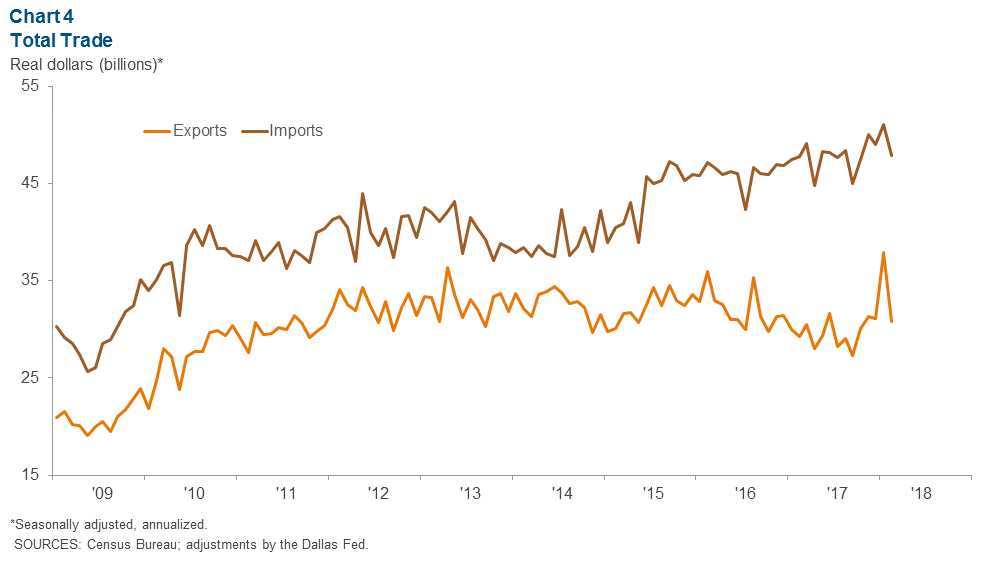 Ciudad Juárez Maquiladora Activity
U.S. industrial production rose 4.3 percent year over year in February (Chart 5). Meanwhile, the Institute for Supply Management manufacturing index inched down to 59.3 in March from 60.8 in February. Its associated new-orders index—a leading indicator of industrial activity—edged down to 61.9 from 64.2.
While the U.S. industrial sector continues to post growth, the Juárez manufacturing sector has steadied. According to Mexico's IMMEX series, manufacturing employment in January totaled 267,513, up 1.5 percent from a year earlier. While employment is still rising, the pace of growth has slowed.
Auto sales are closely linked to the local economy because roughly half of maquiladoras in Juárez are auto related. U.S. auto and light-truck production climbed to an annualized 11.8 million in March from 11.1 million a year earlier. Annualized March auto sales of 17.4 million units were also up, from 16.6 million in March 2017.
NOTE: Data may not match previously published numbers due to revisions. The El Paso metropolitan statistical area includes El Paso and Hudspeth counties.
About El Paso Economic Indicators
Questions can be addressed to Marycruz De León at marycruz.deleon@dal.frb.org. El Paso Economic Indicators is released on the fourth Wednesday of every month.