El Paso Economic Indicators

May 24, 2018
Although employment contracted in April, the El Paso economy continues to expand. Trade through the El Paso Port of Entry inched down, while maquiladora employment remained steady.
Business-Cycle Index
The El Paso Business-Cycle Index inched up at a 0.7 percent annualized rate in April, slower than the March annualized growth of 2.3 percent (Chart 1). The weaker April growth is likely due to declines in local employment.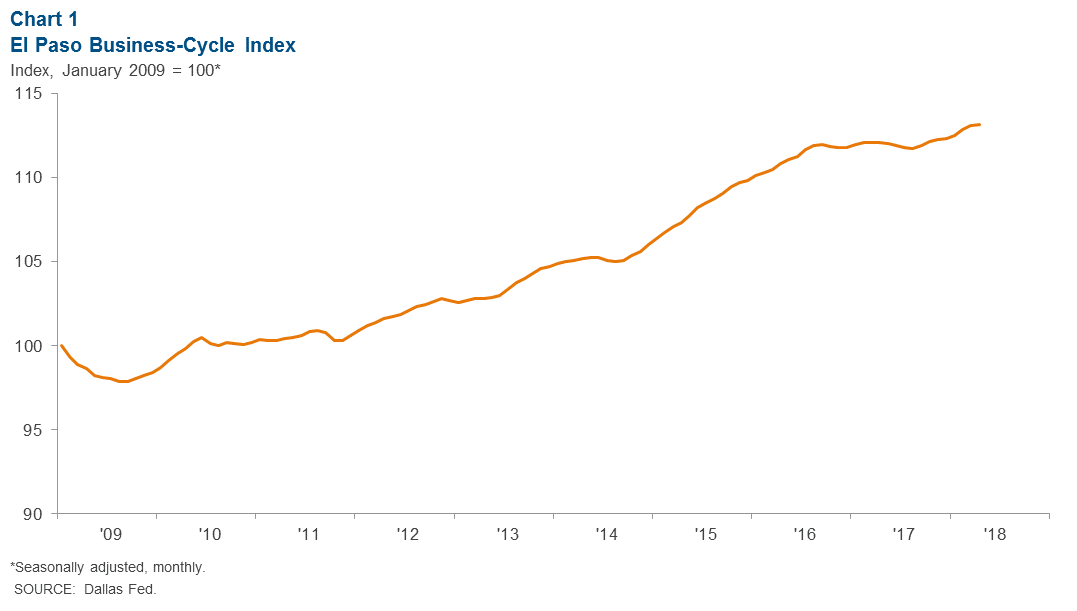 Labor Market
El Paso jobs fell an annualized 1.5 percent in April, led by declines in professional and business services (Chart 2). Despite the monthly drop, year to date, the El Paso labor market expanded at an annualized rate of 2.1 percent and has added over 2,000 jobs. The year-to-date gain in jobs was led by trade, transportation and utilities.
The April unemployment rate remained unchanged from March at 4.5 percent; this surpasses the Texas rate of 4.1 percent and the U.S. rate of 3.9 percent.
Housing Market
The National Association of Home Builders Housing Opportunity Index represents the share of homes sold that are considered affordable to a family earning the median income. Affordability in El Paso rose in first quarter 2018. The El Paso reading increased to 70.5 from 57.3 in fourth quarter 2017, well above the U.S. reading of 61.6 for that period (Chart 3).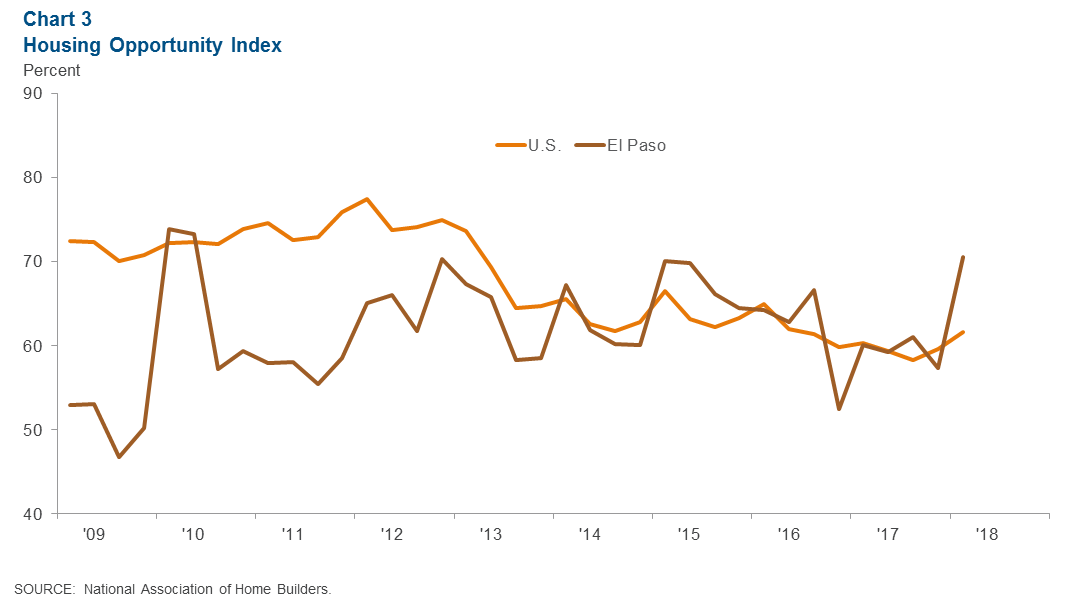 Trade
Annualized total trade in El Paso was $78.5 billion in March, down 0.9 percent from $79.3 billion a year earlier (Chart 4). The decline was driven by a 3.5 percent drop in exports. Exports totaled $29.2 billion in March, while imports totaled $49.4 billion.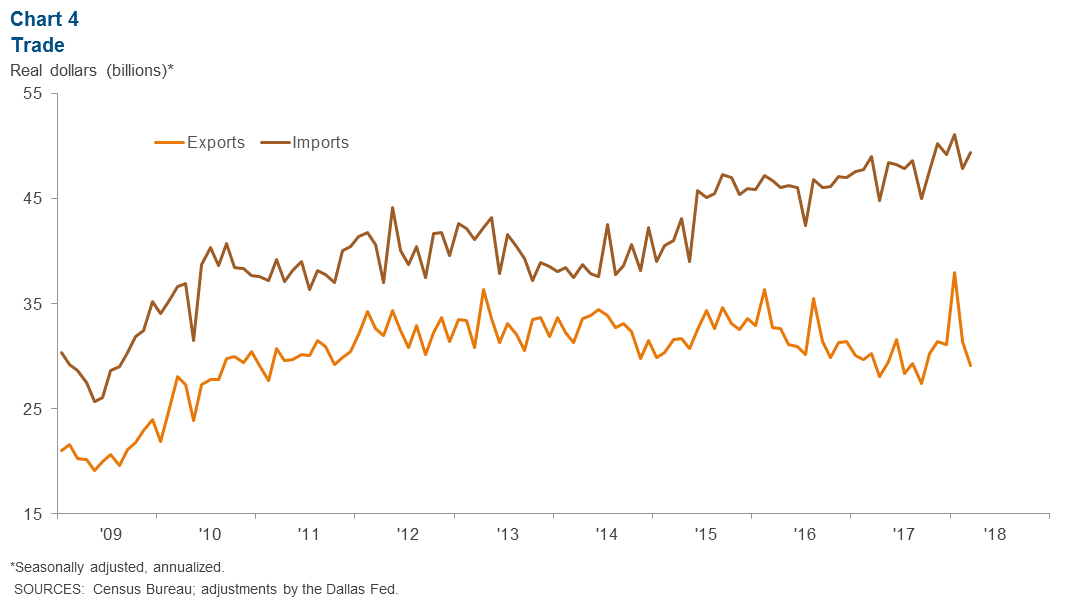 Juárez Maquiladora Activity
U.S. industrial production rose 3.5 percent year over year (Chart 5). The Institute for Supply Management manufacturing index fell from 59.3 in March to 57.3 in April. Despite the decline, the index remains well above 50 and continues to signal growth.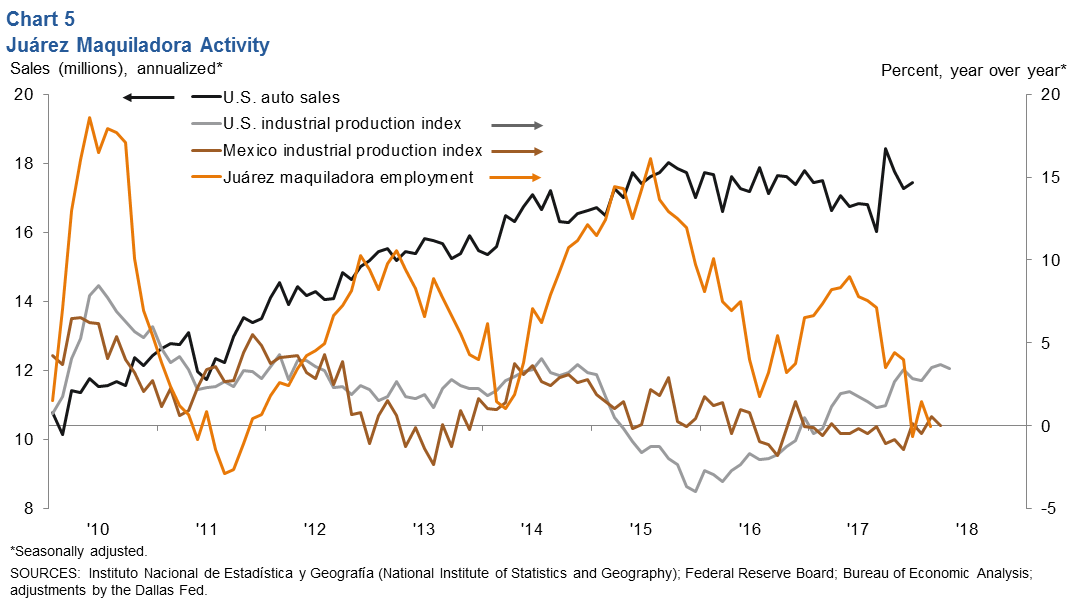 Meanwhile, Juárez manufacturing employment has steadied. According to Mexico's IMMEX series, Juárez maquiladora jobs totaled about 271,200 in February, unchanged from a year earlier.
U.S. auto and light-truck production was 11.3 million, slightly below year-ago production of 11.4 million units. Meanwhile, monthly auto sales totaled 17.2 million in April, up 0.6 percent from a year earlier. Auto sales are closely linked to the local economy because roughly half of maquiladoras in Juárez are auto related.
NOTE: Data may not match previously published numbers due to revisions. The El Paso metropolitan statistical area includes El Paso and Hudspeth counties.
About El Paso Economic Indicators
Questions can be addressed to Marycruz De León at marycruz.deleon@dal.frb.org. El Paso Economic Indicators is released on the fourth Wednesday of every month.