El Paso Economic Indicators

July 27, 2020
The El Paso economy continued its partial recovery in June after experiencing historic contractions due to the COVID-19 pandemic. Despite monthly improvements, the El Paso Business-Cycle Index, employment, and the unemployment rate in June have not yet recovered to pre-COVID levels seen in February. Consumer spending in El Paso County also improved in June, but growth was slightly behind spending statewide. After nosediving in April, international bridge traffic volume through the El Paso ports of entry was expected to increase. Industrial and manufacturing conditions on both sides of the border improved on a monthly basis but were still depressed compared with a year prior.
Business-Cycle Index
The El Paso Business-Cycle Index ticked up from 125.7 in May to 133.2 in June thanks to monthly labor market gains (Chart 1). Despite the improvement, the index was still well below February's pre-COVID level of 146.2. Over the four-month period ending in June, the index dropped 24.3 percent on an annualized basis.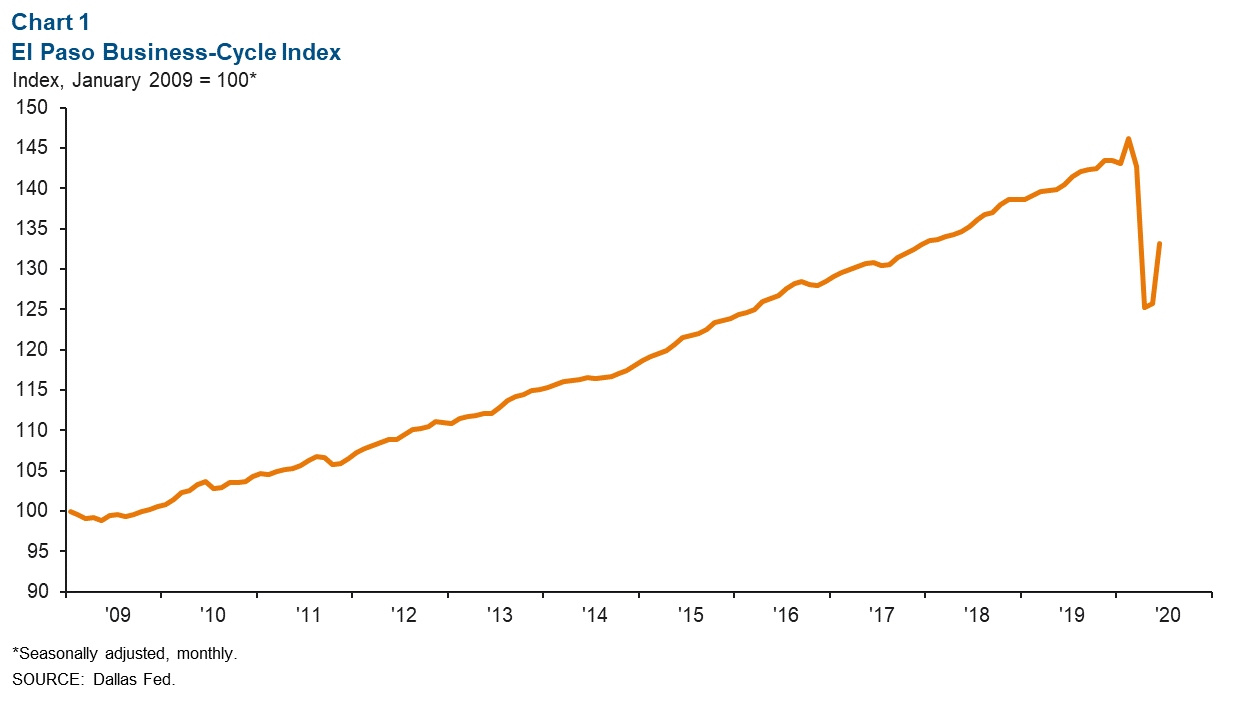 Labor Market
El Paso payrolls grew by 10,053 jobs (49.7 percent, annualized) in June. Employment in leisure and hospitality rebounded strongly, adding 7,893 jobs in the metro. Trade and transportation also added 1,865 jobs from May to June. However, total El Paso's employment was down an annualized 13.3 percent (-22,533 jobs, nonannualized) year to date in June (Chart 2). Leisure and hospitality plummeted an annualized 33.2 percent (-6,952 jobs, nonannualized). Close behind was professional and business services, which fell an annualized 30.4 percent (-6,078 jobs, nonannualized), and other services, which declined an annualized 27.3 percent (-1,323 jobs, nonannualized). El Paso's second-largest sector, trade, transportation and utilities, fell an annualized 7.6 percent—a loss of 2,677 jobs—since the beginning of the year (nonannualized).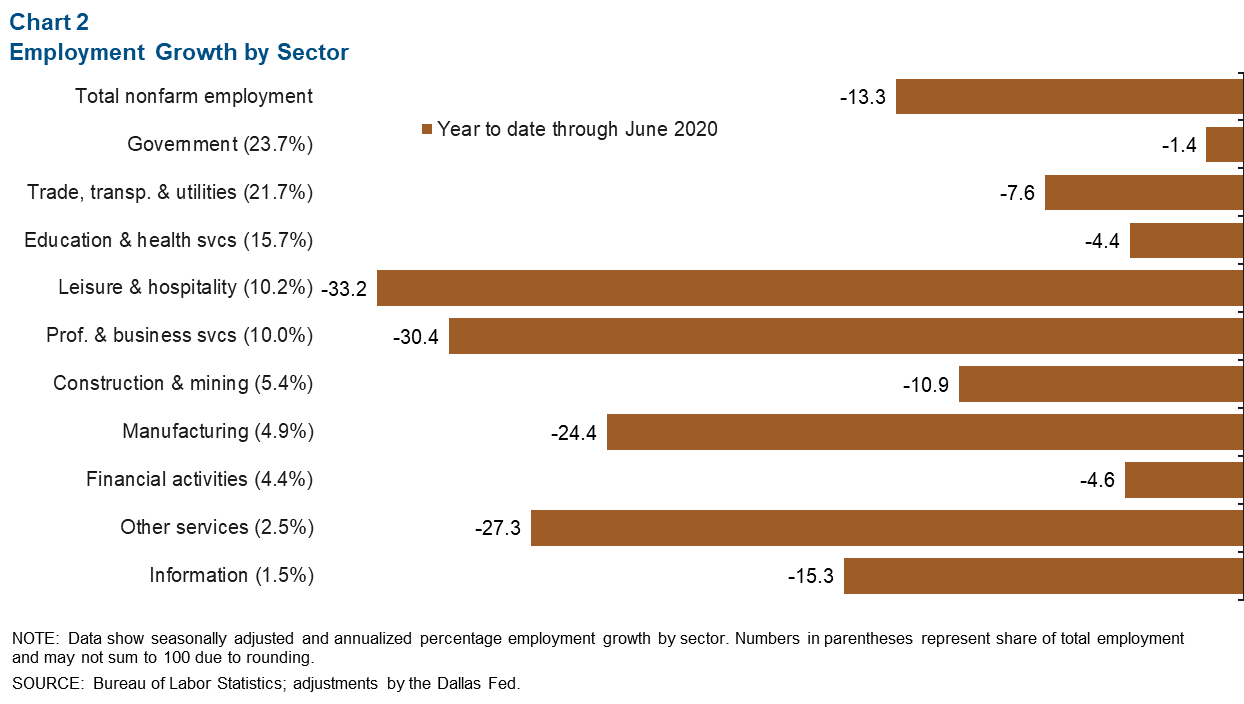 El Paso's unemployment rate declined from 13.5 to 8.5 percent in June. The unemployment rate in Texas and the U.S. also fell to 8.6 percent and 11.1 percent, respectively.
Consumer Spending
El Paso County consumer spending (measured by credit and debit card spending) has recovered ground since bottoming out in mid-April when weekly spending was down 39.1 percent from January 2020 levels (Chart 3). As of July 12, spending in the county was down 13.4 percent from January 2020, compared with a decline of 7.4 percent in Texas for that period.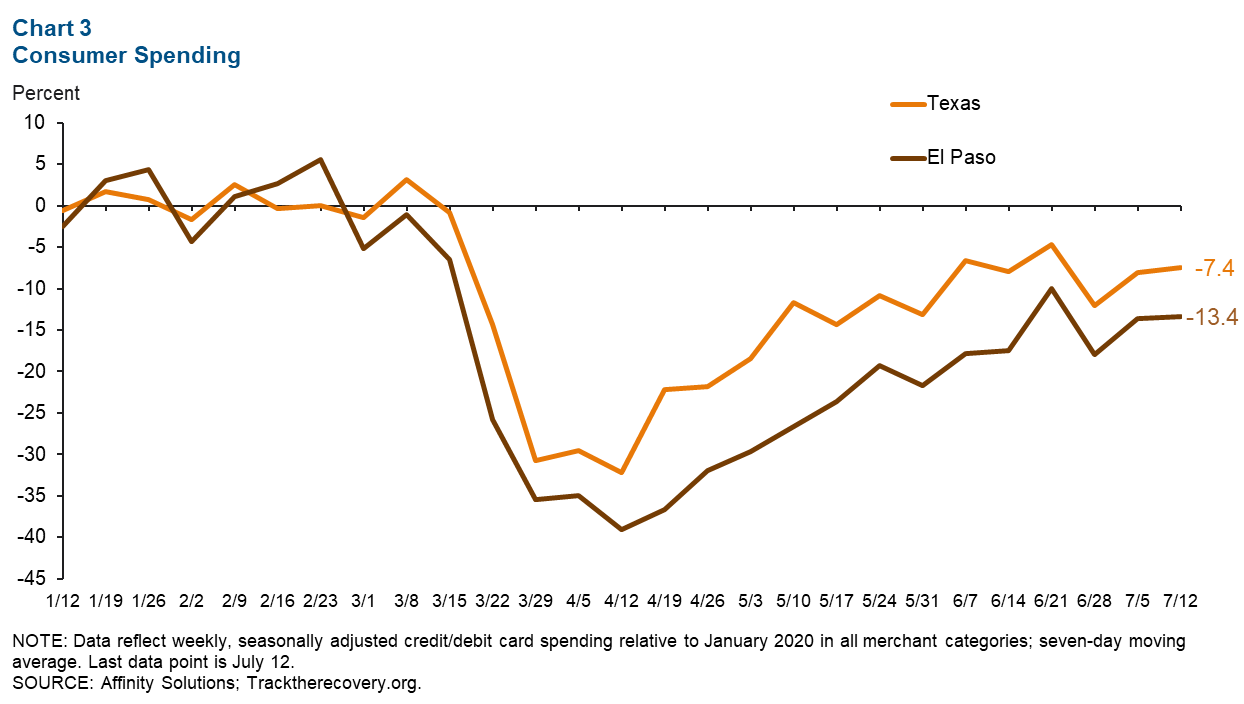 International Bridge Traffic
Following the closure of the U.S.–Mexico border for nonessential travel since March 21, total international bridge traffic at El Paso ports of entry plunged 65.7 percent year over year in April (Chart 4). While northbound traffic data for May and June are not yet available, southbound traffic showed gradual improvement in May and June but still remained significantly below year-ago levels (-37.5 percent). As the recovery continues, traffic and trade through the El Paso ports of entry are expected to increase.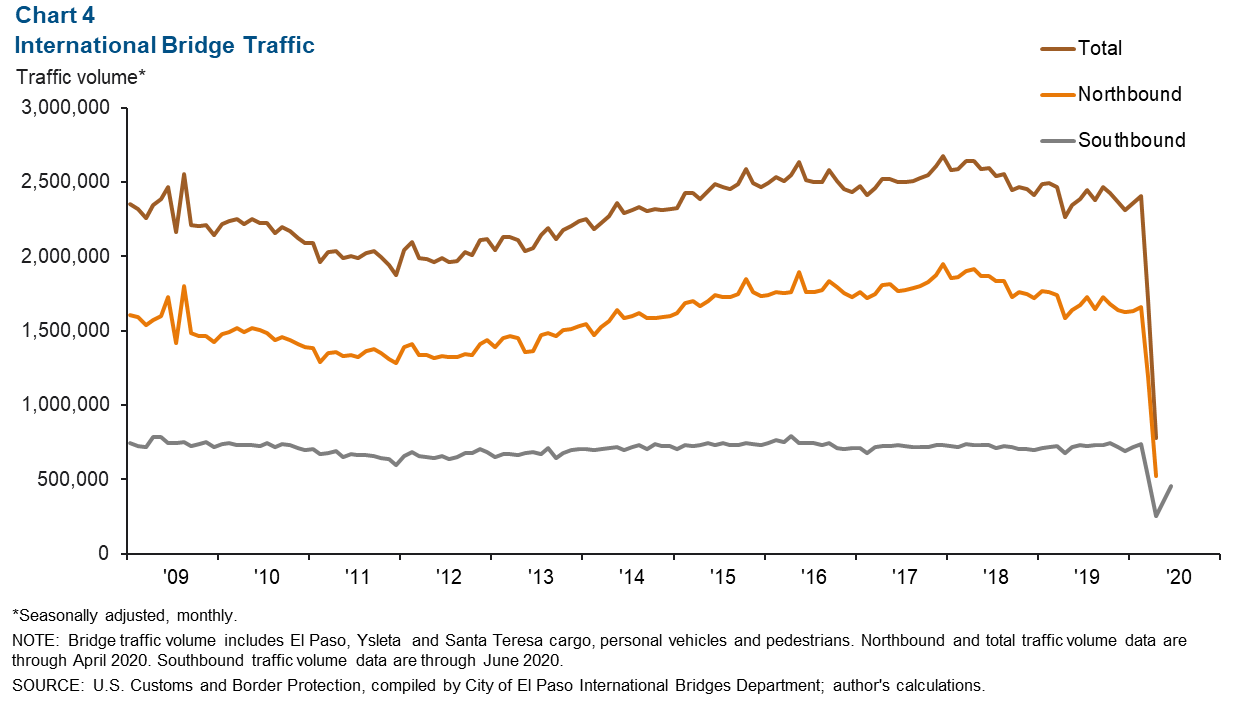 Industrial Production and Maquiladora Activity
The U.S. industrial production index increased from 92.5 in May to 97.5 in June, but on a year-over-year basis, it was down 10.8 percent (Chart 5). Mexico's industrial production index was relatively flat from April to May, moving from 73.1 to 71.2 and declining 29.7 percent from a year prior. The Institute for Supply Management manufacturing index ticked up from 43.1 in May to 52.6 in June, indicating expansion in the manufacturing sector after three consecutive months of decline. Panelists' sentiments were positive and in stark contrast to March's pessimistic comments. U.S. and Mexican production and manufacturing trends are important to the local economy because of cross-border manufacturing relationships.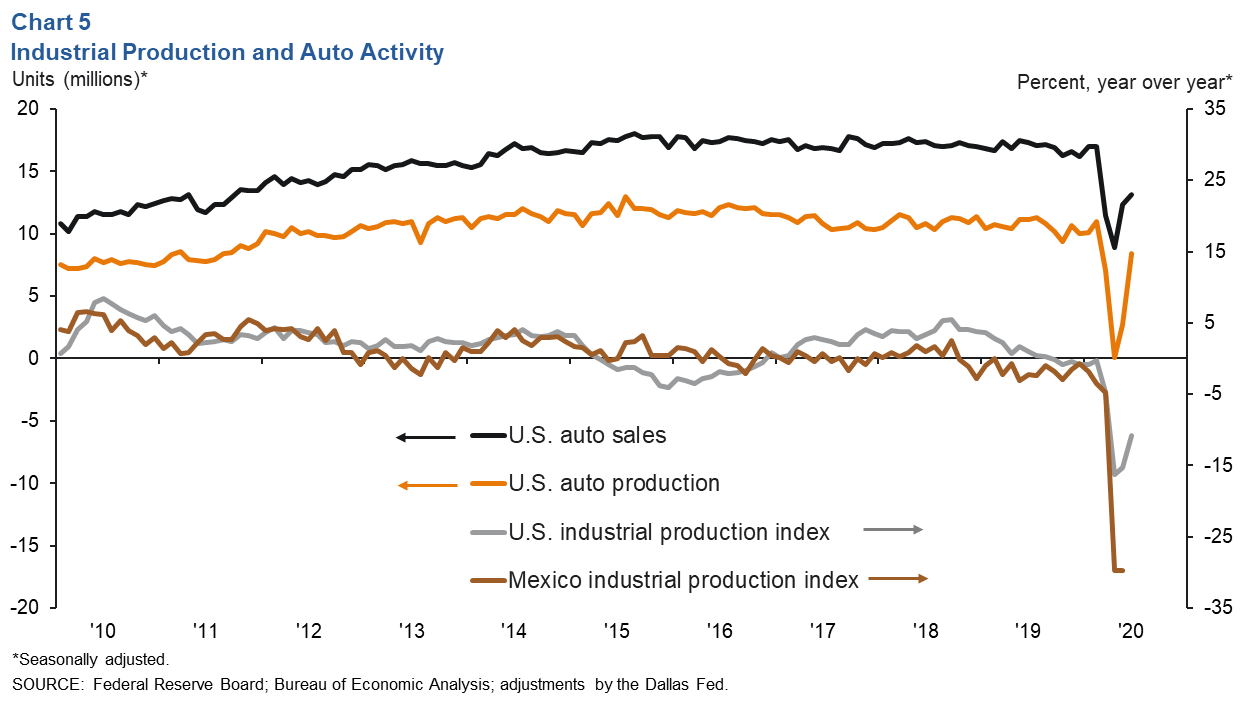 U.S. auto and light-truck production rose to 8.4 million units in June, an increase of 5.7 million units from May. However, June's production level was 2.8 million below that of June 2019. Meanwhile, monthly auto sales totaled 13.2 million in June, up by 800,000 from May but 24.0 percent below the 17.3 million in sales recorded a year prior. Auto sales are closely linked to the local economy because roughly half of maquiladoras in Juárez are auto related.
NOTE: Data may not match previously published numbers due to revisions. The El Paso metropolitan statistical area includes El Paso and Hudspeth counties.
About El Paso Economic Indicators
Questions can be addressed to Keighton Allen at keighton.allen@dal.frb.org. El Paso Economic Indicators is released on the fourth Wednesday of every month.