El Paso Economic Indicators

October 30, 2020
El Paso's economic recovery faltered in September. The El Paso Business-Cycle Index fell due to monthly payroll losses. Daily COVID-19 cases broke previous records in October, and mobility and engagement remained depressed compared with January levels. U.S. industrial production dipped, while manufacturing conditions and auto production continued to recover in September.
Business-Cycle Index
The El Paso Business-Cycle Index declined an annualized 11.5 percent in September to 134.6. Since the February high of 147.3, the index is down an annualized 14.4 percent (Chart 1).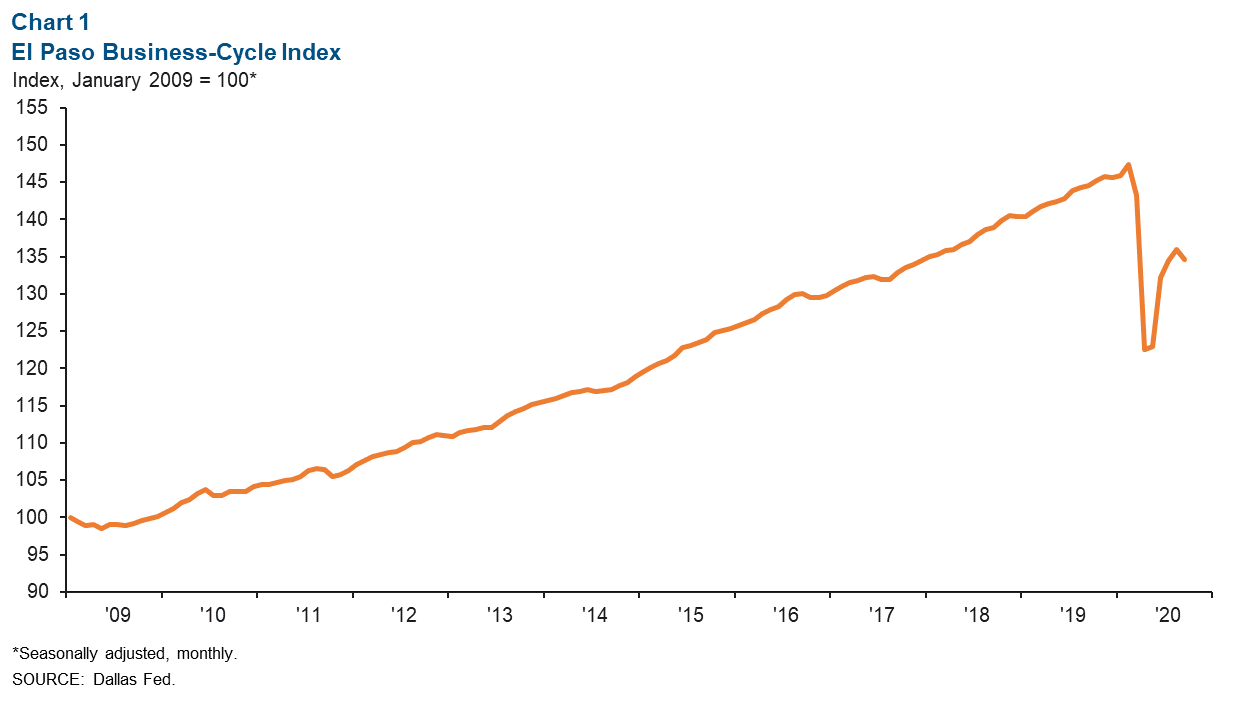 Labor Market
El Paso payrolls contracted an annualized 6.7 percent for a net loss of 1,780 jobs (nonannualized) in September (Chart 2). The metro's largest employment sectors, government and trade, transportation and utilities, posted job losses of 1,576 and 453, respectively. Only four sectors experienced monthly payroll gains. Leisure and hospitality added 435 jobs, construction and mining gained 74, manufacturing added 47, and professional and business services grew by 30 jobs.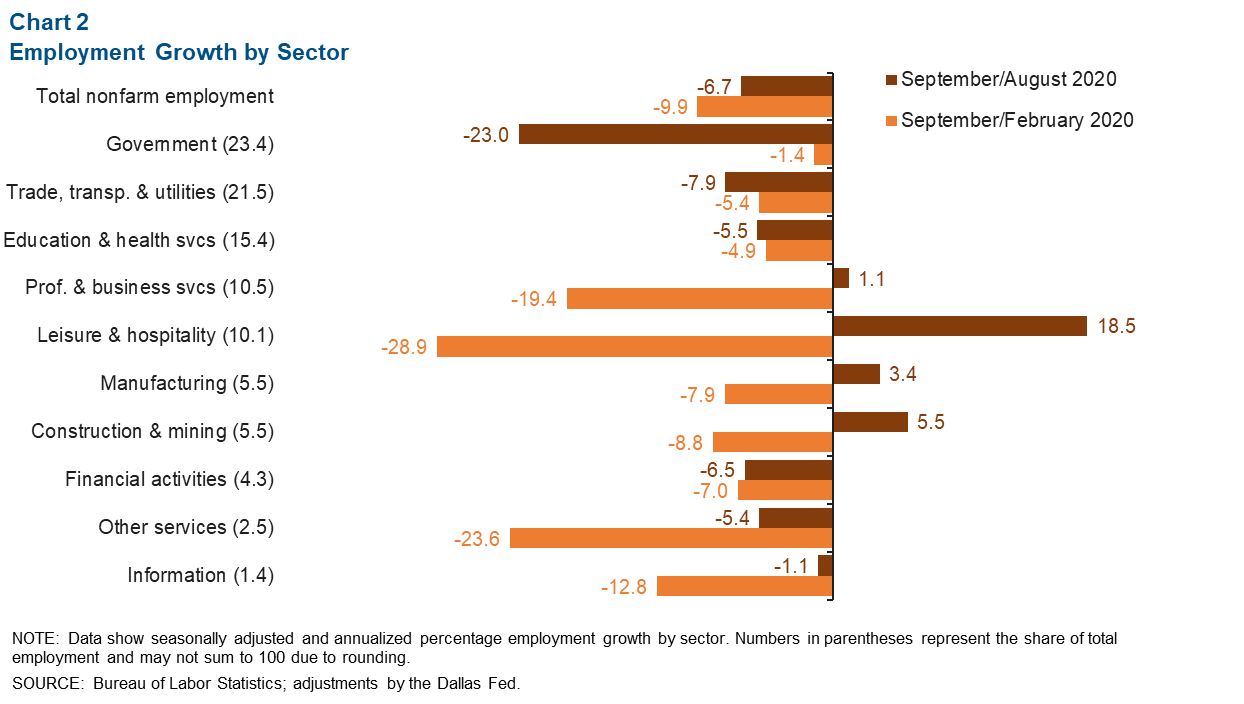 Since the onset of the pandemic, the El Paso labor market has contracted an annualized 9.9 percent, losing 19,304 jobs (nonannualized). Job losses between February and September were largely driven by the leisure and hospitality sector (-6,806 jobs), professional and business services (-4,325), trade, transportation and utilities (-2,170), education and health services (-1,408) and other services (-1,324).
El Paso's unemployment rate rose from 7.1 to 9.1 percent in September. The unemployment rate in Texas also rose, to 8.3 percent, while the U.S. unemployment rate fell to 7.9 percent in September.
COVID-19 Cases and Deaths and Local Mobility Trends
After peaking in early July, COVID-19 cases fell through mid-September. Since then, the seven-day moving average of daily cases in the El Paso metro area has been rising rapidly. As of Oct. 28, daily cases were up to 1,242, and nonessential businesses were ordered to close again on Oct. 30 (Chart 3). Daily COVID-related deaths have fallen from their peak on Aug. 14, when deaths averaged 9.7 per day. However, there has been a recent uptick. As of Oct. 28, daily deaths stood at 3.1.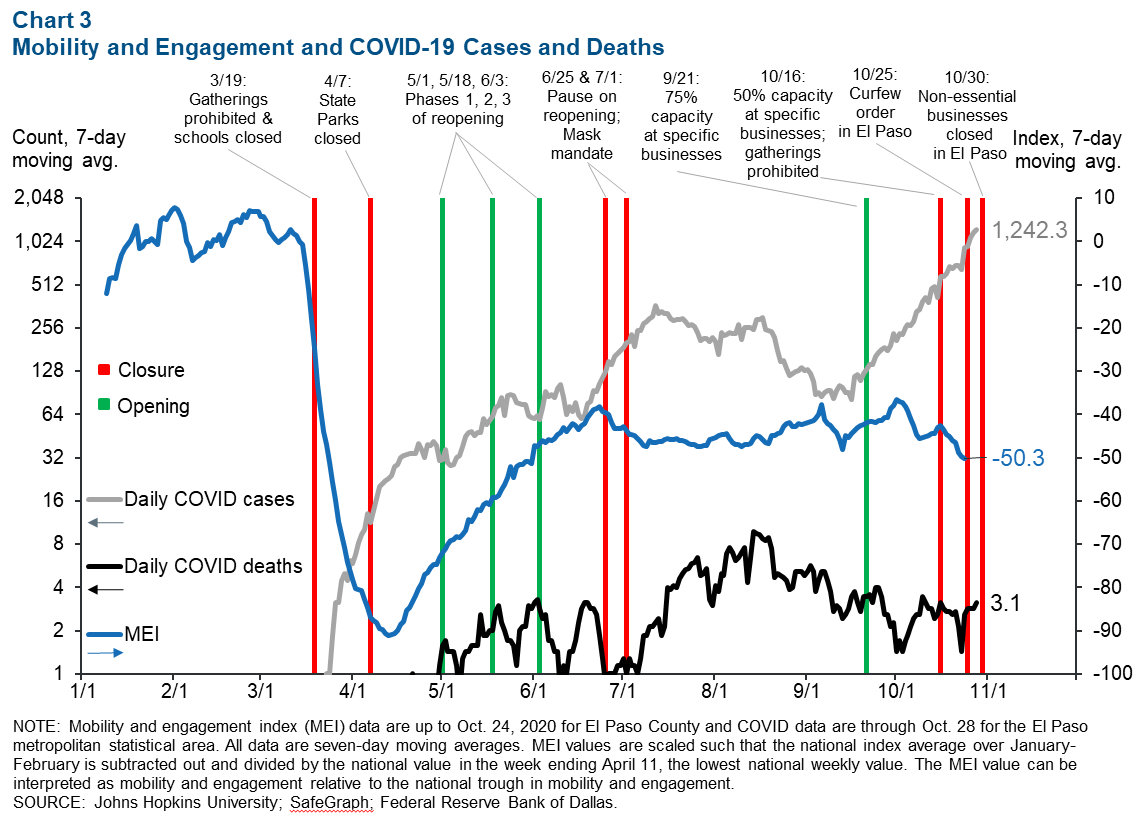 The Dallas Fed's Mobility and Engagement Index (MEI) for El Paso bottomed out April 13 (-91.2 percent), trended upward until mid-June and has since stabilized. That means El Pasoans left their homes more often, traveled further distances from their homes and stayed at other locations longer as stay-at-home orders were lifted and the economy partially reopened. With the pandemic worsening locally, the El Paso MEI has dropped and is 50.3 percent lower during the week of Oct. 24 compared with January levels.
Trade
Annualized total trade in El Paso rose from $16.8 billion in July to $22.7 billion in August but was down 77.1 percent from a year prior. The year-over-year drop in total trade was driven by declines of 81.6 percent in imports and 68.4 percent in exports. Imports totaled an annualized $12.1 billion in August, while exports equaled $10.6 billion (Chart 4).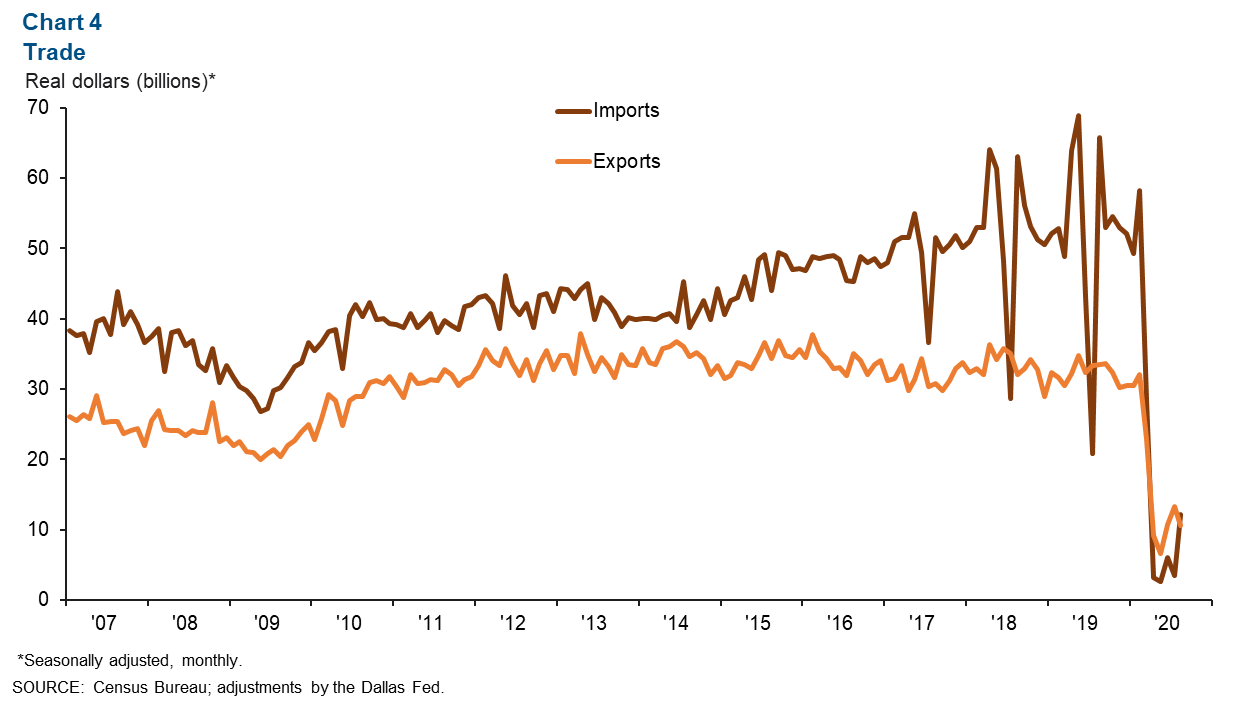 Industrial Production and Maquiladora Activity
The U.S. industrial production index fell from 102.2 in August to 101.5 in September and was down 7.3 percent on a year-over-year basis (Chart 5). Mexico's industrial production index increased from 91.1 in July to 94.1 in August but was down 8.4 percent compared with a year prior. The Institute for Supply Management (ISM) manufacturing index fell in September to 55.4 from 56.0 in August. However, because the figure remains above 50, it indicates expansion in the manufacturing sector for the fifth consecutive month. Respondents to the ISM's manufacturing survey reported that factories have been reconfigured, and they are becoming more proficient at maintaining output. U.S. and Mexican production and manufacturing trends are important to the local economy because of cross-border manufacturing relationships.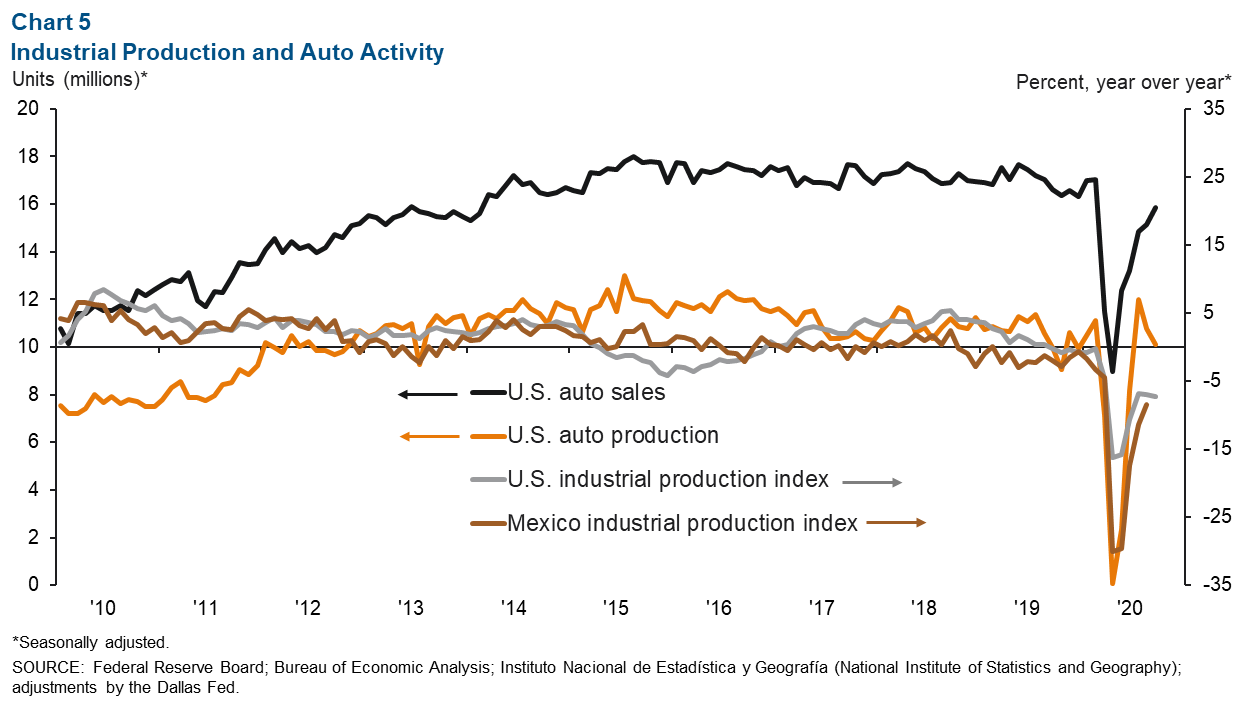 Across the border, the Juárez maquiladora industry added 14,366 jobs from June to July (the most recent data available), totaling 282,819 manufacturing jobs. U.S. auto and light-truck production was 10.1 million units in September, slightly higher than in September 2019. Meanwhile, monthly auto sales totaled 15.8 million in September—709,859 more than in August but 4.6 percent below sales of 16.6 million a year prior. Auto sales are closely linked to the local economy because roughly half of maquiladoras in Juárez are auto related.
NOTE: Data may not match previously published numbers due to revisions. The El Paso metropolitan statistical area includes El Paso and Hudspeth counties.
About El Paso Economic Indicators
Questions can be addressed to Keighton Hines at keighton.hines@dal.frb.org. El Paso Economic Indicators is released on the fourth Wednesday of every month.