El Paso Economic Indicators

April 1, 2021
El Paso's economy grew in February after stagnating a month earlier. Payrolls expanded, and the metro's business-cycle index rose, though both remained below prepandemic levels. The unemployment rate continued to exceed the state's and nation's jobless rates. Activity in the housing market was solid, with both home sales and median prices continuing to climb.
Business-Cycle Index
The El Paso Business-Cycle Index, based on employment, unemployment, retail sales and wages, posted annualized growth of 5.2 percent in February (Chart 1). Since the start of the pandemic, the index has fallen an annualized 4.2 percent.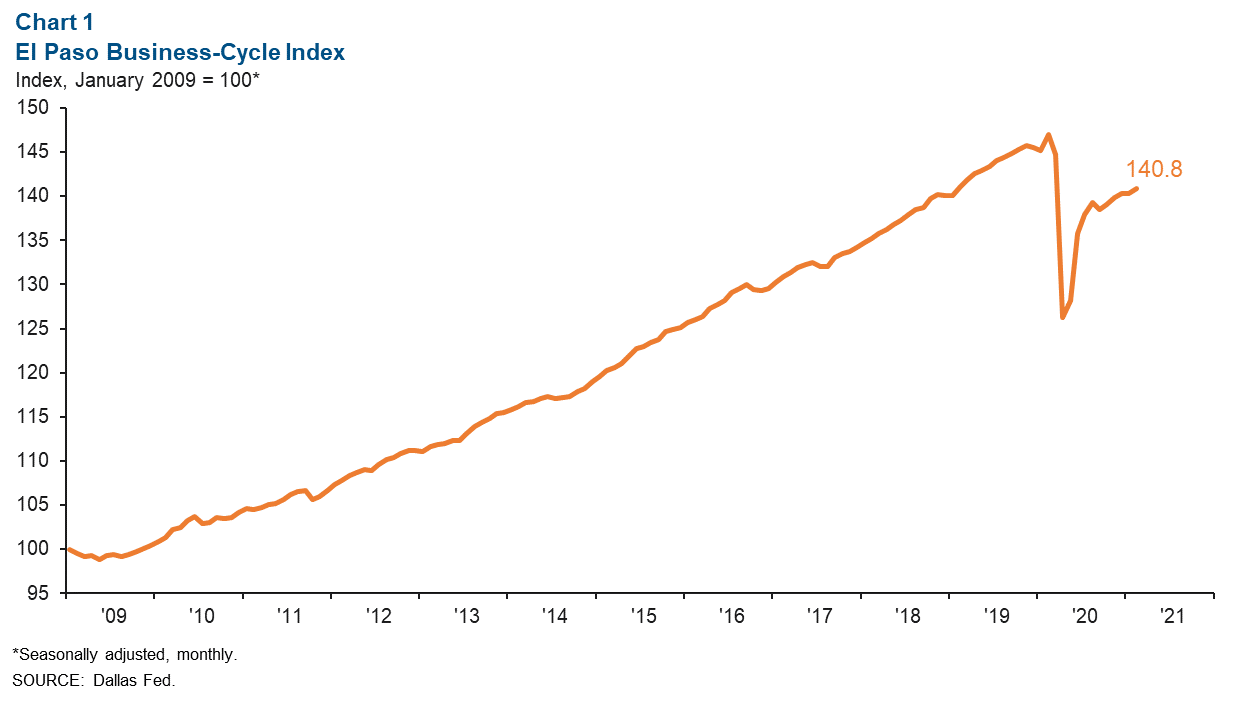 Labor Market
In February, El Paso employment grew an annualized 4.6 percent, adding 1,174 jobs (Chart 2). Most of the gains were attributed to the leisure and hospitality sector, which added 1,040 jobs. Sectors posting notable losses in February include government (-369 jobs), and construction and mining (-194).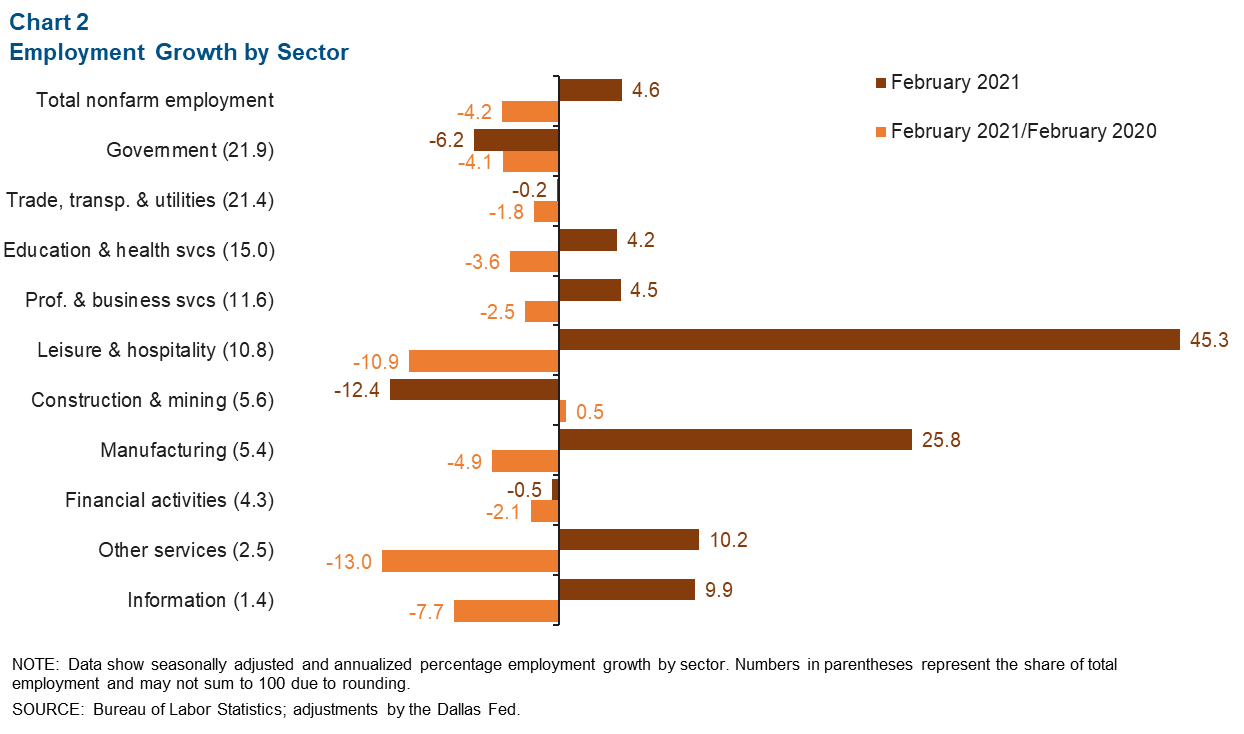 Year over year in February, the El Paso labor market was down by more than 13,700 jobs. Only construction and mining saw job gains during this period, adding approximately 90 jobs. Most of the job losses since the onset of the pandemic were attributed to leisure and hospitality (-4,170 jobs), government (-2,958), education and health services (-1,761), trade, transportation and utilities (-1,261), and other services (-1,185).
In February, the unemployment rate rose to 7.8 percent—above Texas' 6.9 percent and the nation's 6.2 percent rates.
Initial Unemployment Claims
Initial unemployment claims reached historic highs in late March 2020 as stay-at-home orders were implemented in El Paso. As daily COVID-19 cases, deaths and hospitalizations surged again in late fall, the El Paso metro saw initial jobless claims rise once more. Although daily new cases and hospitalizations have slowed and pandemic-related restrictions have been lifted in recent weeks, initial claims are on the rise again. Initial claims for unemployment benefits in El Paso totaled 1,852 for the week ending March 20, up 976 claims from the week of Feb. 20 (Chart 3). Texas initial claims totaled 82,797 during the week of March 27—24,602 claims more than the week of Feb. 27.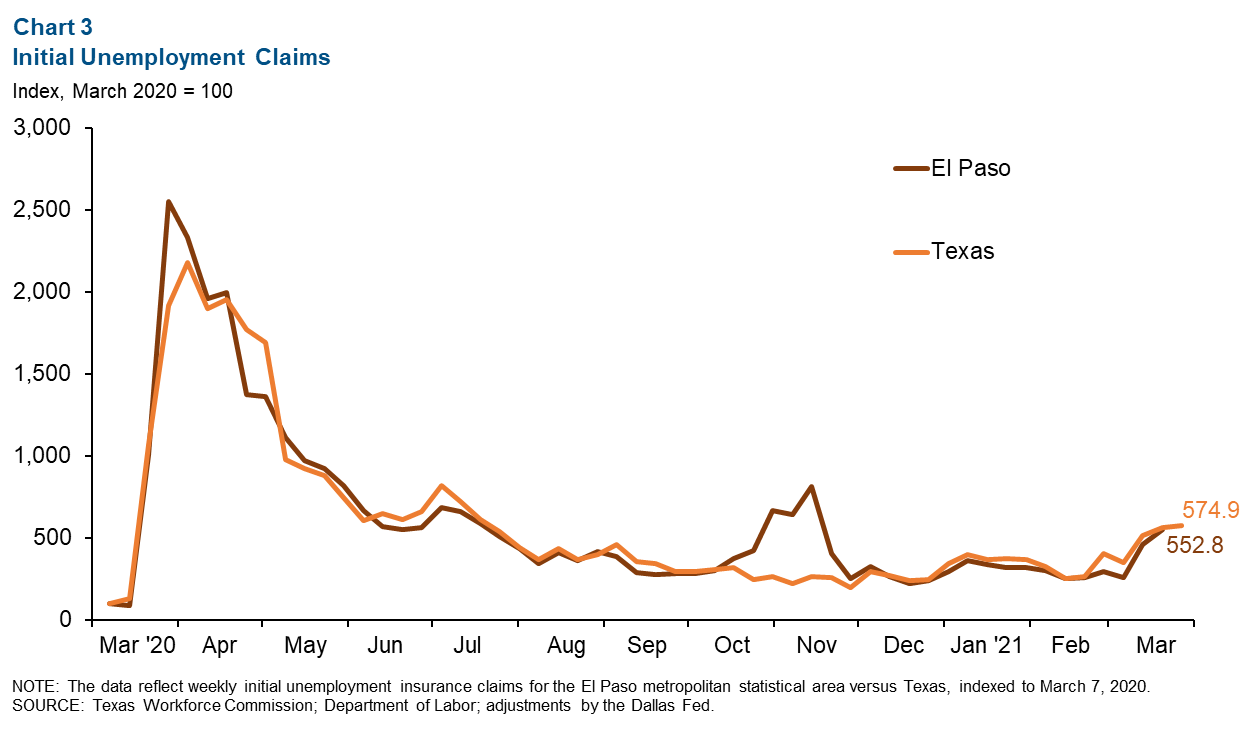 Wages
Average weekly wages in El Paso inched up from $778 in 2018 to $787 in 2019 and were $832 as of third quarter 2020 (the latest data available) (Chart 4). Although wages have been trending up in El Paso, they still lag Texas average weekly wages, which were $1,208 in third quarter 2020.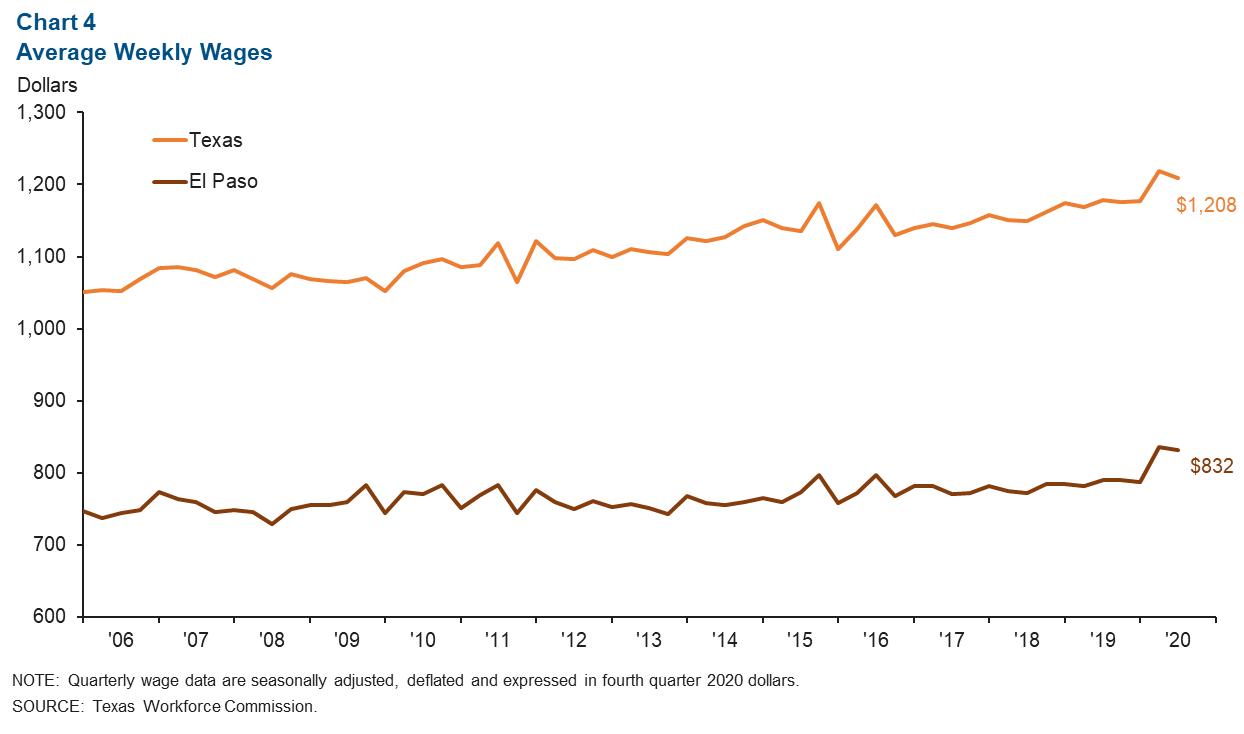 Housing Market
El Paso's housing market remained hot in February. Home sales totaled an annualized 11,437, up 24.4 percent from a year ago (Chart 5). The median home price in El Paso reached a new high of $186,535 in February, up 9.4 percent since the beginning of the pandemic. Existing-home inventories totaled 1.3 months in February, well below the six months of supply associated with a balanced market.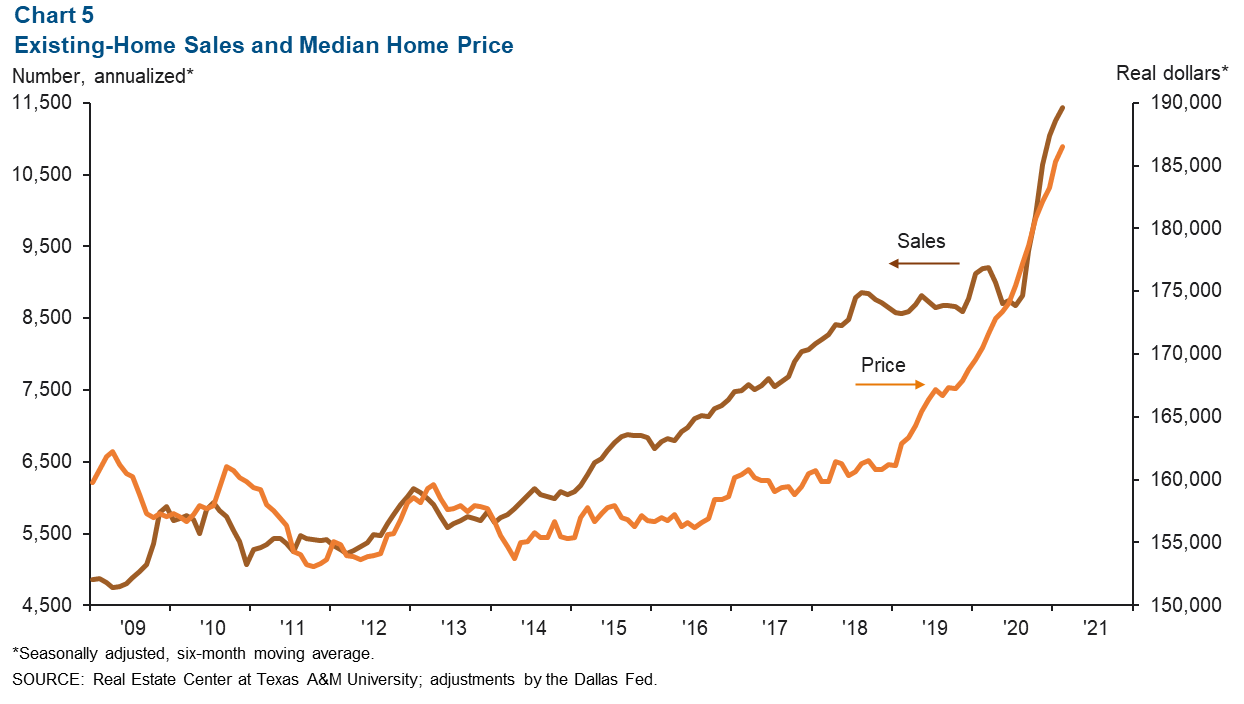 NOTE: Data may not match previously published numbers due to revisions. The El Paso metropolitan statistical area includes El Paso and Hudspeth counties.
About El Paso Economic Indicators
Questions can be addressed to Keighton Hines at keighton.hines@dal.frb.org. El Paso Economic Indicators is released on the fourth Wednesday of every month.