El Paso Economic Indicators

July 27, 2022
El Paso experienced strong economic growth in June. The metro's business-cycle index increased, the labor market expanded across most major sectors, and unemployment continued to decline. However, both international trade activity and U.S. auto production diminished.
Business-cycle index
The El Paso Business-Cycle Index rose an annualized 13.2 percent in June, a much larger increase than the 1.9 percent growth in May (Chart 1). The year-to-date growth rate is 4.3 percent, reflecting strong economic activity in the border region.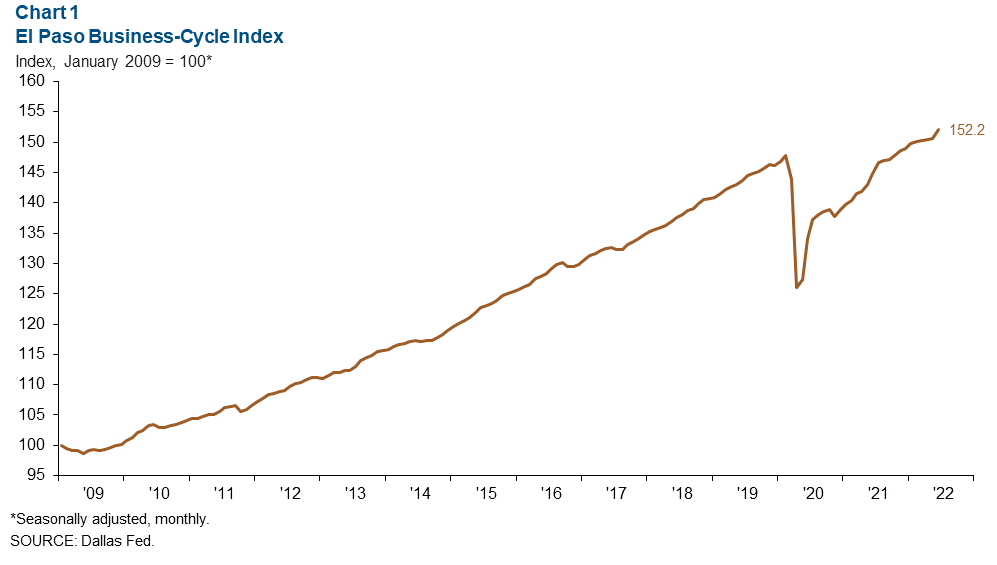 Labor market
Employment growth strong across sectors
Nonfarm employment grew 12.5 percent (3,180 jobs) in June after declining for several months (Chart 2). Job growth was strong in professional and business services (890 jobs), government (720) and trade, transportation and utilities (640). Financial activities (-170 jobs) and manufacturing (-10 jobs) were the only sectors to experience job losses.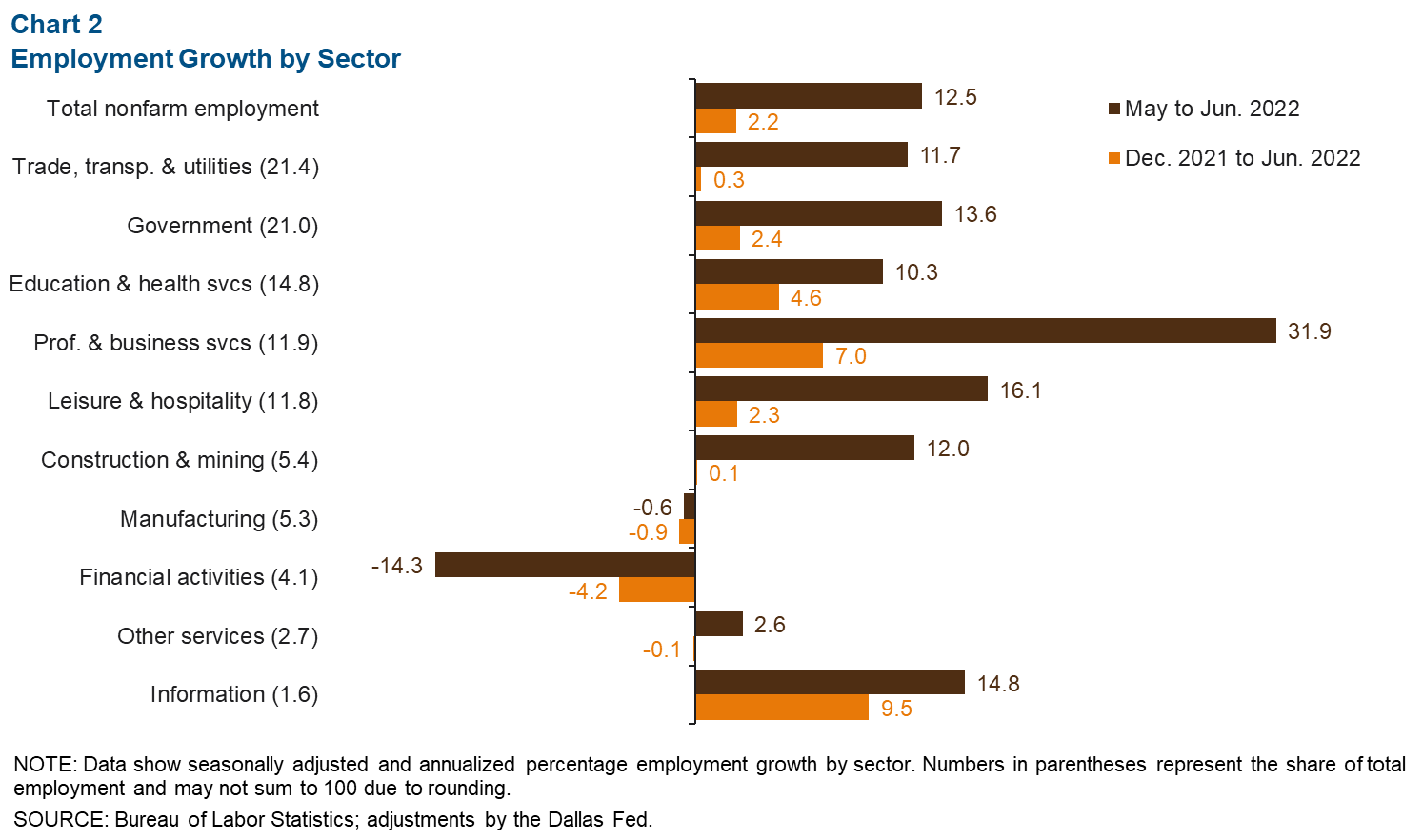 Nonfarm employment is up 2.2 percent year to date (3,610 jobs), spanning every industry except manufacturing (-80 jobs) and financial activities (-290 jobs). There were notable year-to-date gains in information (230 jobs) and professional and business services (1,300 jobs). While employment in El Paso has not returned to prepandemic levels, the city has almost recovered the jobs lost due to the pandemic.
Unemployment Declines, remains above prepandemic levels
El Paso's unemployment rate dipped from 4.7 percent in May 2022 to 4.6 in June, continuing a trend (Chart 3). However, the metro unemployment rate remains above prepandemic levels and exceeds both the Texas (4.1) and U.S. (3.6) unemployment rates.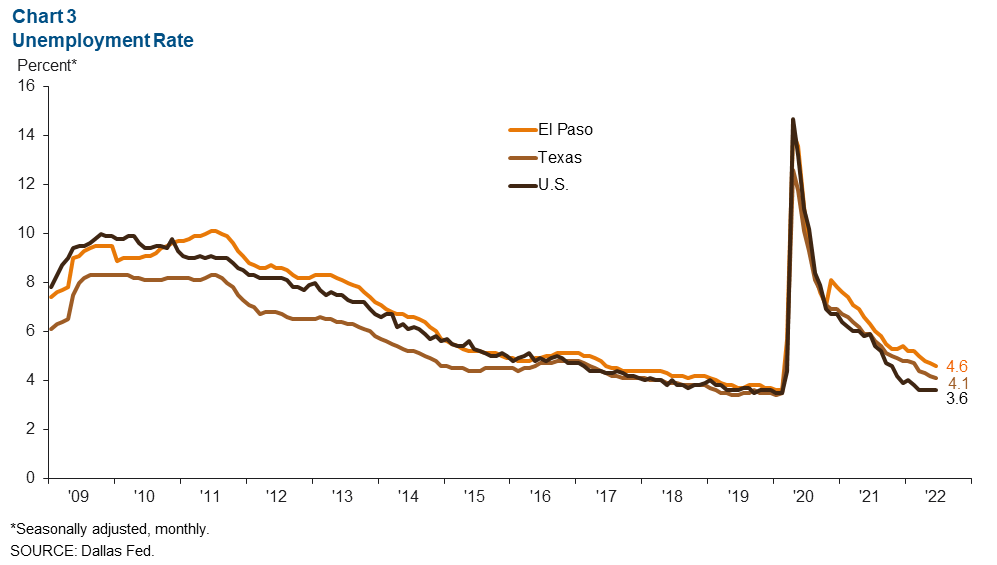 Trade
In May, El Paso's trade activity declined 3 percent to $134.6 billion as imports dipped 4.9 percent and exports fell 0.1 percent (Chart 4). The majority of goods were transported through Ysleta (55 percent), followed by El Paso (22 percent) and Santa Teresa (22 percent). El Paso's exports have surpassed prepandemic levels, and its imports have nearly reached prepandemic levels.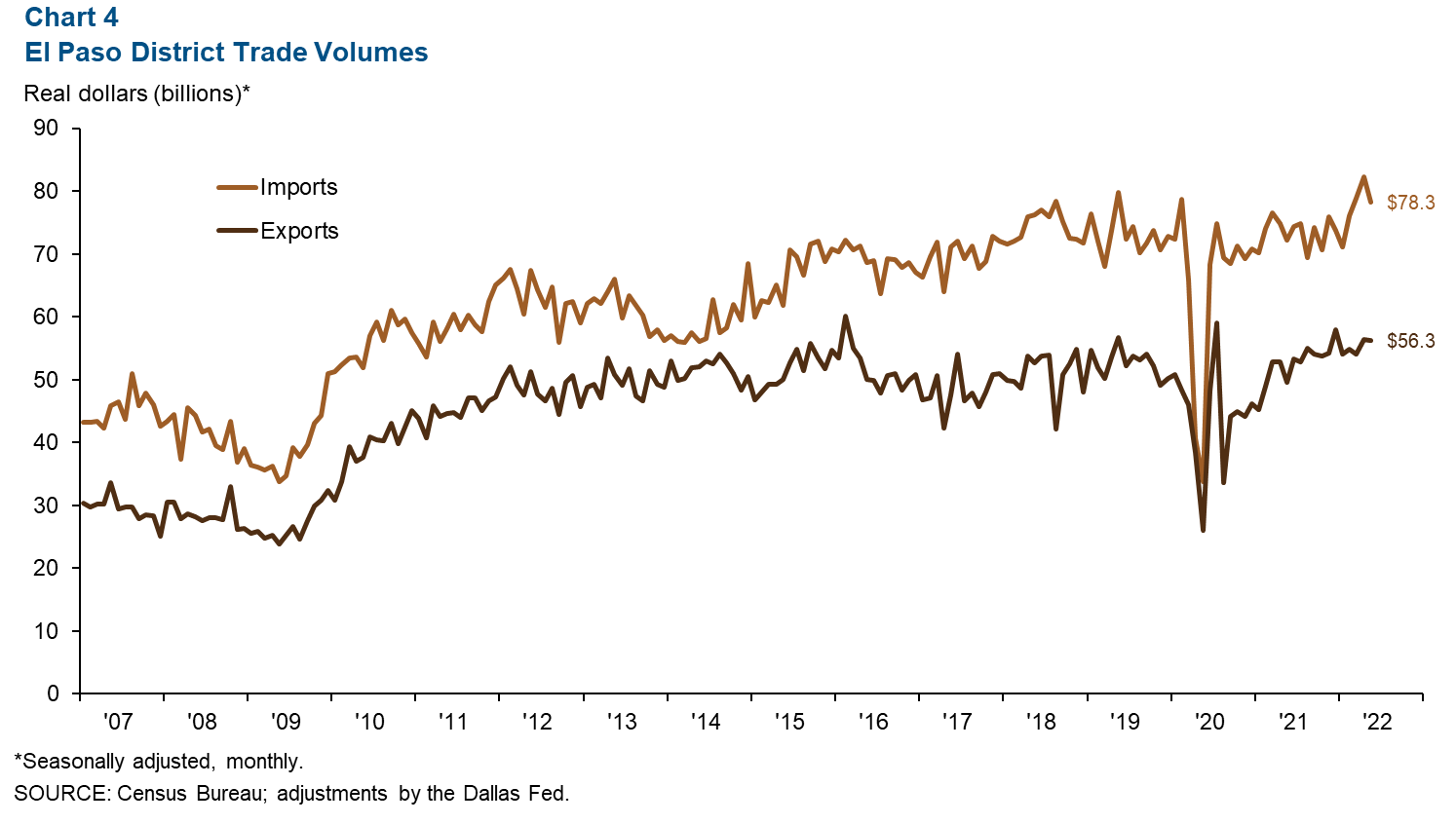 Industrial production and maquiladora-related activities
The monthly U.S. Industrial Production (IP) Index fell 0.2 percent in June and is up 4.2 percent from one year ago (Chart 5). Mexico's IP index grew 0.1 percent in May; it is 3.1 percent higher than one year ago. The Institute for Supply Management (ISM) manufacturing index dipped from 56.1 in May to 53.0 in June and is down 7.9 percent from a year ago. Yet the ISM figure remains above 50, signaling that the manufacturing sector is continuing to expand.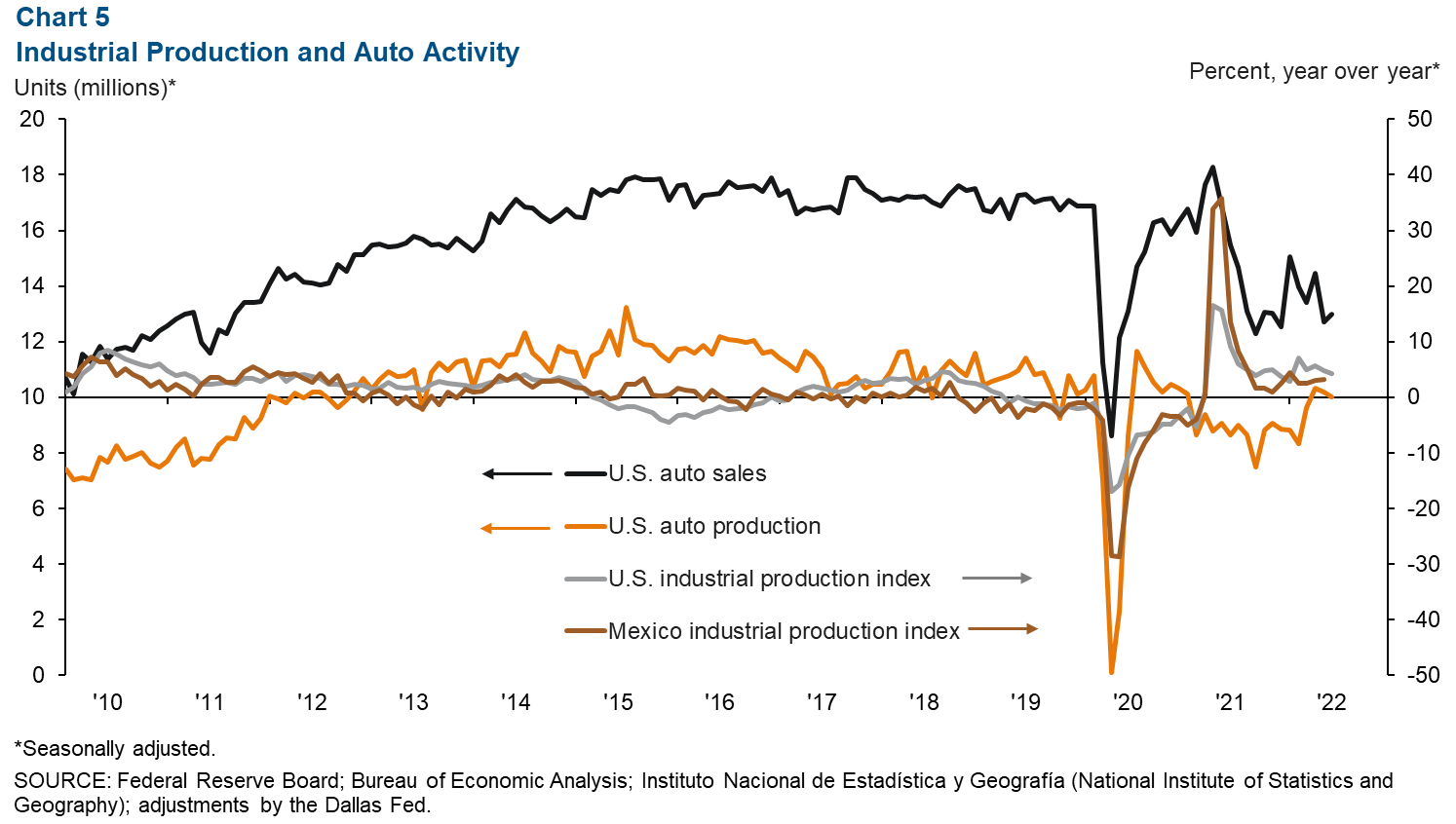 U.S. auto sales increased from 12.7 million units in May to 13 million in June, although 2.5 million more units were sold in June last year. U.S. auto production slowed from 10.2 million in May to 10 million in June. The production decline can be partly attributed to ongoing microchip shortages. Industrial and auto activity are closely linked to the El Paso-area economy because of cross-border manufacturing relationships. Roughly half of maquiladoras in Juárez are auto related.
NOTE: Data may not match previously published numbers due to revisions. The El Paso metropolitan statistical area includes El Paso and Hudspeth counties.
About El Paso Economic Indicators
Questions can be addressed to Aparna Jayashankar at Aparna.Jayashankar@dal.frb.org. El Paso Economic Indicators is published every month after state and metro employment data are released.