Houston Economic Indicators

January 4, 2018
Houston economic activity continued to improve in November. The Houston Business-Cycle Index ticked up, employment totals surpassed pre-hurricane levels, and mining-related employment increased. A local leading index of economic indicators also increased strongly. Taken together, the outlook for Houston remains positive.
Business-Cycle and Leading Indexes
Growth in the Houston Business-Cycle Index—a real-time proxy for changes in economic activity such as income and output—recovered to 1.5 percent in November after a revised 1.4 percent decline in October (Chart 1). In addition to the recent increase in the index, revisions to the component data reduced the severity of declines in the index for 2015 and 2016. The index is now roughly flat in 2015 and declined only 1 percent from February 2016 to December 2016, compared with 1.5 percent in the November 2017 report.
An index of leading economic indicators for Houston expanded at a rate of 5.6 percent from August to November. The surge was related in part to post-Harvey recovery and stronger energy-related data and suggests healthier job growth figures ahead, particularly over the next three to six months.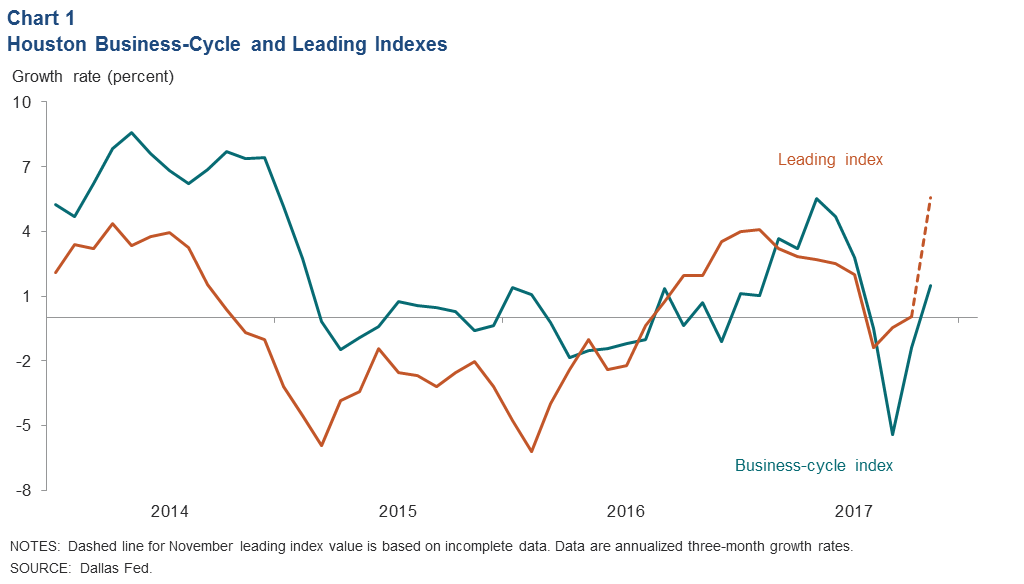 Employment
Post-Harvey Job Boost Extends Through November
Houston added nearly 10,000 jobs from October to November, bringing the metro total back above pre-Harvey levels. The annualized growth rate from August (before Harvey) to November was 0.9 percent (6,900 jobs) (Chart 2). Financial activities grew the fastest over that time (3,400), but trade transportation and utilities grew by the largest amount (8,000). After bouncing back above pre-Harvey levels in October, leisure and hospitality lost jobs in November, ending the three-month period down by 3,700 jobs. Other services—auto mechanics, laundromats, pet boarding, etc.—declined the fastest from August to November (1,805).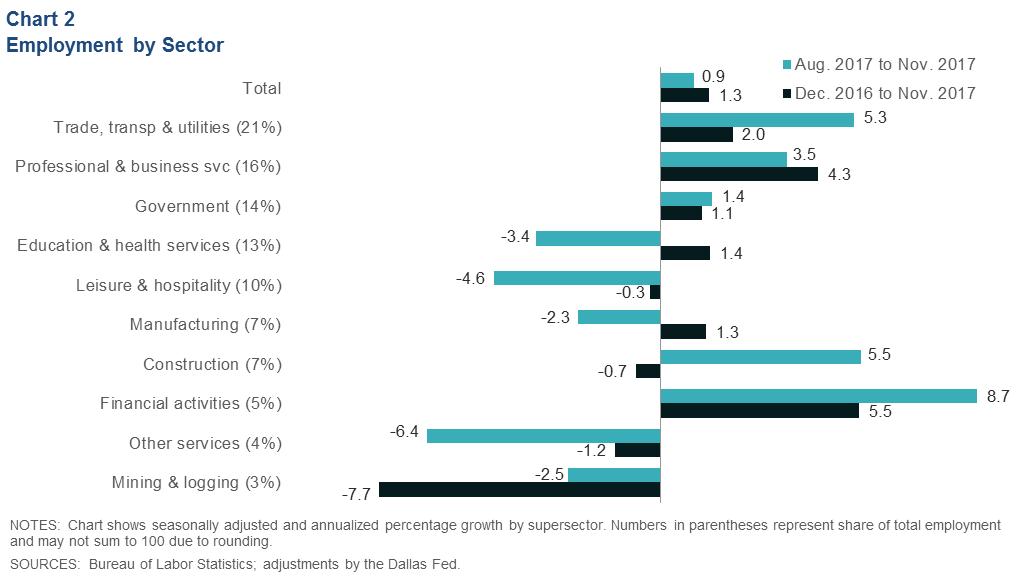 Houston's annualized job growth from December 2016 to November 2017 registered a tepid 1.3 percent as distortions caused by Harvey and mid-year weakness in energy and construction took their toll. The fastest- growing sector over that time was financial activities, which accelerated over the summer and had grown 5.5 percent through November (7,800). Mining and logging was the fastest-declining sector (5,900).
Unemployment Below 5 Percent Again After Harvey
The unemployment rate in Houston was 4.8 percent in November, 0.2 percentage points above the October level and on par with the six-month average rate of 4.9 percent (Chart 3). The November uptick in unemployment was driven in part by a 26,600-person increase in the labor force after falling by 18,500 in October. That rise was likely related to Hurricane Harvey and was also the first substantial increase in the labor force since April.
For comparison, the unemployment rate in Texas was 3.8 percent in November, and the U.S. unemployment rate was 4.1 percent.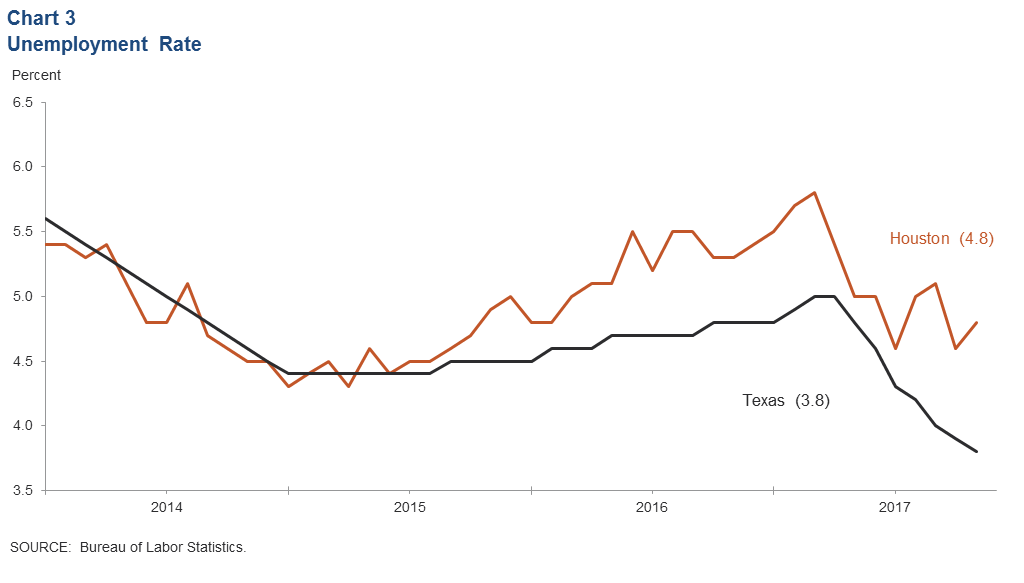 Oil and Gas
Energy Moving Sideways
The U.S. rig count effectively leveled off near 930 rigs over the last few months as drilling activity explored the limits of what could be justified at recent oil prices and with moderate oil price expectations. However, fluctuations in monthly drilling activity typically lag behind changes in the price of oil by about three months, and the price of West Texas Intermediate (WTI) crude has been rising since mid-summer. WTI averaged nearly $58 per barrel in December (Chart 4). Falling crude inventories in Organization for Economic Cooperation and Development countries, the extension of lower production targets by OPEC and rising geopolitical risk in some oil-producing countries are widely credited for higher recent crude prices.
Mining-related employment in Houston has largely tracked sideways since mid-year as job growth in extraction and support activities in Texas has been concentrated outside the headquarters located in Houston.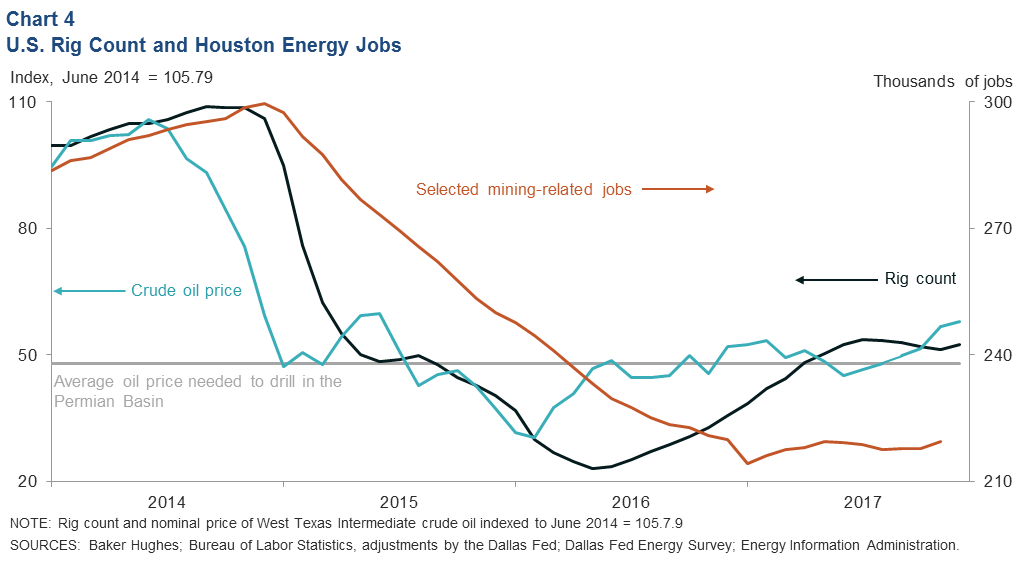 Houston Mining-Related Job Growth Mixed
Mining-related job growth in Houston picked up over the last three months, increasing by 3.8 percent (2,000) (Chart 5). Fabricated metals manufacturing in Houston tends to be early in the supply chain for drilling operations, and the recent strong growth in this sector bodes well for future expansion in other mining-related sectors. The strong gains in architectural, engineering and related jobs may also be due to recent improvements in demand from other parts of the oil-and-gas ecosystem such as petrochemicals.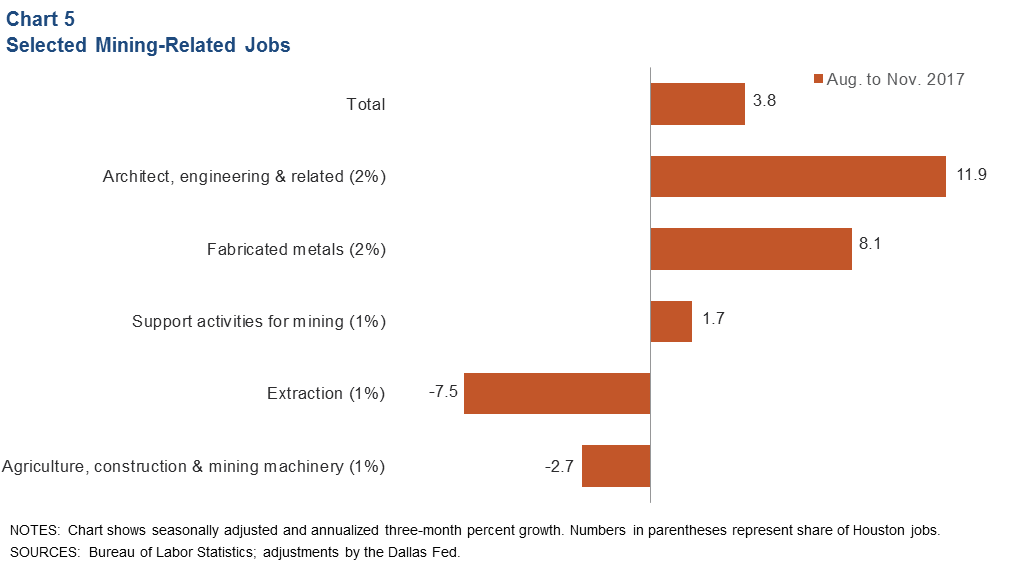 Fuel Prices Diverge
Weekly fuel prices in the Gulf Coast spiked relative to WTI in September due to Hurricane Harvey but have diverged as storm-related distortions receded. Retail gasoline prices fell back to near pre-Harvey levels from the beginning of September to the end of October and have been relatively flat since (Chart 6). On-highway diesel prices, however, did not fall back to pre-Harvey levels and have strengthened over the fourth quarter. This was likely due to a combination of higher oil prices, strong exports and falling domestic inventories.
Seasonally adjusted refinery margins are also very healthy. December saw the strongest dollar per barrel margins for Gulf Coast refiners since mid-2015 with the exception of a brief period after Hurricane Harvey when refining capacity on the coast was shut down.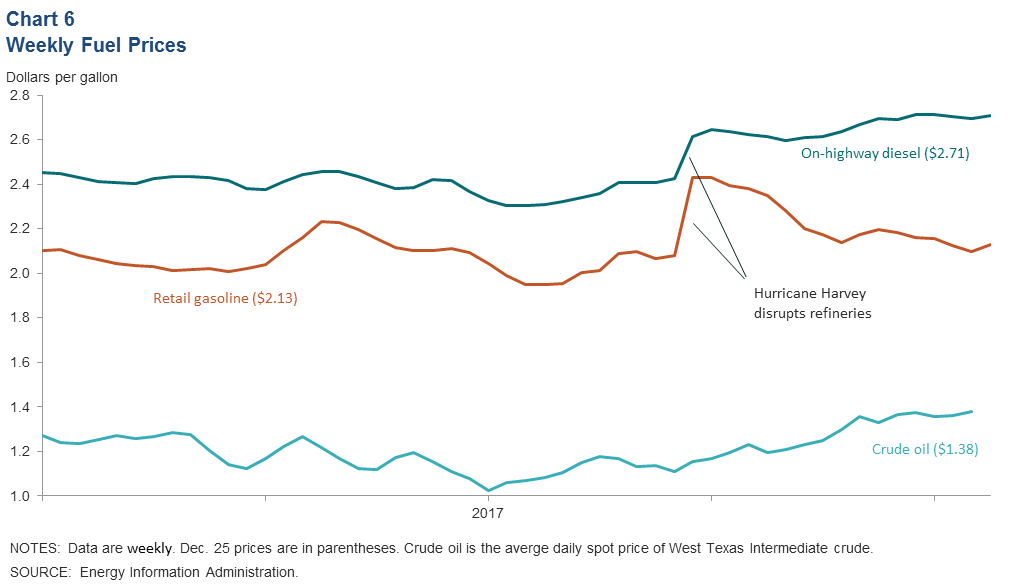 NOTE: Data may not match previously published numbers due to revisions.
About Houston Economic Indicators
Questions can be addressed to Jesse Thompson at jesse.thompson@dal.frb.org. Houston Economic Indicators is posted on the second Monday after monthly Houston-area employment data are released.