Houston Economic Indicators

April 30, 2018
Overall, the outlook for Houston remains positive. Coincident and leading indicators continue to suggest healthy growth in activity in the region. Exports are expanding, while real estate and construction data are more mixed. The existing-home market remains tight and construction employment has been boosted by post-Hurricane Harvey demand, but office vacancy rates have increased.
Business-Cycle and Leading Indexes
Growth in the Houston Business-Cycle Index was 6 percent for the three months ending in March 2018, continuing a slowdown from a likely post-Hurricane Harvey boost (Chart 1). Growth in the index since Harvey has been a robust 6.9 percent—well above its longer-run average of 3.2 percent.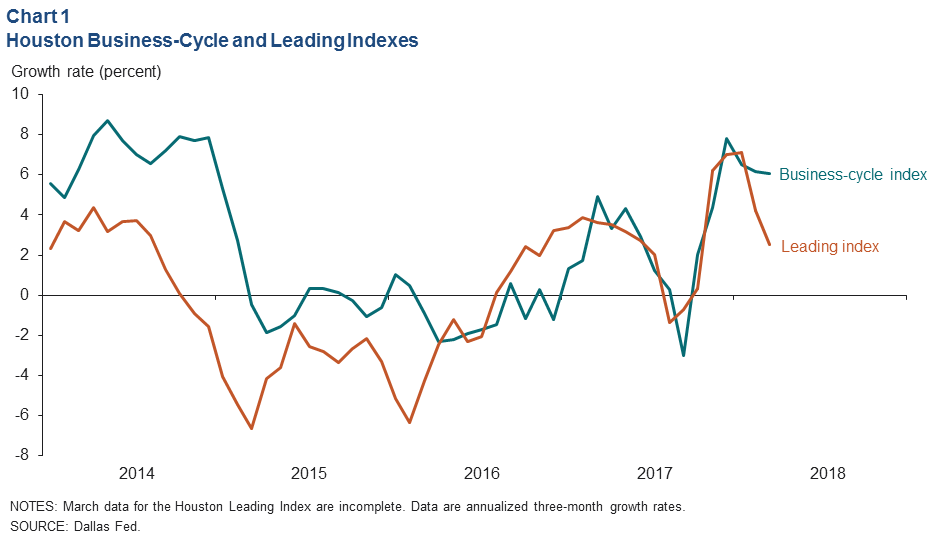 Similarly, growth in an index of 11 leading indicators for Houston slowed recently as post-Harvey distortions worked their way through the data. The annualized growth rate of 2.5 percent over the three months ending in March is still supportive of healthy job growth ahead for the metropolitan area.
Employment
Houston jobs grew at a strong annualized pace of 3.9 percent over the three months ending in March (about 29,200 jobs) (Chart 2). The biggest job gains were in professional and business services (13,600). Trade, transportation and utilities saw the second-biggest addition (5,200), followed by education and health services (3,300). Job losses over that same time frame were focused in leisure and hospitality (2,700).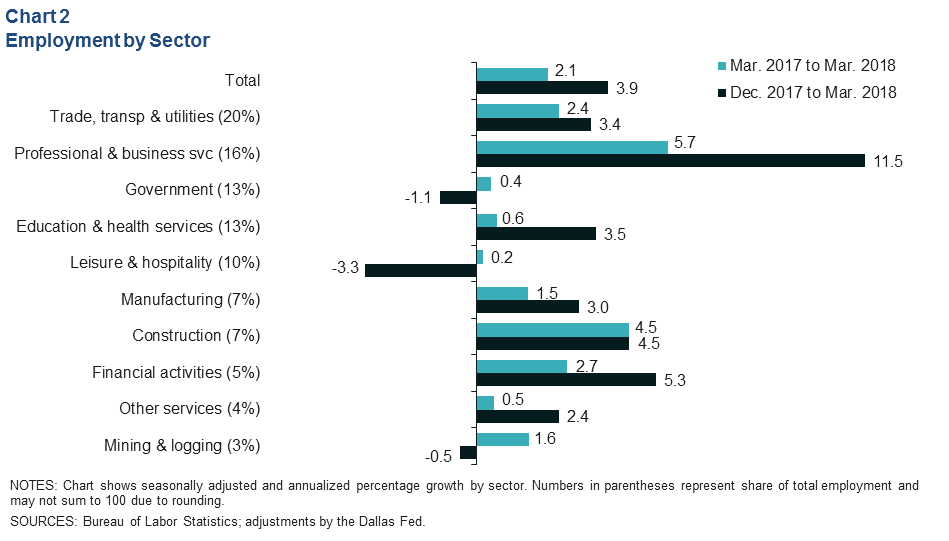 Year-over-year job growth was 2.1 percent in March (64,100), in line with Houston's long-run trend. Professional and business services was the main growth sector over that time (27,100), driven mostly by the professional, scientific and technical sector and employment services (such as staffing firms). Retail jobs—a subsector within trade, transportation and utilities—pushed that industry group to the second-biggest 12-month job gain (15,000), likely boosted by post-Harvey purchases and improving job growth in Houston's economic core (energy, trade and health).
The unemployment rate in Houston was up 0.1 percentage points from February to March at 4.7 percent. For comparison, March unemployment rates were 4.0 percent in Texas and 4.1 percent in the U.S.
International Trade
The nominal value of exports moving through the Houston–Galveston customs district has increased the past few months (Chart 3). Nearly three-quarters of the value of exports in 2018 so far is driven by products associated with crude oil and natural gas. The price of West Texas Intermediate crude rose through the second half of 2017 and has averaged just over $60 the past few months, supporting the value of a large percentage of exports. Exchange rates have also been favorable. The Texas trade-weighted value of the dollar (data in the chart are inverted) has been weakening since the start of 2017. A weaker dollar tends to be supportive of Houston exports.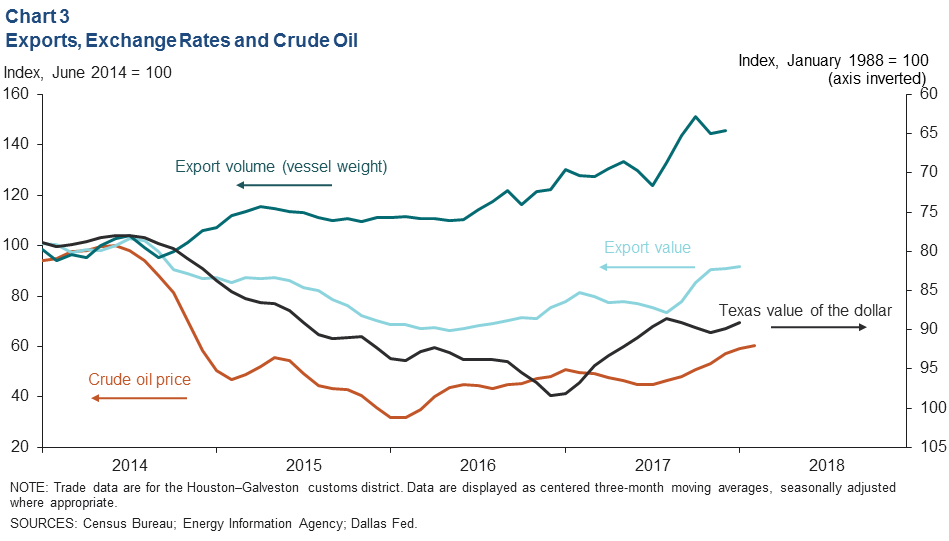 Export volumes—as measured by vessel weight—have been trending up after dipping sharply due to Hurricane Harvey last year. The growth has been mainly driven by refined products, crude oil, petrochemical resins and other related products that are increasing as a result of rising hydrocarbon production from U.S. shale basins.
Construction and Real Estate
Harvey-Related Work Propels Construction Job growth
Construction employment trended down from the beginning of 2016 through August 2017, but Hurricane Harvey reversed that trend as renovation of flooded buildings significantly increased demand for labor. Total construction employment grew at an annual pace of 4.5 percent over the first three months of 2018. Among subsectors (Chart 4), construction of buildings, which includes framers, drywall and general construction, grew the most over the period (1,791 jobs). Growth in specialty trades (1,000), which includes electricians and plumbers, also exceeded its long-run average. Heavy and civil construction saw the smallest job growth (less than 100) and is the only subsector to have contracted year over year.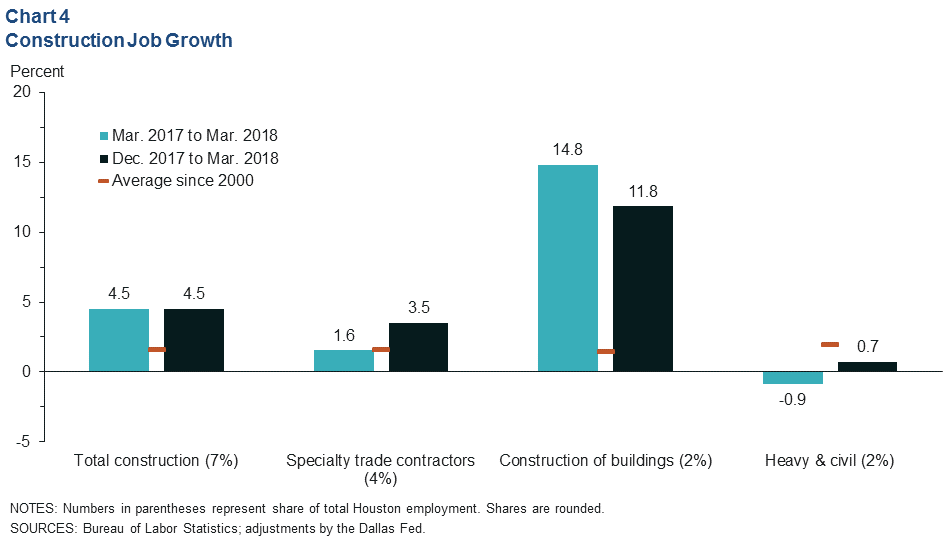 Commercial Real Estate Vacancies Mixed
Vacancy rates in the Houston metropolitan area were mixed in the first quarter (Chart 5). The total commercial office rate (direct plus sublet vacant space) ticked up to 23.1 percent, largely on the completion of new office space. That is the highest total vacancy rate since 1991. Industrial markets have loosened up only marginally since the post-Great Recession low of 3.8 percent and remain very tight, with a vacancy rate of 5 percent in first quarter 2018.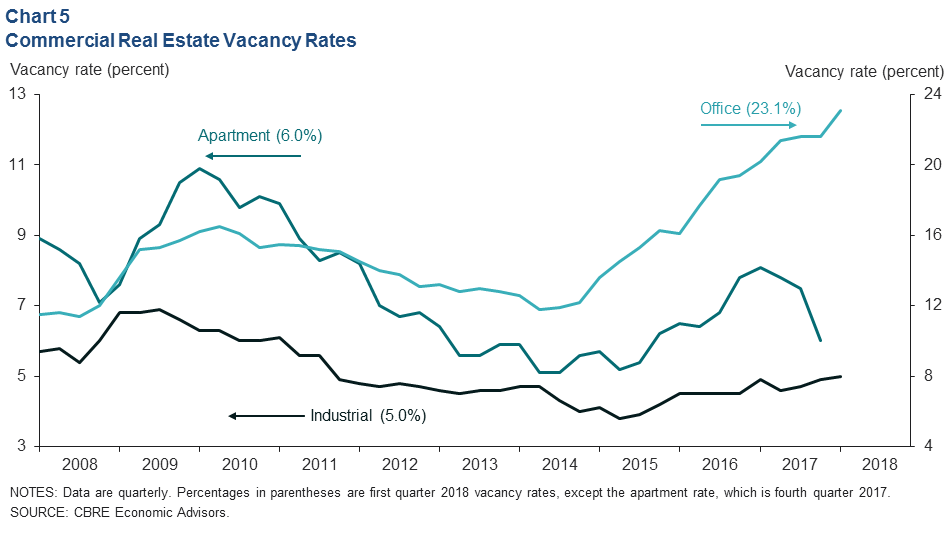 Apartment vacancy was down to 6 percent in fourth quarter 2017 (the most recent data available) as floodwaters drove many to lease apartments while their homes were repaired. This demand surge for apartments may have already begun to flip, and apartment vacancies are likely to rise in 2018 as those renters move back into their homes.
Market for Existing Homes Remains Tight
The median price for homes sold in the Houston area slipped to $232,200 in March, within the $227,000-to-$237,000 range that has persisted since mid-2016 (Chart 6). Seasonally adjusted home sales also fell slightly to 7,261—similar on a population-adjusted basis (2.27 homes per 1,000 employed people) to the average rates seen last year. The decline was driven principally by a drop in sales of homes below $250,000. Sales of homes over $250,000 increased.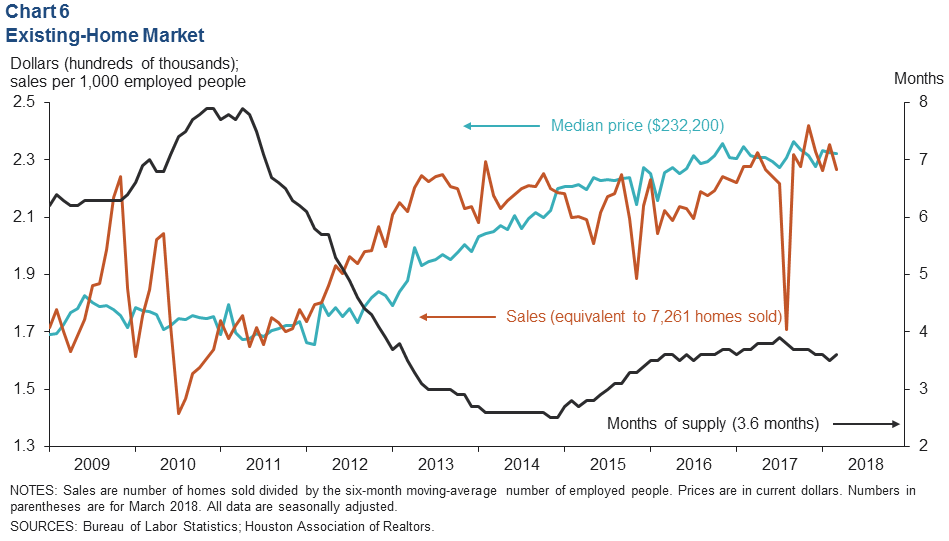 The inventory of homes for sale increased modestly to 3.6 months on a seasonally adjusted basis in March. February's 3.5 months of supply was the lowest inventory reading since July 2016. With a balanced market traditionally seen as 6.0 months, this suggests that supplies remain tight and should keep upward pressure on home prices.
NOTE: Data may not match previously published numbers due to revisions.
About Houston Economic Indicators
Questions can be addressed to Jesse Thompson at jesse.thompson@dal.frb.org. Houston Economic Indicators is posted on the second Monday after monthly Houston-area employment data are released.