Houston Economic Indicators

January 28, 2019
Growth in Houston leading and coincident economic indicators weakened in December. Job growth slowed, but the local labor force expanded. Heavy and civil construction posted stellar job growth last year, and the existing-home market ended the year on healthy footing despite rising mortgage rates.
Houston Economic Indexes
Growth in the Houston Business-Cycle Index slowed to 1.9 percent for the three months ending in December, as weaker end-of-year job growth and an uptick in the unemployment rate weighed on the index (Chart 1). Meanwhile, a leading index of economic activity for Houston declined at the end of 2018, falling 2.5 percent over the three months ending in December—the biggest drop in the index since April 2016. A sharp dip in the price of oil and the Houston 150 stock index were behind the decline. Taken together, these indexes continue to suggest that Houston will transition from an above-average growth year in 2018 to a below-trend growth year in 2019.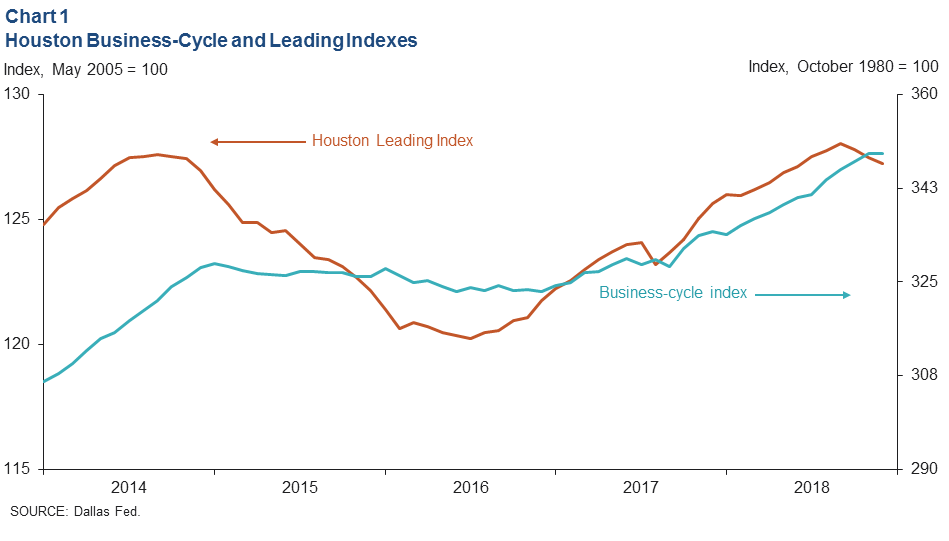 Employment
Employment Growth Broad Based in 2018
Job gains slowed in the final months of 2018, growing 1.9 percent from September to December based on initial estimates from the Texas Workforce Commission (Chart 2). Leisure and hospitality (-1,300 jobs) and construction (-100) were the only sectors to register declines. The net gain in jobs was led by manufacturing (3,900) and professional and business services (3,900). Other services (2,100; auto mechanics and laundromats, for example) and mining and logging (1,600; oil and gas jobs) accelerated markedly over that period relative to their average growth for the year.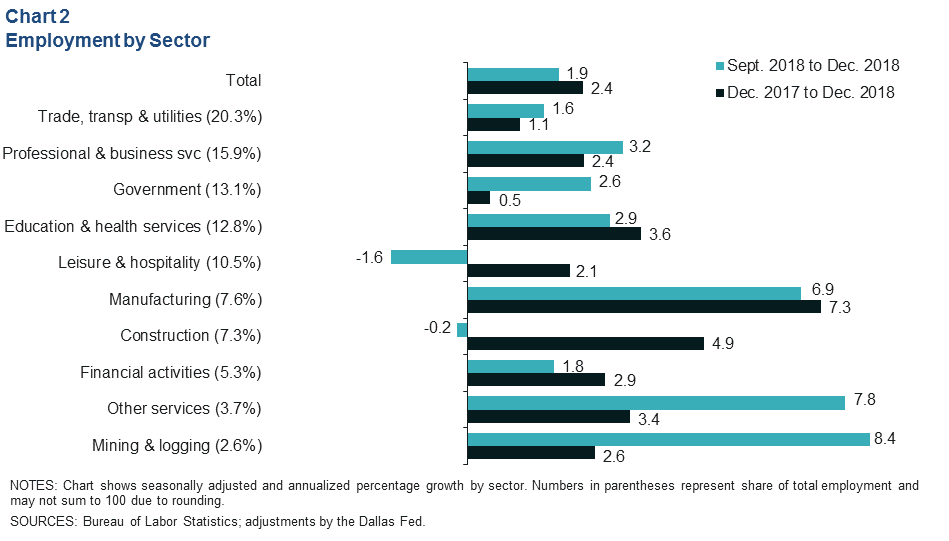 Looking at the year, Houston grew 2.4 percent in 2018 (72,600). Manufacturing (16,300) contributed the most to that total, followed by education and health services (13,900) and professional and business services (11,700). No sector logged declines over the year. Employment data for 2018—particularly data for July to September—will be revised in early March 2019, yielding a better picture of job growth in a year marked by oil price volatility, trade policy uncertainty and recovery from Hurricane Harvey.
Labor Force Growth Accelerates, Pushes Up Unemployment Rate
The Houston labor force accelerated at the end of 2018, outpacing labor force growth in the rest of Texas and the U.S. (Chart 3). Houston's labor force growth helped the local unemployment rate rise from a post-recession low of 4 percent in October 2018 to 4.2 percent in December. By comparison, the unemployment rate in the rest of Texas was 3.5 percent, while the U.S. rate overall was 3.9 percent. Tight labor markets had been a potential headwind to job growth in the region as a shrinking labor pool makes it harder for employers to find workers; therefore, the strong growth in the labor force may prove to be a boon to the region.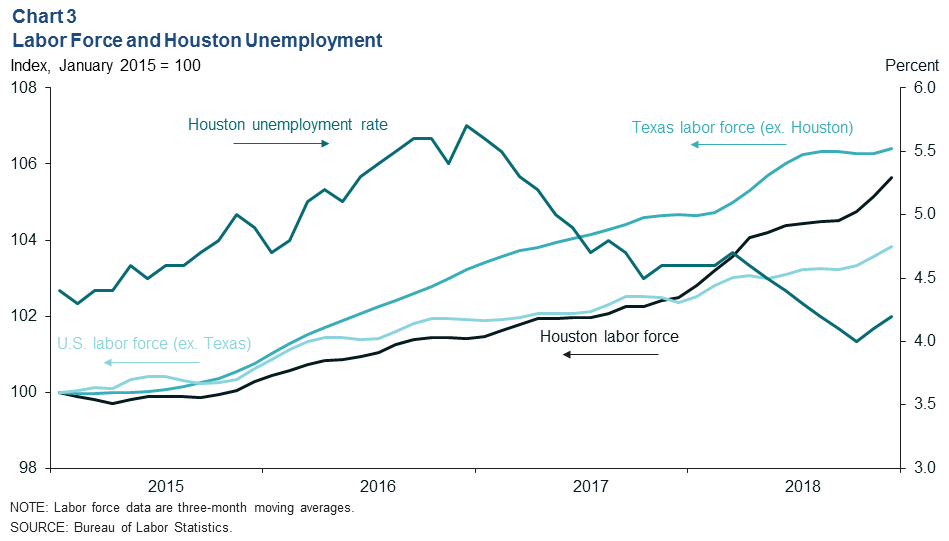 Construction Sees Strong Job Growth
Total construction employment was the second-fastest growing industry at 4.9 percent (10,700 jobs) in 2018, well in excess of its average post-2000 annual growth rate of 1.6 percent (Chart 4). Over half of the 2018 growth came from heavy and civil construction (6,700; for example, highway construction, dredging services, and oil and gas pipeline construction). However, specialty trade contractors (2,600; such as electricians and plumbers) and construction of buildings (1,200; such as framers) also saw above-average growth in 2018.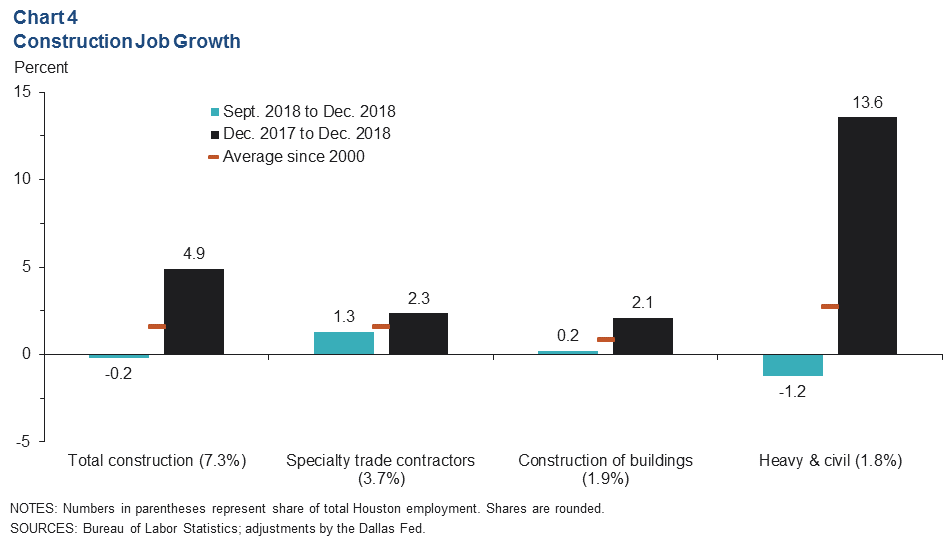 Home Sales
Existing-Home Sales Rise at End of Year
The U.S. average 30-year fixed-rate mortgage rose from just under 4.6 percent midyear to a high of over 4.9 percent in November. Over that same time, the inflation-adjusted median and average prices of homes sold in Houston rose 2.5 percent and 1.8 percent, respectively. Despite the increase in mortgage rates, the number of existing homes sold rose to a seasonally adjusted average of 7,329 in the fourth quarter. The increase was broad based across price categories and particularly strong for homes between $200,000 and $500,000, which made up 54 percent of all home sales in 2018 (Chart 5).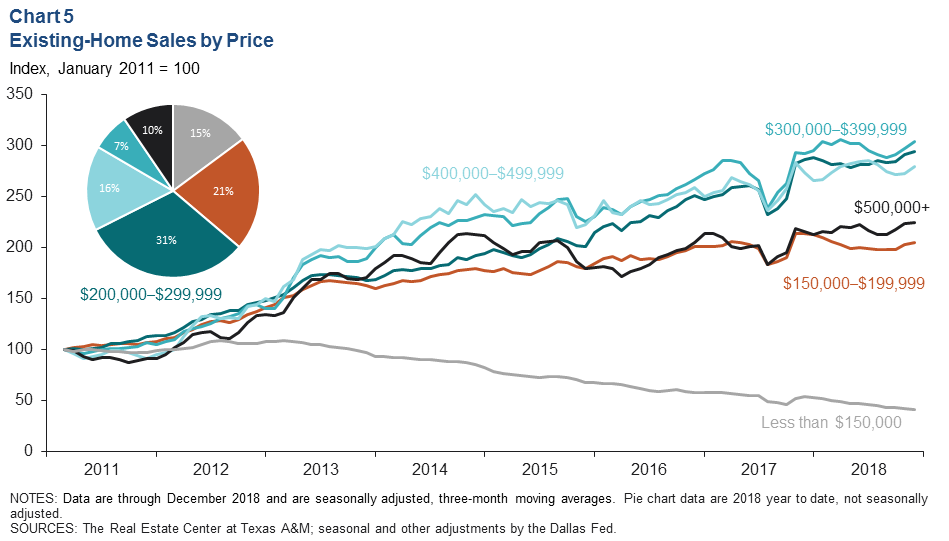 Homes Inventory Ticks Up
Amid increasing sales volumes into the end of 2018, a rise in the number of homes listed for sale (seasonally adjusted) pushed December's supply of homes up modestly (Chart 6). The months of inventory rose the most in December for homes priced between $400,000 and $499,999, reaching 6.3 months. Homes priced between $300,000 and $399,999 saw inventories rise the least and were at 5.3 months.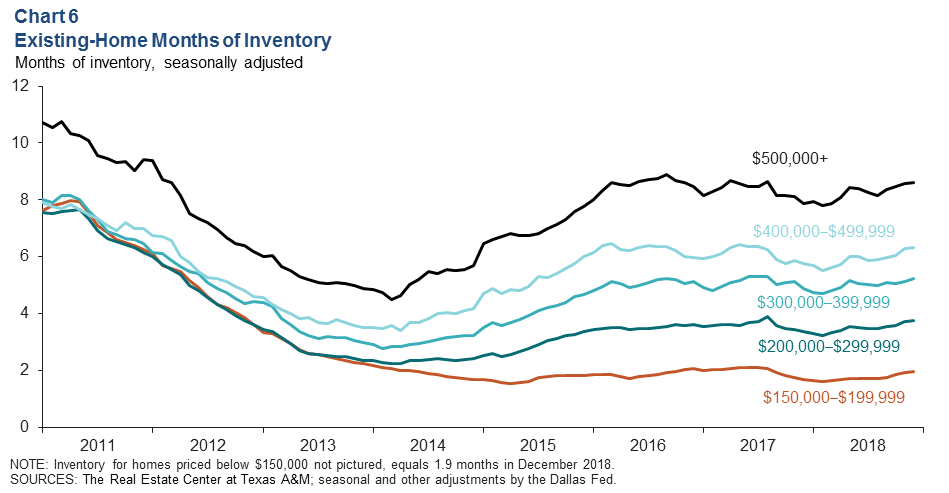 In aggregate, the market has historically been considered balanced between buyers and sellers at around a six-month supply of homes. This suggests that, in Houston, homes priced below $400,000 are in a "seller's market" due to limited supplies of lower- and middle-priced homes.
NOTE: Data may not match previously published numbers due to revisions.
About Houston Economic Indicators
Questions can be addressed to Jesse Thompson at jesse.thompson@dal.frb.org. Houston Economic Indicators is posted on the second Monday after monthly Houston-area employment data are released.