Houston Economic Indicators

July 30, 2019
Preliminary jobs data for Houston continue to be strong in 2019, and the labor market remains tight. However, leading indicators for Houston have slowed in recent months, and building permits for new single-family housing have continued to slide. Overall, indicators suggest a healthy economy in the first half of the year, with some deceleration in the second half.
Business-Cycle Index
The Houston Business-Cycle Index grew 6.3 percent over the three months ending in June (Chart 1). Strong job growth and a declining unemployment rate have moved the index significantly above trend. Recent index growth has been higher than at any point since before the 2015–16 oil bust, except in late 2017 during the immediate bounceback from Hurricane Harvey.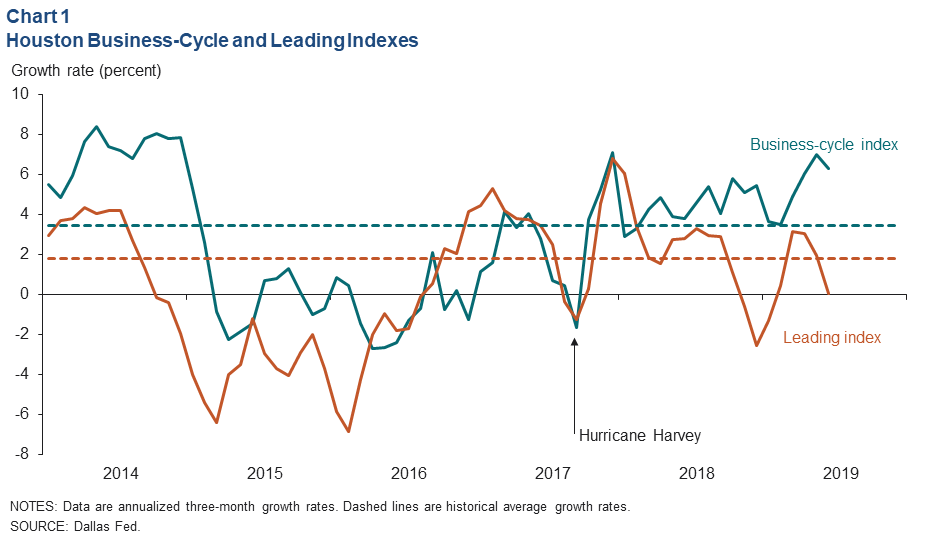 An index of 11 Houston leading indicators was flat over the three months ending in June. While still consistent with job growth through the end of the year, the index implies employment will likely slow. Comparing the recent contributions of index components for the period ending in March, the slowing was most notable for crude oil prices, the Texas Leading Index, the Houston stock market index and new orders for manufacturing in Houston.
Employment
Job Growth Accelerates
Employment growth accelerated from 3.3 percent over the three months ending in May to 3.6 percent over the period ending in June (Chart 2). While the fastest-growing industry was mining (3,000 jobs), employment gains were led by trade, transportation and utilities (6,700 jobs), construction (5,600), government (3,600) and leisure and hospitality (3,600). The only industry to log declines was manufacturing (-1,700).
Taking a longer view, metro job growth was 2.9 percent from June 2018 to June 2019 (89,650), with the largest number of jobs created in professional and business services.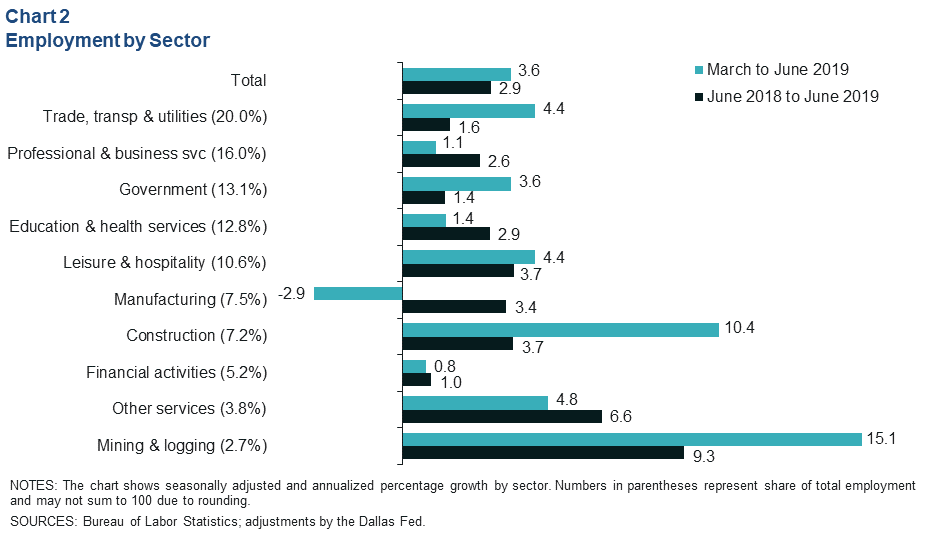 Unemployment Rate Rises
The local unemployment rate in Houston rose from a historic low of 3.4 percent in May to 3.6 percent in June amid a 0.4 percent jump in the size of the local labor force (Chart 3). The unemployment rate in Texas plunged to a record low of 3.4 percent, and U.S. unemployment was 3.7 percent.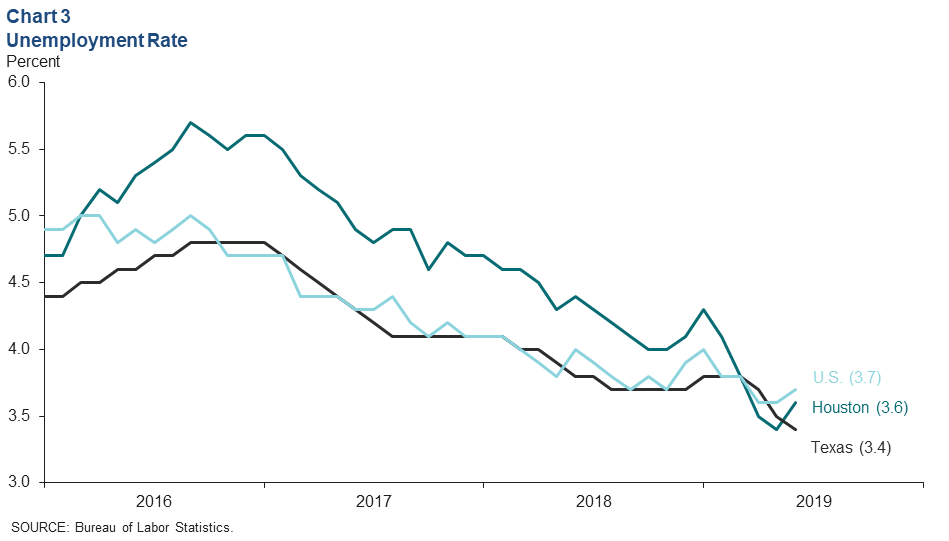 Selected Service Sector Jobs
Total service sector jobs rose 2.8 percent from March to June 2019 (18,200 jobs) (Chart 4). One of the fastest-growing industry subgroups was architectural, engineering and related jobs (3,200). This subsector was responsible for nearly half of the growth in the professional, scientific and technical sector and is correlated with activity in the energy production, refining and manufacturing sectors. Transportation (5,200) was the source of over 77 percent of the growth in the trade, transportation and utilities industry group. Food services and drinking establishments (4,900) added the next-largest number of jobs among the services subsectors.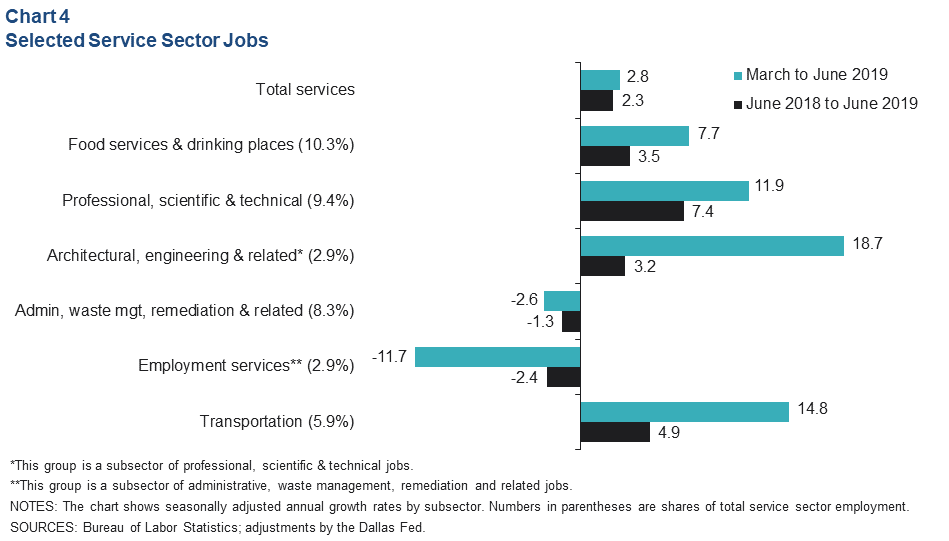 Employment services, made up of temporary workers at staffing firms, was the only services subsector to substantially contract over both the three months ending in June 2019 (-2,300) and year over year (-7,200). Employment services is often interpreted as a leading indicator for broader job growth because firms tend to increase their hiring of temp workers when they expect business to improve and vice versa. However, in this exceptionally low unemployment environment, a decline in temporary workers in Houston may alternately represent the conversion of temporary staff to permanent employees.
Housing
Prices, Inventories Stay Flat
The median price of a home in Houston was just under $241,000 in June on a seasonally adjusted basis (Chart 5). Prices have leveled off since the 2015–16 oil bust. Slowing population growth and rising interest rates in 2017 and 2018 may have also impacted demand for homes, keeping downward pressure on sales. In fact, scaling the number of homes sold with the number of people with jobs, home sales have been trending down since Hurricane Harvey, recovering slightly in early 2019, at least in part due to a decline in mortgage rates.
Existing-home inventory available for purchase has been holding steady at or just below four months since 2016. Historically, an inventory level of about six months has been associated with a market where buyers and sellers are balanced. Inventory below that level has historically been associated with rising prices.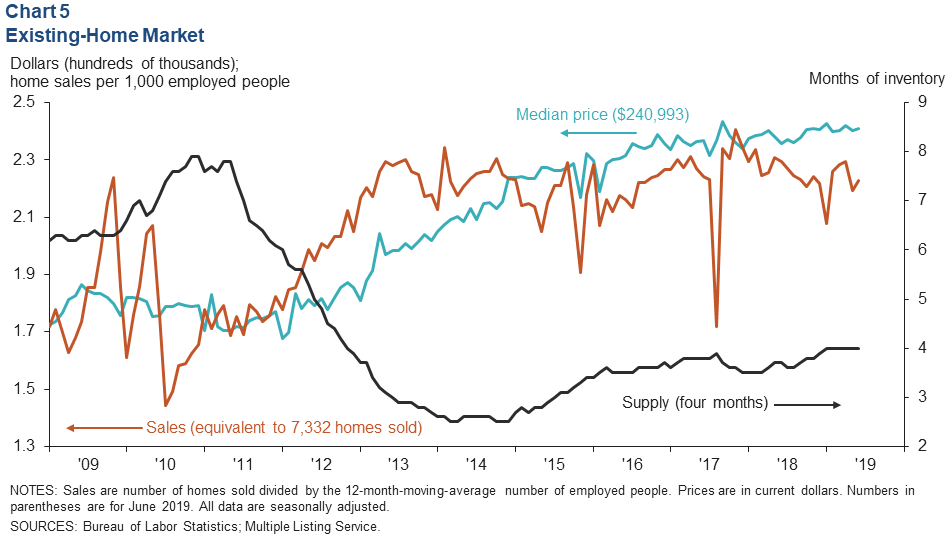 Permits Continue to Slide
Data for the three months ending in June show building permits for single-family housing extended the erosion that began in late 2017 (Chart 6). A leading indicator of future construction activity, this suggests home construction activity will slow. The more volatile permits for multifamily construction saw a surge in late 2018 before falling precipitously in early 2019. Multifamily permits remain elevated nonetheless, suggesting that this market has a more robust construction outlook.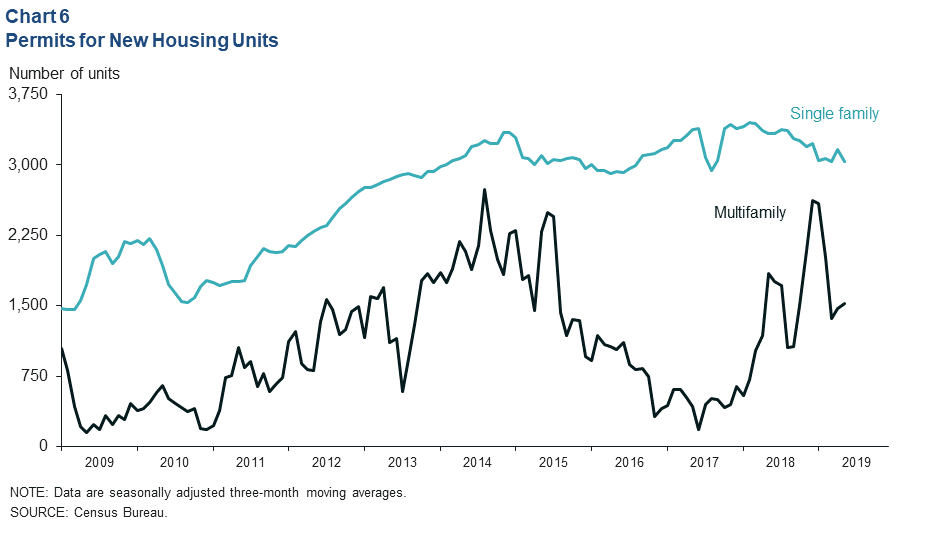 NOTE: Data may not match previously published numbers due to revisions.
About Houston Economic Indicators
Questions can be addressed to Jesse Thompson at jesse.thompson@dal.frb.org. Houston Economic Indicators is posted on the second Monday after monthly Houston-area employment data are released.