Houston Economic Indicators

October 2, 2019
The Houston economy continued to hum along in August, but there are signs of slowing ahead. Jobs continue to grow at a healthy pace, and unemployment remains low. Construction job growth continues at a fast clip, driven in part by ongoing demand from the energy industry. However, drilling activity is slowing, and the support activities sector shed jobs in recent months. Weekly retail fuel prices remain low in the region despite an uptick due to the attack on Saudi Arabian oil infrastructure.
Business-Cycle and Leading Indexes
The Houston Business-Cycle Index rose for the fifth consecutive month, climbing to a value of 356 in August (Chart 1). That puts the August year-to-date growth at 3.4 percent in 2019, slightly below the historical average of 3.5 percent. In contrast, an index of 11 leading indicators for the Houston region has been slipping the past four months, falling to 127.9 in August. The leading index posted an annual increase of 0.7 percent year to date, much slower than the index's average rate of 1.8 percent. Taken together, the data suggest that while the region continues to post healthy growth, the economy is likely to slow in the months ahead.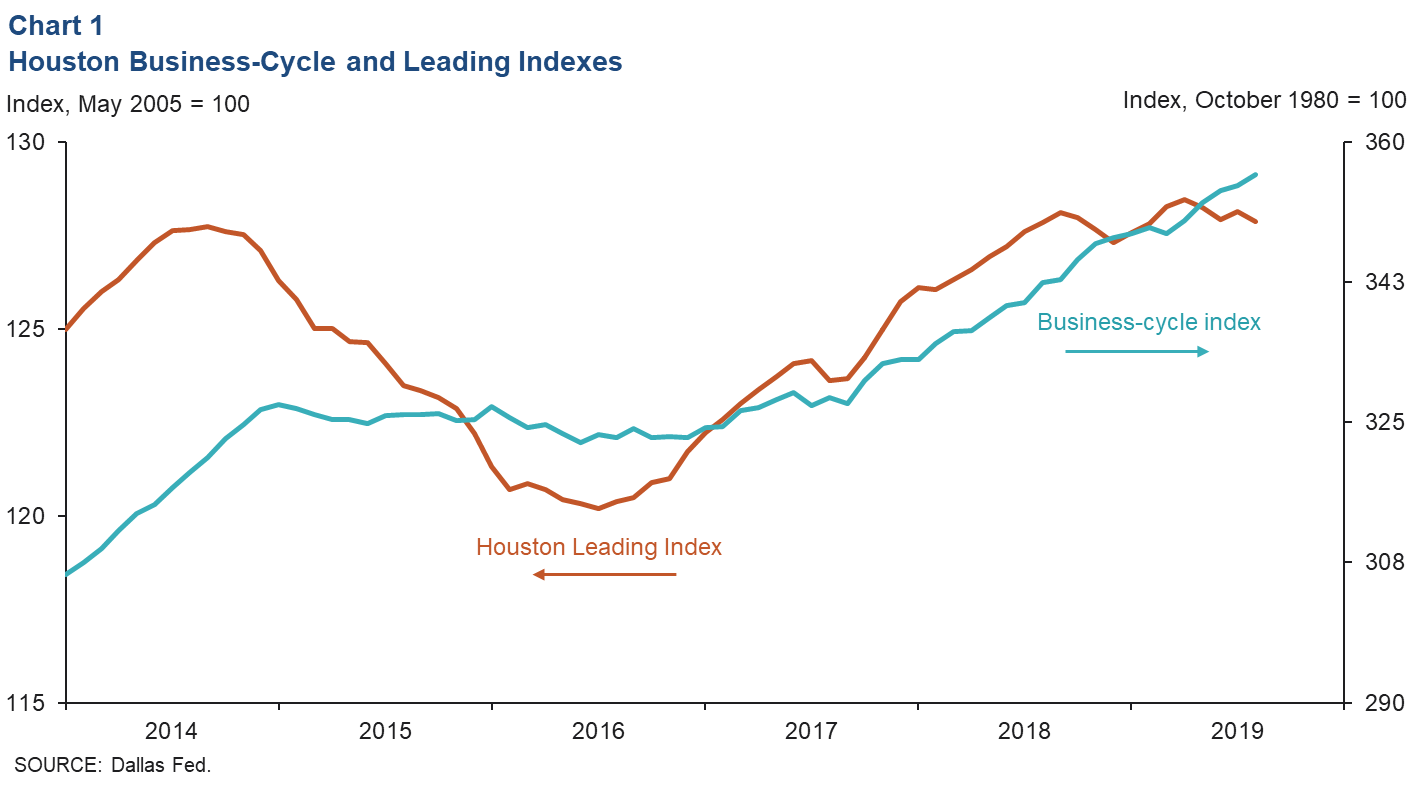 Employment
Over the three months ending in August, the Houston metro grew at an annual rate of 2.3 percent (18,000 jobs) (Chart 2). Other services (2,202)—including sectors as varied as pet boarding, nail salons and auto-mechanics—was the fastest-growing category. However, the sectors that added the most jobs were trade, transportation and utilities (4,700), and leisure and hospitality (3,300). Mining (-500) was the only sector to lose jobs over that period.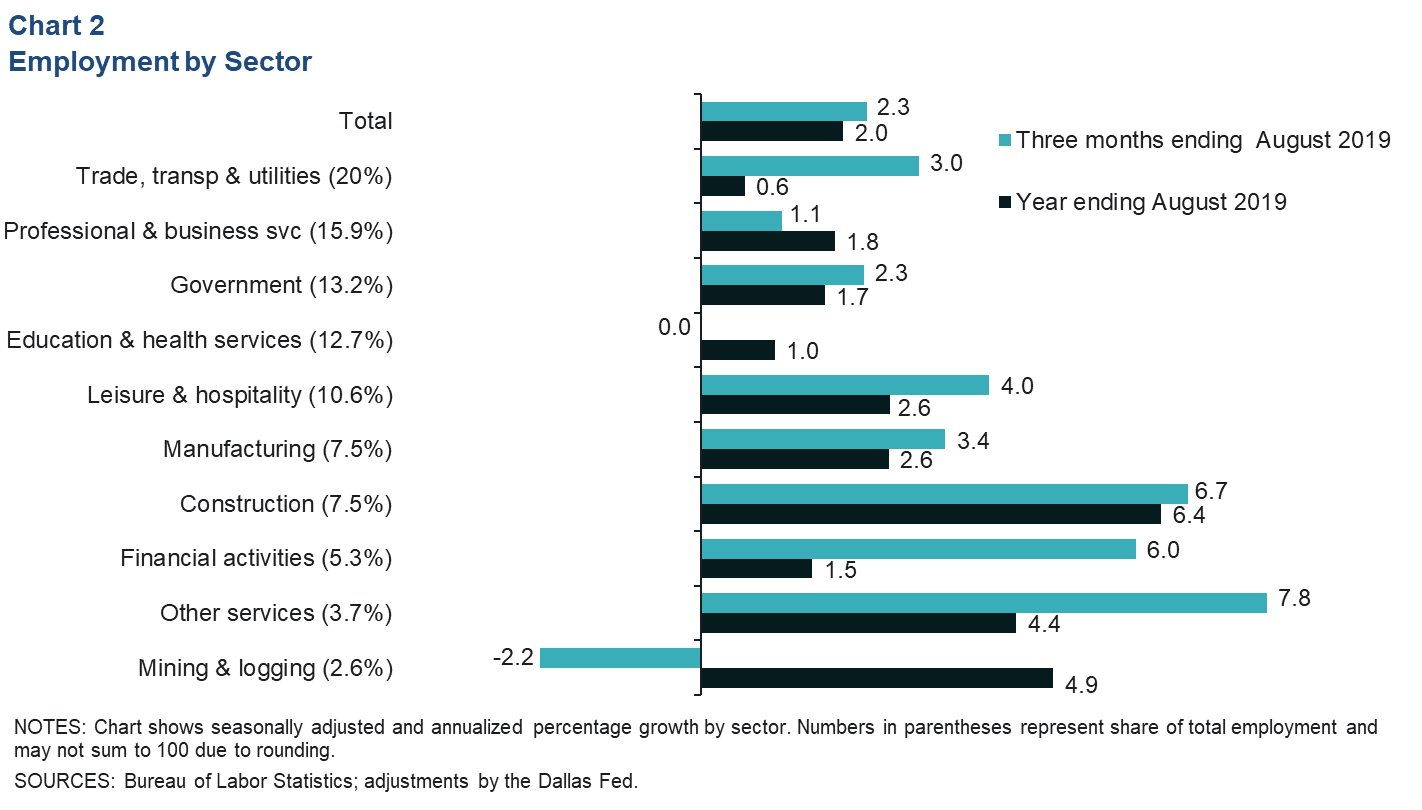 Year to date in August, Houston grew just under 2.0 percent (40,800). Construction (9,700) was the both the fastest-growing sector and the sector that added the most jobs over that period.
Unemployment in Houston fell slightly to 3.7 percent in August amid an increase in the local labor force. For comparison, unemployment in Texas held near record lows at 3.4 percent, while the U.S. held at 3.7 percent.
Energy
Slowing Activity Putting Downward Pressure on Broader Industry Job Growth
In spite of monthly West Texas Intermediate crude oil prices stabilizing in the mid-to-high $50's per barrel over the past six months (above breakevens), drilling activity has steadily eroded in 2019 as energy firms increasingly focus on reining in spending and generating higher returns for investors (Chart 3). While the monthly number of well completions—the final activities that bring a drilled well into production—have managed to rise, the slowing activity has put downward pressure on job growth in the broader industry after it surged in April and May.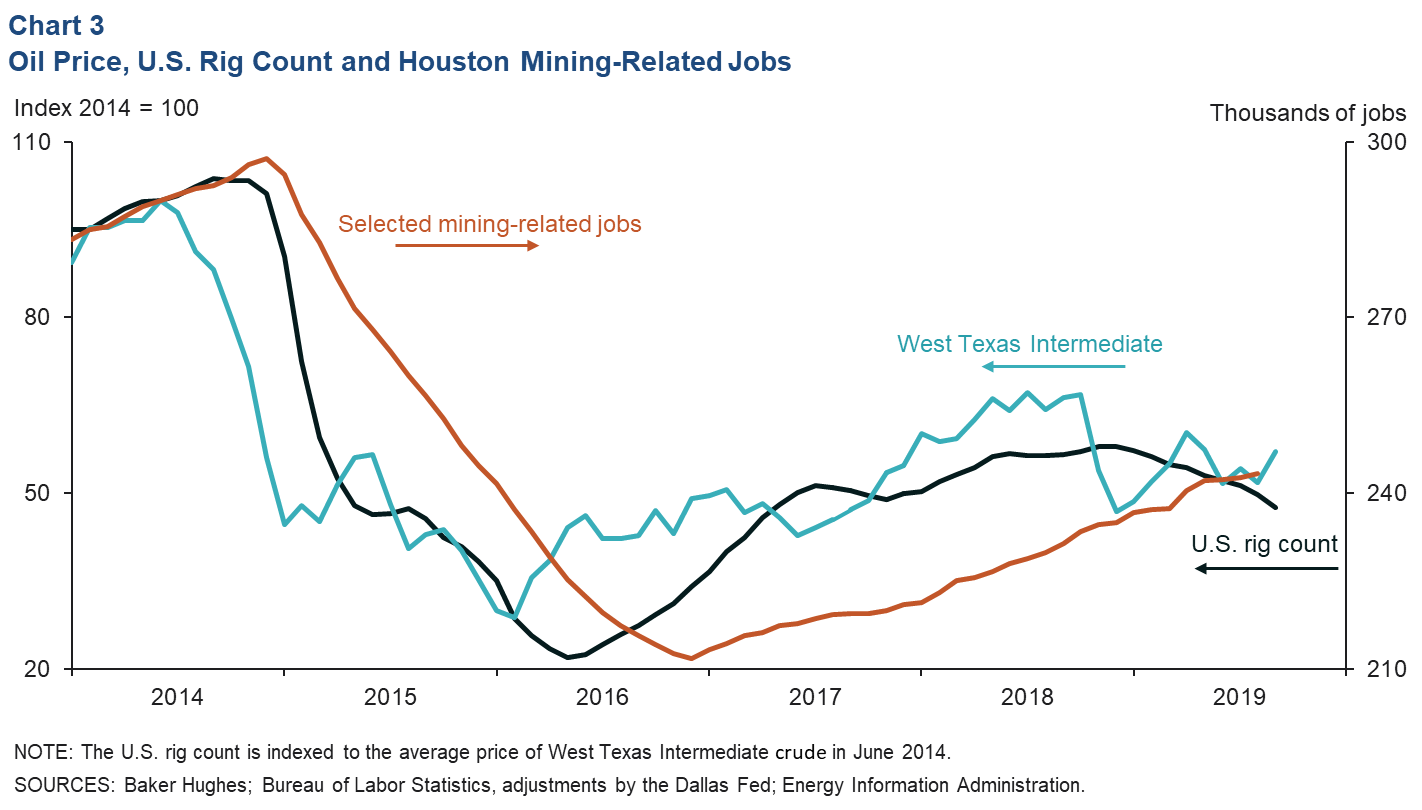 Mining-Related Industry Sectors See Broad-Based Slowing
Looking at industry sectors in Houston that tend to be sensitive to fluctuations in oilfield activity, total mining-related employment growth has slowed to an annual 1.8 percent (1,100 jobs) for the three months ending in August 2019 (Chart 4); this is compared with year-to-date growth of 5.8 percent. While all mining-related sectors show signs of slowing, support activities for mining (mostly oilfield services companies) saw the most pronounced change in activity, flipping from growth earlier in the year to a decline of 5.0 percent (-550) for the three months ending in August. Indeed, oilfield services companies noted a sharp downturn in activity in the third quarter Dallas Fed Energy Survey.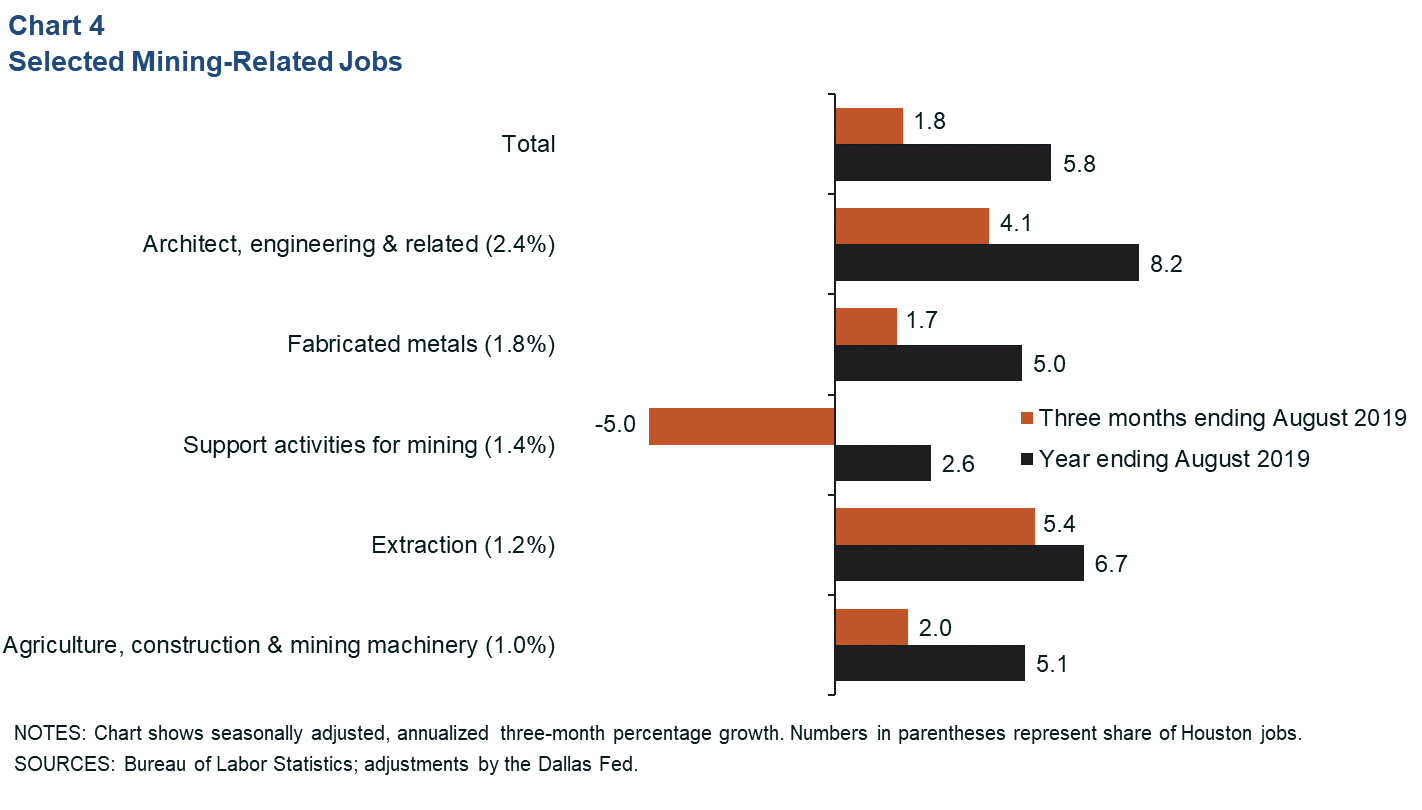 While fluctuations in Houston's "energy-related" industry job growth tend to be dominated by the mining sector, there are other economic factors at play as well. Engineering services has been benefiting from the ongoing boom in petrochemical, pipeline, liquefied natural gas and other heavy industrial projects. Fabricated metals manufacturing and agriculture, construction and mining machinery manufacturing are also likely being affected by the global slowdown in manufacturing, tariffs and the uncertainty related to the United States–Mexico–Canada Agreement.
Retail Fuel Costs Eroding Despite Mid-September Spike
Local weekly fuel prices have been trending down with the price of Brent crude this year, falling as low as $2.27 per gallon for gasoline and $2.74 for on-highway diesel in the first half of September. However, the Sept. 14 attack that impacted Saudi Arabia's oil processing and production capacity led to a jump in energy prices as the resulting outage temporarily impacted 5 percent of global supplies. Weekly retail gasoline and diesel prices jumped 7 cents and 10 cents, respectively, after the attack. Plentiful crude inventories, mounting concerns about global demand and a reportedly swift but incomplete return to preattack production levels by Saudi Arabia have pushed Brent crude prices down close to preattack levels. Retail regular gasoline and on-highway diesel ended the month at $2.34 and $2.86 per gallon, respectively (Chart 5).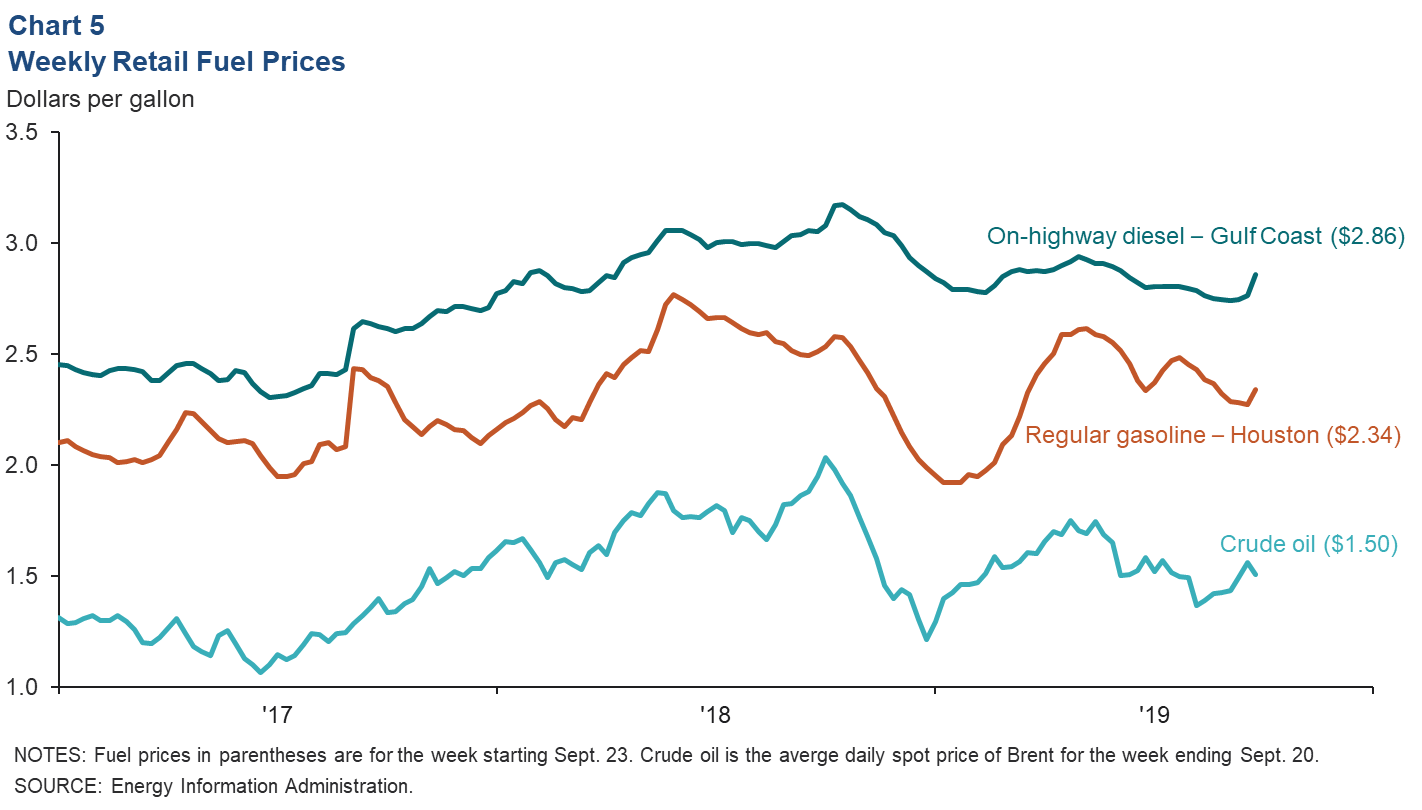 Construction
The fastest-growing sector in Houston's construction industry the past three months has been heavy and civil (2,500), which has led growth the past few years due to strong demand from oil and gas pipelines, chemical plants and related heavy construction projects (Chart 6). However, the larger specialty trade contractor sector—electricians for example—added the most jobs over that period (6,300). Both sectors have been growing well in excess of their 19-year average rate. In contrast, the construction of buildings industry—such as framers— lost jobs over the three months ending in August (-400).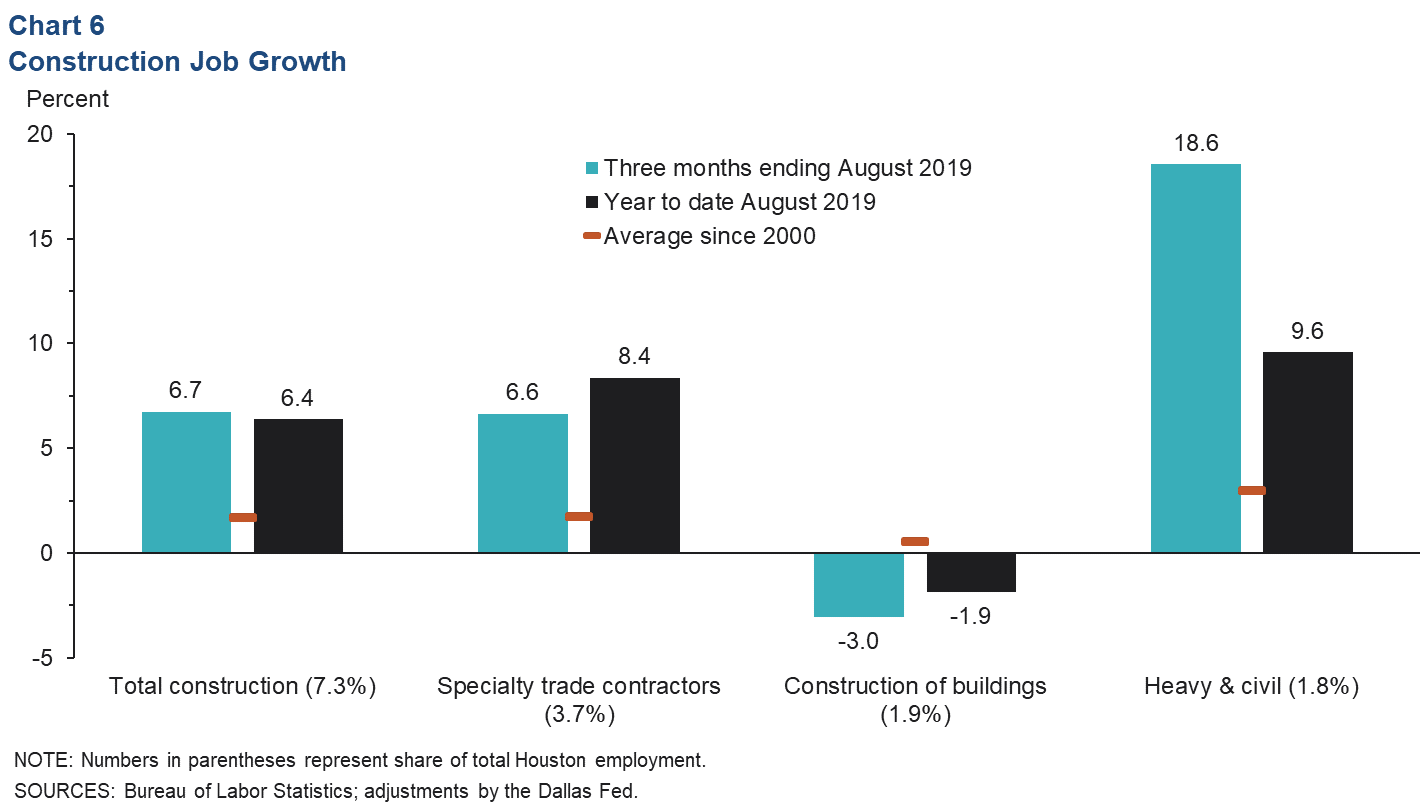 NOTE: Data may not match previously published numbers due to revisions.
About Houston Economic Indicators
Questions can be addressed to Jesse Thompson at jesse.thompson@dal.frb.org. Houston Economic Indicators is posted on the second Monday after monthly Houston-area employment data are released.