Houston Economic Indicators

January 13, 2021
Economic indicators for Houston were mixed heading into the end of 2020. Houstonians left home to engage in economic activity less frequently in December, likely due in part to the combined effects of the holidays and the worsening pandemic. Payroll employment continued to recover broadly through November, except for ongoing weakness in the oil and gas sector. Energy saw a surge in bankruptcy filings in 2020. However, energy prices and drilling activity ended 2020 on higher ground compared with most of the year.
Mobility and Engagement
The extent to which individuals left home to engage in economic activity in Houston—as proxied by the Mobility and Engagement Index (MEI)—stepped up in early November. The MEI reached its highest level since March at -32.7 on Nov. 22 before the Thanksgiving holiday caused the index to dip (Chart 1). The MEI mostly recovered from holiday distortions in early December but began trending down heading into Christmas and the new year. Houston's index averaged -46 in December, still high compared with summer and fall levels. The national index has been comparatively steady the past six months, around the mid-40's, showing modest deterioration since early October. The U.S. index averaged -49 in December.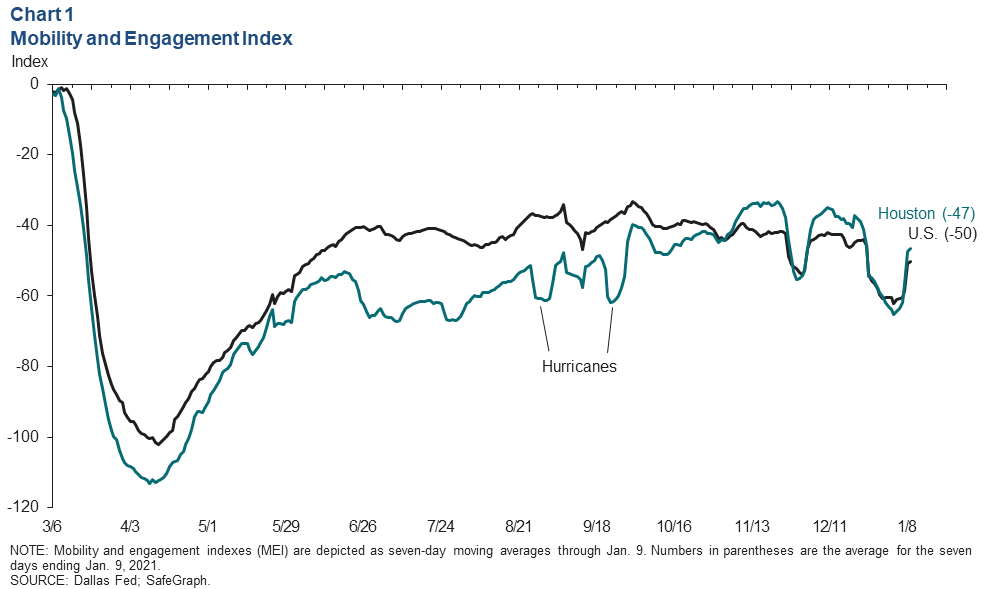 Houston's MEI may be picking up an effect from the resurgent COVID-19 burden on the region, as it did ahead of the re-imposition of restrictions in June 2020. Disentangling this effect from seasonal variation in mobility (holiday effects and winter weather) is a challenge. The post-holiday MEI readings for the week ending Jan. 9 popped up to 47 for both the U.S. and Houston, below pre-holiday readings in mid-November and early December.
Employment and Unemployment
Forty-Three Percent of Pandemic Job Losses Recovered
With over 9,000 jobs added in November, Houston payrolls have recouped 156,500 jobs from the 366,800 jobs lost from February to April (Chart 2). Year to date, that puts Houston at an annualized decline of 6.8 percent in 2020—similar to the U.S., which was down an annualized 6.7 percent. By comparison, Texas' drop was a more modest 5.6 percent.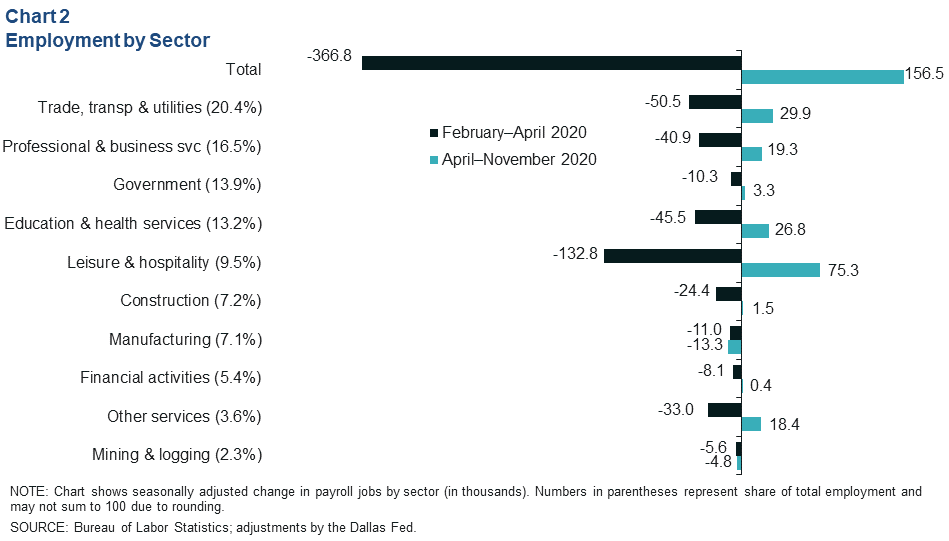 To return to pre-pandemic job levels by December of next year, Houston would have to add 210,000 jobs from November 2020 to December 2021, an annualized pace of over 6.5 percent. With growth in activity from the energy industry expected to be modest next year, history suggests Houston payroll growth would be unlikely to significantly outpace the nation. While there remains heightened uncertainty in any prediction with the ongoing pandemic, the December Survey of Professional Forecasters—which did not include the effects of the fiscal stimulus—projected U.S. payroll growth of 3.6 percent over the year ending fourth quarter 2021. This implies Houston is unlikely to fully recover pandemic job losses in 2021.
Unemployment Claims Steady, Remain Elevated
Initial claims for unemployment insurance averaged 9,300 per week in the three weeks before the Thanksgiving holiday and 9,500 in the first three weeks of December (Chart 3). Claims dipped on both Thanksgiving and Christmas holidays.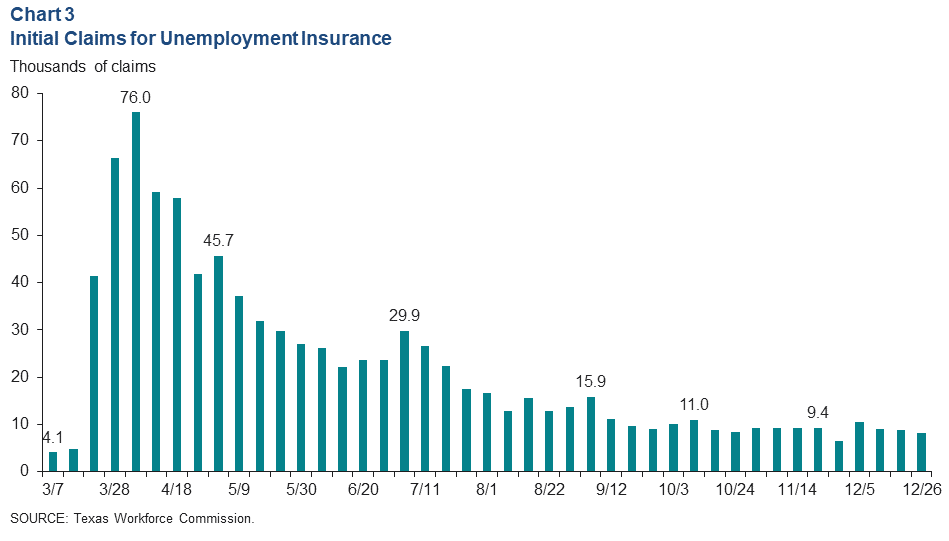 Energy
West Texas Intermediate Price Rises
The price of West Texas Intermediate crude oil rose in December to $47 per barrel. The increase was in part due to vaccine optimism, federal stimulus and expectations that OPEC+ would delay production increases scheduled for early 2021. Historically, an increase in oil prices is associated with an increase in the U.S. rig count roughly three months later. The U.S. rig count rose to average 339 in December after plunging to a historic low of 250 in August (Chart 4).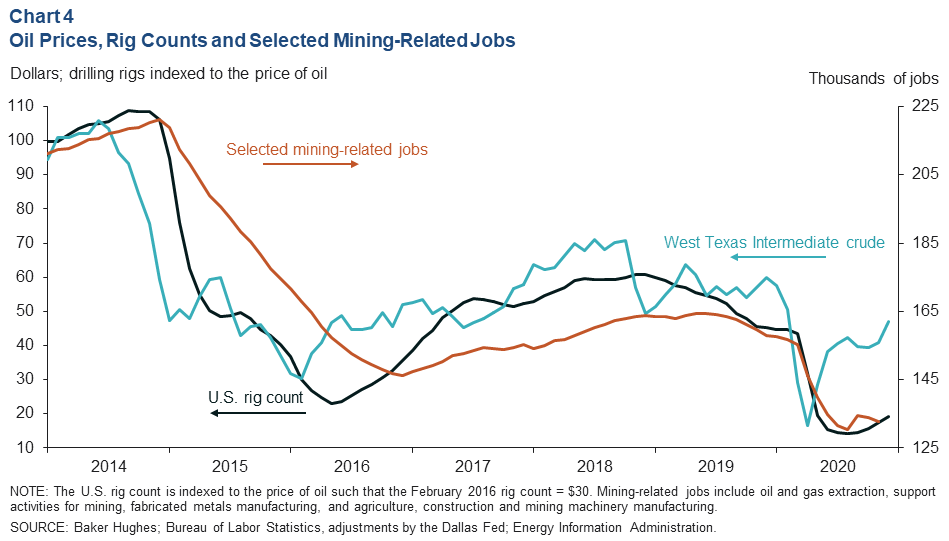 Oil-and-gas-related jobs in Houston fell to a low of nearly 130,300 jobs in August and was 132,700 in November. The increase from August to November came mostly from oil and gas extraction (1,400 jobs; mostly producers) and support activities for mining (1,000; mostly oilfield services firms). These payroll jobs data will be subject to multiple revisions in the coming months and are currently inconsistent with the Dallas Fed Energy Survey where energy executives indicated employment in oil and gas was still falling from the third to fourth quarter 2020.
Local Fuel Prices Increase
The weekly retail price for regular gasoline rose to $1.84 per gallon in the final week of 2020. This was due in part to the rise of Brent crude to $1.21 per gallon, improved expectations for demand and falling product inventories (Chart 5). On-highway diesel prices reached $2.38, their highest level since the start of the pandemic in late March.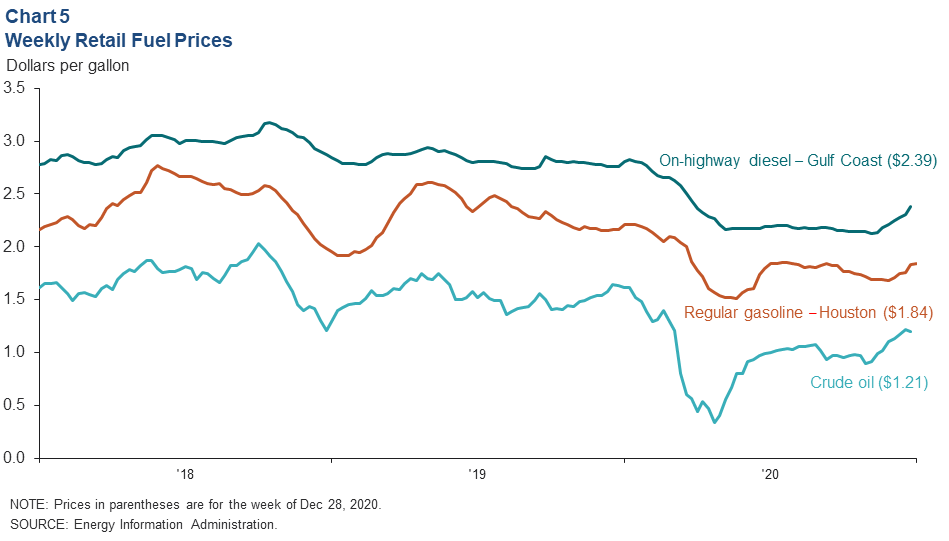 Bankruptcies Continue to Pile Up in Second Half of 2020
Sixty-one oil and gas companies filed for bankruptcy in the second half of 2020, according to Haynes and Boone LLP and based on data through November (Chart 6). At 102 bankruptcies filed, 2020 was the worst year for business failures in the oil patch since 2016 when 142 companies filed. The total debt associated with 2020 bankruptcies was over $95.1 billion versus $75.8 billion in 2016 (in 2020 dollars).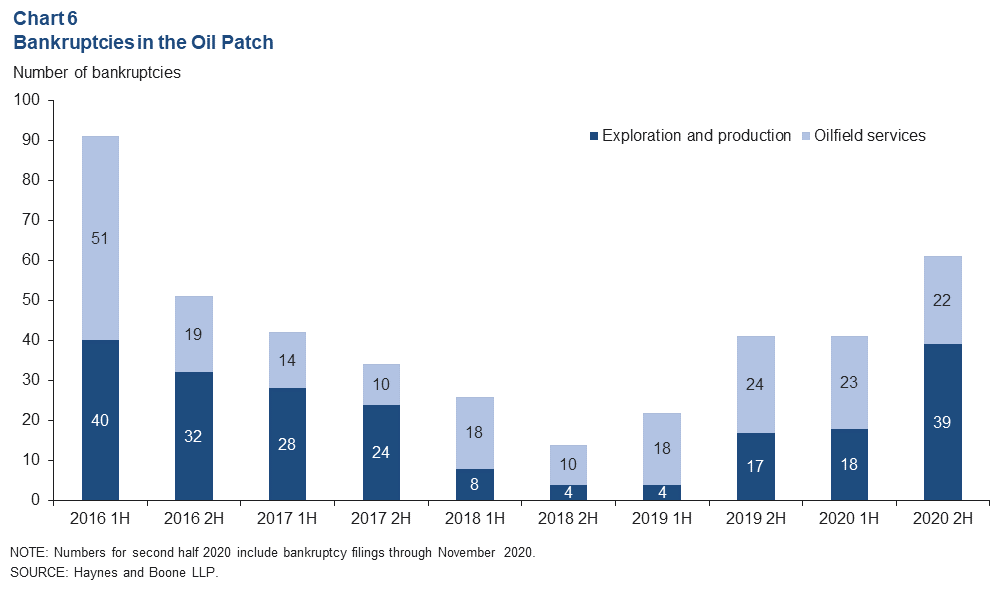 NOTE: Data may not match previously published numbers due to revisions.
About Houston Economic Indicators
Questions can be addressed to Jesse Thompson at jesse.thompson@dal.frb.org. Houston Economic Indicators is posted on the second Monday after monthly Houston-area employment data are released.