Houston Economic Indicators

April 14, 2021
High-frequency data through March indicate continued recovery in Houston. Housing markets are very tight with elevated sales, low inventories, and rising input and selling prices for both new and existing homes. Vacancy rates in commercial office and industrial markets are elevated. Overall, the data point to further recovery and a positive outlook for Houston.
Employment
Winter Storm Uri temporarily paralyzed Texas in February, and the mid-month timing likely contributed to a muted jobs report for the month. This left Houston's recovery in payrolls at 35 percent—not substantially changed from January. This is supported by high-frequency data that show the number of employees working at small businesses using Homebase software bounced back quickly after the storm (Chart 1). The index rose to 76 percent of prepandemic levels by the week leading up to the Easter holiday dip. By comparison, both the U.S. and Texas measures rose to nearly 80 percent of prepandemic levels by Easter.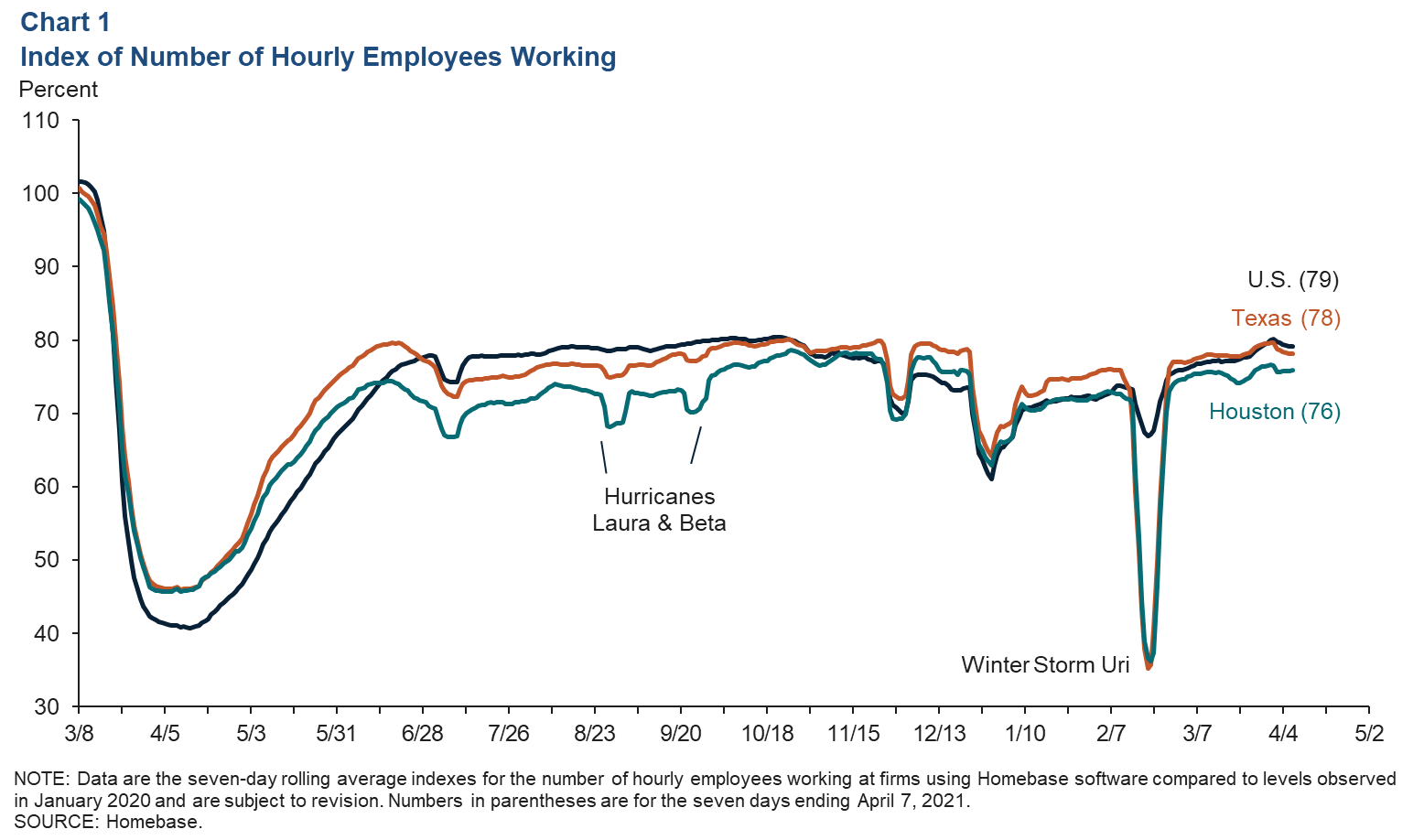 OpenTable
The number of patrons dining at area restaurants surged in Texas and Houston after Uri, reflecting improving COVID-19 statistics, the arrival of spring break school holidays and the end of state-mandated limits on businesses to combat the virus. The decline in Houston seated restaurant demand—versus the same period in 2019—was only 5.3 percent for the seven days ending April 5, according to OpenTable data (Chart 2). Texas demand—led by San Antonio and Austin—was up 10 percent. Demand in the nation was down 18.7 percent.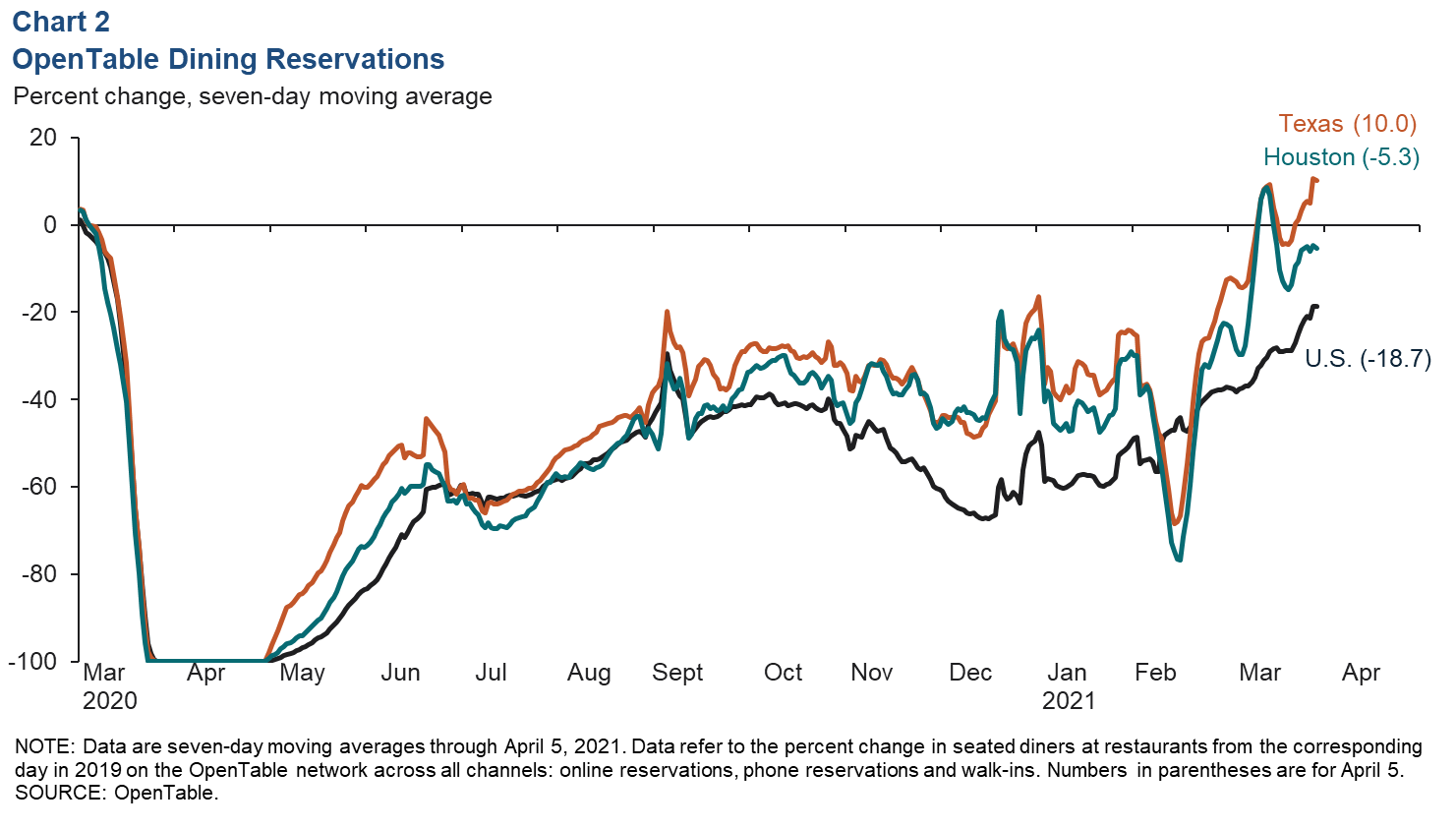 Real Estate
Existing-Home Market Is Tight
Area existing-home sales were elevated at 9,338 in February, spurred by very low mortgage rates (Chart 3). Existing-home supply was at a record low 1.9 months, the construction of new product was backlogged, and industry contacts noted sharply rising input costs even before Uri disrupted supply chains for building materials.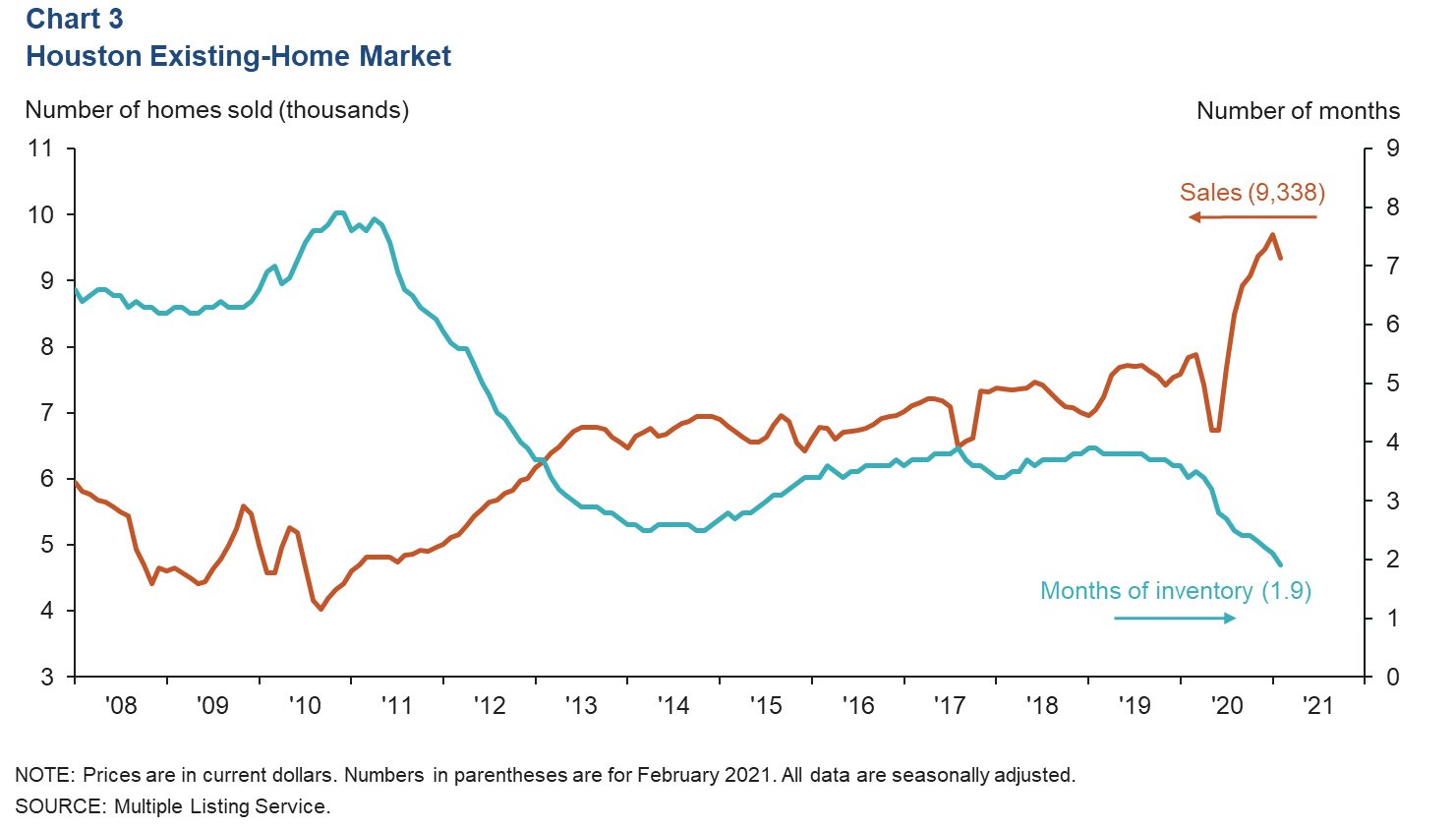 Houston Home Prices Rising, Lag the U.S.
The combined market pressures are driving sharp year-to-year increases in home prices. The Federal Housing Finance Agency purchase-only price index for Houston was up 6.9 percent from fourth quarter 2019 to fourth quarter 2020 (Chart 4). That compares to 8.9 percent in Texas and 10.8 percent in the U.S. overall for that period. Among the Houston homes sold in February 2021, the median home price was $284,752, and the average price was $364,372.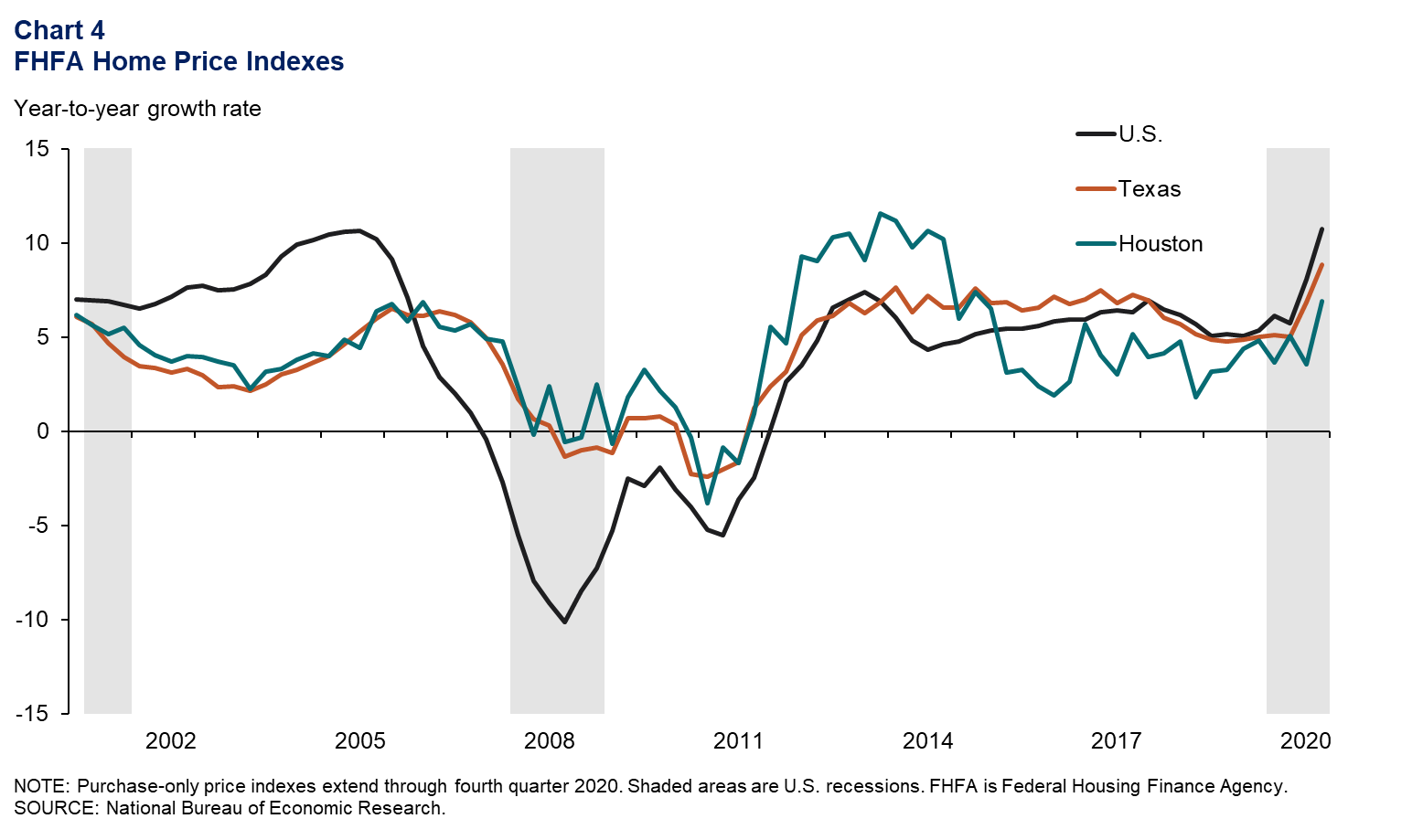 Single-Family Construction Elevated
Single-family permits for construction remained elevated in February at a three-month moving average of 4,579 (Chart 5). Industry feedback for the Dallas Fed Beige Book indicates that new homes and lots are selling faster than they can be developed, and the associated construction is becoming significantly backlogged. Robust demand, rising commodity prices and supply chain disruptions have caused construction prices to rise sharply. Permits for multifamily housing units averaged 1,327 for the three months ending in February.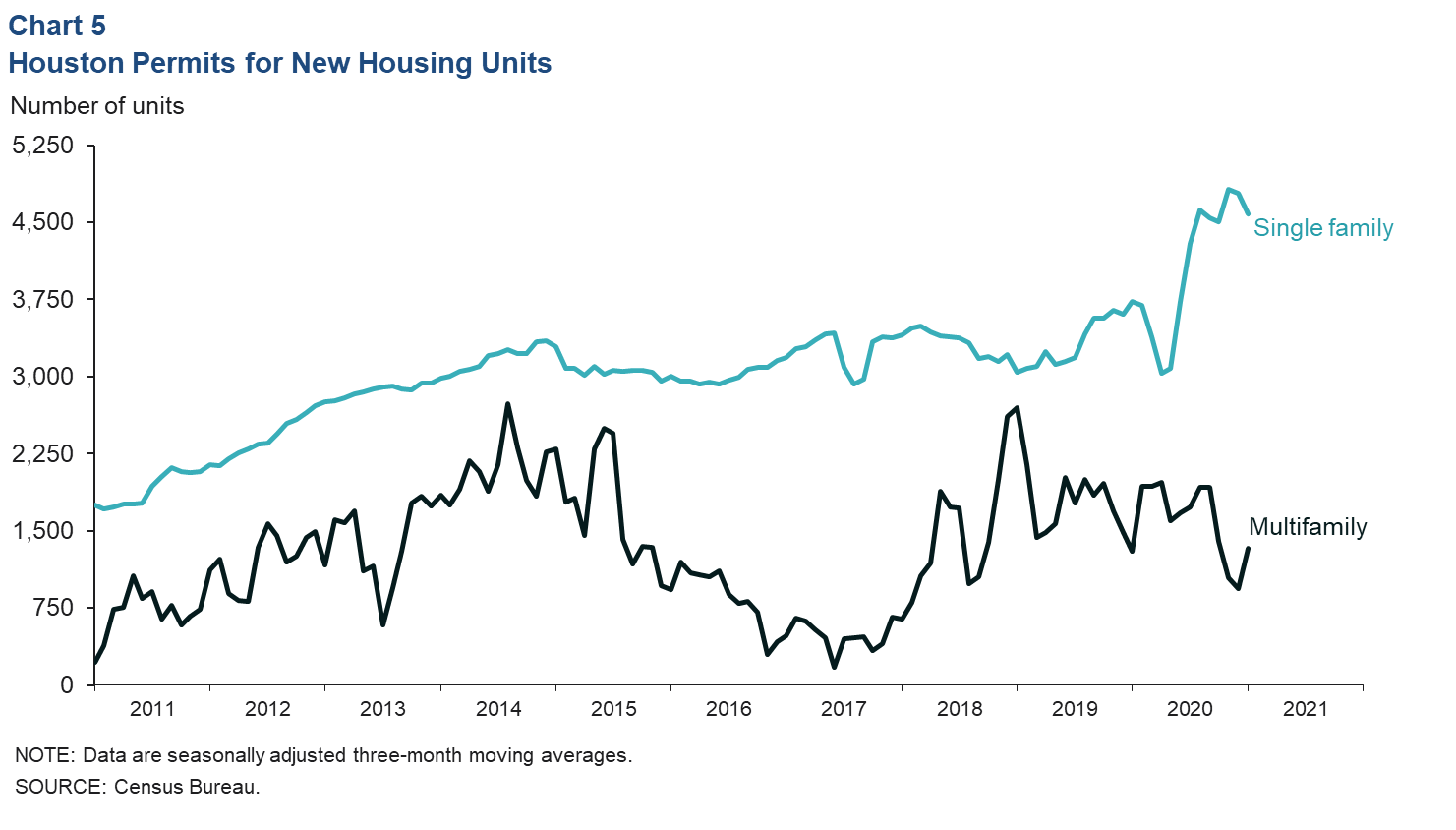 Commercial Vacancies Near Multidecade Highs
Office vacancy rates increased through 2020 to nearly 25 percent in the fourth quarter—their highest level since the early 1990s (Chart 6). The increase is due to lower demand from the energy industry and the rise in working remotely during the pandemic.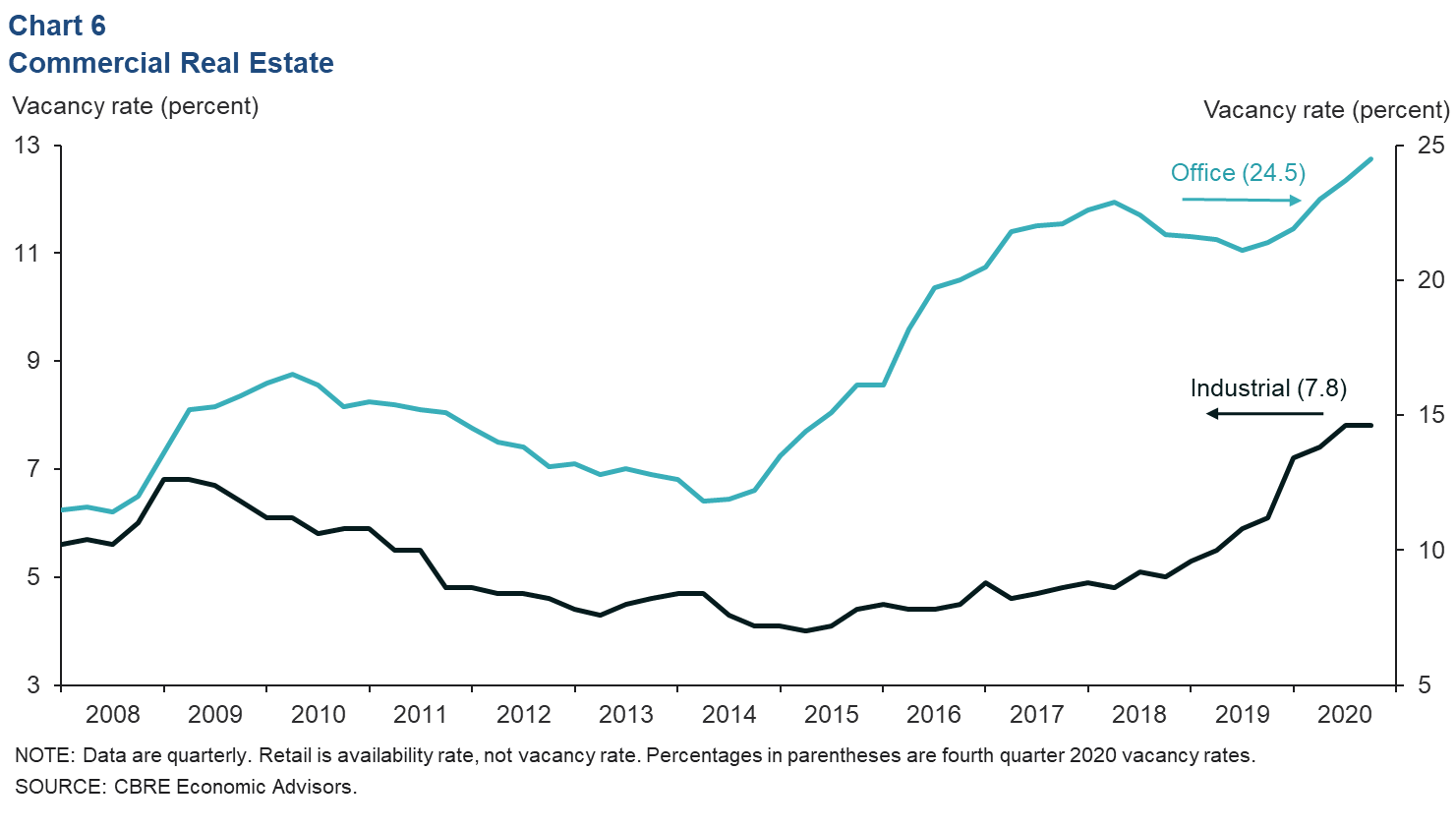 Demand for industrial space got a boost from online retail during the pandemic, driving strong net absorption numbers for the second half of the year. However, fourth quarter 2020 industrial vacancy rates rose to their highest level since 2005 due to the delivery of nearly 30 million square feet of space. The industrial market logged its fastest year-to-year growth in inventory since at least 1990.
NOTE: Data may not match previously published numbers due to revisions.
About Houston Economic Indicators
Questions can be addressed to Jesse Thompson at jesse.thompson@dal.frb.org. Houston Economic Indicators is posted monthly after Houston-area employment data are released.