Houston Economic Indicators

September 7, 2021
There are signs that Houston's third wave of COVID-19 infections that began in late July was depressing local economic activity by the end of August, albeit modestly. Payroll growth in July accelerated as Houston's recovery continued. On the negative side, surveys of business input prices continued to log near-record rises in price pressures. Overall, the outlook remains positive, but near-term risks from COVID-19 are rapidly rising.
COVID-19
The number of COVID-19-positive patients in Houston and Galveston Trauma Service Area hospitals averaged 4,002 over the seven days ending Aug. 28 (Chart 1). That was 22 percent above the high of 3,294 on July 15, 2020, and reports of nursing staff and bed shortages for both COVID-19 and non-COVID-19 patients abound.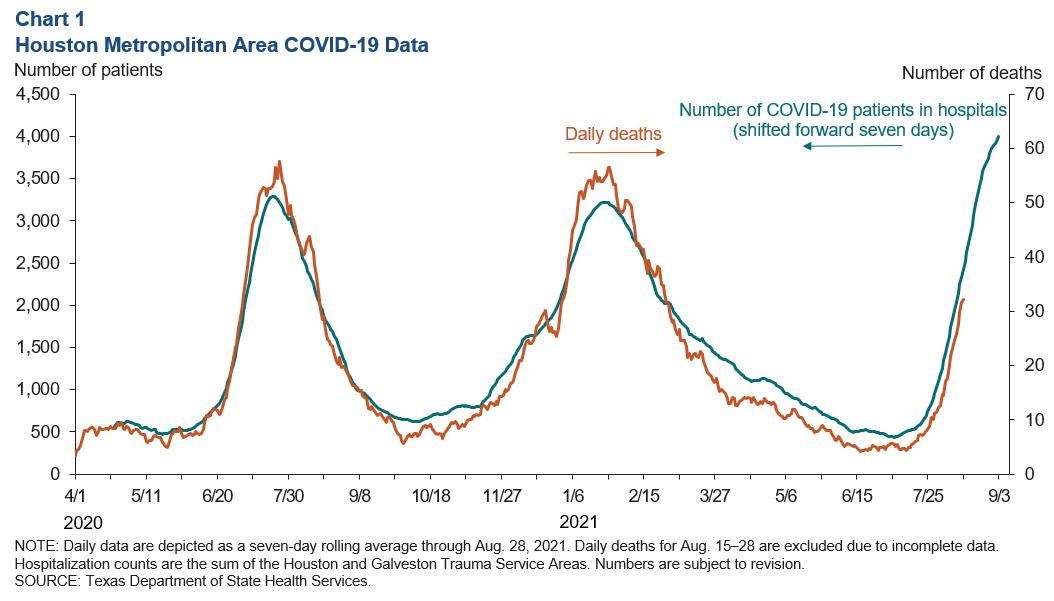 Daily fatalities from COVID-19 were keeping pace with the rise in hospitalizations through Aug. 14 when the seven-day moving average of deaths reached 32. Data on fatalities for the second half of August remain incomplete.
The Texas vaccination rate has risen to 47.5 percent (total population fully vaccinated) compared with 52.3 percent nationally. The Houston vaccination rate was 48.1 percent as of Aug. 28.
High-Frequency Economic Indicators
Dining Demand Eases amid COVID-19 Surge
Restaurant demand weakened in August. OpenTable dining reservations in Houston reversed late-June gains of over 8 percent when compared with 2019 levels, to log a decline of nearly 8 percent in late August (Chart 2). Smaller, but similar weakening is evident at both the state and national levels. Some of this decline may be explained by late-summer seasonality.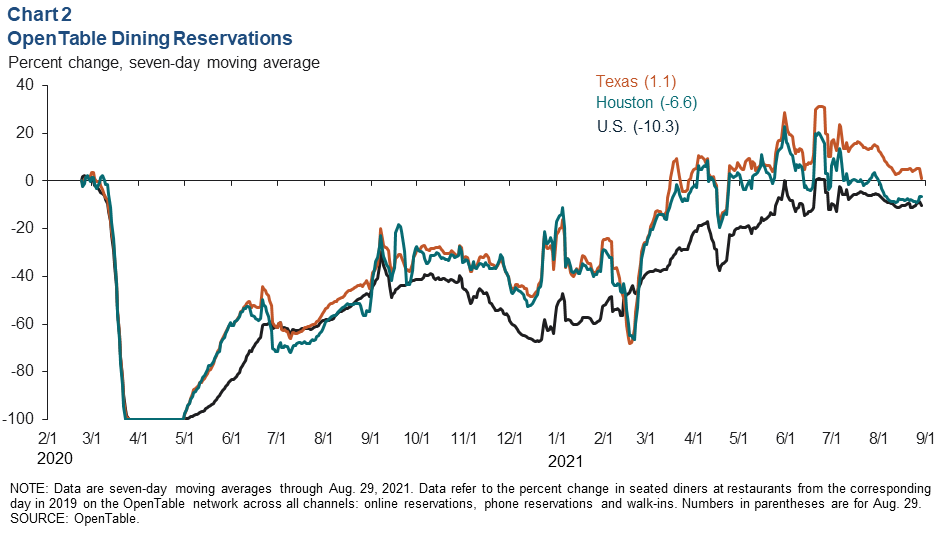 Small Businesses See Easing of Hours Worked
The number of hours worked at businesses using Homebase software—mostly small businesses—began to trend down in August. The metro area index slipped two points from 79 in mid-July to 77 over the seven days ending Aug. 28 versus a national decline of seven points from 89 to 82 (Chart 3). Increases in COVID-19 hospitalizations have been associated with declines in Homebase and other economic outcomes over the past 18 months.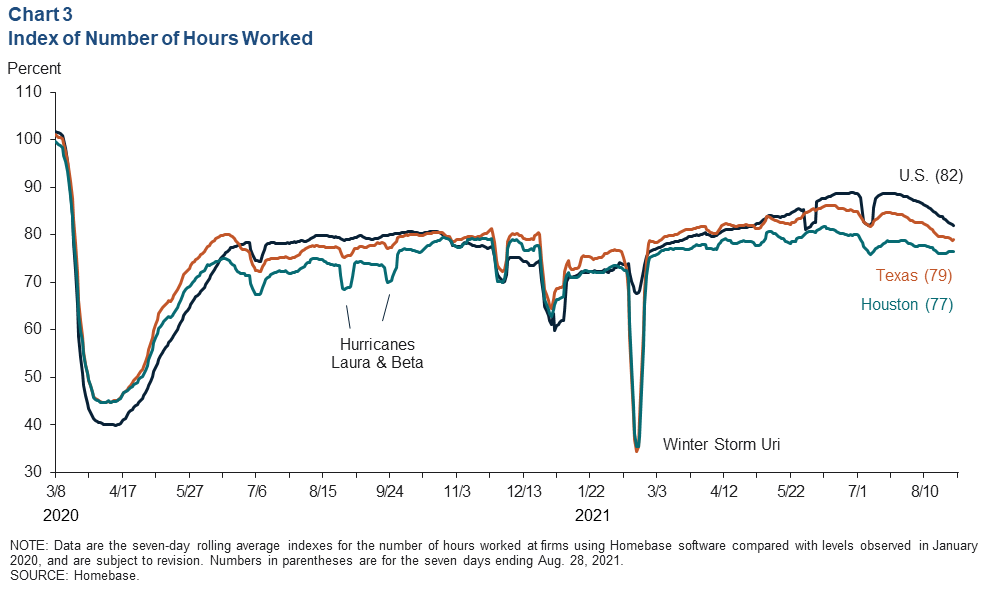 On the other hand, the index has been easing since early summer. Respondents to the Dallas Fed Texas Business Outlook Surveys have noted significant challenges securing labor and rising input costs over the summer. That competitive environment may be contributing to the weakening readings among small businesses, which comprise the bulk of the Homebase sample. However, end-of-summer seasonality is likely also contributing to the recent decline in hours worked."
Employment
With 210,800 jobs added since April 2020, Houston has recovered over 57 percent of the total payroll jobs lost during the initial phase of the pandemic, leaving the metro down 156,200 jobs on net (Chart 4). The hardest-hit sectors in the pandemic recession—leisure and hospitality and trade, transportation and utilities—have recovered 81.3 percent and 82.4 percent of losses, respectively.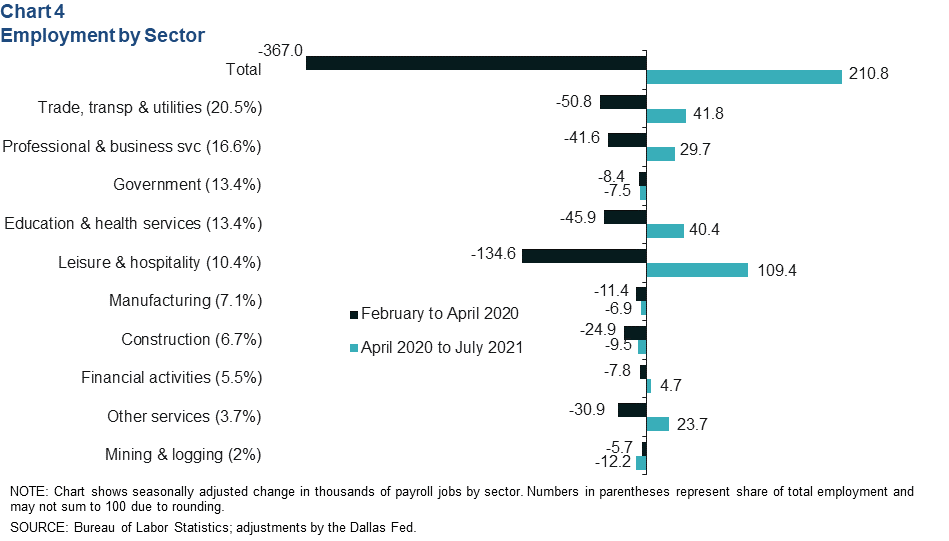 In contrast, goods-producing sector losses in Houston have yet to meaningfully reverse due largely to weakness in oil and gas—where most of the recovery has been in West Texas rather than Houston—and related manufacturing jobs. Construction payroll employment has also seen little recovery.
Input Prices
In another sign of ongoing price pressures, surveys of Texas manufacturers, service sector firms and Houston purchasing managers continued to indicate strong month-to-month increases in input prices in July and August—though not quite as strong as in June (Chart 5).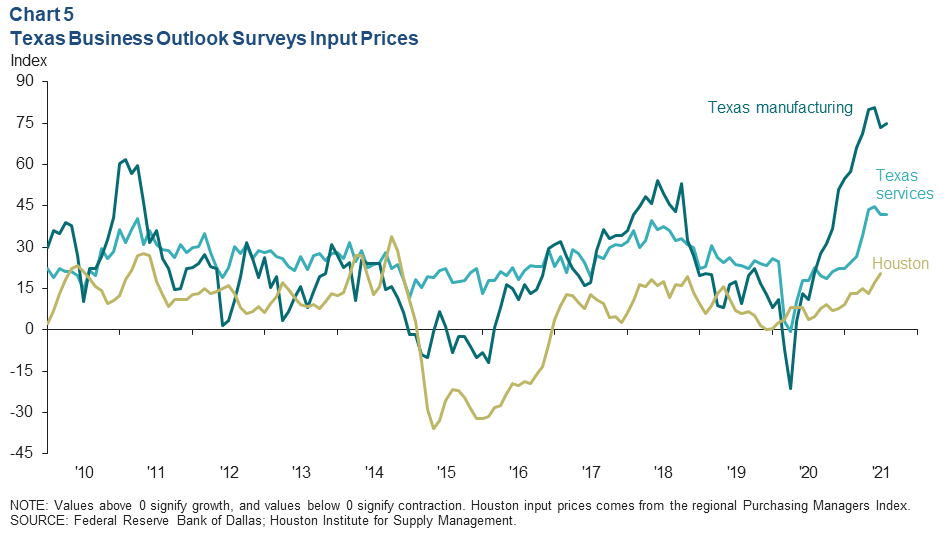 Along with growth in input prices, the headline indexes of manufacturing production growth, service sector revenue and the Houston Institute for Supply Management's new orders indexes are also reporting very strong expansion. Strength in these indexes is associated with accelerated job growth over the following three to four months in Houston.
NOTE: Data may not match previously published numbers due to revisions.
About Houston Economic Indicators
Questions can be addressed to Jesse Thompson at jesse.thompson@dal.frb.org. Houston Economic Indicators is posted monthly after Houston-area employment data are released.