Houston Economic Indicators

November 3, 2021
Recent data for the Houston region have been positive for growth. The Delta wave of the coronavirus has retreated as the number of people being vaccinated progresses. Over two-thirds of pandemic job losses have been recovered, and the local unemployment rate fell to 5.8 percent as online job postings climbed. The oil and gas sector showed signs of picking up steam even before recent surges in commodity prices pushed retail fuel prices up. Altogether, after lagging the nation for the better part of the pandemic, the outlook for Houston is much improved.
COVID-19
The Delta wave of coronavirus infections has declined sharply. The average number of COVID-19 patients hospitalized in the Houston and Galveston Trauma Service Areas over the seven days ending Oct. 30 was 832, down from the pandemic high of 4,032 over the seven days ending Aug. 30 (Chart 1). The number of daily deaths is falling quickly as well. Over the seven days ending Oct. 15, 20 people died due to COVID-19, down from the pandemic high of 70 on Sept. 5. That brings the cumulative death count through the end of October to over 13,200 in the Houston metropolitan area.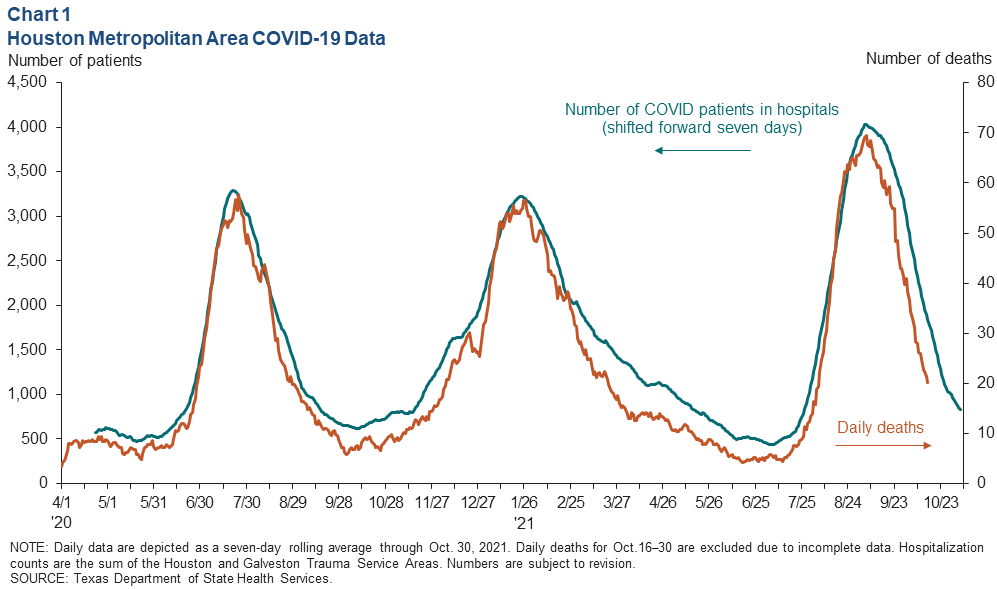 Sixty-seven percent of the Houston population over the age of 12 had been fully vaccinated by the end of October. That's slightly ahead of the statewide rate of over 64 percent and nearly on par with the national rate of 68 percent. With so many now vaccinated and having recovered from infection in recent months, the capacity for recently circulating variants of coronavirus to continue to spread, mainly Delta, is becoming more limited.
In addition, the Food and Drug Administration granted emergency authorization to use the Pfizer-BioNTech COVID-19 vaccine in children ages 5–11, who saw a dramatic spike in infection with the Delta wave when compared with prior waves of infection. As the 5–11-year-old population is vaccinated, the ability of current strains of the virus to either affect the young or use them as a reservoir to infect others will become more limited.
Employment
Sixty-Seven Percent of Pandemic Job Losses Recovered
First quarter 2021 saw the end of the second wave of coronavirus deaths, Winter Storm Uri and the end of most pandemic restrictions on Texas businesses. Since then, Houston has added over 82,000 jobs—an annualized increase of 5.5 percent (Chart 2).
Professional and business services added 25,000 jobs, bringing this sector back to prepandemic levels of employment. In that regard, it is joined by education and health services, led by ambulatory health services (such as physicians' offices). Leisure and hospitality grew by 21,000 jobs since March, after giving back some job gains during the late-summer COVID-19 surge. Construction was the only sector to log further declines in initial estimates of payroll employment growth since March.
Year to date, Houston is on pace for job growth of 4.5 percent.
Houston's unemployment rate fell to 5.8 percent in September amid a rise in the labor force. Since March 2021, Houston's labor force has expanded by 25,100 people, or an annualized growth rate of 2.2 percent. For context, the September unemployment rate in Texas fell to 5.6 percent, and the U.S. rate dropped to 4.8 percent.
Houston Job Postings Well Ahead of Prepandemic Levels
The number of job postings in Houston was 38 percent above February 2020 levels (Chart 3). While robust, growth in job postings has continuously lagged the state and nation. Texas job postings were 51 percent higher than prepandemic levels, and postings nationwide were 49 percent higher.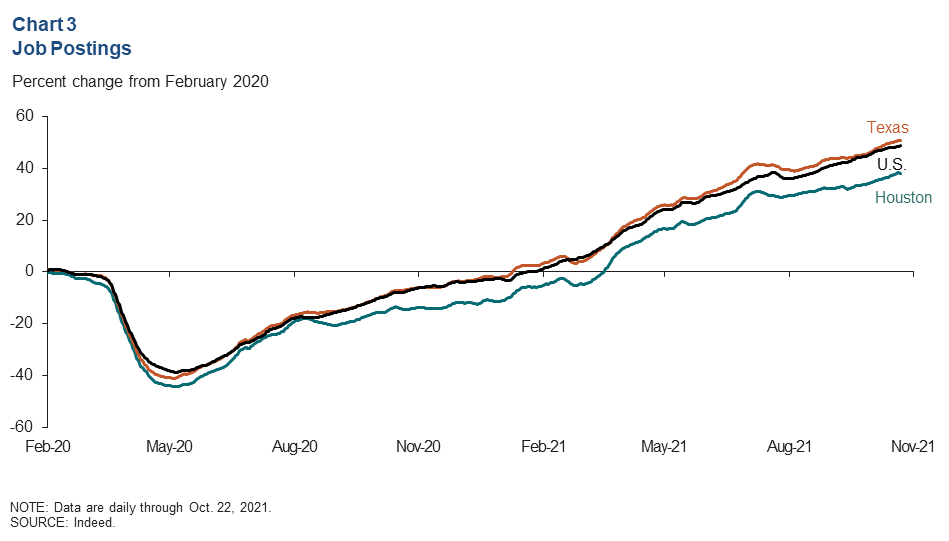 Houston's relative underperformance over the course of the pandemic is likely due to the sharp downturn and anemic recovery in energy sectors. With crude oil prices expected to remain comfortably above break-evens for drilling new oil and gas wells and structural forces likely to drive up spending in the sector next year, the oil and gas sector is likely to shift from neutral to a source of modest growth in Houston in 2022.
Energy
Houston Mining Jobs Finally Begin to Climb
When oil prices bottom out in a commodity bust, like West Texas Intermediate (WTI) crude did in April 2020, the rig count follows about three months later. However, jobs are slower to respond. In most oil busts, it takes about a year for payrolls in the energy complex (including producers, oilfield services, manufacturing, and engineering and related services) to stabilize.
Data since March 2021 are still subject to revision, but the sector is starting to grow again as the need to deploy more drilling rigs and well-completion crews over the coming year wake up supply chains and hiring. Houston's mining-related jobs rose by 4,500 from March to September 2021, mostly driven by increases in fabricated metals manufacturing and oil and gas extraction (Chart 4). This is supported by survey data. The employment index in the Dallas Fed's end-of-quarter Energy Surveys this year began signaling growth in March 2021, and the employment index for exploration and production firms saw a marked acceleration in September.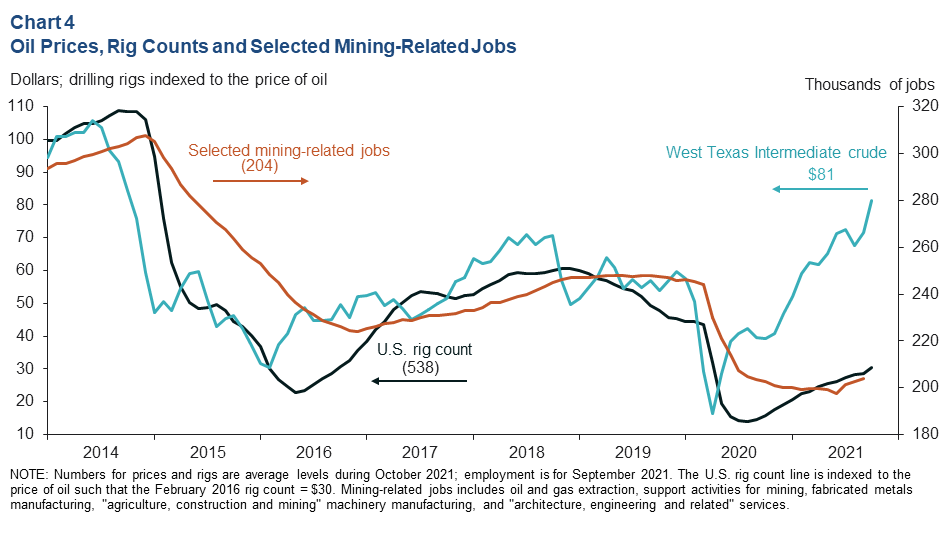 The average price of WTI was $81 in October, a six-year high. The increase occurred amid stronger-than-previously-expected summer global liquids consumption, declining global inventories of crude oil and crude products and skyrocketing natural gas prices in Europe and Asia. This has driven concern that global energy stores may not be sufficient to meet 2021–22 winter heating demand in the northern hemisphere. Coal, heating oil and natural gas prices are all rose in response.
Fuel Prices Rising at the Pump
Houstonians are paying more at the pump for fuel. Rising crude oil prices are causing the recent increases in gasoline and diesel costs. Brent crude averaged $2 per gallon the last week of October ($84 per barrel). Conventional regular gasoline averaged $2.95 per gallon, and on-highway diesel averaged $3.48—both at their highest levels in nearly six years (Chart 5).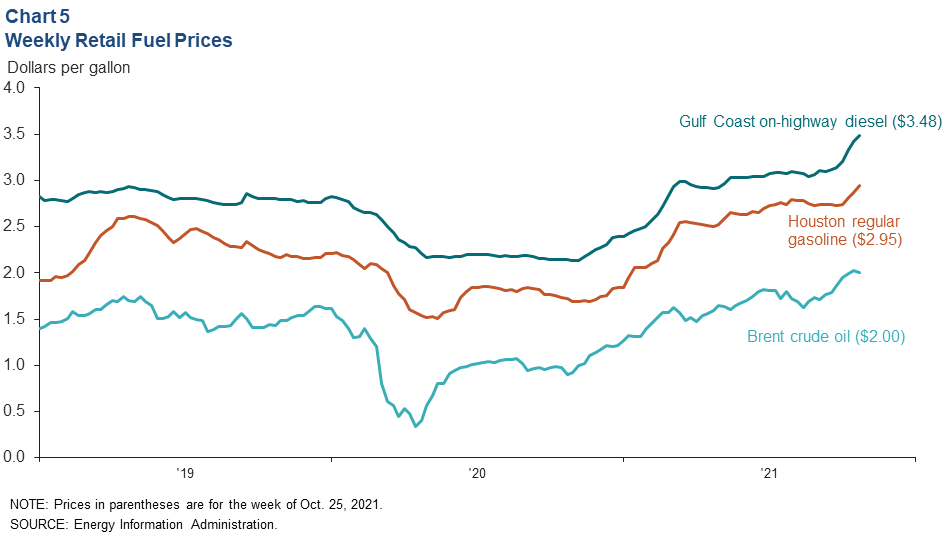 NOTE: Data may not match previously published numbers due to revisions.
About Houston Economic Indicators
Questions can be addressed to Jesse Thompson at jesse.thompson@dal.frb.org. Houston Economic Indicators is posted monthly after Houston-area employment data are released.