Houston Economic Indicators

January 19, 2022
Houston extended its jobs recovery through November, and leading economic indicators suggest further recovery over the next several months. The unemployment rate fell as the area labor force approached prepandemic levels, and the Houston Purchasing Managers Index logged an improvement in intermediate goods inventories for the first time since 2020. However, COVID data have taken a turn for the worse as the omicron variant drives up hospitalizations and absenteeism. While the start of the year is clouded by another COVID surge, the outlook for Houston remains healthy.
COVID-19
New COVID-19 cases and hospitalizations are surging as the omicron variant spreads through the region. Hospitalizations rose to 3,173 over the seven days ending Jan. 12 (Chart 1). If this surge has similar economic impacts as the Delta wave in August, it will likely have a significant effect on contact-intensive sectors like leisure and hospitality. Absenteeism is becoming problematic in some industries, according to comments in surveys from the Dallas Fed and the Houston Institute for Supply Management. This is affecting schools, oil and gas, and leisure and hospitality to name a few.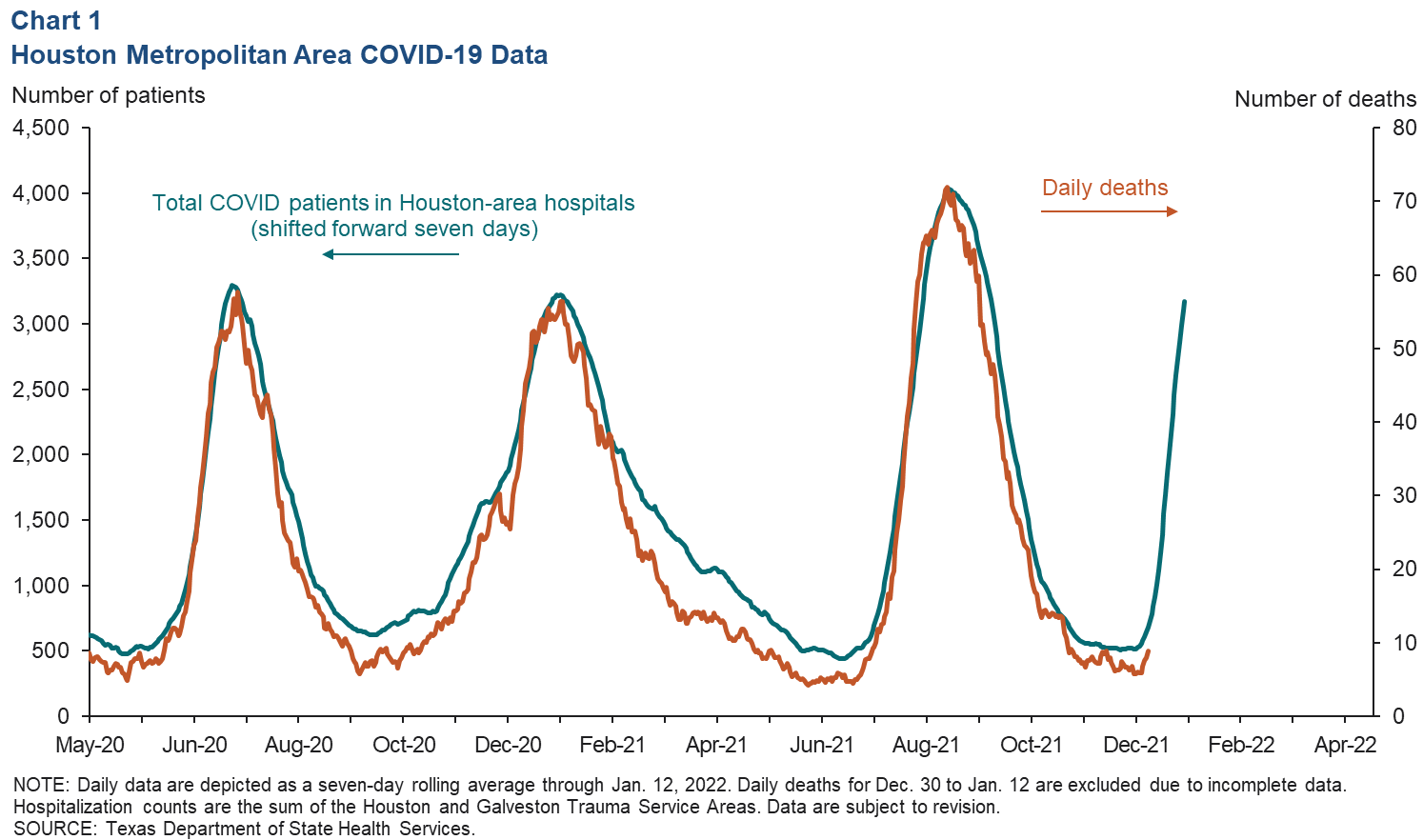 Daily deaths attributed to COVID-19 ticked up to nine over the seven days ending Dec. 29 for the Houston metropolitan area (59 deaths statewide). Over the prior three waves of COVID, daily fatalities tended to lag behind changes in the number of COVID-positive patients by about one week. While it is not yet clear what the relationship between hospitalizations and deaths will be for the new variant, preliminary counts for January 2022 are showing signs of deaths increasing with hospitalizations.
Employment
Seventy-two percent of pandemic job losses recovered through November
Houston payrolls grew by 67,000 people in the second half of 2021 (Chart 2). That translates into an annualized pace of 5.4 percent, a sharp acceleration from the first half of the year. Altogether, Houston employment grew about 4.2 percent in 2021, double its long-run average rate. At that pace, the metro would fully recover to prepandemic levels of employment by September 2022.
Growth in the second half of 2021 was led by education and health services, professional and business services, and other services (which includes businesses as varied as laundromats, auto mechanics and pet boarding).
Unemployment continued to fall as area labor force neared prepandemic levels
The unemployment rate in Houston fell to 5.7 percent in November 2021 (Chart 3). In comparison, the state unemployment rate fell to 5.2 percent and the U.S. to 4.2 percent. U.S. unemployment fell further in December to 3.9 percent. The tightening labor market is contributing to increased wage pressures recently reported by respondents to the Dallas Fed Texas Business Outlook Surveys.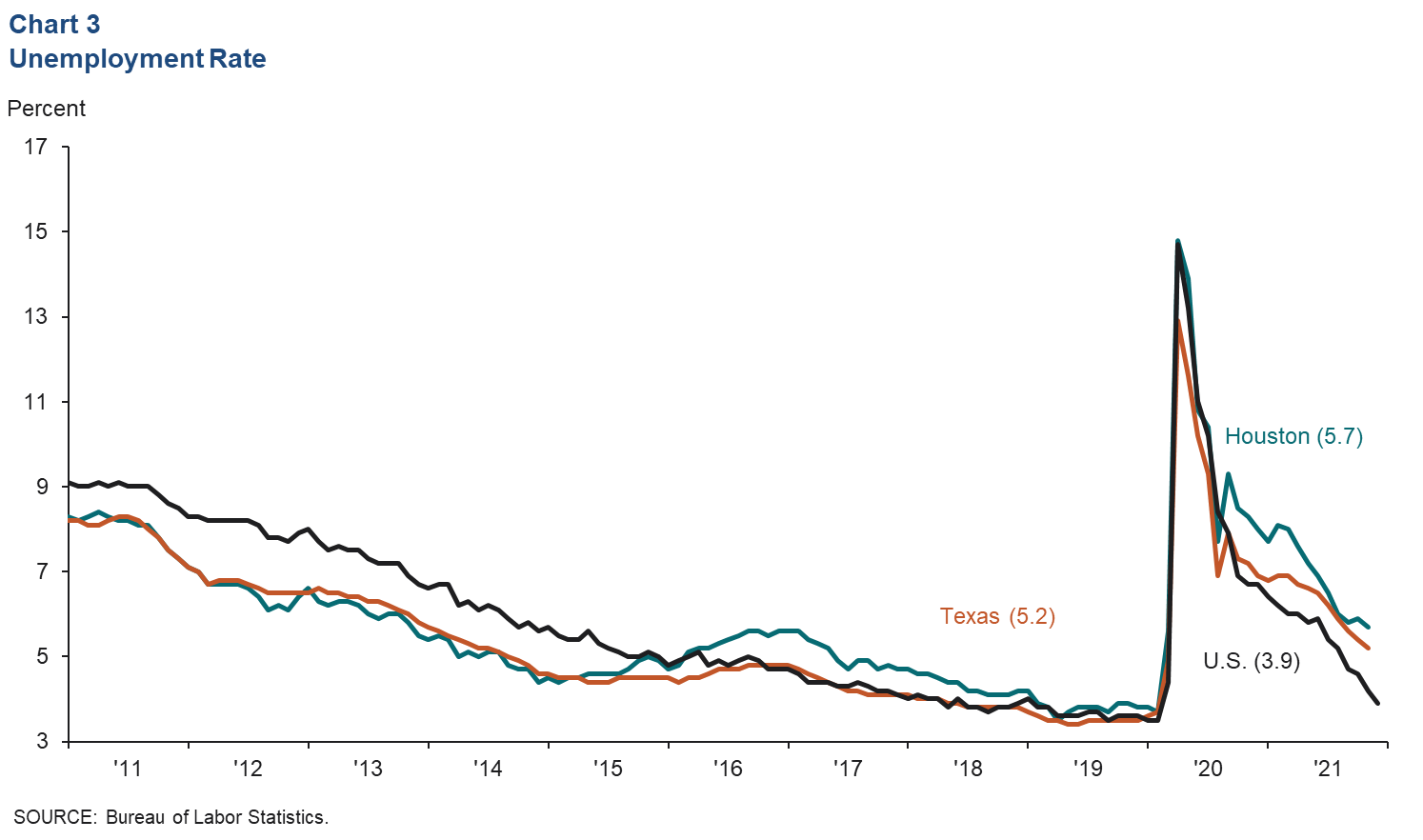 While Houston payrolls were still down 3.2 percent from February 2020 in November 2021, the size of the metro labor force ended 2021 nearly fully recovered. The Texas labor force overall has fared even better, surpassing prepandemic levels by October 2021. In contrast, the national labor force was 1.4 percent below February 2020 levels in November.
Purchasing managers and leading indexes
The Houston Purchasing Managers Index (HPMI) slowed from a pandemic high of 61 in October 2021 to a robust 57.8 in December (Chart 4). Slowing was broad based across components, including the important new orders component. Notably, the change in purchased goods inventories component—which was negative for most of 2021 and shifted to neutral from September to November—logged solid growth at 52.3 in December. This implies some improvement in supply-chain inventories. Relatedly, input price growth slowed for the fourth consecutive month as the share of firms reporting an increase in monthly prices fell to its lowest level since May 2021.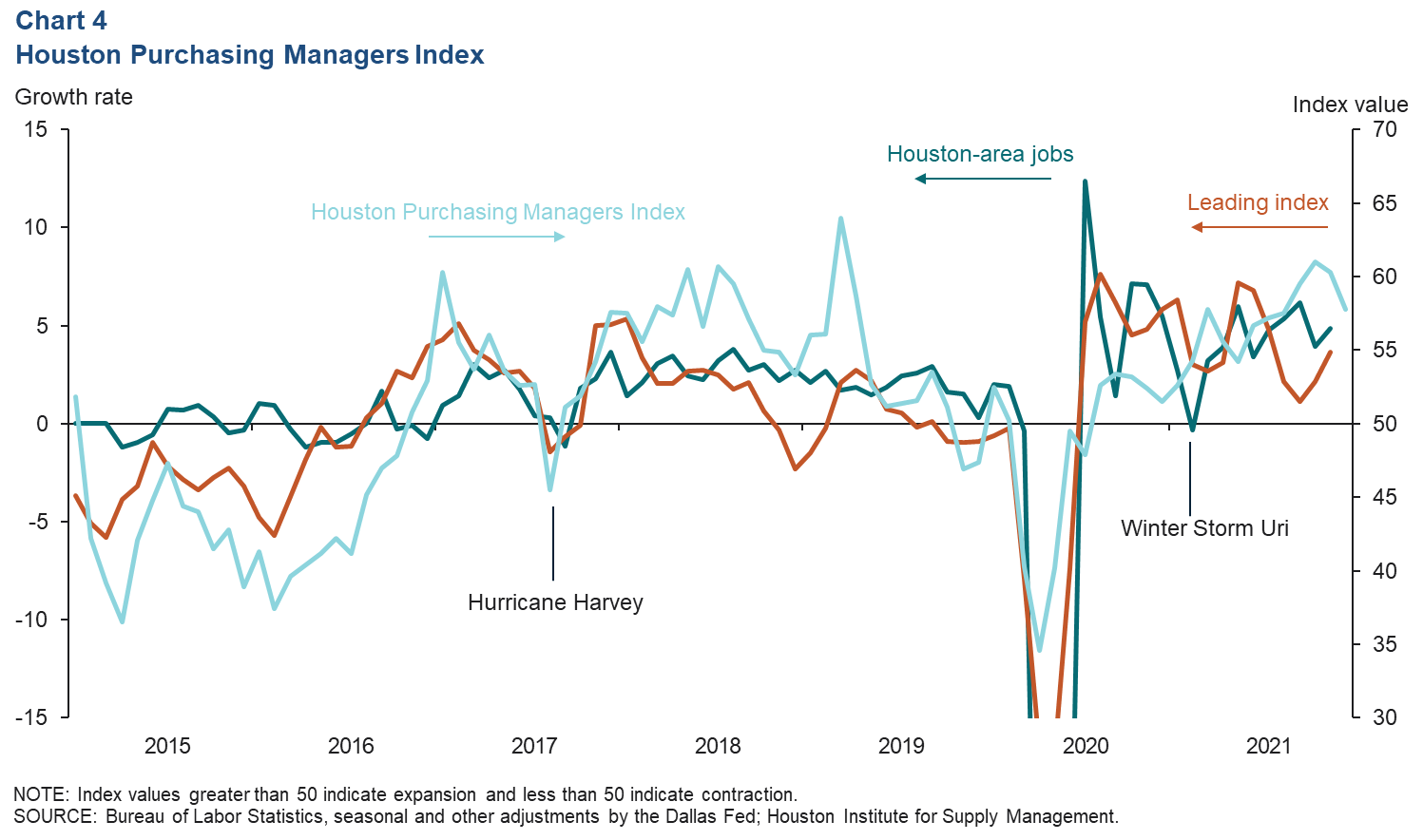 HPMI values above 50 indicate growth in the regional economy and those below 50 indicate contraction. The index is one of the timeliest measurements of economic activity in the metro area, and it has a long history of both tracking changes in the region's economic activity and projecting shifts in the pace of job growth over the following three months. This is particularly true for the more-cyclical parts of Houston's economy like energy and manufacturing.
The Houston Leading Index of 10 indicators grew an annualized 3.6 percent over the three months ending in November 2021, and preliminary data for December suggest the index did not slow down at year-end. Historically, growth at recent levels has been strongly associated with very healthy payroll job gains over the following three to six months.
NOTE: Data may not match previously published numbers due to revisions.
About Houston Economic Indicators
Questions can be addressed to Jesse Thompson at jesse.thompson@dal.frb.org. Houston Economic Indicators is posted on the second Monday after monthly Houston-area employment data are released.