Houston Economic Indicators

July 21, 2022
Houston job growth continues to show strength, but there are otherwise signs of slowing. A preliminary reading of leading indicators for Houston turned negative for the first time since the pandemic, the number of diners at restaurants has slipped, and COVID-19 hospitalizations are accelerating again. While these data suggest slower growth in the second half of 2022, the outlook for Houston remains healthy.
COVID-19 trends
Hospitalizations are rising again in Houston as new variants of the omicron strain of COVID-19 spread through the region (Chart 1). Over the seven days ending July 18, the average number of COVID-positive patients in Houston-area hospitals was 1,445, up from the pandemic low of 223 on April 24.
However, fatalities associated with the most recent wave have seen little increase. While this wave of infections may drive an increase in absenteeism, it is not expected to pose much of a headwind to Houston's economic outlook.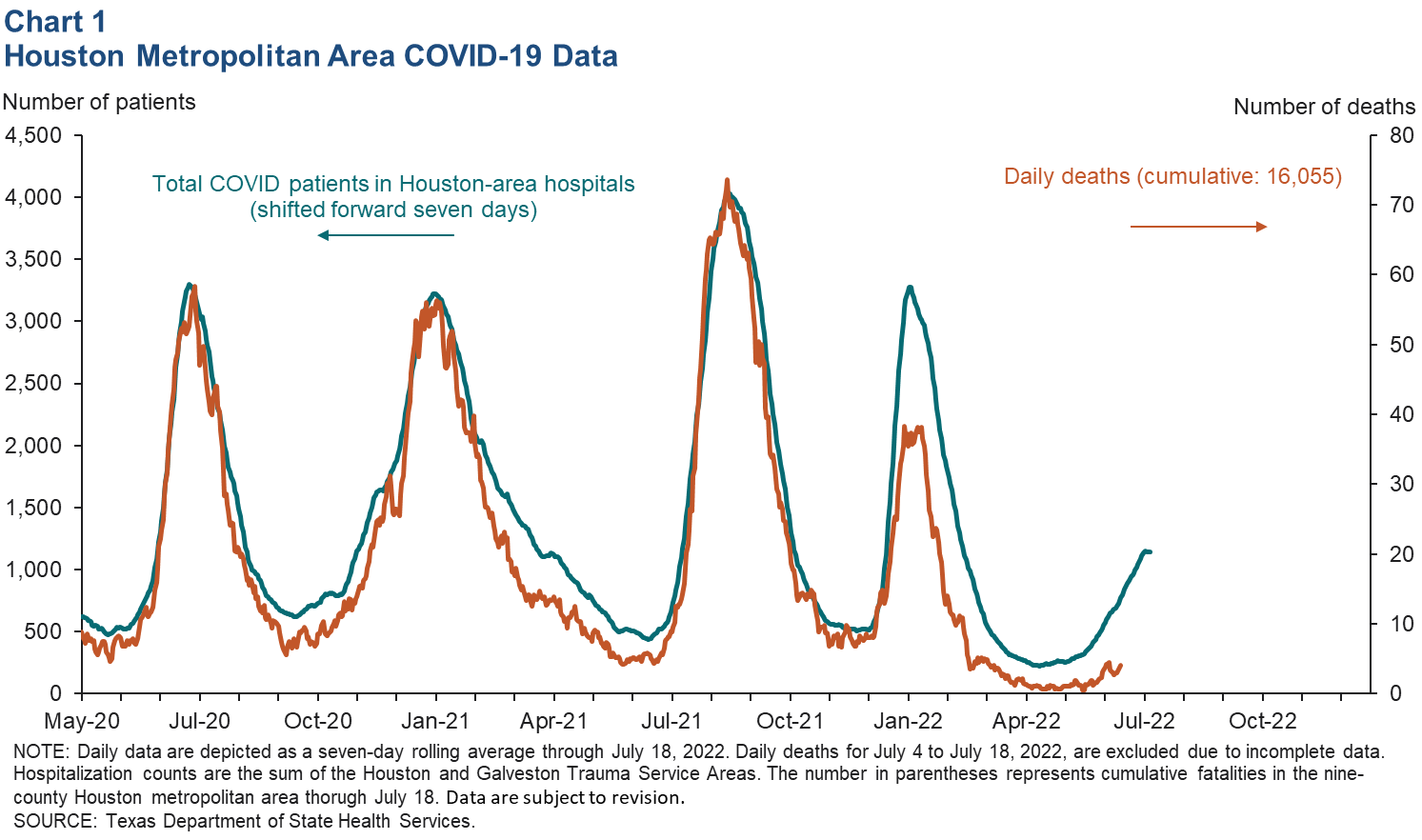 Business-cycle index
The Houston Business-Cycle Index, a timely measure of broad changes in the Houston economy, expanded at an annualized 7.6 percent pace over the three months ending in May 2022 (Chart 2). While still subject to revision, particularly the past six months, that reading is well above its average annual rate of 2.9 percent from 2000 to 2020. With the jobs recovery expected to slow in the second half of 2022 and the headwinds from elevated inflation, the pace of growth in the broader Houston economy is likely to settle down to more moderate levels as the year progresses.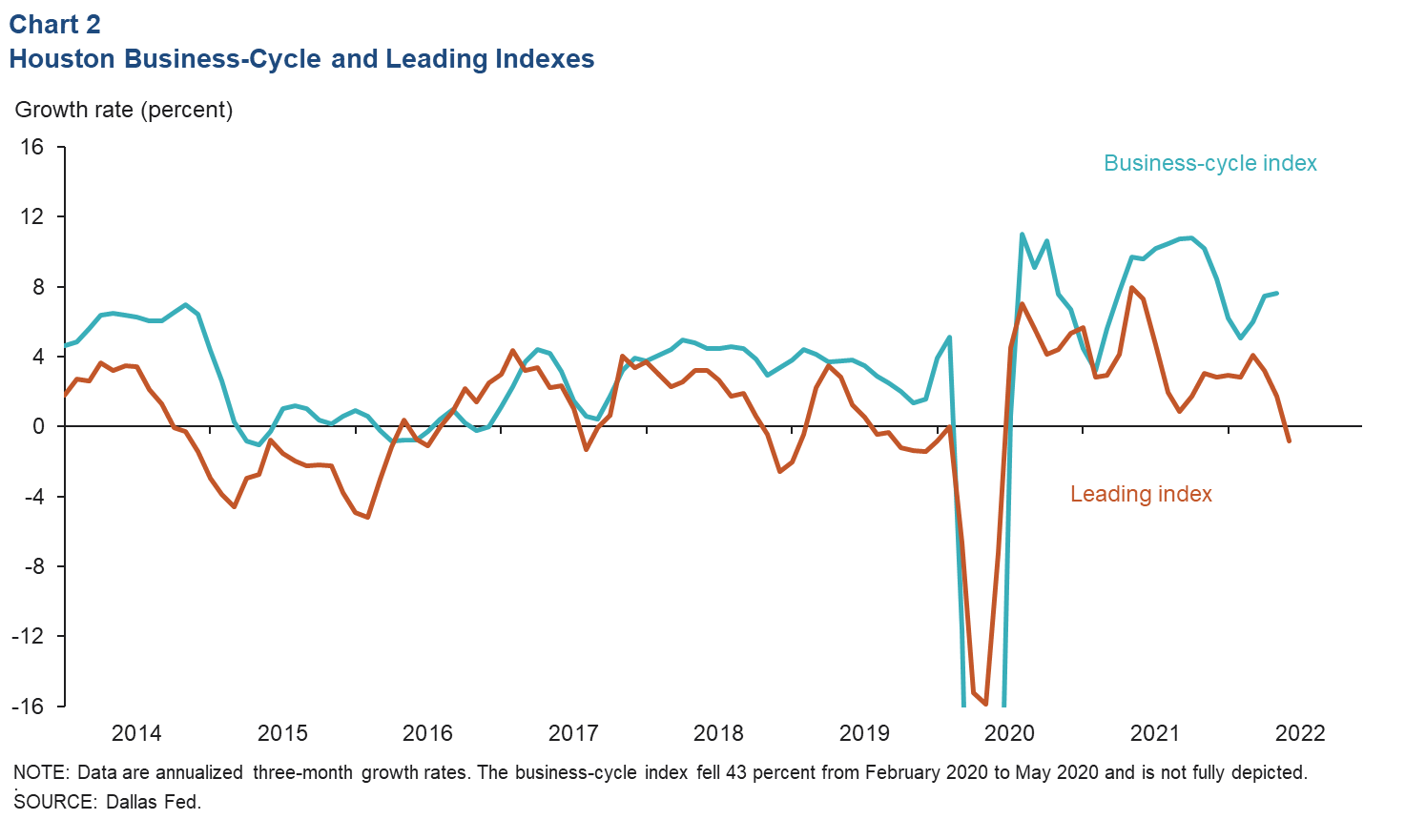 That said, the three-month pace of growth in the Houston Leading Index declined at an annualized pace of -0.8 percent in June. This implies that over the next three to six months, payroll job growth will slow.
Employment
Houston employment grew at an annual pace of 5.2 percent over the three months ending in May 2022, slightly faster than the 4.6 percent year-to-date pace (Chart 3). The largest gains were in construction (13,100 jobs). Trade, transportation and utilities (10,900) and manufacturing (3,769) rounded out the top three growth sectors.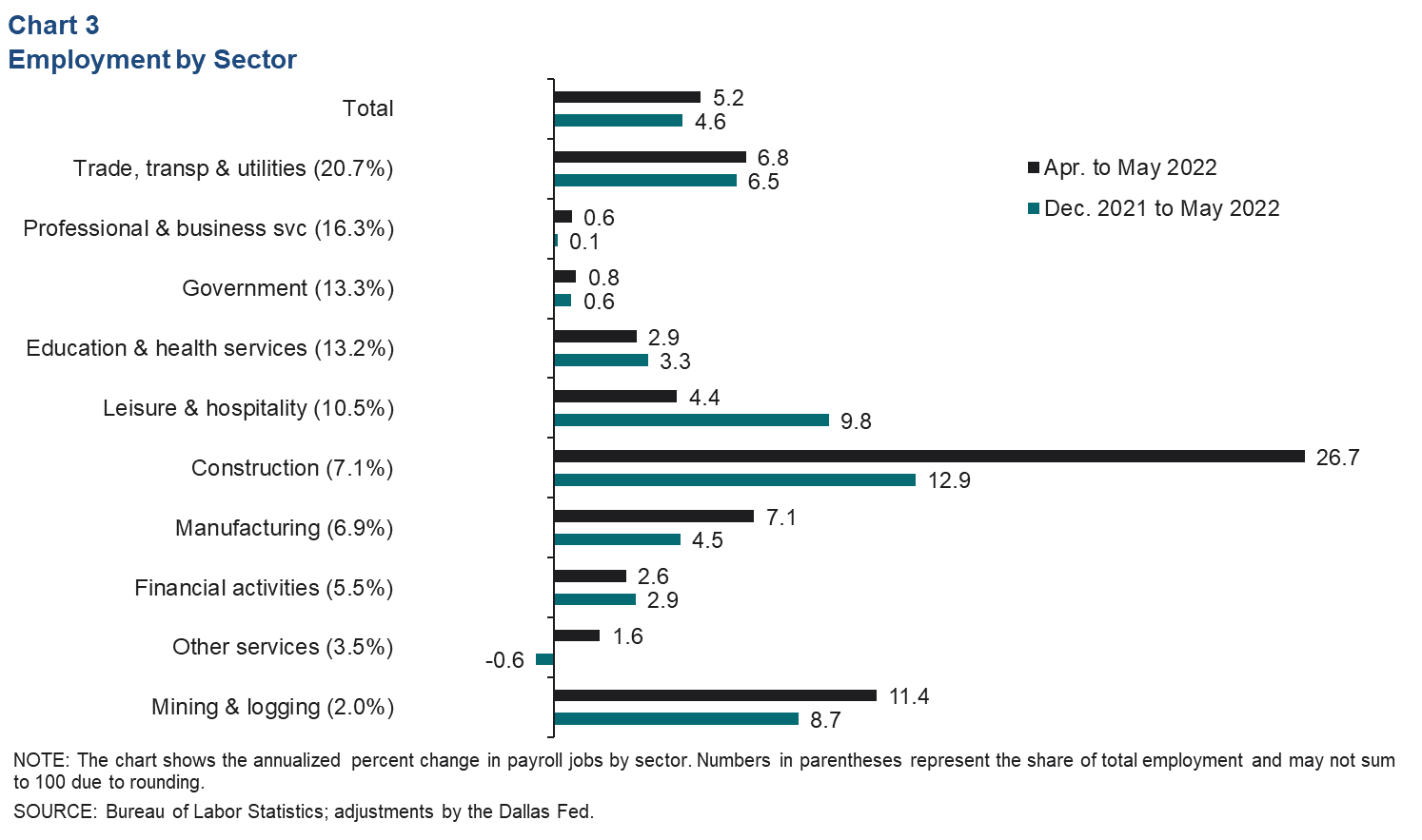 Only other services (-800 jobs) has net job losses so far this year. This group is comprised of disparate businesses such as laundromats, auto maintenance and animal boarding.
The unemployment rate in Houston fell to a pandemic low of 4.7 percent. For comparison, the Texas unemployment rate fell to 4.2 percent, while the national rate held steady at 3.6 percent in May.
Dining out
Restaurant demand in Houston eased slightly from early April to early July when compared to the same period in 2019 (Chart 4). The number of seated diners in Houston restaurants over the first half of July was nearly on par with the 2019 period. Nationally, dining out was down 4.3 percent compared with 2019, while dining out for Texas as a whole was up 13.3 percent.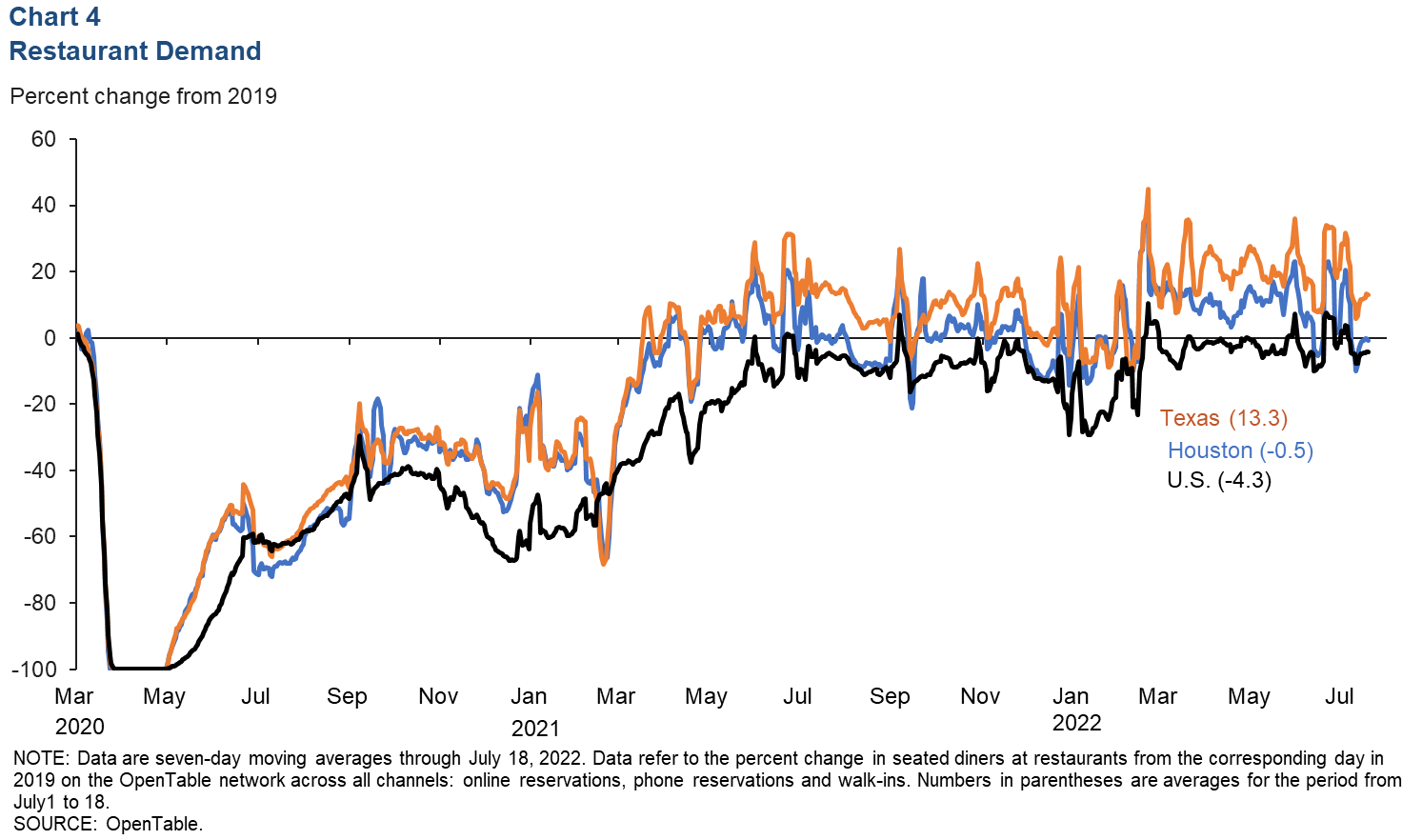 NOTE: Data may not match previously published numbers due to revisions.
About Houston Economic Indicators
Questions can be addressed to Jesse Thompson at jesse.thompson@dal.frb.org. Houston Economic Indicators is posted on the second Monday after monthly Houston-area employment data are released.