Houston Economic Indicators
May 2, 2023
Houston economy dashboard (March 2023)
Job growth (annualized)
Dec. '22–March '23
Unemployment rate

Avg. hourly earnings
Avg. hourly earnings growth y/y

3.6%
4.2%
$32.81
8.6%
Houston employment grew 3.6 percent over the first three months of 2023, led by services. In the energy sector, the rig count and mining-related jobs are down as the cost of fuel declines from its summer 2022 peak. Houston's headline inflation was lower than the nation's in February, in part due to sharp declines in energy prices.
Employment
Houston employment growth strong; oil and gas and construction decline
Houston added 29,612 jobs in the first three months of 2023, a 3.6 percent annualized increase (Chart 1). Service sector jobs led this growth, with professional and business services up 4.7 percent (6,460 jobs), education and health services increasing 5.3 percent (5,677), and information and other services rising 8.6 percent (3,187).
Construction and oil and gas both posted declines from December through March, with construction losing 211 jobs and oil and gas losing 112. Both industries are capital intensive, which makes them especially vulnerable to rising interest rates and the cost of credit.
Unemployment in the metro edged down to 4.2 percent in March amid a marked acceleration of growth in the local labor force. By comparison, the March jobless rate was 4.0 percent in Texas and 3.5 percent nationally.
Energy
Rig counts flat; oil prices and oil and gas jobs fall
The price of West Texas Intermediate (WTI) crude was down 30.6 percent from its peak in June 2022, averaging $79 per barrel in April (Chart 2). The U.S. rig count is also easing due in part to low natural gas prices. The average number of active rigs in April was 752. Historically, rig counts have tracked oil prices closely, but that relationship has weakened since the onset of the pandemic.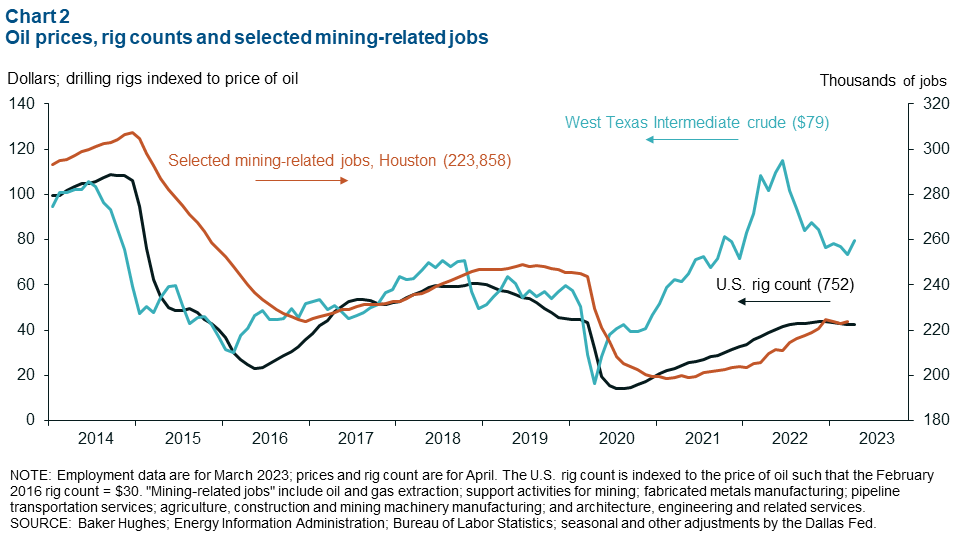 Mining-related jobs in the Houston metro area fell at an annual rate of 1.4 percent to 223,858 in the first three months of 2023. Architecture, engineering and related services jobs fell 1.8 percent in the first three months of 2023. This broadly defined group makes up one-third of the mining-related industries in Houston but is inclusive of firms more closely tied to real estate that have been impacted by rising interest rates.  
Support activities jobs—the core of the mining sector—lost 171 jobs over this same period. The remainder of the mining-related sectors saw increases in employment from December to March, particularly pipeline transportation, which gained 209 jobs.
Exports up in February, led by energy
The nominal value of exports through the Houston–Galveston customs district ticked up in February (Chart 3). Most of Houston's exports are energy related, with 85.1 percent of the total value of exports coming from oil and gas, petroleum and coal products, plastics and rubber products, and chemicals. Crude oil exports were still 18.1 percent below their peak in July 2022, but ticked up to $7.5 billion in February.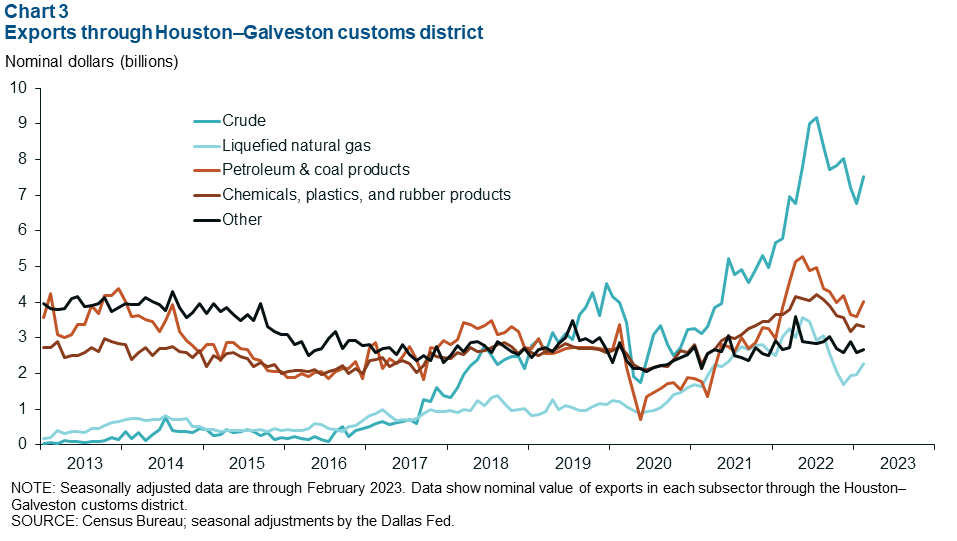 Fuel prices tick down
Gasoline prices have been on the rise since mid-February but ticked down the week of May 1 to $3.11 (Chart 4). Gulf Coast diesel fell to $3.75 a gallon, $1.70 below its peak of $5.45 a gallon in June 2022. Fuel prices tend to track with international benchmark Brent crude, which declined to $1.94 per gallon ($82 per barrel) the week of April 24, 2023.
Crude oil makes up about 55 percent of the price of a gallon of regular gasoline, so changes in crude prices tend to pass through to fuels quickly. However, refiners will be switching to more-expensive summer fuel blends this month, which will put upward pressure on prices.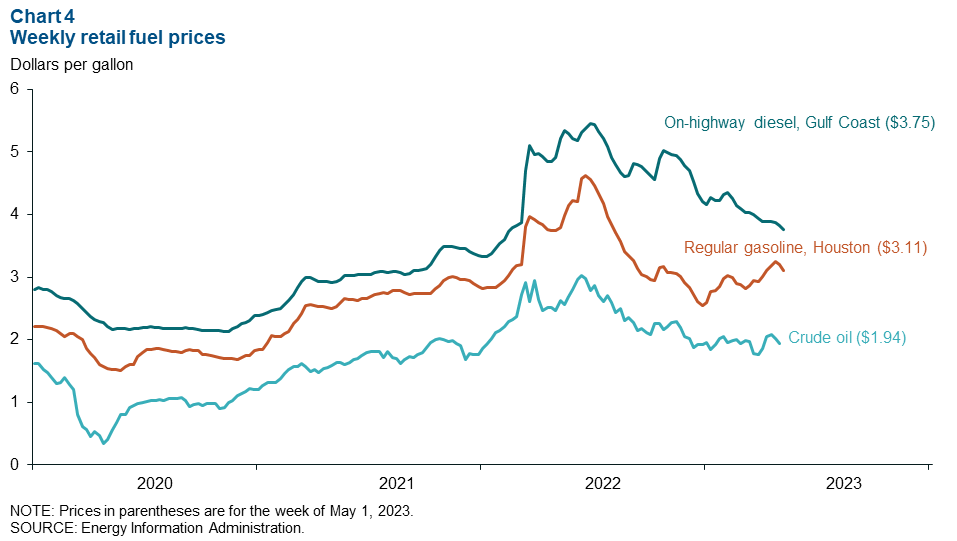 Energy prices show strong decline; overall inflation moderating
Energy prices overall fell 19.0 percent in Houston versus 6.4 percent nationally from March 2022 through March 2023 (Chart 5). The difference was due to both falling electricity prices, which ran up aggressively in Texas last year, and falling natural gas prices. Overall, the Houston consumer price index (CPI) was up 5.2 percent in February from the year prior—below the U.S.' reading of 6.0 percent.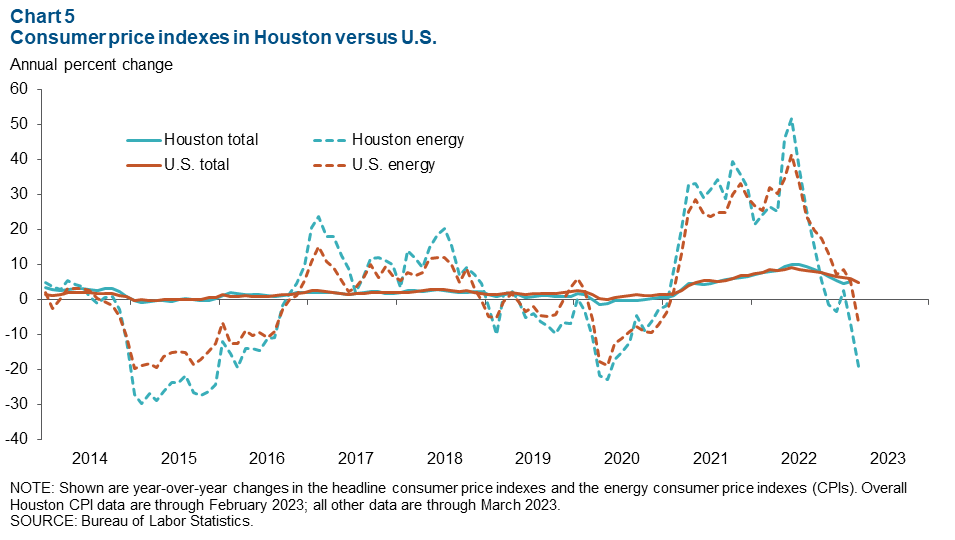 Both the U.S. and Dallas saw lower inflation readings in March than February, so Houston inflation is also expected to cool in the next data release. Nationally, year-over-year inflation fell from 6.0 percent in February to 5.0 percent in March, and Dallas saw inflation fall from 6.6 percent to 5.7 percent.
NOTE: Data may not match previously published numbers due to revisions.
About Houston Economic Indicators
Questions or suggestions can be addressed to Ana Pranger at ana.pranger@dal.frb.org. Houston Economic Indicators is posted on the second Monday after monthly Houston-area employment data are released.